Abstract
The present study is a multidisciplinary approach applied to architectural stone materials of the Convent of Christ in Tomar (Portugal) in order to understand and mitigate the active decay processes. The structure and appearance of the stonework from the Convent of Christ are strongly affected by stains, biofilms and structural degradation. To investigate these phenomena, a multianalytical approach comprising X-ray microdiffraction, scanning electron microscopy, microRaman and microinfrared spectroscopy was applied to the examination of altered outdoor stone areas being detected calcium oxalates, carotenoids and microbial proliferation. The presence of these alteration products seems to be correlated with the microbial activity of bacteria, microalgae, cyanobacteria and filamentous fungi. This work showed that the application of complementary methodologies is an efficient strategy to characterise the stone decay, and constitute a starting point for successful conservation intervention plans that are urgent to ensure the preservation and safeguard of this emblematic monument.
This is a preview of subscription content, log in to check access.
Access options
Buy single article
Instant access to the full article PDF.
US$ 39.95
Price includes VAT for USA
Subscribe to journal
Immediate online access to all issues from 2019. Subscription will auto renew annually.
US$ 99
This is the net price. Taxes to be calculated in checkout.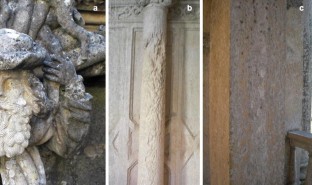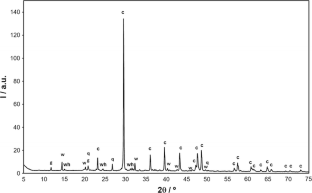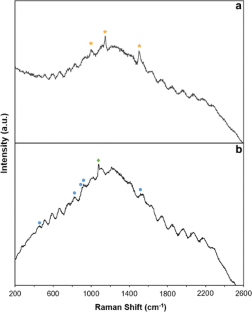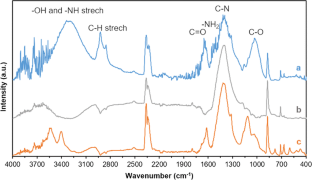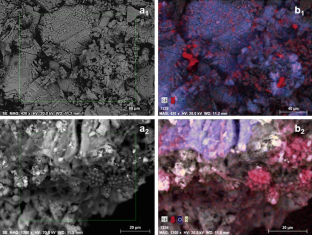 References
1.

M. Slavíková, F. Krejčí, J. Žemlička, M. Pech, P. Kotlík, J. Jakůbek, J. Cult Herit. 13, 357 (2012)

2.

M. Korkanç, Constr. Build. Mater. 48, 789 (2013)

3.

L.K. Herrera, H.A. Videla, Int. Biodeterior. Biodegradation 63, 813 (2009)

4.

B. Prieto, B. Silva, N. Aira, L. Álvarez, Int. Biodeterior. Biodegrad. 58, 150 (2006)

5.

A.M.M. Essa, M.K. Khallaf, Int. Biodeterior. Biodegrad. 94, 31 (2014)

6.

M. Korkanç, A. Savran, Constr. Build. Mater. 80, 279 (2015)

7.

T. Warscheid, J. Braams, Int. Biodeterior. Biodegrad. 46, 343 (2000)

8.

N. Cutler, H. Viles, Geomicrobiol. J. 27, 630 (2010)

9.

P. Nowicka-Krawczyk, J. Żelazna-Wieczorek, A. Otlewska, A. Koziróg, K. Rajkowska, M. Piotrowska, B. Gutarowska, A. Żydzik-Białek, Sci. Total Environ. 493, 116 (2014)

10.

M.L. Coutinho, A.Z. Miller, M.F. Macedo, J. Cult. Herit. 16, 759 (2015)

11.

M.J.T. Bento, in O Convento de Cristo em Tomar: do Infante D. Henrique às Empreitadas Manuelinas, ed. by Direcção-Geral do Património Cultural (DGPC) (Portugal, 2013)

12.

K.H. Domsch, W. Gams, T.H. Anderson, Compendium of Soil Fungi, vol. 2 (Academic Press, London, 1980)

13.

L. Rampazzi, A. Andreotti, I. Bonaduce, M.P. Colombini, C. Colombo, L. Toniolo, Talanta 63, 967 (2004)

14.

T. Rosado, M. Gil, J. Mirão, A. Candeias, A.T. Caldeira, Int. Biodeterior. Biodegrad. 85, 1 (2013)

15.

M. Çaliskan, Turk. J. Zool. 24, 103 (2000)

16.

J.C. Merlin, Pure Appl. Chem. 57, 785 (1985)

17.

I. Agalidis, T. Mattioli, F. Reiss-Husson, Photosynth. Res. 62, 31 (1999)

18.

T. Rosado, A. Reis, J. Mirão, A. Candeias, P. Vandenabeele, A.T. Caldeira, Int. Biodeterior. Biodegrad. 94, 121 (2014)

19.

J.M. González, C. Saiz-Jiménez, Int. Microbiol. 8, 189 (2005)
Acknowledgements
The authors gratefully acknowledge HIT3CH Project "HERCULES Interface for Technology Transfer and Teaming in Cultural Heritage" (ALT20-03-0246-FEDER-000004) and MEDUSA Project "Microorganisms Monitoring and Mitigation—Developing and Unlocking Novel Sustainable Approaches" (ALT20-03-0145-FEDER-000015). Co-financed by the European Regional Development Fund (ERDF) and ALENTEJO 2020 (Alentejo Regional Operational Programme) for the financial support, and, Biotechnology and Biochemistry undergraduate students Rita Santos, Mónica Lança and Carla Nogueira for helping in the laboratory analyses.
About this article
Cite this article
Rosado, T., Silva, M., Galvão, A. et al. A first insight on the biodegradation of limestone: the case of the World Heritage Convent of Christ. Appl. Phys. A 122, 1012 (2016). https://doi.org/10.1007/s00339-016-0525-6
Received:

Accepted:

Published:
Keywords
Carotenoid

Calcium Oxalate

Rose Bengal

Alteration Product

Stone Material