Abstract
The fifteenth-century gilt and polychromed terracotta relief, Virgin and Child by Michele da Firenze in the collection of the Yale University Art Gallery, was recently conserved in preparation for exhibition. The crystallization of water-soluble salts was suspected as the main reason behind its poor condition. Characterization of powdery deposits over remaining polychromy revealed the presence of KPb2Cl5 in addition to gypsum and other minor components. Detection of potassium lead chloride has not been previously reported in association with cultural heritage objects. The synthetic form of this compound has garnered attention during the past two decades due to its potential optical applications in the infrared region. In nature it occurs as challacolloite, a mineral first named only in 2005 in scientific literature and that primarily forms at high temperatures in fumaroles of volcanos, including those in Italy. The presence of this compound limits the types of materials that can be safely used in conservation treatment applications related to cleaning and consolidation, and therefore, its detection is important. This paper provides information that can serve as a reference for identifying other instances of challacolloite. The form and distribution of challacolloite on the Virgin and Child indicates that the compound is generated in situ and that crystal nucleation and growth result in loss of cohesion within paint layers, delamination of paint layers, and damage to the terracotta substrate. Possible rationales for the formation of this unusual compound are proposed.
This is a preview of subscription content, log in to check access.
Access options
Buy single article
Instant access to the full article PDF.
US$ 39.95
Price includes VAT for USA
Subscribe to journal
Immediate online access to all issues from 2019. Subscription will auto renew annually.
US$ 99
This is the net price. Taxes to be calculated in checkout.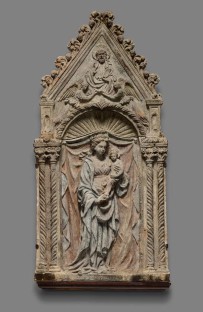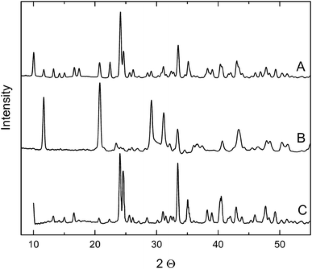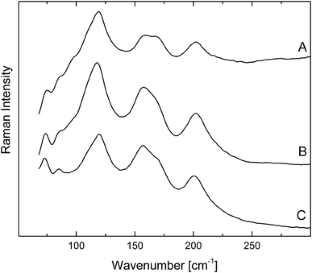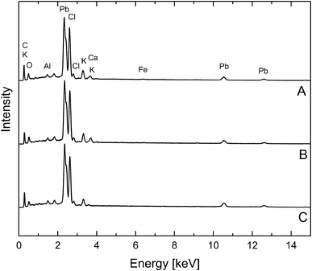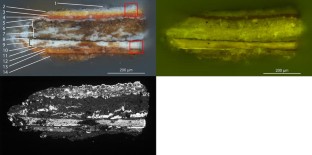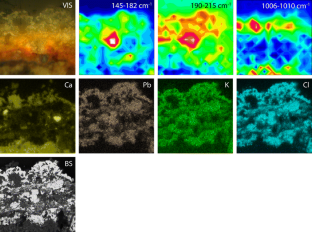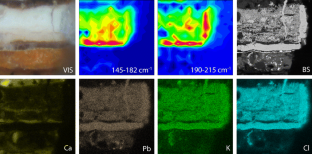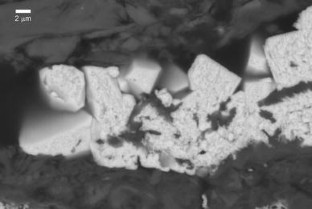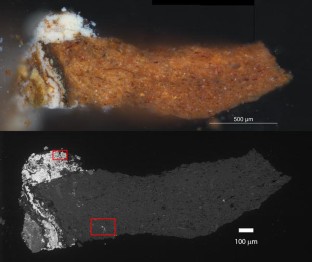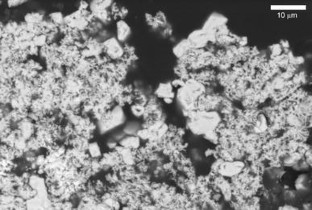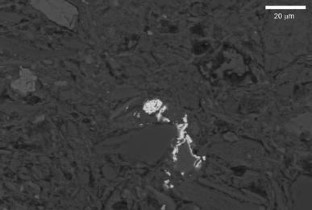 Notes
1.

Diffraction patterns of challacolloite are also represented by PDF card numbers 01-076-4914, 00-058-0484, and 01-078-4542 (the mineral represented by this file contains trace levels of Tl and Br).

2.

Challacolloite crystals from Isola Vulcano (Vulcano Island), Italy, were provided by Prof. Dr. Jochen Schlüter, Mineralogisches Museum, Universität Hamburg.

3.

Provided by Prof. Dr. Jochen Schlüter (see above).
References
1.

S. Nunberg, A.E. Charola, Int Z Bauinstandsetz und Baudenkmalpfl 7(2), 131 (2001)

2.

J. Schlüter, D. Pohl, S. Britvin, N Jahrb für Mineral Abh 182(1), 95 (2005)

3.

M. Velázquez, A. Ferrier, O. Pérez, S. Péchev, P. Gravereau, J.-P. Chaminade, R. Moncorgé, Eur. J. Inorg. Chem. 20, 4168 (2006)

4.

A.A. Merkulov, L.I. Isaenko, V.M. Pashkov, V.G. Mazur, A.V. Virovets, D.Y. Naumov, J. Struct. Chem. 46(1), 103 (2005)

5.

P. Noble, A. van Loon, ArtMatters Neth. Tech. Stud. Art 4, 19 (2007)

6.

E. Kotulanová, P. Bezdička, D. Hradil, J. Hradilová, S. Švarcová, T. Grygar, J. Cult. Herit. 10(3), 367 (2009)

7.

A. van Loon, P. Noble, J.J. Boon, in ICOM-CC 16th Triennial Conference Lisbon 19–23 September 2011 Preprints, ed. by C. Antomarchi, M.-C. Corbeil, B. Eshøj, F. Hanssen-Bauer, L. Pilosi (Critério, 2011)

8.

A. van Loon, P. Noble, J.J. Boon, in Historical Technology, Materials and Conservation: SEM and Microanalysis, ed. by N. Meeks, C. Cartwright, A. Meek, A. Mongiatti (Archetype, London, 2012)

9.

C. Cardell-Fernández, C. Navarrete-Aguilera, Stud. Conserv. 51(3), 161 (2006)

10.

D. Hradil, J. Hradilová, P. Bezdička, S. Švarcová, Z. Čermáková, V. Košařová, I. Němec, J. Raman Spectrosc. 45(9), 848 (2014)

11.

A.N. Vtyurin, L.I. Isaenko, S.N. Krylova, A. Yelisseyev, A.P. Shebanin, P.P. Turchin, N.G. Zamkova, V.I. Zinenko, Phys. Status Solidi C 1(11), 3142 (2004)

12.

K.S. Aleksandrov, A.N. Vtyurin, A.P. Eliseev, N.G. Zamkova, L.I. Isaenko, S.N. Krylova, V.M. Pashkov, P.P. Turchin, A.P. Shebanin, Phys. Solid State 47(3), 531 (2005)

13.

I.M. Bell, R.J.H. Clark, P.J. Gibbs, Spectrochim. Acta, Part A 53(12), 2159 (1997)

14.

S.I. Tkachenko, R.P. Porter, M.A. Korzhinskii, M.D. van Bergen, K.I. Shmulovich, G.S. Shteinberg, Geokhimiya 4, 410 (1999)

15.

I. Campostrini, F. Demartin, C.M. Gramaccioli, P. Orlandi, Can. Mineral. 46(3), 701 (2008)

16.

H.M. Artelt, E. Greinacher, G. Meyer, J. Parkt. Chem. 335(3), 255 (1993)

17.

M. Nikl, K. Nitsch, I. Velicka, J. Hybler, K. Polak, T. Fabian, Phys. Status Solidi B 168(1), K37 (1991)

18.

R.H. Page, K.I. Schaffers, S.A. Payne, W.F. Krupke, J. Lightwave Technol. 15(5), 786 (1997)

19.

L. Isaenko, A. Yelisseyev, A. Tkachuk, S. Ivanova, S. Vatnik, A. Merkulov, S. Payne, R. Page, M. Nostrand, Mater. Sci. Eng., B 81(1–3), 188 (2001)

20.

S.R. Bowman, N.J. Condon, S. O'Connor, N.S. Jenkins, A.G. Bluiett, J. Ganem, Proc. SPIE 5707 Solid State Lasers XIV Technol. Devices 5707, 135 (2005)

21.

N.W. Jenkins, S.R. Bowman, S. O'Connor, S.K. Searles, J. Ganem, Opt. Mater. 22(4), 311 (2003)

22.

L.I. Isaenko, I.N. Ogorodnikov, V.A. Pustovarov, A.Y. Tarasova, V.M. Pashkov, Opt. Mater. 35(3), 620 (2013)

23.

C. Maqueda, J.L. Perez Rodriguez, A. Justo Erbez, Mineral. Petrogr. Acta 29-A, 591 (1985)

24.

J.L. Pérez-Rodríguez, C. Maqueda, A. Justo, E. Morillo, M.C. Jiménez de Haro, Appl. Clay Sci. 9(3), 211 (1994)

25.

J.L. Pérez-Rodríguez, C. Maqueda, M.C. Jiménez de Haro, P. Rodríguez-Rubio, Atmos. Environ. 32(6), 993 (1998)

26.

M. Stols-Witlox, in ICOM-CC 16th triennial conference lisbon 19–23 September 2011 Preprints, ed. by C. Antomarchi, M.-C. Corbeil, B. Eshøj, F. Hanssen-Bauer, L. Pilosi (Critério, 2011)

27.

A. Harrison, Anatol. Archaeol. Stud. 17, 271 (2008)

28.

E. Doehne, in Natural stone, weathering phenomena, conservation strategies and case studies, ed. by S. Siegesmund, T. Weiss, A. Vollbrecht, vol 205 (Geological Society Special Publications, London, 2002)
Acknowledgments
This research was carried out primarily in the facilities of the Yale Institute for the Preservation of Cultural Heritage (IPCH), established by a gift from Lisbet Rausing and Peter Baldwin (Yale'78). Gwénaëlle Kavich was Visiting Conservation Scientist at IPCH while carrying out work on this project. This research made use of the XRD facilities of the Chemical and Biophysical Instrumentation Center at Yale University with assistance by Brendon Mercado. Search of powder diffraction files and phase identification was carried out with assistance from Daniela Morales-Acosta, postdoctoral associate at the Yale Center for Research on Interface Structures and Phenomena (CRISP). We are grateful to Prof. Dr. Jochen Schlüter, Mineralogical Museum of the University of Hamburg, Germany, and Gianluca Odicino, Associazione Micromineralogica Italiana, Arezzo, Italy, for sending us challacolloite mineral specimens. Stefan Nicolescu, Collections Manager of Mineralogy and Meteroritics at the Yale Peabody Museum of Natural History, provided guidance on finding information about challacolloite and facilitated access to mineral reference materials. The authors thank Paola D'Agostino, Nina and Lee Griggs Assistant Curator of European Art at the Yale University Art Gallery, for her encouragement of this investigation.
About this article
Cite this article
Bezur, A., Kavich, G., Stenger, J. et al. Discovery of challacolloite, an uncommon chloride, on a fifteenth-century polychrome terracotta relief by Michele da Firenze. Appl. Phys. A 121, 83–93 (2015). https://doi.org/10.1007/s00339-015-9386-7
Received:

Accepted:

Published:

Issue Date:
Keywords
Paint Layer

Painted Surface

Gypsum Crystal

Cerussite

Salt Crust