Abstract
Nanostructured metallic backside reflectors (BSRs) are crucial for enhanced optical absorption in thin-film amorphous silicon solar cells. The structural fabrication based on rapid aluminum (Al) anodization has a potential for roll-to-roll processes, which are promising for low-cost and large-scale fabrication of BSRs. In this regard, the short fabrication time via appropriate choice of acid, acid concentration, temperature, and time-dependent voltage control is very important. In addition, we first demonstrate the trimming of structural height by using conventional Al anodization, so the best pore size of BSRs with the same structural height can be determined. According to integrated external quantum efficiency (IEQE) calculations, the nanostructured BSR with 430-nm pore size shows 51.6 % IEQE improvement compared with the value of the flat BSR. Moreover, it is interesting that the absorption spectra of a-Si:H on nanostructured Al BSRs with and without the 100-nm Ag coating are highly similar even if the optical properties of Al and Ag are different.
Access options
Buy single article
Instant access to the full article PDF.
US$ 39.95
Tax calculation will be finalised during checkout.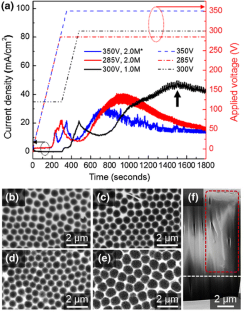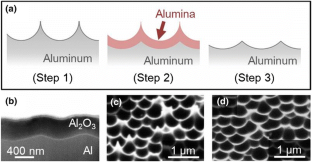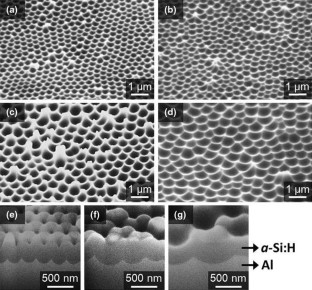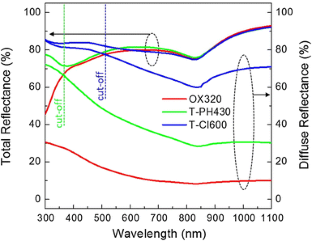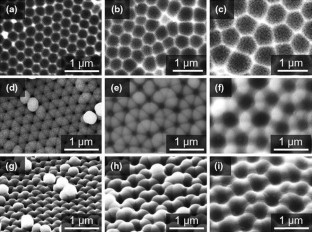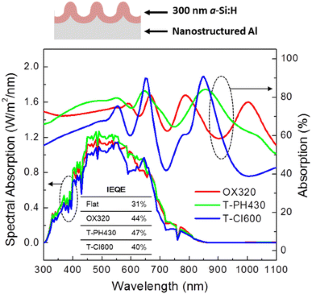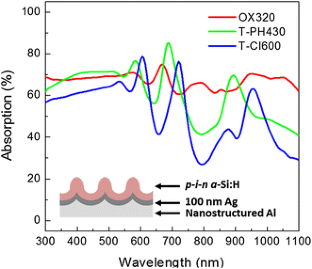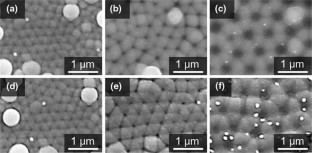 References
1.

J. Meier, S. Dubail, R. Platz, P. Torres, U. Kroll, J.A. AnnaSelvan, N. PellatonVaucher, C. Hof, D. Fischer, H. Keppner, R. Flückiger, A. Shah, V. Shklover, K.-D. Ufert, Sol. Energy Mater. Sol. Cells 49, 35–44 (1997)

2.

T. Su, P.C. Taylor, G. Ganguly, D.E. Carlson, Phys. Rev. Lett. 89, 015502 (2002)

3.

B. Rech, H. Wagner, Appl. Phys. A Mater. Sci. Process. 69, 155–167 (1999)

4.

H. Sai, H. Fujiwara, M. Kondo, Y. Kanamori, Appl. Phys. Lett. 93, 143501 (2008)

5.

H. Huang, L. Lu, J. Wang, J. Yang, S.-F. Leung, Y. Wang, D. Chen, X. Chen, G. Shen, D. Li, Z. Fan, Energy Environ. Sci. 6, 2965–2971 (2013)

6.

Y.-C. Tsao, C. Fisker, T.G. Pedersen, Opt. Commun. 315, 17 (2014)

7.

Y.-C. Tsao, C. Fisker, T.G. Pedersen, Opt. Express 22, A651 (2014)

8.

C. Battaglia, C.-M. Hsu, K. Söderström, J. Escarré, F.-J. Haug, M. Charrière, M. Boccard, M. Despeisse, D.T.L. Alexander, M. Cantoni, Y. Cui, C. Ballif, ACS Nano 6, 2790–2797 (2012)

9.

M.H. Lee, N. Lim, D.J. Ruebusch, A. Jamshidi, R. Kapadia, R. Lee, T.J. Seok, K. Takei, K.Y. Cho, Z. Fan, H. Jang, M. Wu, G. Cho, A. Javey, Nano Lett. 11, 3425–3430 (2011)

10.

W. Lee, R. Ji, U. Gösele, K. Nielsch, Nat. Mater. 5, 741–747 (2006)

11.

Y. Li, M. Zheng, L. Ma, W. Shen, Nanotechnology 17, 5101–5105 (2006)

12.

Q. Wang, Y. Long, B. Sun, J. Porous Mater. 20, 785–788 (2013)

13.

A.S. Lin, Y.-K. Zhong, S.-M. Fu, C.-W. Tseng, S.-Y. Lai, W.-M. Lai, J. Opt. 15, 105007 (2013)

14.

A. Lin, J.D. Phillips, Sol. Energy Mater. Sol. Cells 92, 1689–1696 (2008)

15.

L. Yuan, F. Chen, C. Zheng, J. Liu, N. Alemu, Phys. Status Solidi A 209, 1376–1379 (2012)

16.

J. Bellemare, F. Sirois, D. Enard, J. Electrochem. Soc. 161, E75–E80 (2014)

17.

V.P. Parkhutik, V.I. Shershulsky, J. Phys. D Appl. Phys. 25, 1258 (1992)

18.

S. Ono, M. Saito, M. Ishiguro, H. Asoh, J. Electrochem. Soc. 151, B473–B478 (2004)

19.

S.Z. Chu, K. Wada, S. Inoue, M. Isogai, Y. Katsuta, A. Yasumori, J. Electrochem. Soc. 153, B384–B391 (2006)

20.

H. Ehrenreich, H.R. Philipp, B. Segall, Phys. Rev. 132, 1918–1928 (1963)

21.

Y.-C. Tsao, T. Søndergaard, E. Skovsen, L. Gurevich, K. Pedersen, T.G. Pedersen, Opt. Express 21, A84 (2013)

22.

Lumerical FDTD Solutions. http://www.lumerical.com/tcad-products/fdtd/

23.

ASTM standard tables for reference solar spectral irradiances: direct normal and hemispherical on 37° tilted surface. Standard No. G173-03.West Conshohocken (PA): American Society for Testing and Materials. http://www.astm.org, (2003)

24.

H. Sai, T. Koida, T. Matsui, I. Yoshida, K. Saito, M. Kondo, Appl. Phys. Express 6, 104101 (2013)

25.

J. Müllera, B. Rech, J. Springer, M. Vanecek, Sol. Energy 77, 917–930 (2004)

26.

F.-J. Haug, T. Söderström, O. Cubero, V. Terrazzoni-Daudrix, C. Ballif, J. Appl. Phys. 106, 044502 (2009)
Acknowledgments
The authors acknowledge the assistance of M. Bellettato for solar cell fabrication at IMM CNR-Bologna, Italy, the technical support of D. Wang at Department of Physics and Nanotechnology, Aalborg University, Denmark, and the support by the QUSCOPE center from the Villum foundation. This work was supported by the Danish strategic research council under the project named thin-film solar cell based on nanocrystalline silicon and structured backside reflectors—THINC.
About this article
Cite this article
Tsao, YC., Søndergaard, T., Kristensen, P.K. et al. Rapid fabrication and trimming of nanostructured backside reflectors for enhanced optical absorption in a-Si:H solar cells. Appl. Phys. A 120, 417–425 (2015). https://doi.org/10.1007/s00339-015-9205-1
Received:

Accepted:

Published:

Issue Date:
Keywords
Localize Surface Plasmon Resonance

External Quantum Efficiency

Large Pore Size

Citric Acid Solution

Phosphoric Acid Solution