Abstract
The morphology of highly regular, semi-crystalline P3HT (poly 3-hexylthiophene-2.5-diyl) after thermal nanoimprint is studied and compared to that of its amorphous counterpart. Differential scanning calorimetry measurements of both materials provide the glass transition temperature (below room temperature) as well as the melting temperature (T m ≈ 235 °C) and the crystallization temperature (T c ≈ 200 °C) of the semi-crystalline polymer. Imprint experiments are performed at temperatures below and above the melting temperature of the crystallites. The samples imprinted with line structures in the range of 135–500 nm are investigated by scanning electron microscopy and transmission measurements. In agreement with T m, the investigations indicate that the crystallites do not melt when semi-crystalline P3HT is imprinted below T m. After imprint above T m, no more indication of the crystallites is found. Furthermore, physical self-assembly only occurred after imprint beyond T m with semi-crystalline P3HT, indicating a fully amorphous state. The morphology observed—the roughness of the surface within partly filled cavities when crystallites are present—correlates well with the results from optical measurements.
Access options
Buy single article
Instant access to the full article PDF.
USD 39.95
Price excludes VAT (USA)
Tax calculation will be finalised during checkout.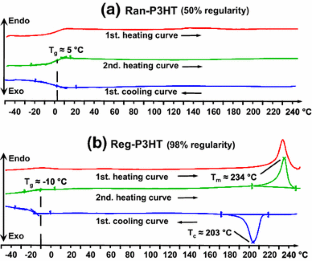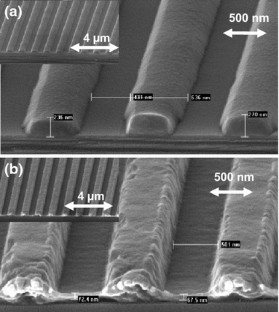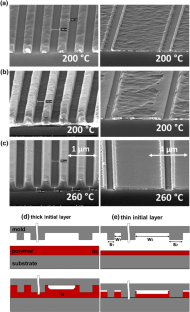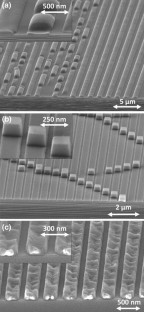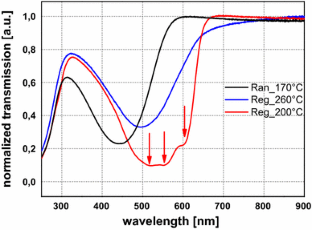 References
Y. Yang, K. Mielczarek, M. Aryal, A. Zakhidov, W. Hu, ACS Nano 6, 2877 (2012)

R.H. Friend, R.W. Gymer, A.B. Holmes, J.H. Burroughes, R.N. Marks, C. Taliani, D.D.C. Bradley, Nature 397, 121 (1999)

Y.F. Liew, H. Aziz, N.X. Hu, G. Xu, Z. Popovic, Appl. Phys. Lett. 77, 2650 (2000)

M.D. Austin, S.Y. Chou, Appl. Phys. Lett. 81, 4431 (2002)

H. Sirringhaus, P.J. Brown, R.H. Friend, M.M. Nielsen, K. Bechgaard, B.M.W. Langeveld-Voss, A.J.H. Spiering, R.A.J. Janssen, E.W. Meijer, P. Herwig, D.M. de Leeuw, Nature 401, 685 (1999)

R.J. Kline, M.D. McGehee, M.F. Tony, Nat. Mater. 5, 222 (2006)

R.J. Kline, M.D. McGehee, E.N. Kadnikova, J.S. Liu, J.M.J. Frechet, M.F. Tony, Macromelecules 38, 3312 (2005)

M. Aryal, K. Trivedi, W. Hu, ACS Nano 3, 3085 (2009)

S. Wang, A. Mayer, K. Dhima, C. Steinberg, H.-C. Scheer, J. Vac. Sci. Technol. 31, 06FB06-1 (2013)

M.S.A. Abdou, S. Holdcroft, Macromolecules 26, 2954 (1993)

G. Griffini, S. Turri, M. Levi, Polymer. Bull. 66, 211 (2011)

T. Chen, X. Wu, R.D. Riecke, J. Am. Chem. Soc. 117, 233 (1995)

N. Chaix, C. Gourgon, S. Landis, C. Parret, M. Fink, F. Reuther, D. Mecerreyes, Nanotechnology 17, 4082 (2006)

N. Bogdanski, M. Wissen, S. Möllenbeck, H.-C. Scheer, J. Vac. Sci. Technol. 24, 2998 (2006)

N. Bogdanski, M. Wissen, S. Möllenbeck and H.-C. Scheer, SPIE 6533 (2007)

S. Malik, A.K. Nandi, J. Pol. Phys. 40, 2073 (2002)

A. Zen, M. Sapphiannikova, D. Neher, J. Grenzer, S. Grigorian, U. Pietsch, U. Asawapirom, S. Janietz, U. Scherf, I. Lieberwirth, G. Wegner, Macromolecules 39, 2162 (2006)

C. Steinberg, K. Dhima, D. Blenskens, A. Mayer, S. Wang, M. Papenheim, H.-C. Scheer, J. Zajadacz, K. Zimmer, Microelectron. Eng. 123, 4 (2014)

N. Bogdanski: Partial Cavity Filling in Thermal Nanoimprint, Dissertation, Der Andere Verlag (2008)

L.H. Sperling, Introduction to Physical Polymer Science (Wiley, Hoboken, 2001)

D.W. Van Krevelen, Properties of Polymers (Elsevier, Amsterdam, 1990)
Acknowledgments
Partial funding by the Deutsche Forschungsgemeinschaft DFG is highly acknowledged. We appreciate the support with imprint molds by Prof. Y. Hirai, Osaka Prefecture University.
About this article
Cite this article
Wang, S., Dhima, K., Steinberg, C. et al. Morphology of organic semi-crystalline polymer after thermal nanoimprint. Appl. Phys. A 121, 357–362 (2015). https://doi.org/10.1007/s00339-015-9204-2
Received:

Accepted:

Published:

Issue Date:

DOI: https://doi.org/10.1007/s00339-015-9204-2
Keywords
Differential Scanning Calorimetry Measurement

Initial Layer

Wide Cavity

Optical Transmission Measurement

Smooth Minimum