Abstract
In this paper, PMMA/ZnO nanocomposites have been prepared by a very simple, facile and versatile chemical approach. The prepared PMMA/ZnO nanocomposites possess no color, high transparency, good thermal stability, UV-shielding capability, luminescence and homogeneity. The chemical process involved solution mixing of ZnO nanoparticles dispersed in DMAc with the Polymethylmethacrylate (PMMA) matrix dissolved in the same solvent. The effect of ZnO content on the physical properties of the PMMA matrix is investigated by X-ray diffraction, field emission scanning electron microscopy, thermogravimetric analysis, UV–Vis absorption and photoluminescence spectroscopy. It was found that pure hexagonal ZnO nanoparticles with an average particle size of 4–8 nm were homogeneously dispersed in the PMMA matrix. A significant improvement in thermal properties was observed with the incorporation of 1.0 wt% ZnO nanoparticles. The prepared nanocomposite films are highly transparent and a clear excitonic peak is observed in their absorption spectra. Measurement of room temperature photoluminescence spectra shows intensive near-band edge emission peak at 3.28 eV without any structural defects for a nanocomposite film with a filler content of 1.0 wt%.
Access options
Buy single article
Instant access to the full article PDF.
US$ 39.95
Tax calculation will be finalised during checkout.
Subscribe to journal
Immediate online access to all issues from 2019. Subscription will auto renew annually.
US$ 79
Tax calculation will be finalised during checkout.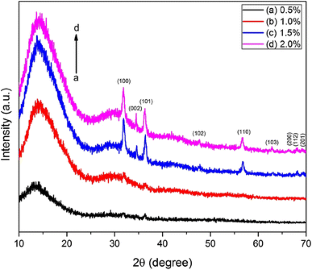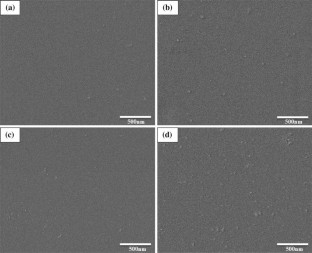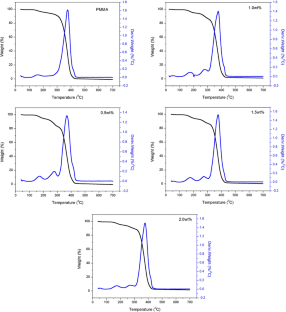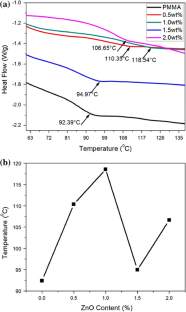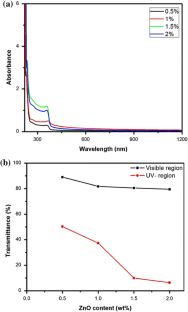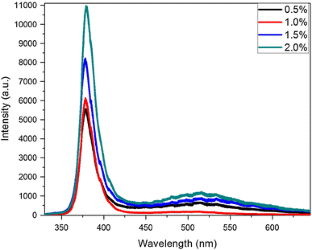 References
1.

C. Arango, L.R. Johnson, V.N. Bliznyuk, Z. Schlesinger, S.A. Carter, H.H. Horhold, Adv. Mater. 12, 1689 (2000)

2.

W.U. Huynh, J.J. Dittmer, A.P. Alivisatos, Science 295, 2425 (2002)

3.

G. Kickelbick, Prog. Polym. Sci. 28, 83 (2003)

4.

M. Agrawal, A. Pich, S. Gupta, N.E. Zafeiropoulos, J.R. Retama, M. Stamm, J. Mater. Chem. 18, 2581 (2008)

5.

M. Agrawal, A. Pich, N.E. Zafeiropoulos, M. Stamm, Colloid Polym. Sci. 286, 593 (2008)

6.

M. Agrawal, N.E. Zafeiropoulos, S. Gupta, E. Svetushkina, A. Pich, M. Stamm, Macromol. Rapid Commun. 31, 405 (2010)

7.

J. Lee, V.C. Sundar, J.R. Heine, M.G. Bawendi, K.F. Jensen, Adv. Mater. 12, 1102 (2000)

8.

C.H. Dan, Y.D. Kim, M. Lee, B.H. Min, J.H. Kim, J. Appl. Polym. Sci. 108, 2128 (2008)

9.

T.K. Leodidou, P. Margraf, W. Caseri, U.W. Suter, P. Walther, Polym. Adv. Technol. 8, 505 (1997)

10.

R.F. Mulligan, A.A. Iliadis, P. Kofinas, J. Appl. Polym. Sci. 89, 1058 (2003)

11.

I.W. Mikrajuddin Lenggoro, K. Okuyama, F.G. Shi, J. Electrochem. Soc. 149, H107 (2002)

12.

M.R. Bockstaller, R.A. Mickiewicz, E.L. Thomas, Adv. Mater. 17, 1331 (2005)

13.

S.M. De Paul, J.W. Zwanziger, R. Ulrich, U. Wiesner, H.W. Spiess, J. Am. Chem. Soc. 121, 5727 (1999)

14.

L.H. Lee, W.C. Chen, Chem. Mater. 13, 1137 (2001)

15.

J.Y. Wen, G.L. Wilkes, Chem. Mater. 8, 1667 (1996)

16.

R. Palkovits, H. Althues, A. Rumplecker, B. Tesche, A. Dreier, U. Holle, G. Fink, C.H. Cheng, D.F. Shantz, S. Kaskel, Langmuir 21, 6048 (2005)

17.

U. Ozgur, Y.I. Alivov, C. Lui, A. Teke, M.A. Reshchikov, S. Dogan, V. Avrutin, S.J. Cho, H. Morkoc, J. Appl. Phys. 98, 041301 (2005)

18.

D. R. Lide, CRC Handbook of Chemistry and Physics, 76th edn. (CRC Press, Boca Raton, 1995), pp. 4/138

19.

T. Olorunyolemi, A. Birnboim, Y. Carmel, O.C. Wilson, I.K. Lloyd, S. Smith, R. Campbell, J. Am. Ceram. Soc. 85, 1249 (2002)

20.

D.C. Look, Semicond. Sci. Technol. 20, S55 (2005)

21.

W. Wunderlich, Polymer Handbook, 4th edn., ed. by J. Brandrup, E. H. Immergut, E. A. Grulke (J Wiley & Sons, New York, 1999), pp. V/87

22.

W.G. Zheng, S.C. Wong, H.J. Sue, Polymer 43, 6767 (2002)

23.

M. Agrawal, S. Gupta, N.E. Zafeiropoulos, U. Oertel, R. Habler, M. Stamm, Macromol. Chem. Phys. 211, 1925 (2010)

24.

M.M. Demir, K. Koynov, U. Akbey, C. Bubeck, I. Park, I. Lieberwirth, G. Wegner, Macromolecules 40, 1089 (2007)

25.

M.M. Demir, M. Memesa, P. Castignollesb, G. Wegner, Macromol. Rapid Commun. 27, 763 (2006)

26.

P. Liu, Z. Su, J. Macromol. Sci. Phys. 45, 131 (2006)

27.

C.H. Hung, W.T. Whang, J. Mater. Chem. 15, 267 (2005)

28.

S.C. Liufu, H.N. Xiao, Y.P. Li, Polym. Degrad. Stab. 87, 103 (2005)

29.

L. D'Orazio, R. Guarino, C. Mancarella, E. Martuscelli, G. Cecchin, J. Appl. Polym. Sci. 66, 2377 (1997)

30.

H.M. Xiong, X. Zhao, J.S. Chen, J. Phys. Chem. B 105, 10169 (2001)

31.

N.R. Yogamalar, R. Srinivasan, A. Chandra Bose, Opt. Mater. 31, 1570 (2009)

32.

V. Khrenov, M. Klapper, M. Koch, K. Mu¨llen, Macromol. Chem. Phys. 206, 95 (2005)

33.

S.C. Hsu, W.T. Whang, C.H. Hung, P.C. Chiang, Y.N. Hsiao, Macromol. Chem. Phys. 206, 291 (2005)

34.

C. Dong, X. Ni, J. Macromol. Sci. A. 41, 547 (2004)

35.

T. Kashiwagi, A. Inaba, J.E. Brown, K. Hatada, T. Kitayama, E. Masuda, Macromolecules 19, 2160 (1986)

36.

J.D. Peterson, S. Vyazovkin, C.A. Wight, J. Phys. Chem. B. 103, 8087 (1999)

37.

A. Laachachia, M. Cocheza, M. Ferriola, J.M. Lopez-Cuestab, E. Leroy, Mater. Lett. 59, 36 (2005)

38.

J. Zhu, F.M. Uhl, A.B. Morgan, C.A. Wilkie, Chem. Mater. 13, 4649 (2001)

39.

L. Schadler, Polymer-Based and Polymer-Filled Nanocomposites. Wiley: Nanocomposite Science and Technology, (2003), p. 77–153

40.

D.A. Savin, J. Pyun, G.D. Patterson, T. Kowalewski, J. Polym. Sci. B. Polym. Phys. 40, 2667 (2002)

41.

A.H. Yuwono, J. Xue, J. Wang, H.I. Elim, W. Ji, Y. Li, T.J. White, J. Mater. Chem. 13, 1475 (2003)

42.

U. Ozgur, Y.I. Alivov, C. Liu, A. Teke, M.A. Reshchikov, S. Dogan, V. Avrutin, S.J. Cho, H. Morkoc, J. Appl. Phys. 98, 041301 (2005)

43.

M.A. Gondal, Q.A. Drmosh, Z.H. Yamani, T.A. Saleh, Appl. Surf. Sci. 256, 298 (2009)

44.

K. Vanheusden, W.L. Warren, C.H. Seager, D.R. Tallant, J.A. Voigt, B.E. Gnade, J. Appl. Phys. 79, 7983 (1996)

45.

J. Yguerabide, E.E. Yguerabide, Anal. Biochem. 2, 137 (1998)
Acknowledgments
This work is supported by the China Scholarship Council (CSC), National Natural Science Foundation of China (51033004, 51120135002, 51227801, U1232128), and 973 program of MOST (2010CB934504). The research is also in part supported by China Postdoctoral Science Foundation (Grant No: 2012M521233). The research is also in part supported by "the Fundamental Research Funds for the Central Universities."
About this article
Cite this article
Khan, M., Chen, M., Wei, C. et al. Synthesis at the nanoscale of ZnO into poly(methyl methacrylate) and its characterization. Appl. Phys. A 117, 1085–1093 (2014). https://doi.org/10.1007/s00339-014-8554-5
Received:

Accepted:

Published:

Issue Date:
Keywords
PMMA

Composite Film

DMAc

Filler Content

Degradation Step