Abstract
In this work, the thickness of the gold leaf applied in six Japanese folding screens is compared using a nondestructive approach. Four screens belonging to the Momoyama period (~1573–1603) and two screens belonging to the early Edo period (~1603–1868) were analyzed in situ using energy dispersive X-ray fluorescence, and the thickness of the applied gold leaf was evaluated using a methodology based on the attenuation of the different characteristic lines of gold in the gold leaf layer. Considering that the leaf may well not be made of pure gold, we established that, for the purpose of comparing the intensity ratios of the Au lines, layers made with gold leaf of high grade can be considered identical. The gold leaf applied in one of the screens from the Edo period was found to be thinner than the gold leaf applied in the other ones. This is consistent with the development of the beating technology to obtain ever more thin gold leafs.
Access options
Buy single article
Instant access to the full article PDF.
US$ 39.95
Tax calculation will be finalised during checkout.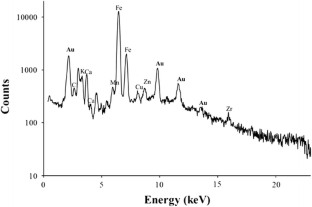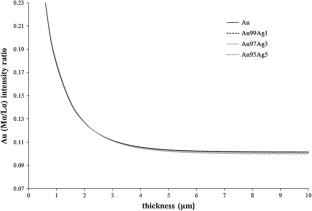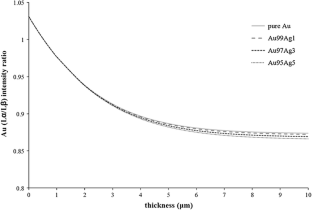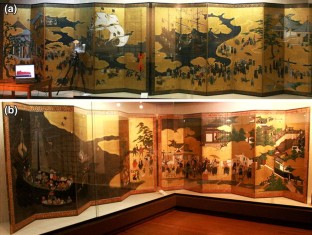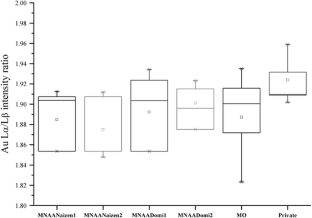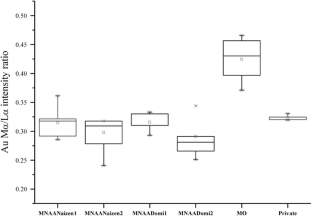 References
1.

C.J. Raub, Mater. Australas. 1–19, 7 (1986)

2.

J. Winter, East Asian Paintings: Materials, Structures and Deterioration Mechanisms (Archetype publications, Washington, 2008)

3.

E. Darque-Ceretti, M. Aucouturier, Dorure: décor et sublimation de la matière (Mines ParisTech, Paris, 2012)

4.

M. Koyano, Gilding and Gilding Conservation in Japan. Gilded Wood: Conservation and History (Sound view press, Madison, 1991)

5.

S. Grantham, Pap. Conserv. 9, 83 (1985)

6.

A. Le Gac, A.I. Seruya, M. Lefftz, A. Alarcão, Revue d'Archéométrie—ArcheoSciences 33, 423 (2010)

7.

N. Wang, L. He, E. Egel, S. Simon, B. Rong, Microchem. J. 114, 125 (2014)

8.

V. Corregidor, L.C. Alves, N.P. Barradas, M.A. Reis, M.T. Marques, J.A. Ribeiro, Nucl Instrum. Methods Phys. Res. B 269, 3049 (2011)

9.

A. Migliori, N. Grassi, P.A. Mando, Nucl. Instrum. Methods Phys. Res. B 266, 2339 (2008)

10.

C. Fiorini, A. Gianoncelli, A. Longoni, F. Zaraga, X-Ray Spectrom. 31, 92 (2002)

11.

T. Trojek, M. Hlozek, Appl. Radiat. Isot. 70, 1420 (2012)

12.

R. Cesareo, Nucl. Instrum. Methods Phys. Res. B 211, 133 (2003)

13.

R. Cesareo, A. Brunetti, S. Ridolfi, X-Ray Spectrom. 37, 309 (2008)

14.

R. Cesareo, M.A. Rizzutto, A. Brunetti, D.V. Rao, Nucl. Instrum. Methods Phys. Res. B 267, 2890 (2009)

15.

S. Pessanha, M. Guerra, S. Longelin, A. Le Gac, M. Manso, M.L. Carvalho, X-Ray Spectrom. 43, 79 (2014)

16.

S. Pessanha, A. LeGac, T.I. Madeira, A. Guilherme, M. Manso, M.L. Carvalho, X-Ray Spectrom. 42, 128 (2013)

17.

S. Pessanha, M.L. Carvalho, M.I. Cabaço, S. Valadas, J.-L. Bruneel, M. Besnard, M.I. Ribeiro, J. Raman Spectrosc. 41, 1220 (2010)

18.

M.F. Guerra, T. Calligaro, Meas. Sci. Technol. 14, 1527 (2003)

19.

Y. Lippit, Encompassing the Globe: Portugal and the World in the 16th and 17th Centuries (MNAA, Lisbon, 2009)

20.

Art Namban - Catalogue of the Europália89 Exposition (Musées Royaux d'Art et d'Histoire, Brussels, 1989)

21.

M. Guerra, M. Manso, S. Longelin, S. Pessanha, M.L. Carvalho, J. Instrum. 7, C10004 (2012)

22.

V.A. Solé, E. Papillon, M. Cotte, Ph Walter, J. Susini, Spectrochim. Acta B 62, 63 (2007)
Acknowledgments
Authors would like to thank directors and staff at Museu Nacional de Arte Antiga and Museu Oriente for allowing the study, as well as Salvarte atelier for accommodating us and the screen belonging to the private collector.
About this article
Cite this article
Pessanha, S., Madeira, T.I., Manso, M. et al. Comparison of gold leaf thickness in Namban folding screens using X-ray fluorescence. Appl. Phys. A 116, 1053–1058 (2014). https://doi.org/10.1007/s00339-014-8531-z
Received:

Accepted:

Published:

Issue Date:
Keywords
Characteristic Line

Gold Alloy

Linear Attenuation Coefficient

Gold Leaf

Generator Eclipse