Abstract
Accurate determination of the charge transport characteristics of amorphous metal-oxide transistors requires the mitigation of the effects of contact resistance. The use of additional electrodes as voltage probes can overcome contact resistance-related limitations and yields accurate charge carrier mobility values, trap depths and temperature and carrier density dependencies of mobility as well as trap depths. We show that large differences in measured charge carrier mobility values are obtained when such contact resistances are not factored out. Upon exclusion of the contact resistance, the true temperature dependence of charge carrier mobility appears in the form of two clearly distinct mobility regimes. Analyzing these revealed mobility regions leads to a more accurate determination of the underlying transport physics, which shows that contact resistance-related artefacts yield incorrect trends of trap depth with gate voltage, potentially leading to a misconstruction of the charge transport picture. Furthermore, a comparison of low- and high-mobility samples indicates that the observed effects are more general.
Access options
Buy single article
Instant access to the full article PDF.
USD 39.95
Price excludes VAT (USA)
Tax calculation will be finalised during checkout.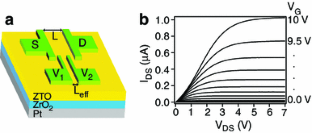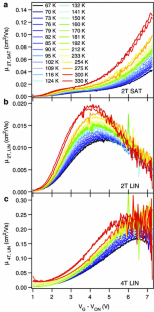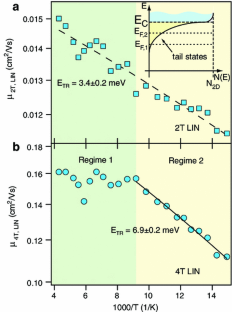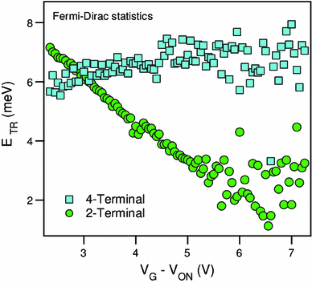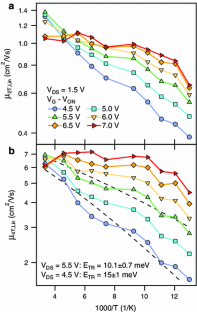 References
K. Abe, N. Kaji, H. Kumomi, K. Nomura, T. Kamiya, M. Hirano, H. Hosono, IEEE Trans. Electron. Devices 58, 3463 (2011)

H.Q. Chiang, J.F. Wager, R.L. Hoffman, J. Jeong, D.A. Keszler, APL 86, 013503 (2005)

V. Craciun, J. Elders, J.G.E. Gardeniers, I.W. Boyd, APL 65, 2963 (1994)

S. Dutta, A. Dodabalapur, Sens. Actuators B Chem. S34, 50 (2009)

P.T. Erslev, E.S. Sundholm, R.E. Presley, D. Hong, J.F. Wager, J.D. Cohen, APL 95, 192115 (2009)

Y. Fu, Y.-M. Mu, M. Willander, Superlattices Microstruct. 23, 417 (1998)

W. Hu, R.L. Peterson, J. Mat. Res. 27, 2286 (2012)

W.B. Jackson, R.L. Hoffman, G.S. Herman, APL 87, 193503 (2005)

J. Jeong, J. Kim, G.J. Lee, B.-D. Choi, APL 100, 023506 (2012)

C.R. Kagan and Paul Andry, Thin-Film Transistors. CRC Press, 1st edition (2003)

Y.-H. Kim, J.-S. Heo, T.-H. Kim, S. Park, M.-H. Yoon, J. Kim, M.S. Oh, G.-R. Yi, Y.-Y. Noh, S.K. Park, Nature 489, 128 (2012)

P.G. Le Comber, W.E. Spear, PRL 25, 509 (1970)

D.H. Lee, D.-H. Lee, Y.-J. Chang, G.S. Herman, C.-H. Chang, Adv. Mat. 19, 843 (2007)

C.-G. Lee, A. Dodabalapur, APL 96, 243501 (2010)

C.-G. Lee, B. Cobb, A. Dodabalapur, APL 97, 203505 (2010)

C.-G. Lee, A. Dodabalapur, IEEE Electron. Device Lett. 31, 1410 (2010)

W. Lim, J.H. Jang, S.-H. Kim, D.P. Norton, V. Craciun, S.J. Peartona, F. Ren, H. Chen, J. Vac. Sci. Technol. B 27, 126 (2009)

S. Murali, J.S. Rajachidambaram, S.-Y. Han, C.-H. Chang, G.S. Herman, J.F. Conley Jr, Solid State Elec. 79, 248252 (2013)

K. Nomura, A. Takagi, T. Kamiya, H. Ohta, M. Hirano, H. Hosono, JJAP 45, 4303 (2006)

B.N. Pal, B.M. Dhar, K.C. See, H.E. Katz, Nat. Mat. 8, 898 (2009)

M.-K. Ryu, J.-B. Seon, I.S. Kee, Y. G. Lee, S.Y. Lee, Sid Symp. Digest Techn. Papers 40, no. 1 (2009)

S.-J. Seo, C.G. Choi, Y.H. Hwang, B.-S. Bae, J. Phys. D Appl. Phys. 42, 035106 (2009)

M. Shur, S. Rumyantsev, M. Levinshtein, SiC Materials and Devices, Vol. 2. Prentice Hall, 1st edition (1997)
Acknowledgments
Financial support of the Schweizerischer Nationalfonds (SNF) with the grant numbers PBFRP2-138632 and PBFRP2-142820 and of the Office of Naval Research with the grant number A002181202 is gratefully acknowledged.
About this article
Cite this article
Schulz, L., Yun, EJ. & Dodabalapur, A. Effects of contact resistance on the evaluation of charge carrier mobilities and transport parameters in amorphous zinc tin oxide thin-film transistors. Appl. Phys. A 115, 1103–1107 (2014). https://doi.org/10.1007/s00339-014-8422-3
Received:

Accepted:

Published:

Issue Date:

DOI: https://doi.org/10.1007/s00339-014-8422-3
Keywords