Abstract
Metal island films (MIF) are good candidates for sensors due to the strong sensitivity of the localised surface plasmon resonance to the environment refractive index. The strong near field enhancement in the vicinity of the island surface can be even higher if a metal layer (ML) is placed close to a MIF. Structures containing MIF with and without ML are prepared and sensitivities of spectrophotometric and ellipsometric features of the measurements are compared. It is shown that simple MIF is preferable for ellipsometry-based sensing and the one including ML in the case of spectrophotometric measurements.
Access options
Buy single article
Instant access to the full article PDF.
USD 39.95
Price excludes VAT (USA)
Tax calculation will be finalised during checkout.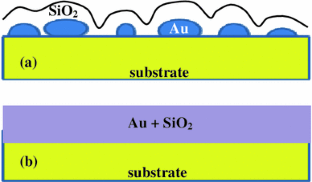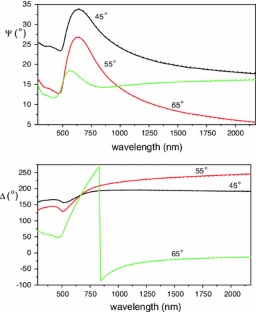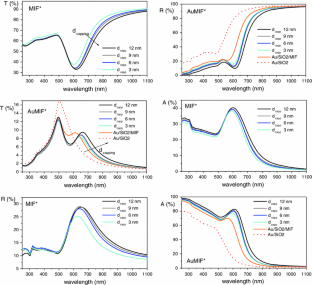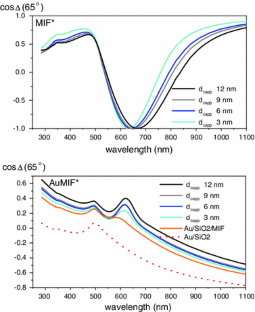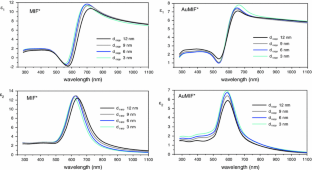 References
A. Vaskevic, I. Rubinstein, Localized Surface Plasmon Resonance Sensing (LSPR) Spectroscopy in Biosensing in Handbok of Biosensors and Biochips (Wiley, New York , 2007)

G. Xu, M. Tazawa, P. Jin, S. Nakao, K. Yoshimura, Wavelength tuning of surface plasmon resonance using dielectric layers on silver island films. App. Phys. Lett 82, 3811 (2003)

M. Moskovits, Surface-enhanced Raman spectroscopy: a brief retrospective. J. Raman Spectrosc. 36(36), 485–496 (2005)

M. Fleischmann, P.J. Hendra, A.J. McQuillan, Raman spectra of pyridine adsorbed at a silver electrode. Chem. Phys. Lett. 26(2), 163–166 (1974)

D.J. Jeanmaire, R.P. van Duyne, Surface Raman electrochemistry. Part I. Heterocyclic, aromatic and aliphatic amines adsorbed on the anodized silver electrode. J. Electroanal. Chem. 84, 1–20 (1977)

M.G. Albrecht, J.A. Creighton, Anomalously intense Raman spectra of pyridine at a silver electrode. J. Am. Chem. Soc. 99(15), 5215–5217 (1977)

M. Osawa, Surface enhanced infrared absorption. Topics Appl. Phys. 81, 163–187 (2001)

A. Hartstein, J.R. Kirtley, J.C. Tsang, Enhancement in the infrared absorption from molecular monolayers with thin metal overlayers. Phys. Rev. Lett. 45, 201–204 (1980)

A. Hatta, T. Ohshima, W. Suetaka, Observation of the enhanced infrared absorption of p-nitrobenzoate on Ag island films with an ATR technique. Appl. Phys. A 29, 71–75 (1982)

A. Hatta, Y. Suzuki, W. Suetaka, Infrared absorption enhancement of monolayer species on thin evaporated Ag films by use of a Kretschmann configuration, Evidence for two types of enhanced surface electric fields. Appl. Phys. A 35, 135–140 (1984)

H.R. Stuart, D.G. Hall, Enhanced dipole–dipole interaction betwen elementary radiators near surface. Phys. Rew. Lett. 80, 5663–5666 (1998)

Y. Chu, K.B. Crozier, Experimental study of the interaction between localized and propagating surface plasmons. Opt. Lett. 34(3), 244–246 (2009)

L.C.T. Shoute, Multilayer substrate-mediated tuning resonance of plasmon and SERS EF of nanostructured silver. Chem. Phys. Chem. 11, 2539–2545 (2010)

M. Lončarić, J. Sancho-Parramon, M. Pavlović, H. Zorc, P. Dubček, A. Turković, S. Bernstorff, G. Jakopic, A. Haase, Optical and structural characterization of silver island films on glass substrates. Vacuum 24, 188–192 (2010)

J. Sancho-Parramon, V. Janicki, H. Zorc, Tuning the effective dielectric function of thin film metal-dielectric composites by controlling the deposition temperature. J. Nanophotonics, vol 5 (2011) pp. 051805–1-8

P. Pellegrino, B. Garrido, C. Garcia, J. Arbiol, J.R. Morante, M. Melchiorri, N. Daldosso, L. Pavesi, E. Scheid, G. Sarrabayrouse, J. Appl. Phys. 97(7), p. 074312/1-8 (2005)

P. Pellegrino, B. Garrido, J. Arbiol, C. Garcia, Y. Lebour, J.R. Morante, Appl. Phys. Lett. 88(12), 121915 (2006)

M. Loněarić, J. Sancho-Parramon, H. Zorc, Optical properties of gold island films: a spectroscopic ellipsometry study. Thin Solid Films 519, 2946–2950 (2011)

A.V. Tikhonravov, M.K. Trubetskov, A.V. Krasilnikova, E. Masetti, A. Duparre, E. Quesnel, D. Ristau, Investigation of the surface micro-roughness of fluoride films by spectroscopic ellipsometry. Thin Solid Films 397, 229–237 (2001)

A.V. Tikhonravov, M.K. Trubetskov, A.V. Krasilnikova, Spectroscopic ellipsometry of slightly inhomogeneous nonabsorbing thin films with arbitrary refractive-index profiles: theoretical study. Appl. Opt. 37, 5902–5911 (1998)

K. Lodewijks, W. Van Roy, G. Borghs, L. Lagae, P. Van Dorpe, Boosting the figure-of-merit of LSPR-based refractive index sensing by phase-sensitive measurements. Nano Lett. 12, 1655–1659 (2012)
Acknowledgments
V. Janicki would like to thank European Science Foundation (ESF) for the activity entitled 'New Approaches to Biochemical Sensing with Plasmonic Nanobiophotonics (PLASMON-BIONANOSENSE) Exchange Grant 3853. J. Abriol acknowledges funding from the Spanish MICINN Project MAT2010-15138 and Generalitat de Catalunya (2009 SGR 770).
About this article
Cite this article
Janicki, V., Sancho-Parramon, J., Bosch, S. et al. Metal island film-based structures for sensing using spectrophotometry and ellipsometry. Appl. Phys. A 115, 481–486 (2014). https://doi.org/10.1007/s00339-013-8056-x
Received:

Accepted:

Published:

Issue Date:

DOI: https://doi.org/10.1007/s00339-013-8056-x
Keywords
Surface Plasmon Resonance

Metal Layer

Surface Plasmon Polariton

Surface Plasmon Resonance Band

Ellipsometric Measurement