Abstract
In this paper we study the nonlinear optical properties of PicoGreen dye. The investigations involve the single-beam Z-scan technique and measurements were carried out at different incident intensities. Both open and closed aperture Z-scan techniques were performed at 532 nm and it was found that the dye exhibited a reverse saturable absorption with significant nonlinear absorption coefficient and intensity-dependent negative nonlinear refraction coefficient, indicating self-defocusing phenomena. The third-order nonlinear susceptibility and optical limiting threshold were also measured.
Access options
Buy single article
Instant access to the full article PDF.
USD 39.95
Price excludes VAT (USA)
Tax calculation will be finalised during checkout.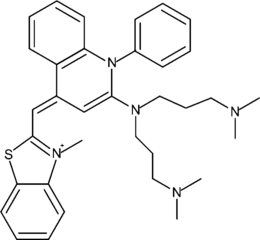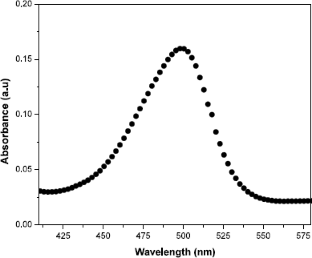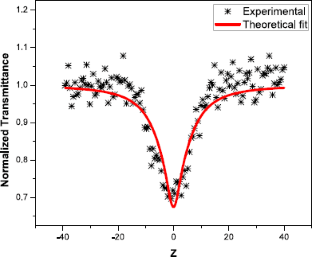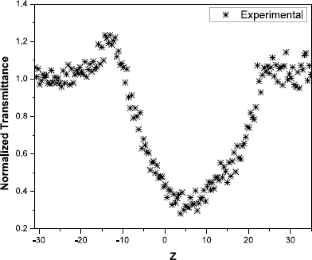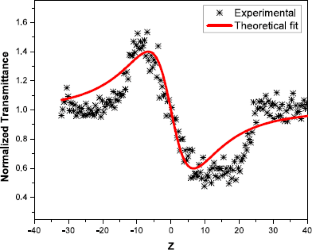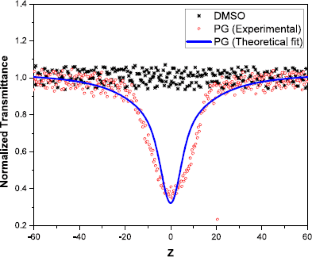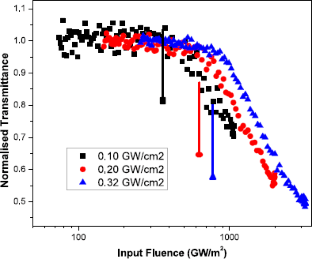 References
M.A. Kramer, W.R. Tompkin, R.W. Boyd, Phys. Rev. A 34, 2026 (1986)

F.E. Hernandez, A.O. Marcano, Y. Alvarado, A. Biondi, H. Maillotte, Opt. Commun. 152, 77 (1998)

G.M. Carter, M.K. Thakar, Y.J. Chen, J.V. Hryniewez, Appl. Phys. Lett. 47, 457 (1985)

Ch. Bosshard, K. Sutter, R. Gunter, J. Opt. Soc. Am. B 6, 721 (1989)

G.S. He, G.S. Xu, P.N. Prasad, B.A. Reinhardt, J.C. Bhatt, A.G. Dillard, Opt. Lett. 20, 435 (1995)

J.L. Bredas, C. Adant, P. Tackx, A. Persoons, Chem. Rev. 94, 243 (1994)

T.A. Shankoff, Appl. Opt. 8, 2282 (1969)

S.C. Yang, Q.M. Qian, L.P. Zhang, P.H. Qiu, Z.J. Wang, Opt. Lett. 16, 548 (1991)

M. Sheik-Bahae, A.A. Said, E.W. Van Stryland, Opt. Lett. 14, 955 (1989)

M. Sheik-Bahae, A.A. Said, T. Wei, D.J. Hagan, E.W. Van Stryland, IEEE J. Quantum Electron. QE26, 760 (1990)

C. Pradeep, S. Mathew, B. Nithyaja, P. Radhakrishnan, V.P.N. Nampoori, in Int. Conf. Fiber Optics and Photonics, IIT Madras, Chennai, December, 2012, TPo.38

C. Pradeep, S. Mathew, B. Nithyaja, P. Radhakrishnan, V.P.N. Nampoori. Appl. Phys. B. doi:10.1007/s00340-013-5380-y

Quant-iT PicoGreen dsDNA Reagent and Kits, manuals, Invitrogen

PicoGreen Assay for dsDNA, Protocol ND-300, Thermo Scientific

C. Labarca, K. Paigen, Anal. Biochem. 102, 344 (1980)

V.L. Singer, L.J. Jones, S.T. Yue, R.P. Haugland, Anal. Biochem. 249, 228 (1997)

G. Cosa, K.S. Focsaneanu, J.R.N. Mclean, J.P. McNamee, J.C. Scaiano, Photochem. Photobiol. 73, 585 (2001)

H. Zipper, H. Brunner, J. Bernhagen, F. Vitzthum, Nucleic Acids Res. 32, 12 e103 (2004)

ChemSpider CSID: 17230578

E.W. Van Stryland, M. Sheik-Bahae, A.A. Said, D.J. Hagan, Prog. Cryst. Growth Charact. 27, 279 (1993)

E. Shahriari, W.M.M. Yunus, Am. J. Eng. Appl. Sci. 3, 98 (2010)

E. Shahriari, W.M.M. Yunus, Digest J. Nanomater. Biostruct. 5, 939 (2010)

R.A. Ganeev, R.I. Tugushev, A.A. Ishchenko, N.A. Derevyanko, A.I. Ryasnyansky, T. Usmanov, Appl. Phys. B 76, 683 (2003)

H. Kang, Y. Yuan, Z. Sun, Z. Wang, Chin. Opt. Lett. 5(7), 428 (2007)
Acknowledgements
C.P. and V.P.N.N. gratefully acknowledge the Council of Scientific and Industrial Research, India for funding and fellowships through the Emeritus Scientist scheme. The authors also acknowledge the Department of Science and Technology, India for partial funding through the PURSE program.
About this article
Cite this article
Pradeep, C., Mathew, S., Nithyaja, B. et al. Studies of nonlinear optical properties of PicoGreen dye using Z-scan technique. Appl. Phys. A 115, 291–295 (2014). https://doi.org/10.1007/s00339-013-7814-0
Received:

Accepted:

Published:

Issue Date:

DOI: https://doi.org/10.1007/s00339-013-7814-0
Keywords
Nonlinear Refractive Index

Incident Intensity

Nonlinear Refraction

Open Aperture

Nonlinear Absorption Coefficient