Abstract
The paper contributes to the identification of different corrosion products detected on the cross-section specimens sampled from Bronze Age swords and one helmet found between 60–160 years ago. The objects are kept in 1889 built oak showcases at the Natural History Museum Vienna, having suffered unknown restoration treatments. The identified corrosion products not only affect further eventual treatment in conservation science of copper base objects but also contribute to identify the often unknown find context, which is meant to facilitate archaeological interpretation of the Bronze Age weapons. The analyses of the samples were carried out using SEM-EDXS-EBSD and optical microscopy.
This is a preview of subscription content, log in to check access.
Access options
Buy single article
Instant access to the full article PDF.
US$ 39.95
Price includes VAT for USA
Subscribe to journal
Immediate online access to all issues from 2019. Subscription will auto renew annually.
US$ 99
This is the net price. Taxes to be calculated in checkout.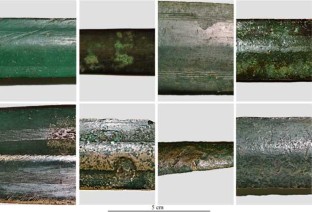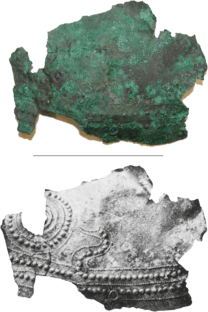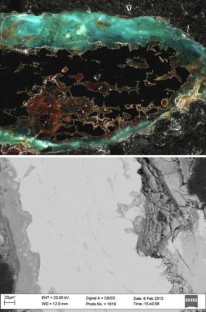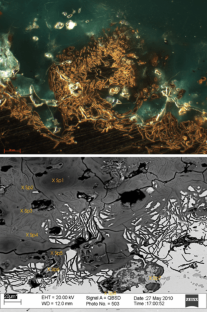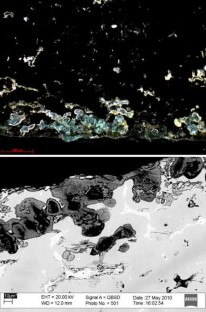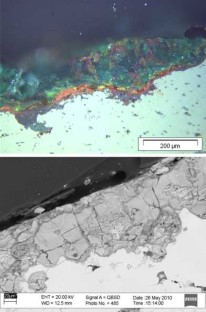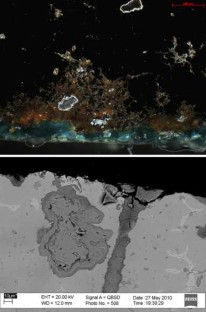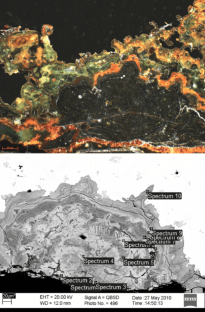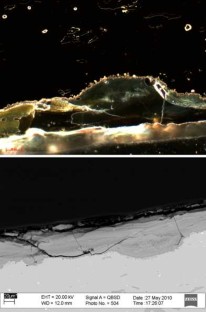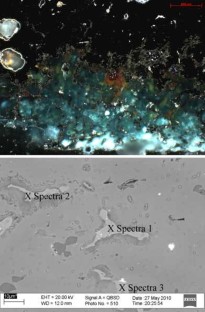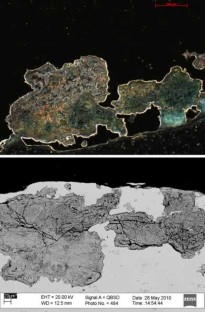 References
1.

A. Schieweck, B. Lohrengel, N. Siwinki, C. Genning, T. Salthammer, Organic and inorganic pollutants in storage rooms of the Lower Saxony State Museum, Hanover, Germany. Atmos. Environ. 39, 6098–6108 (2005)

2.

C.J. Weschler, H.C. Shields, Potential reactions among indoor pollutants. Atmos. Environ. 31, 3487–3495 (1997)

3.

A. Schieweck, T. Salthammer, Indoor air quality in passive-type museum showcases. J. Cult. Heritage 12, 205–213 (2011)

4.

D. Camuffo, G. Sturaro, A. Valentino, Showcases: a really effective mean for protecting artworks? Thermochim. Acta 365, 65–77 (2000)

5.

N.A. Katsanos, F. De Santis, A. Cordoba, F. Roubani-Kalantzopoulou, D. Pasella, Corrosive effects from the deposition of gaseous pollutants on surfaces of cultural and artistic value inside museums. J. Hazard. Mater. 64, 21–36 (1999)

6.

C. Chiavari, C. Martini, D. Prandstraller, A. Niklasson, L.-G. Johansson, J.-E. Svensson, A. Åslund, C.J. Bergsten, Atmospheric corrosion of historical organ pipes: the influence of environment and materials. Corros. Sci. 50, 2444–2455 (2008)

7.

M. Mödlinger, Herstellung und Verwendung bronzezeitlicher Schwerter Mitteleuropas (Habelt, Bonn, 2011)

8.

H. Hencken, The Earliest European Helmets (Harvard University, Cambridge, 1971)

9.

P. Piccardo, M. Mödlinger, G. Ghiara, S. Campodonico, V. Bongiorno, Microbiological activities on prehistoric tin-bronze. J. Appl. Phys. A (in press), doi:10.1007/100339-013-7750-z

10.

C.H. Wayman, The malachite-azurite equilibrium in soil profiles. Soil Sci. 95(2), 134–136 (1963)

11.

B.W. Vink, Stability relations of malachite and azurite. Mineral. Mag. 50, 41–47 (1986)

12.

L. Robbiola, J.-M. Blengino, C. Fiaud, Morphology and mechanisms of formation of natural patinas on archaeological Cu–Sn alloys. Corros. Sci. 40(12), 2083–2111 (1998)

13.

D.A. Scott, An examination of the patina and corrosion morphology of some Roman bronzes. J. Am. Inst. Conserv. 33(1), 1–23 (1994)

14.

M.R. Pinasco, M.G. Ienco, P. Piccardo, G. Pellati, E. Stagno, Metallographic approach to the investigation of metallic archaeological objects. Ann. Chim. 97, 553–574 (2007)

15.

P. Piccardo, B. Mille, L. Robbiola, in Corrosion of Metallic Heritage Artefacts: Investigation, Conservation and Prediction of Long Term Behaviour, ed. by P. Dillmann, G. Béranger, P. Piccardo, H. Mathiesen (Woodhead Publishing, Cambridge, 2007), pp. 239–262

16.

M. Altamayer, L. Guillet, Métallurgie du cuivre et alliages de cuivre. Encyclopédie Miniere et Métallurgique, Paris, 1925
Acknowledgements
The authors would like to thank the Natural History Museum Vienna for the permission to sample the swords and for placing the fresh made samples in their showcases. Special acknowledgements have to be paid to Silvia Kalabis, whose master thesis focused on VOCs inside the showcases at the NHM. Furthermore, the authors would like to thank the COST-D42 action: Chemical Interactions between Cultural Artefacts and Indoor Environment (ENVIART) for supporting the analyses and the Austrian Science Fund (FWF) and the FP7/Marie Curie actions, who were supporting the research with the Schrödinger-fellowship no. J 3109-G21.
About this article
Cite this article
Mödlinger, M., Piccardo, P. Corrosion on prehistoric Cu–Sn-alloys: the influence of artificial environment and storage. Appl. Phys. A 113, 1069–1080 (2013). https://doi.org/10.1007/s00339-013-7750-z
Received:

Accepted:

Published:

Issue Date:
Keywords
Corrosion Product

Malachite

Intergranular Corrosion

Corrosion Layer

Cuprite