Abstract
Here for the first time we describe the use of high resolution nanoprobe X-ray fluorescence (XRF) mapping for the analysis of artists' paints, hierarchically complex materials typically composed of binder, pigments, fillers, and other additives. The work undertaken at the nanoprobe sought to obtain highly spatially resolved, highly sensitive mapping of metal impurities (Pb, Cd, Fe, and other metals) in submicron particles of zinc oxide pigments used in early 20th century artists' tube paints and enamel paints, with particular emphasis on Ripolin, a popular brand of French house paint used extensively by Pablo Picasso and some of his contemporaries. Analysis revealed that the Zn oxide particles only contain a little Fe, proving that the highest quality Zn oxide pigment, free of Pb and Cd, was used for Ripolin house paints as well as artists' paints. Nanoprobe XRF mapping also demonstrated that artists' tube paints generally have more abundant fillers and additional whites (based on Pb, Ti, Ca) than Ripolin paints, which contain mostly pure zinc oxide. The chemical characterization of paints at the nanoscale opens the path to a better understanding of their fabrication and chemical reactivity.
Access options
Buy single article
Instant access to the full article PDF.
US$ 39.95
Tax calculation will be finalised during checkout.
Subscribe to journal
Immediate online access to all issues from 2019. Subscription will auto renew annually.
US$ 79
Tax calculation will be finalised during checkout.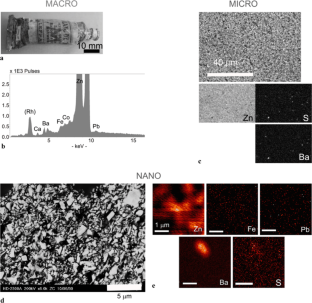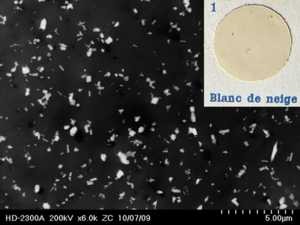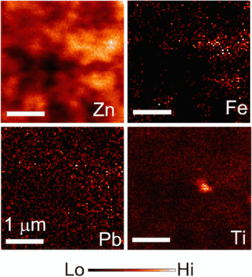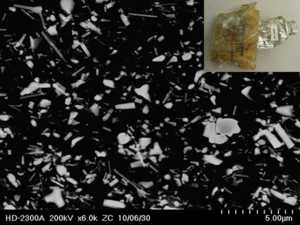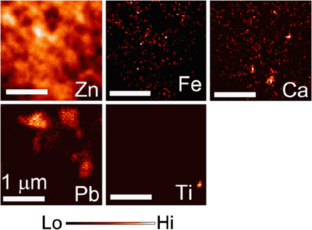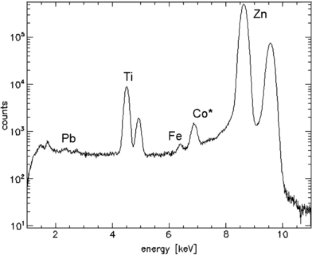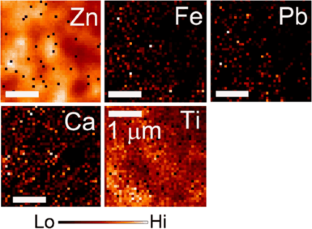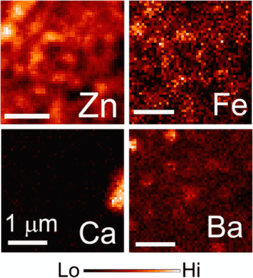 References
1.

J.K. Delaney, J.G. Zeibel, M. Thoury, R. Littleton, M. Palmer, K.M. Morales, E.R. de la Rie, A. Hoenigswald, Appl. Spectrosc. 64, 584 (2010)

2.

G.S. Hall, J. Tinklenberg, J. Anal. At. Spectrom. 18, 775 (2003)

3.

K. Trentelman, M. Bouchard, M. Ganio, C. Namowicz, C.S. Patterson, M. Walton, X-Ray Spectrom. 39, 159 (2010)

4.

M. Alfeld, K. Janssens, J. Dik, W. de Nolf, G. van der Snickt, J. Anal. At. Spectrom. 26, 899 (2011)

5.

F. Casadio, L. Toniolo, J. Cult. Herit. 2, 71 (2001)

6.

S.E.J. Bell, L.A. Fido, S.J. Speers, W.J. Armstrong, S. Spratt, Appl. Spectrosc. 59, 1340 (2005)

7.

L. Burgio, R.J. Clark, Spectrochim. Acta Part A 57, 1491 (2001)

8.

I.M. Bell, R.J.H. Clark, P.J. Gibbs, Spectrochim. Acta Part A 53, 2159 (1997)

9.

M. Cotte, J. Susini, J. Dik, K. Janssens, Acc. Chem. Res. 43, 705 (2010)

10.

L. Monico, G. Van der Snickt, K. Janssens, W. De Nolf, C. Miliani, J. Verbeeck, H. Tian, H. Tan, J. Dik, M. Radepont, M. Cotte, Anal. Chem. 83, 1214 (2011)

11.

L. Monico, G. Van der Snickt, K. Janssens, W. De Nolf, C. Miliani, J. Dik, M. Radepont, E. Hendriks, M. Geldof, M. Cotte, Anal. Chem. 83, 1224 (2011)

12.

W.C. McCrone, J.G. Delly, S.J. Palenik, The Particle Atlas: An Encyclopaedia of Small Particle Identification. Light Microscopy Atlas and Techniques, vol. 5 (Ann Arbor Science, Ann Arbor, 1979)

13.

J.L. Provis, V. Rose, S.A. Bernal, J.S.J. van Deventer, Langmuir 25, 11897 (2009)

14.

D. Comelli, A. Nevin, A. Brambilla, I. Osticioli, G. Valentini, L. Toniolo, M. Fratelli, R. Cubeddu, Appl. Phys. A 106, 25 (2012)

15.

M. Thoury, J.-P. Echard, M. Réfrégiers, B. Berrie, A. Nevin, F. Jamme, L. Bertrand, Anal. Chem. 83, 1737 (2011)

16.

S.H. Mousavi, H. Haratizadeh, H. Minaee, Opt. Commun. 284, 3558 (2011)

17.

R.L. Feller (ed.), Artists' Pigments, Vol. 1: A Handbook of Their History and Characteristics (Cambridge University Press, Cambridge, 1987)

18.

ANON, L'écho Des Peintres (1909)

19.

A.C. Downs, Bull. Assoc. Preserv. Technol. 8, 80 (1976)

20.

Picasso Express (Musée Picasso, Antibes, 2011)

21.

K. Muir, G. Gautier, F. Casadio, A. Vila, in ICOM Commitee for Conservation Preprints (Critério—Artes Gráficas, Lda, Lisbon, 2011) (CD-ROM)

22.

G. Gautier, A. Bezur, K. Muir, F. Casadio, I. Fiedler, Appl. Spectrosc. 63, 597 (2009)

23.

N. Heaton, Outlines of Paint Technology, 3rd edn. (Charles Griffin & Co., London, 1947). Thoroughly Revised, Etc.

24.

C.T. Morley-Smith, J. Oil Colour Chem. Assoc. 41, 85 (1958)

25.

M. Fauve, J. Vandemaele, in Contributions to the 7th FATIPEC Congress in Vichy (Fédération d'Associations de Techniciens des Industries des Peintures, Vernis, Emaux et Encres d'Imprimerie de l'Europe Continentale, Paris, 1964), pp. 233–244

26.

R.P. Winarski, M.V. Holt, V. Rose, F. Fuesz, D. Carbaugh, C. Benson, D. Shu, G.B. Stephenson, I. McNulty, J. Maser, J. Synchrotron Radiat. 19, 1056 (2012)

27.

S. Vogt, J. Phys. IV 104, 635 (2003)

28.

S. Vogt, personal communication. Data measured at beamline 2-ID-E of the Advanced Photon Source at Argonne National Laboratory

29.

B.L. Henke, E.M. Gullikson, J.C. Davis, At. Data Nucl. Data Tables 54(2), 181–342 (1993)
Acknowledgements
Jerald Kavich and Gwénaëlle Gautier are gratefully acknowledged for assistance with the experimental work. Anna Vila is thanked for STEM images of zinc white paints; John Delaney and Michael Palmer at the National Gallery, Washington DC, for SEM/EDX images; and Mathieu Thoury for preliminary luminescence measurements. Michael Skalka, also of the National Gallery, Washington DC, is thanked for providing a sample of American Ripolin. Jean-Louis Andral (Musée Picasso Antibes), Gilles Barabant and colleagues (C2RMF) are gratefully acknowledged for the availability of the Antibes sample. Kimberley Muir is thanked for research on historical production of Zn oxide. Use of the Advanced Photon Source and the Center for Nanoscale Materials, Office of Science User Facilities operated for the U.S. Department of Energy (DOE) Office of Science by Argonne National Laboratory, was supported by the U.S. DOE under Contract No. DE-AC02-06CH11357. Scientific research at the Art Institute of Chicago is generously supported by the A.W. Mellon Foundation, the Grainger Foundation, the Barker Welfare Foundation, and the Stockman Family Foundation.
About this article
Cite this article
Casadio, F., Rose, V. High-resolution fluorescence mapping of impurities in historical zinc oxide pigments: hard X-ray nanoprobe applications to the paints of Pablo Picasso. Appl. Phys. A 111, 1–8 (2013). https://doi.org/10.1007/s00339-012-7534-x
Received:

Accepted:

Published:

Issue Date:
Keywords
Zinc Oxide

Zone Plate

Barium Sulfate

Pigment Particle

House Paint