Scanning XRF investigation of a Flower Still Life and its underlying composition from the collection of the Kröller–Müller Museum
Introduction
Vincent van Gogh (1853–1890) can be considered to be one of the most influential artists in the history of European painting and most of his life is well documented in his letters to his brother Theo and his friends. Due to van Gogh's practice to reuse older paintings as substrates for newer works, several of the paintings he described in his correspondence lie hidden under his later works and are today considered lost.
In this paper we describe the analytical aspects of the investigation of
Flower Still Life
(Fig.
1
a) and its underlying composition, showing two wrestlers (Fig.
1
b) by scanning macro-X-ray Fluorescence Analysis (MA-XRF). A complete art-historical discussion of the study was recently published elsewhere [
1
].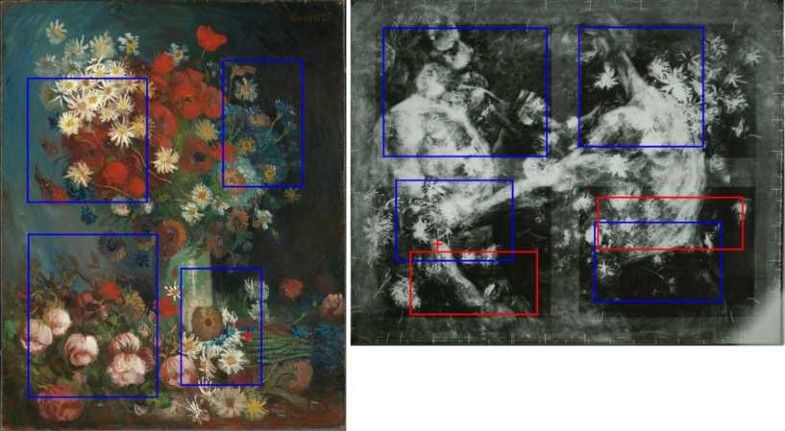 Keywords
Ground Layer 
Paint Layer 
Fluorescence Radiation 
Zinc White 
Elemental Distribution Image 
These keywords were added by machine and not by the authors. This process is experimental and the keywords may be updated as the learning algorithm improves.
Notes
Acknowledgements
This research was supported by the SSD program of BELSPO, Brussels (project S2-ART). Results are also presented here from Gemeenschappelijke Onderzoeksactie (GOA) 'XANES meets ELNES' (Research Fund, University of Antwerp, Belgium) and from Fonds voor Wetenschappelijk Onderzoek (FWO) (Brussels, Belgium) project Nos. G.0704.08 and G.01769.09. The research leading to these results was funded by the European Community's Seventh Framework Program (FP7/2007-2013) under grant agreement No. 226716 and the Nederlandse Organisatie voor Wetenschappelijk Onderzoek (NWO) under the VIDI project "Looking Over the Painter's Shoulder" (grant No. 700.10.426). M. Alfeld is the recipient of a Ph.D. fellowship of the Research Foundation—Flanders (FWO).
Copyright information
© Springer-Verlag Berlin Heidelberg 2013