Abstract
The detailed chemical analysis of fossils has the potential to reveal great insight to the composition, preservation and biochemistry of ancient life. Such analyses would ideally identify, quantify, and spatially resolve the chemical composition of preserved bone and soft tissue structures, but also the embedding matrix. Mapping the chemistry of a fossil in situ can place constraints on mass transfer between the enclosing matrix and the preserved organism(s), and therefore aid in distinguishing taphonomic processes from original chemical zonation remnant within the fossils themselves. Conventional analytical methods, such as scanning electron microscopy (SEM) and pyrolysis–gas chromatography/mass spectrometry (Py-GC/MS) have serious limitations in this case, primarily, an inability to provide large (i.e., decimeter) scale chemical maps. Additionally, vacuum chamber size and the need for destructive sampling preclude analysis of large and precious fossil specimens. However, the recent development of Synchrotron Rapid Scanning X-ray Fluorescence (SRS-XRF) at the Stanford Synchrotron Radiation Lightsource (SSRL) allows the non-destructive chemical analysis and imaging of major, minor, and trace element concentrations of large paleontological and archeological specimens in rapid scanning times. Here we present elemental maps of a fossil reptile produced using the new SRS-XRF method. Our results unequivocally show that preserved biological structures are not simply impressions or carbonized remains, but possess a remnant of the original organismal biochemistry. We show that SRS-XRF is a powerful new tool for the study of paleontological and archaeological samples.
Access options
Buy single article
Instant access to the full article PDF.
US$ 39.95
Tax calculation will be finalised during checkout.
Subscribe to journal
Immediate online access to all issues from 2019. Subscription will auto renew annually.
US$ 79
Tax calculation will be finalised during checkout.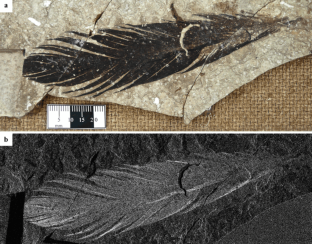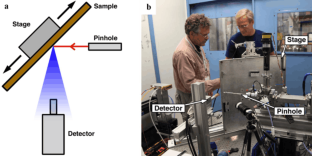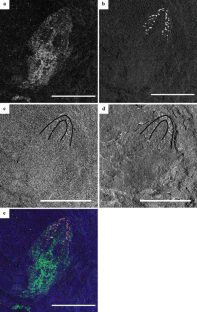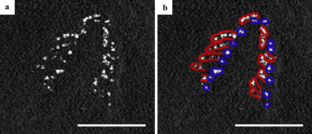 References
1.

C. Hardison, Proc. Natl. Acad. Sci. USA 93, 5675–5679 (1996)

2.

K.E. van Holde, K.I. Miller, H. Decker, J. Biol. Chem. 276, 15563–15566 (2001)

3.

P.H. Abelson, Science 119, 576 (1954)

4.

P.H. Abelson, Sci. Am. 195, 83–92 (1956)

5.

N.J. Butterfield, Paleobiology 16, 272–286 (1990)

6.

J.J. Brocks, G.A. Logan, R. Buick, R.E. Summons, Science 285, 1033–1036 (1999)

7.

J.J. Brocks, R. Buick, R.E. Summons, G.A. Logan, Geochim. Cosmochim. Acta 67, 4321–4335 (2003)

8.

A. Treibs, Justus Liebigs Ann. Chem. 510, 42–62 (1934)

9.

G. Eglinton, P.M. Scott, T. Belsky, A.L. Burlingame, M. Calvin, Science 145, 263–264 (1964)

10.

B. Tissot, G. Deroo, A. Hood, Geochim. Cosmochim. Acta 42, 1469–1485 (1978)

11.

B. Tissot, D.H. Welte, Petroleum Formation and Occurrence (Springer, Berlin, 1984)

12.

P.H. Ostrom, S.A. Macko, M.H. Engel, J.A. Silfer, D. Russell, Org. Geochem. 16, 1139–1144 (1990)

13.

E.A. Cobabe, L.M. Pratt, Geochim. Cosmochim. Acta 59, 87–95 (1995)

14.

H. Bocherens, M.L. Fogel, N. Tuross, M. Zeder, J. Archaeol. Sci. 22, 327–340 (1995)

15.

T.H. O'Donnell, S.A. Macko, J. Chou, K.L. Davis-Hartten, J.F. Wehmiller, Org. Geochem. 34, 165–183 (2003)

16.

M.H. Schweitzer, R. Avci, T. Collier, M.B. Goodwin, C. R., Palévol 7, 159–184 (2008)

17.

M.M.W. Ulrich, W.R.K. Perizonius, C.F. Spoor, P. Sandberg, C. Vermeer, Biochem. Biophys. Res. Commun. 149, 712–719 (1987)

18.

J.M. Lowenstein, G. Scheuenstuhl, Philos. Trans. R. Soc. Lond. B, Biol. Sci. 333, 375–380 (1991)

19.

G. Muyzer, P. Sandberg, M.H.J. Knapen, C. Vermeer, M. Collins, P. Westbroek, Geology 20, 871–874 (1992)

20.

N. Tuross, L. Stathoplos, Molecular Evolution: Producing the Biochemical Data 224, 121–129 (1993)

21.

S.R. Woodward, N.J. Weyand, M. Bunnell, Science 266, 1229–1232 (1994)

22.

M.J. Collins, M.S. Riley, A.M. Child, G. Turnerwalker, J. Archaeol. Sci. 22, 175–183 (1995)

23.

R.P. Evershed, G. Turnerwalker, R.E.M. Hedges, N. Tuross, A. Leyden, J. Archaeol. Sci. 22, 277–290 (1995)

24.

B.A. Stankiewicz, D.E.G. Briggs, R.P. Evershed, Energy Fuels 11, 515–521 (1997)

25.

B.A. Stankiewicz, D.E.G. Briggs, R.P. Evershed, M.B. Flannery, M. Wuttke, Science 276, 1541–1543 (1997)

26.

M.H. Schweitzer, J.A. Watt, R. Avci, C.A. Forster, D.W. Krause, L. Knapp, R.R. Rogers, I. Beech, M. Marshall, J. Vertebr. Paleontol. 19, 712–722 (1999)

27.

R. Avci, M.H. Schweitzer, R.D. Boyd, J.L. Wittmeyer, F.T. Arce, J.O. Calvo, Langmuir 21, 3584–3590 (2005)

28.

J.M. Asara, M.H. Schweitzer, L.M. Freimark, M. Phillips, L.C. Cantley, Science 316, 280–285 (2007)

29.

P.L. Manning, P.M. Morris, A. McMahon, E. Jones, A. Gize, J.H.S. Macquaker, G. Wolff, A. Thompson, J. Marshall, K.G. Taylor, T. Lyson, S. Gaskell, O. Reamtong, W.I. Sellers, B.E. van Dongen, M. Buckley, R.A. Wogelius, Proc. R. Soc. Lond. B, Biol. Sci. 276, 3429–3437 (2009)

30.

K. Lepot, K. Benzerara, G.E. Brown, P. Philippot, Nat. Geosci. 1, 118–121 (2008)

31.

N.S. Gupta, D.E.G. Briggs, M.E. Collinson, R.P. Evershed, R. Michels, R.D. Pancost, Org. Geochem. 38, 404–418 (2007)

32.

M.W. Allaird, D. Young, Y. Huyen, Science 268, 1192 (1995)

33.

M. Buckley, A. Walker, S.Y.W. Ho, Y. Yang, C. Smith, P. Ashton, J.T. Oates, E. Cappellini, H. Koon, K. Penkman, B. Elsworth, D. Ashford, C. Solazzo, P. Andrews, J. Strahler, B. Shapiro, P. Ostrom, H. Gandhi, W. Miller, B. Raney, M.I. Zylber, M.T.P. Gilbert, R.V. Prigodich, M. Ryan, K.F. Rijsdijk, A. Janoo, M.J. Collins, Science 319 (2008)

34.

R.W. Morton, K.C. Witherspoon, in Advances in X-Ray Analysis, vol. 36, ed. by J.V. Gilfrich, T.C. Huang, C.R. Hubbard, M.R. James, R. Jenkins, G.R. Lachance, D.K. Smith, P.K. Predecki (Plenum, New York, 1993), pp. 97–104

35.

G.J. Havrilla, R.W. Morton, T.C. Miller, K.G. Huntley, 52nd Annual Denver X-Ray Conference Abstracts, vol. 212 (2003)

36.

U. Bergmann, R.W. Morton, P.L. Manning, W.I. Sellers, S. Farrar, K.G. Huntley, R.A. Wogelius, P. Larson, Proc. Natl. Acad. Sci. USA 107, 9060–9065 (2010)

37.

S.J.B. Reed, Electron Microprobe Analysis and Scanning Electron Microscopy in Geology, 2nd edn. (Cambridge University Press, Cambridge, 2005)

38.

B.F.G. Popescu, M.J. George, U. Bergmann, A.V. Garachtchenko, M.E. Kelly, R.P.E. McCrea, K. Luning, R.M. Devon, G.N. George, A.D. Hanson, S.M. Harder, L.D. Chapman, I.J. Pickering, H. Nichol, Phys. Med. Biol. 54, 651–663 (2009)

39.

U. Bergmann, Phys. World 20, 39–42 (2007)

40.

R.A. Wogelius, P.L. Manning, H.E. Barden, N.P. Edwards, S.M. Webb, W.I. Sellers, K.G. Taylor, P.L. Larson, P. Dodson, H. You, L. Da-qing, U. Bergmann, Science 333, 1622–1626 (2011)

41.

N.P. Edwards, H.E. Barden, B.E. van Dongen, P.L. Manning, P.L. Larson, U. Bergmann, W.I. Sellers, R.A. Wogelius, Proc. R. Soc. Lond. B, Biol. Sci. 278, 3209–3218 (2011)

42.

M.E. Wright, Nature 435, 257 (2005)

43.

R.F. Service, Science 313, 744 (2006)

44.

L. Hou, L.D. Martin, Z. Zhou, A. Feduccia, F. Zhang, Nature 399, 679–682 (1999)

45.

M.C. Linder, Biochemistry of Copper, vol. 10 (Springer, Amsterdam, 1991)

46.

J.D. Simon, D. Peles, K. Wakamatsu, S. Ito, Pigment Cell & Melanoma Res. 22, 563–579 (2009)

47.

Palumbo, M. d'Ischia, G. Misuraca, G. Prota, T.M. Schultz, Biochim. Biophys. Acta G, Gen. Subj. 964, 193–199 (1988)

48.

S. Larsson, Pigment Cell Res. 6, 127–133 (1993)

49.

K.J. McGraw, Oikos 102, 402–406 (2003)

50.

M. Niecke, M. Heid, A. Kruger, J. Ornithol. 140, 355–362 (1999)

51.

L. Grande, Paleontology of the Green River Formation, with a Review of the Fish Fauna, 2nd edn. (The Geological Survey, Wyoming, 1984)

52.

J.L. Conrad, J. Vertebr. Paleontol. 26, 113–126 (2006)

53.

C.N. Trueman, D.M. Martill, Archaeometry 44, 371–382 (2002)

54.

C.N. Trueman, N. Tuross, in Phosphates—Geochemical, Geobiological and Materials Importance, vol. 48, ed. by M.J. Kohn, J. Rakovan, J.M. Hughes (Min. Soc. Am., Washington, 2002), pp. 489–521

55.

J.C. Elliott, in Phosphates—Geochemical, Geobiological and Materials Importance, vol. 48, ed. by M.J. Kohn, J. Rakovan, J.M. Hughes (Min. Soc. Am., Washington, 2002), pp. 427–453

56.

M.J. Kohn, T.E. Cerling, in Phosphates—Geochemical, Geobiological and Materials Importance, vol. 48, ed. by M.J. Kohn, J. Rakovan, J.M. Hughes (Min. Soc. Am., Washington, 2002), pp. 455–488

57.

S. Weiner, P. Price, Calcif. Tissue Int. 39, 365–375 (1986)

58.

J.O. Nriagu, Hydrobiologia 106, 217–222 (1983)

59.

M.J. Collins, C.M. Nielsen-Marsh, J. Hiller, C.I. Smith, J.P. Roberts, R.V. Prigodich, T.J. Weiss, J. Csapo, A.R. Millard, G. Turner-Walker, Archaeometry 44, 383–394 (2002)

60.

J.L. Conrad, O. Rieppel, L. Grande, J. Paleontol. 81, 1365–1373 (2007)
About this article
Cite this article
Edwards, N.P., Wogelius, R.A., Bergmann, U. et al. Mapping prehistoric ghosts in the synchrotron. Appl. Phys. A 111, 147–155 (2013). https://doi.org/10.1007/s00339-012-7484-3
Received:

Accepted:

Published:

Issue Date:
Keywords
Synchrotron

SRS-XRF

X-Ray fluorescence

Green river formation