Abstract
The investigation of TM wave propagation inside a cylindrical waveguide composed of antiferromagnetic/nonmagnetic superlattices (LANS), bounded by left-handed material (LHM), is presented. We have derived the eigenmode equation and obtained the solutions for TM propagation modes. We found that the waveguide supports backward TM waves since both electric permittivity and magnetic permeability of the LHM are negative. We also illustrated the dependence of the wave index n x on the magnetic fraction f 1 and the reduced radius of the LANS. The largest propagation lengths of TM waves and the best confinement are achieved for the thinnest LANS of less magnetic material. Moreover, we displayed the influence of the magnetic permeability μ h and the electric permittivity ε h of the LHM on the power flow of TM waves. Larger wave indices have been switched by increasing μ h and ε h .
Access options
Buy single article
Instant access to the full article PDF.
US$ 39.95
Tax calculation will be finalised during checkout.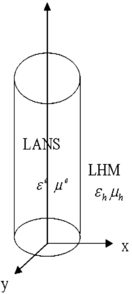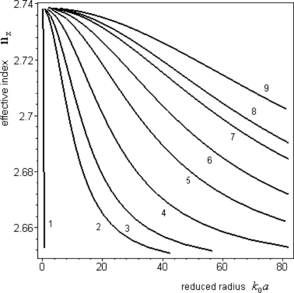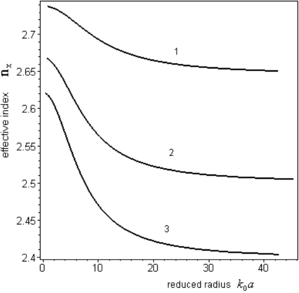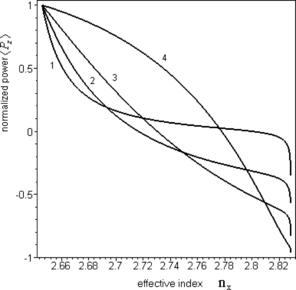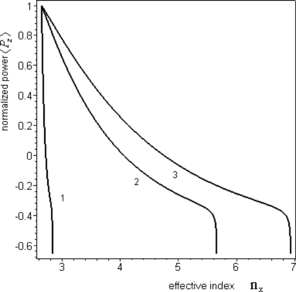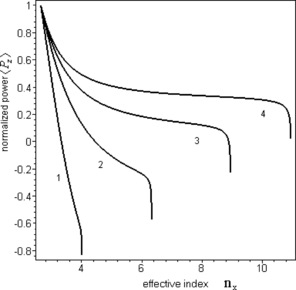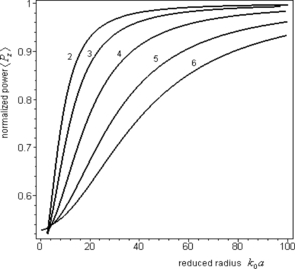 References
1.

L. Hu, S.T. Chui, Phys. Rev. B 66, 085108 (2002)

2.

V.G. Veselago, Sov. Phys., Solid State 8, 2854 (1967)

3.

V.M. Shalaev, Nat. Photonics 1, 41 (2007)

4.

R.A. Shelby, D.R. Smith, S. Schultz, Appl. Phys. Lett. 78(4), 489 (2001)

5.

N. Garcia, M. Nieto, Phys. Rev. Lett. 88(20), 207403 (2002)

6.

J.B. Pendry, Phys. Rev. Lett. 85, 3966 (2000)

7.

W.T. Lu, S. Sridhar, Microw. Opt. Technol. Lett. 39, 282 (2003)

8.

P. Vodo, W.T. Lu, Y. Huang, S. Sridhar, Appl. Phys. Lett. 89, 084104 (2006)

9.

C.G. Parazzoli, R.B. Greegor, K. Li, B.E. Koltenbah, M. Tanielian, Phys. Rev. Lett. 90, 107401 (2003)

10.

P.V. Parimi, W.T. Lu, P. Vodo, S. Sridhar, Nature (London) 426, 404 (2003)

11.

C.M. Soukoulis, S. Linden, M. Wegener, Science 315(5808), 47 (2007)

12.

D.R. Smith, J.B. Pendry, M.C. Wiltshire, Science 305, 788 (2004)

13.

J.D. Joannopoulos, R. Meade, J.N. Winn, Photonic Crystals: Modeling the Flow of Light (Princeton University Press, Princeton, 1995)

14.

D. Schurig, J.J. Mock, B.J. Justice, S.A. Cummer, J.B. Pendry, A.F. Start, D.R. Smith, Science 314, 977 (2006)

15.

I.I. Smolyaninov, Y. Hung, C.C. Davis, Science 315, 1699 (2007)

16.

Y.J. Huang, W.T. Lu, S. Sridhar, Phys. Rev. A 77, 063836 (2008)

17.

H.M. Mousa, M.M. Shabat, H. Khalil, D. Jager, Proc. SPIE 5445, 274 (2003)

18.

H.M. Mousa, M.M. Shabat, Int. J. Mod. Phys. B 19(29), 4359 (2005)

19.

H.M. Mousa, M.M. Shabat, Int. J. Mod. Phys. B 21(6), 895 (2007)

20.

M.M. Shabat, H.M. Mousa, Proc. SPIE 6582, 65820K-1 (2007)

21.

H.M. Mousa, Islamic Univ. J. 15(1), 147 (2007)

22.

M.C. Oliveros, N.S. Almeida, D.R. Tilley, J. Thomas, R.E. Camley, J. Phys. Condens. Matter 4(44), 8497 (1992)

23.

X. Wang, D. Tilley, Phys. Lett. A 187(4), 325 (1994)

24.

N. Almeida, D. Mills, Phys. Rev. B 38, 6698 (1988)

25.

G.N. Watson, A Treatise on the Theory of Bessel Functions, 2nd edn. (Cambridge University Press, Cambridge, 1966)
About this article
Cite this article
Mousa, H.M., Shabat, M.M. TM waves in cylindrical superlattices (LANS) bounded by left-handed material (LHM). Appl. Phys. A 111, 1057–1063 (2013). https://doi.org/10.1007/s00339-012-7482-5
Received:

Accepted:

Published:

Issue Date:
Keywords
Magnetic Permeability

Power Flow

Electric Permittivity

Magnetic Fraction

Cylindrical Waveguide