Abstract
Single-crystalline MnV2O6⋅V2O5 cross-like nanobelt arrays were successfully synthesized by hydrothermal reaction. The products were characterized by X-ray diffraction, transmission electron microscopy and high-resolution transmission electron microscopy. The effects of the reaction conditions such as pH, V5+/Mn2+ ratio, carboxymethyl cellulose concentration and reaction time on the morphology of the products were studied. The band gap of the as-prepared products was calculated via diffuse reflectance spectral analysis and their activity of photocatalytic oxidation was evaluated by photodegradation of methylene blue under visible-light irradiation. The results showed that the degradation efficiency of methylene blue catalyzed by the calcinated products is remarkably enhanced due to Mn doping, suggesting that MnV2O6⋅V2O5 cross-like nanobelt arrays are a good candidate for visible-light-driven photocatalysts.
Access options
Buy single article
Instant access to the full article PDF.
USD 39.95
Price includes VAT (USA)
Tax calculation will be finalised during checkout.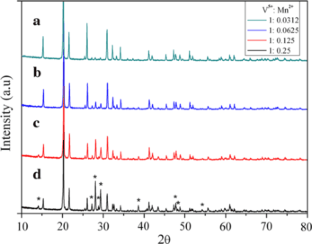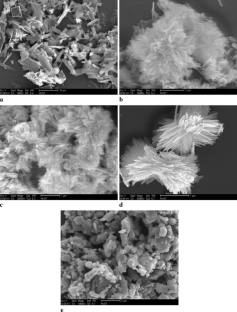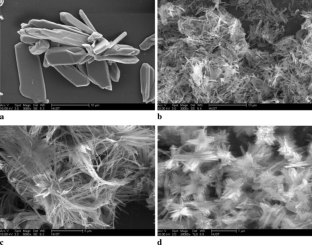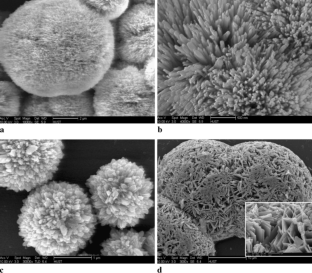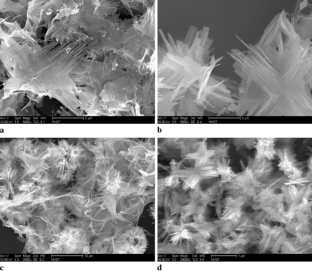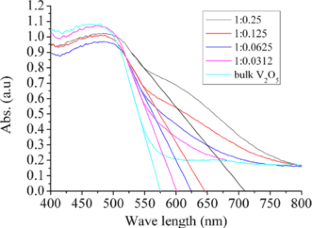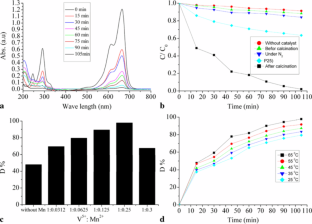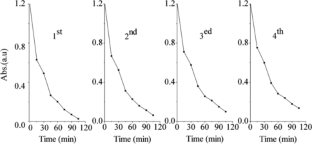 References
1.

A. Kubacka, F.M. García, G. Colon, Chem. Rev. 112, 1555 (2012)

2.

A. Di Paolaa, E. García-López, G. Marcìa, L. Palmisano, J. Hazard. Mater. 211, 3 (2012)

3.

L.G. Yin, Z. Shen, J.F. Gni, J. Chen, Y.P. Duan, Catal. Environ. Sci. Technol. 44, 9117 (2010)

4.

V.B.R. Boppana, R.F. Lobo, ACS Catal. 1, 923 (2011)

5.

X. Chen, S.S. Mao, Chem. Rev. 107, 2891 (2007)

6.

X.B. Chen, L. Liu, P.Y. Yu, S.S. Mao, Science 331, 746 (2011)

7.

D. Wang, T. Kako, J. Ye, J. Am. Chem. Soc. 130, 2724 (2008)

8.

H. Shi, Z. Li, J. Kou, J. Ye, Z. Zou, J. Phys. Chem. C 115, 145 (2011)

9.

R. Shi, Y. Wang, F. Zhou, Y. Zhu, J. Mater. Chem. 21, 6313 (2011)

10.

J. Ye, Z. Zou, M. Oshikiri, A. Matsushita, M. Shimoda, M. Imai, T. Shishido, Chem. Phys. Lett. 356, 221 (2002)

11.

L. Zhou, W.Z. Wang, L.S. Zhang, H.L. Xu, W. Zhu, J. Phys. Chem. C 11, 13659 (2007)

12.

C.M. Huang, G.T. Pan, Y.-C.M. Li, M.H. Li, T.C.K. Yang, Appl. Catal. A, Gen. 358, 164 (2009)

13.

S. Mahapatra, S.K. Nayak, G. Madras, T.N. Guru Row, Ind. Eng. Chem. Res. 47, 6509 (2008)

14.

K.A. Ahmed, H. Peng, K. Wu, K. Huang, Chem. Eng. J. 172, 531 (2011)

15.

K.A. Ahmed, K. Huang, Mater. Chem. Phys. 133, 605 (2012)

16.

X. Liang, Y. Zhong, S. Zhua, L. Ma, P. Yuan, J. Zhu, H. Pinge, Z. Jiang, J. Hazard. Mater. 199, 247 (2012)

17.

W. Huang, S. Gao, X. Ding, L. Jiang, M. Wei, J. Alloys Compd. 495, 185 (2010)

18.

Y. Zhao, C. Eley, J. Hu, J.S. Foord, L. Ye, H. He, S.C.E. Tsang, Angew. Chem., Int. Ed. Engl. 51, 3846 (2012)

19.

Z. Cui, D. Zeng, T. Tang, J. Liu, C.S. Xie, Catal. Commun. 11, 1054 (2010)

20.

A. Dobley, K. Ngala, S. Yang, P.Y. Zavalij, M.S. Whittingham, Chem. Mater. 13, 4382 (2001)

21.

Y. Liu, Y. Zhang, J. Du, W. Yu, Y. Qian, J. Cryst. Growth 291, 320 (2006)

22.

S. Lei, K. Tang, Y. Jin, C. Chen, Nanotechnology 18, 175605 (2007)

23.

N. Ding, S. Liu, X. Feng, H. Gao, X. Fang, J. Xu, W. Tremel, I. Lieberwirth, C. Chen, Cryst. Growth Des. 9, 1723 (2009)

24.

W. Zhang, L. Shi, K. Tang, Z. Liu, Mater. Res. Bull. 47, 1725 (2012)

25.

S. Kim, H. Ikuta, M. Wakihara, Solid State Ion. 139, 57 (2001)

26.

S. Shi, M. Cao, X. He, H. Xie, Cryst. Growth Des. 9, 1893 (2007)

27.

P.S. Francis, J. Appl. Polym. Sci. 5, 26 (1961)

28.

T.F. Liebert, T.J. Heinz, Biomacromolecules 2, 1124 (2001)

29.

R. Kozlowski, J. Ziokowski, K. Mocala, J. Haber, J. Solid State Chem. 35, 1 (1980)

30.

T. Chakraborty, I. Chakraborty, S. Ghosh, Langmuir 22, 9905 (2006)

31.

F. Teng, J. Wang, Z. Tian, Z. Wang, G. Xiong, Z. Xu, Y. Xu, L. Lin, Mater. Sci. Eng. B 116, 215 (2005)

32.

X. Wu, Y. Tao, L. Dong, J. Hong, J. Mater. Chem. 14, 901 (2004)

33.

W.S. Kijlstra, E.K. Poels, A. Bliek, B.M. Weckhuysen, R.A. Schoonheydt, J. Phys. Chem. 101, 309 (1997)

34.

X. Yang, F. Ma, K. Li, Y. Guo, J. Hub, W. Li, M. Huo, Y. Guo, J. Hazard. Mater. 175, 429 (2010)

35.

K. Bhattacharyy, S. Varma, A.K. Tripathi, S.R. Bharadwaj, A.K. Tyagi, J. Phys. Chem. C 112, 19102 (2008)

36.

S. Martha, D.P. Das, N. Biswal, K.M. Parida, J. Mater. Chem. 22, 10695 (2012)

37.

H. Abbood, H. Peng, X. Gao, B. Tan, K. Huang, Chem. Eng. J. 209, 245 (2012)

38.

L. Gomathi Devi, N. Kottam, B. Narasimh Murthy, S. Girish Kumar, J. Mol. Catal. A, Chem. 328, 44 (2010)
About this article
Cite this article
Abbood, H.A., Ahmed, K.A.M., Ren, Y. et al. MnV2O6⋅V2O5 cross-like nanobelt arrays: synthesis, characterization and photocatalytic properties. Appl. Phys. A 112, 901–909 (2013). https://doi.org/10.1007/s00339-012-7444-y
Received:

Accepted:

Published:

Issue Date:
Keywords
Methylene Blue

Photocatalytic Activity

V2O5

BiVO4

Vanadium Oxide