Abstract
The surface of flint glass of type F2 is patterned by nanosecond KrF excimer laser ablation. Strong UV absorption provides a comparatively low ablation threshold and precise ablation contours. By using a two-grating interferometer, periodic surface patterns with 330 nm period and 100 nm modulation depth are obtained. This method enables the fabrication of 7 mm×13 mm wide grating areas with perfectly aligned grooves without the need of high-precision sample positioning. By double exposure, crossed gratings with adjustable depths in the two orthogonal directions can be generated.
Access options
Buy single article
Instant access to the full article PDF.
US$ 39.95
Tax calculation will be finalised during checkout.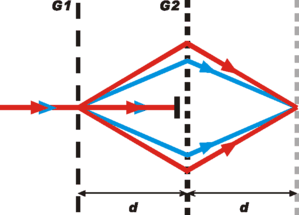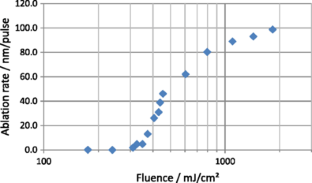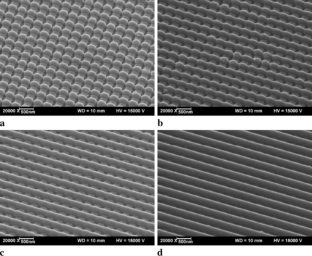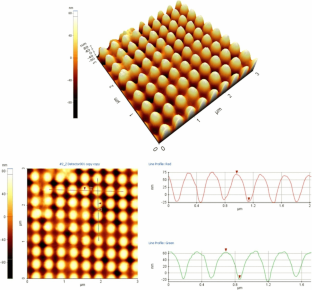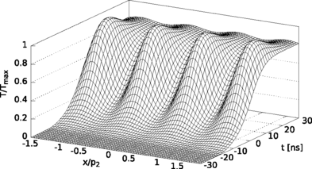 References
1.

A.A. Tseng, Y.-T. Chen, C.-L. Chao, K.-J. Ma, T.P. Chen, Opt. Lasers Eng. 45, 975 (2007)

2.

B. Keiper, H. Exner, U. Löschner, T. Kuntze, J. Laser Appl. 12, 189 (2000)

3.

S. Pissadakis, L. Reekie, M. Hempstead, M.N. Zervas, J.S. Wilkinson, Appl. Phys. A 69, S739 (1999)

4.

J. Ihlemann, M. Schulz-Ruhtenberg, T. Fricke-Begemann, J. Phys. Conf. Ser. 59, 206 (2007)

5.

J. Ihlemann, S. Müller, S. Puschmann, D. Schäfer, M. Wei, J. Li, P.R. Herman, Appl. Phys. A 76, 751 (2003)

6.

S.R. Jackson, W.J. Metheringham, P.E. Dyer, Appl. Surf. Sci. 86, 223 (1995)

7.

K. Kawamura, N. Sarukura, M. Hirano, N. Ito, H. Hosono, Appl. Phys. Lett. 79, 1228 (2001)

8.

X. Ding, Y. Kawaguchi, T. Sato, A. Narazaki, R. Kurosaki, H. Niino, J. Photochem. Photobiol. A, Chem. 166, 129 (2004)

9.

B. Hopp, C. Vass, T. Smausz, Z. Bor, J. Phys. D, Appl. Phys. 39, 4843 (2006)

10.

J. Ihlemann, Appl. Phys. A 93, 65 (2008)

11.

B. Wolff-Rottke, H. Schmidt, J. Ihlemann, Microstructuring of glass with excimer lasers, in Laser Treatment of Materials, ed. by B.L. Mordike (DGM Informationsgesellschaft mbH, Oberursel, 1992), p. 615. ISBN 3-88355-185-6

12.

C. Contardi, E.R. Taylor, A. Fu, J. Non-Cryst. Solids 291, 113 (2001)

13.

J. Békési, J. Meinertz, J. Ihlemann, P. Simon, J. Laser Micro Nanoeng. 2, 221 (2007)

14.

J. Békési, J. Meinertz, J. Ihlemann, P. Simon, Appl. Phys. A 93, 27 (2008)

15.

P. Zahariev, N. Mechkarov, G. Danev, J. Ihlemann, Appl. Phys. A 95, 639 (2009)

16.

P.E. Dyer, S.M. Maswadi, C.D. Walton, M. Ersoz, P.D.I. Fletcher, V.N. Paunov, Appl. Phys. A 77, 391 (2003)

17.

P.E. Dyer, C.D. Walton, Appl. Phys. A 79, 721 (2004)

18.

Schott Datenblatt F2 620364.360, 22 February 2007
About this article
Cite this article
Bekesi, J., Meinertz, J., Simon, P. et al. Sub-500-nm patterning of glass by nanosecond KrF excimer laser ablation. Appl. Phys. A 110, 17–21 (2013). https://doi.org/10.1007/s00339-012-7313-8
Received:

Accepted:

Published:

Issue Date:
Keywords
Modulation Depth

Ablation Rate

Focal Line

Surface Relief Grating

Average Fluence