Abstract
Coral recruitment is important in sustaining coral reef ecosystems and contributing to their recovery after disturbances. Despite widespread acceptance that crustose coralline algae (CCA) positively influence coral recruitment success, especially by enhancing coral settlement and early post-settlement stages, there are no experimental data on the effects of CCA species on late post-settlement survival and growth of corals. This study tested the impact of four common, thick-crusted CCA species from two habitats (exposed and subcryptic) on the survival and growth of two recruit size categories of the coral genus Pocillopora. Coral recruits and CCA were transplanted adjacent to each other using epoxy in Petri dishes directly attached to the reef substratum on the forereef of Moorea (French Polynesia) in a 1-year field experiment. In the subcryptic habitat, survival of small-sized recruits adjacent to subcryptic CCA (0–5%) was lower than adjacent to dead CCA (35%), while in the exposed habitat, survival of small-sized recruits adjacent to exposed CCA (20–25%) was higher than adjacent to dead CCA (5%). None of the CCA species affected the survival of large-sized recruits within exposed or subcryptic habitats. However, the growth of large-sized recruits adjacent to subcryptic CCA was lower than adjacent to dead CCA. Recruits adjacent to exposed CCA died less from competition with turf algae relative to dead CCA, while recruits adjacent to subcryptic CCA frequently died from overgrowth by CCA. These results suggest that, in subcryptic habitats, CCA can reduce the survival and/or growth of coral recruits via direct competitive overgrowth, while in exposed habitats, they can enhance coral recruit survival by alleviating competition with turf algae. Importantly, our study demonstrates that not all CCA species are beneficial to the survival and growth of coral recruits and that there is considerable variability in both the outcome and process of competition between CCA and corals.
Access options
Buy single article
Instant access to the full article PDF.
USD 39.95
Price excludes VAT (USA)
Tax calculation will be finalised during checkout.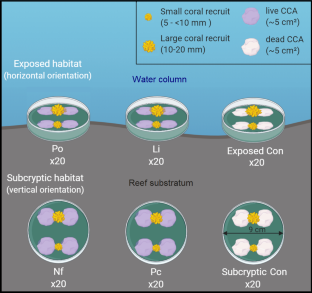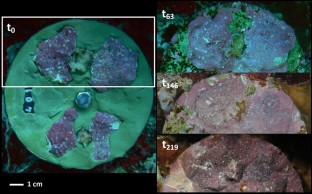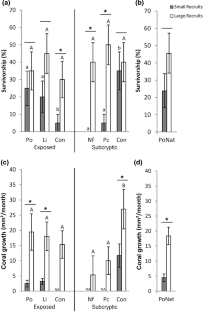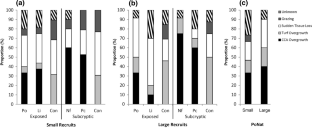 References
Adey WH, Townsend RA, Boykins WT (1982) The Crustose Coralline Algae (Rhodophyta: Corallinaceae) of the Hawaiian Islands. Smithson Contr Mar Sci 15:1–74

Adjeroud M, Michonneau F, Edmunds PJ, Chancerelle Y, De Loma TL, Penin L, Thibaut L, Vidal-Dupiol J, Salvat B, Galzin R (2009) Recurrent disturbances, recovery trajectories, and resilience of coral assemblages on a South Central Pacific reef. Coral Reefs 28:775–780

Adjeroud M, Kayal M, Edmunds PJ, Iborra-Cantonnet I, Vercelloni J, Bosserelle P, Liao V, Chancerelle Y, Claudet J, Penin L (2018) Recovery of coral assemblages despite acute and recurrent disturbances on a South Central Pacific reef. Scientific Reports 8:9680

Antonius A, Alfonso Carillo J (2001) Pneophyllum conicum, a coralline red alga causing coral reef-death in Mauritius. Coral Reefs 19:418

Arnold SN, Steneck RS (2011) Settling into an Increasingly Hostile World: The Rapidly Closing "Recruitment Window" for Corals. PLoS One 6:e28681

Babcock R, Mundy C (1996) Coral recruitment: Consequences of settlement choice for early growth and survivorship in two scleractinians. J Exp Mar Biol Ecol 206:179–201

Baird AH, Morse AN (2004) Induction of metamorphosis in larvae of the brooding corals Acropora palifera and Stylophora pistillata. Mar Freshwater Res 55:469–472

Bates D, Mächler M, Bolker B, Walker S (2015) Fitting linear mixed-effects models using lme4. J Stat Softw 67:1–48

Bak RPM, Engel MS (1979) Distribution, abundance and survival of juvenile hermatypic corals (Scleractinia) and the importance of life history strategies in the parent coral community. Mar Biol 54:341–352

Barott K, Smith J, Dinsdale E, Hatay M, Sandin S, Rohwer F (2009) Hyperspectral and physiological analyses of coral-algal interactions. PLoS One 4:e8043

Barott KL, Rohwer FL (2012) Unseen players shape benthic competition on coral reefs. Trends Microbiol 20:621–628

Bellwood DR, Hughes TP, Folke C, Nyström M (2004) Confronting the coral reef crisis. Nature 429:827–833

Birrell CL, McCook LJ, Willis BL, Diaz-Pulido GA (2008) Effects of benthic algae on the replenishment of corals and the implications for the resilience of coral reefs. In: Gibson RN, Atkinson RJA, Gordon JDM (eds) Oceanography and Marine Biology. CRC Press, pp 31-70

Box SJ, Mumby PJ (2007) Effect of macroalgal competition on growth and survival of juvenile Caribbean corals. Mar Ecol Prog Ser 342:139–149

Buenau KE, Price NN, Nisbet RM (2012) Size dependence, facilitation, and microhabitats mediate space competition between coral and crustose coralline algae in a spatially explicit model. Ecol Model 237–238:23–33

Dean AJ, Steneck RS, Tager D, Pandolfi JM (2015) Distribution, abundance and diversity of crustose coralline algae on the Great Barrier Reef. Coral Reefs 34:581–594

Diaz-Pulido G, McCook LJ, Dove S, Berkelmans R, Roff G, Kline DI, Weeks S, Evans RD, Williamson DH, Hoegh-Guldberg O (2009) Doom and Boom on a Resilient Reef: Climate Change, Algal Overgrowth and Coral Recovery. PLoS One 4:e5239

Doropoulos C, Ward S, Diaz-Pulido G, Hoegh-Guldberg O, Mumby PJ (2012a) Ocean acidification reduces coral recruitment by disrupting intimate larval-algal settlement interactions. Ecol Lett 15:338–346

Doropoulos C, Ward S, Marshell A, Diaz-Pulido G, Mumby PJ (2012b) Interactions among chronic and acute impacts on coral recruits: the importance of size-escape thresholds. Ecology 93:2131–2138

Doropoulos C, Roff G, Bozec Y-M, Zupan M, Werminghausen J, Mumby PJ (2016) Characterizing the ecological trade-offs throughout the early ontogeny of coral recruitment. Ecol Monogr 86:20–44

Dunstan P, Johnson C (1998) Spatio-temporal variation in coral recruitment at different scales on Heron Reef, southern Great Barrier Reef. Coral Reefs 17:71–81

Edmunds PJ (2000) Patterns in the distribution of juvenile corals and coral reef community structure in St. John, US Virgin Islands. Mar Ecol Prog Ser 202:113–124

Edmunds PJ, Carpenter RC (2001) Recovery of Diadema antillarum Reduces Macroalgal Cover and Increases Abundance of Juvenile Corals on a Caribbean Reef. Proc Natl Acad Sci USA 98:5067–5071

Gallagher C, Doropoulos C (2017) Spatial refugia mediate juvenile coral survival during coral–predator interactions. Coral Reefs 36:51–61

Gil MA, Goldenberg SU, Thai Bach AL, Mills SC, Claudet J (2016) Interactive effects of three pervasive marine stressors in a post-disturbance coral reef. Coral Reefs 35:1281–1293

Golbuu Y, Richmond RH (2007) Substratum preferences in planula larvae of two species of scleractinian corals, Goniastrea retiformis and Stylaraea punctata. Mar Biol 152:639–644

Gómez-Lemos LA, Doropoulos C, Bayraktarov E, Diaz-Pulido G (2018) Coralline algal metabolites induce settlement and mediate the inductive effect of epiphytic microbes on coral larvae. Sci Rep 8:1–11

Gordon GD, Masaki T, Akioka H (1976) Floristic and distributional account of the common crustose coralline algae on Guam. Micronesica 12:247–277

Han X, Adam TC, Schmitt RJ, Brooks AJ, Holbrook SJ (2016) Response of herbivore functional groups to sequential perturbations in Moorea, French Polynesia. Coral Reefs 35:999–1009

Harrington L, Fabricius K, De'ath G, Negri A (2004) Recognition and selection of settlement substrata determine post-settlment survival in corals. Ecology 85:3428–3437

Heyward AJ, Negri AP (1999) Natural inducers for coral larval metamorphosis. Coral Reefs 18:273–279

Hughes TP, Graham NAJ, Jackson JBC, Mumby PJ, Steneck RS (2010) Rising to the challenge of sustaining coral reef resilience. Trends Ecol Evol 25:633–642

Hughes TP, Jackson JBC (1985) Population dynamics and life histories of foliaceous corals. Ecol Monogr 55:141–166

Jompa J, McCook LJ (1998) Seaweeds save the reef?!: Sargassum canopy decreases coral bleaching on inshore reefs. Reef Res 8:5

Jompa J, McCook LJ (2002) Effects of competition and herbivory on interactions between a hard coral and a brown alga. J Exp Mar Biol Ecol 271:25–39

Jorissen H, Skinner C, Osinga R, de Beer D, Nugues MM (2016) Evidence for water-mediated mechanisms in coral–algal interactions. Proc R Soc B 283:20161137

Keats DW, Chamberlain IM, Baba M (1997a) Pneophyllum conicum (Dawson) comb. nov. (Rhodophyta, Corallinaceae), a widespread indo-pacific non-geniculate coralline alga that overgrows and kills live coral. Bot Mar 40:263–279

Keats DW, Knight MA, Pueschel CM (1997b) Antifouling effects of epithallial shedding in three crustose coralline algae (Rhodophyta, Coralinales) on a coral reef. J Exp Mar Biol Ecol 213:281–293

Kayal M, Vercelloni J, De Loma TL, Bosserelle P, Chancerelle Y, Geoffroy S, Stievenart C, Michonneau F, Penin L, Planes S, Adjeroud M (2012) Predator crown-of-thorns starfish (Acanthaster planci) outbreak, mass mortality of corals, and cascading effects on reef fish and benthic communities. PLoS One 7:e47363

Leong RC, Marzinelli EM, Low J, Bauman AG, Lim EW, Lim CY, Steinberg PD, Guest JR (2018) Effect of coral-algal interactions on early life history processes in Pocillopora acuta in a highly disturbed coral reef system. Front Mar Sci 5:385

Maida M, Coll JC, Sammarco PW (1994) Shedding new light on scleractinian coral recruitment. J Exp Mar Biol Ecol 180:189–202

McCook L, Jompa J, Diaz-Pulido G (2001) Competition between corals and algae on coral reefs: a review of evidence and mechanisms. Coral Reefs 19:400–417

Miller MW, Hay ME, Miller SL, Malone D, Sotka EE, Szmant AM (1999) Effects of nutrients versus herbivores on reef algae: a new method for manipulating nutrients on coral reefs. Limnol Oceanogr 44:1847–1861

Morse DE, Hooker N, Morse AN, Jensen RA (1988) Control of larval metamorphosis and recruitment in sympatric agariciid corals. J Exp Mar Biol Ecol 116:193–217

Mumby PJ, Steneck RS, Adjeroud M, Arnold SN (2016) High resilience masks underlying sensitivity to algal phase shifts of Pacific coral reefs. Oikos 125:644–655

Nugues MM, Roberts CM (2003) Coral mortality and interaction with algae in relation to sedimentation. Coral Reefs 22:507–516

Nugues MM, Bak RPM (2006) Differential competitive abilities between Caribbean coral species and a brown alga: a year of experiments and a long-term perspective. Mar Ecol Prog Ser 315:75–86

Nyström M, Folke C (2001) Spatial Resilience of Coral Reefs. Ecosystems 4:406–417

O'Leary JK, McClanahan TR (2010) Trophic cascades result in large-scale coralline algae loss through differential grazer effects. Ecology 91:3584–3597

Paul VJ, Kuffner IB, Walters LJ, Ritson-Williams R, Beach KS, Becerro MA (2011) Chemically mediated interactions between macroalgae Dictyota spp. and multiple life-history stages of the coral Porites astreoides. Mar Ecol Prog Ser 426:161–170

Payri C, N'Yeurt ADR, Drempuller J (2000) Algues de Polynésie/Algae of French Polynesia. Au Vent des Iles, Tahiti

Penin L, Adjeroud M, Pratchett MS, Hughes TP (2007) Spatial distribution of juvenile and adult corals around Moorea (French Polynesia): implications for population regulation. Bull Mar Sci 80:379–389

Price N (2010) Habitat selection, facilitation, and biotic settlement cues affect distribution and performance of coral recruits in French Polynesia. Oecologia 163:747–758

Quinlan ZAD, Ritson-Williams R, Carroll BJ, Carlson CA, Nelson CE (2019) Species-specific differences in the microbiomes and organic exudates of crustose coralline algae influence bacterioplankton communities. Front Microbiol 10:2397

Raymundo LJ, Maypa AP (2004) Getting bigger faster: mediation of size-specific mortality via fusion in juvenile coral transplants. Ecol Appl 14:281–295

Ritson-Williams R, Arnold S, Fogarty N, Steneck RS, Vermeij M, Paul VJ (2009) New perspectives on ecological mechanisms affecting coral recruitment on reefs. Smithson Contrib Mar Sci 437–457

Ritson-Williams R, Paul VJ, Arnold SN, Steneck RS (2010) Larval settlement preferences and post-settlement survival of the threatened Caribbean corals Acropora palmata and A. cervicornis. Coral Reefs 29:71–81

Ritson-Williams R, Arnold SN, Paul VJ, Steneck RS (2014) Larval settlement preferences of Acropora palmata and Montastraea faveolata in response to diverse red algae. Coral Reefs 33:59–66

Ritson-Williams R, Arnold S, Paul V (2016) Patterns of larval settlement preferences and post-settlement survival for seven Caribbean corals. Mar Ecol Prog Ser 548:127–138

Ruiz-Zárate MA, Espinoza-Avalos J, Carricart-Ganivet JP, Fragoso D (2000) Relationships between Manicina areolata (Cnidaria: Scleractinia), Thalassia testudinum (Anthophyta) and Neogoniolithon sp. (Rhodophyta). Mar Ecol Prog Ser 206:135–146

Sammarco PW (1980) Diadema and its relationship to coral spat mortality: grazing, competition, and biological disturbance. J Exp Mar Biol Ecol 45:245–272

Schrimm M, Buscail R, Adjeroud M (2004) Spatial variability of the biogeochemical composition of surface sediments in an insular coral reef ecosystem: Moorea, French Polynesia. Estuar Coast Shelf Sci 60:515–528

Steneck RS (1986) The ecology of coralline algal crusts: convergent patterns and adaptative strategies. Annu Rev Ecol Evol S 17:273–303

Steneck RS, Hacker SD, Dethier MN (1991) Mechanisms of competitive dominance between crustose coralline algae: an herbivore-mediated competitive reversal. Ecology 72:938–950

Steneck RS (1997) Crustose corallines, other algal functional groups, herbivores and sediments: complex interactions along reef productivity gradients. Proc 8th Int Coral Reef Symp 1:695–700

Tebben J, Motti CA, Siboni N, Tapiolas DM, Negri AP, Schupp PJ, Kitamura M, Hatta M, Steinberg PD, Harder T (2015) Chemical mediation of coral larval settlement by crustose coralline algae. Sci Rep 5:10803

Venera-Ponton DE, Diaz-Pulido G, McCook LJ, Rangel-Campo A (2011) Macroalgae reduce growth of juvenile corals but protect them from parrotfish damage. Mar Ecol Prog Ser 421:109–115

Vermeij MJA (2006) Early life-history dynamics of Caribbean coral species on artificial substratum: the importance of competition, growth and variation in life-history strategy. Coral Reefs 25:59–71

Vermeij MJA, Sandin SA (2008) Density-dependent settlement and mortality structure the earliest life phases of a coral population. Ecology 89:1994–2004

Vermeij MJA, van Moorselaar I, Engelhard S, Hörnlein C, Vonk SM, Visser PM (2010) The effects of nutrient enrichment and herbivore abundance on the ability of turf algae to overgrow coral in the Caribbean. PLoS One 5:e14312

Vermeij MJA, Dailer ML, Smith CM (2011) Crustose coralline algae can suppress macroalgal growth and recruitment on Hawaiian coral reefs. Mar Ecol Prog Ser 422:1–7
Acknowledgements
We thank the staff of the CRIOBE research station for logistical support and Sonora Meiling, Lauranne Sarribouette, Niké Dekkers and Anne Van Domburg for help with fieldwork. HJ was supported by a PhD grant (CORALINE) from the Laboratoire d'Excellence CORAIL. Additional support was provided by PEPS Exomod CNRS (ALGECO) and ANR (No. ANR-18-CE02-0009-01) to MMN. All research was performed under annual research permits (unnumbered) issued by the French Polynesian Ministry of Research to the CRIOBE.
Ethics declarations
Conflict of interest
On behalf of all authors, the corresponding author states that there is no conflict of interest.
Additional information
Publisher's Note
Springer Nature remains neutral with regard to jurisdictional claims in published maps and institutional affiliations.
Topic Editor Morgan S. Pratchett
Electronic supplementary material
Below is the link to the electronic supplementary material.
About this article
Cite this article
Jorissen, H., Baumgartner, C., Steneck, R.S. et al. Contrasting effects of crustose coralline algae from exposed and subcryptic habitats on coral recruits. Coral Reefs 39, 1767–1778 (2020). https://doi.org/10.1007/s00338-020-02002-9
Received:

Accepted:

Published:

Issue Date:

DOI: https://doi.org/10.1007/s00338-020-02002-9
Keywords