Abstract
Knowledge of water clarity is an essential component of coral reef ecology. While qualitative trends are well known, there are currently few published records of spectral—varying as a (relatively) continuous function of wavelength—water optical properties for these systems. The purpose of this study is to quantify trends in the range and variability of the spectral diffuse attenuation coefficient (Kd) in coral reef and adjacent waters. Using a Biospherical PRR-800, 199 vertical profiles of downwelling spectral irradiance were collected across the reefs and nearby optically deepwaters of Bermuda and Hawaii. A single spectral Kd was calculated for each profile. Results reveal water types ranging from clear oceanic to turbid coastal, with Bermuda and Hawaii showing similar patterns. Kd roughly correlates with reef geomorphic zonation, consistent with well-known reef water characteristics: (a) Suspended sediments are ubiquitous on coral reef flats and in lagoons, chiefly comprising calcium carbonate, which is effectively spectrally flat and has the effect of increasing the overall magnitude of Kd; (b) reefs generate large amounts of dissolved organic matter, which becomes apparent in some lagoonal Kd; and (c) the Kd data exhibit little indication of chlorophyll, which is typically very low in the water column above reefs. These patterns appear reproducible when compared with prior data from French Polynesia. The depth of the 1% light level varies accordingly, approximately 30 m, 45 m, 75 m, and 105 m for lagoon, reef flat, fore reef, and offshore, respectively. The data presented here provide some insight into trends in the spatial context of reef geomorphology and lay the foundation for a more quantitative understanding of reef water clarity and color and their importance to reef ecology.
Access options
Buy single article
Instant access to the full article PDF.
US$ 39.95
Tax calculation will be finalised during checkout.
Subscribe to journal
Immediate online access to all issues from 2019. Subscription will auto renew annually.
US$ 119
Tax calculation will be finalised during checkout.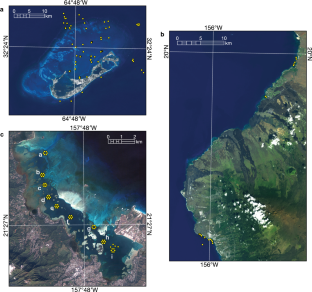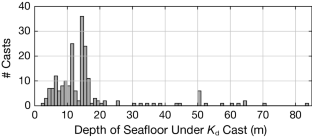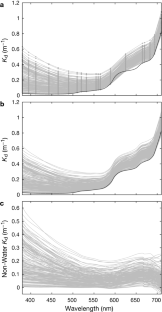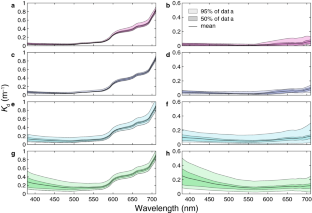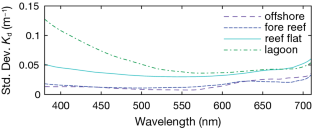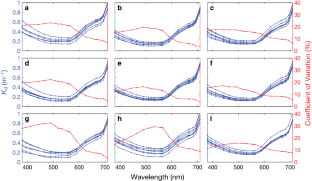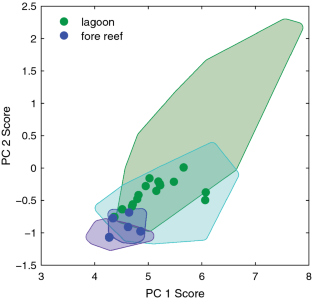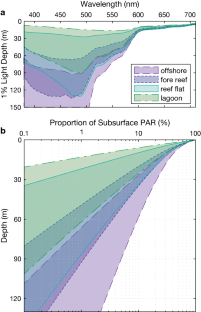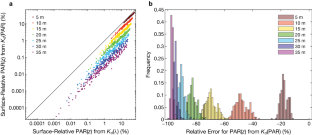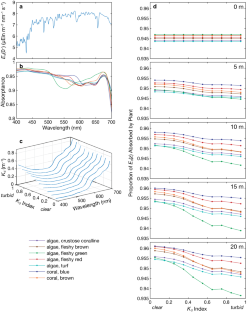 References
Ackleson SG (2003) Light in shallow waters: a brief research review. Limnol Oceanogr 48:323–328

Ahn Y-H (1990) Optical properties of biogenous and mineral particles present in the ocean. Application: inversion of reflectance. PhD Thesis, Paris-VI University

Atkinson M, Smith S, Stroup E (1981) Circulation in Enewetak Atoll lagoon 1. Limnol Oceanogr 26:1074–1083

Atkinson MJ, Grigg RW (1984) Model of coral reef ecosystem. II. Gross and net benthic primary production at French Frigate Shoals, Hawaii. Coral Reefs 3:13–22

Banaszak AT, Lesser MP (2009) Effects of solar ultraviolet radiation on coral reef organisms. Photochem Photobiol Sci 8:1276–1294

Brito A, Newton A, Fernandes T, Tett P (2013) Measuring light attenuation in shallow coastal systems. J Ecosyst Ecography 3:1–4

Cairo CT, Barbosa CCF, de Moraes Novo EML, do Carmo Calijuri M (2017) Spatial and seasonal variation in diffuse attenuation coefficients of downward irradiance at Ibitinga Reservoir, São Paulo, Brazil. Hydrobiologia 784:265–282

Charpy L, Dufour P, Garcia N (1997) Particulate organic matter in sixteen Tuamotu atoll lagoons (French Polynesia). Mar Ecol Prog Ser 151:55–65

Chave KE, Smith SV, Roy KJ (1972) Carbonate production by coral reefs. Mar Geol 12:123–140

D'sa E, Reynolds R, Roesler C, Röttgers R, Stramski D (2018) Chapter 5: Spectrophotometric Measurements of Particulate Absorption Using Filter Pads. In: IOCCG Protocol Series Ocean Optics & Biogeochemistry Protocols for Satellite Ocean Colour Sensor Validation Volume 1: Inherent Optical Property Measurements and Protocols: Absorption Coefficient (vl.O) Editors, pp 50–73, pp 50–78

Dubinsky Z, Falkowski P (2011) Light as a source of information and energy in zooxanthellate corals Coral reefs: an ecosystem in transition. Springer, Berlin, pp 107–118

Dunne RP, Brown BE (1996) Penetration of solar UVB radiation in shallow tropical waters and its potential biological effects on coral reefs; results from the central Indian Ocean and Andaman Sea. Mar Ecol Prog Ser 144:109–118

Fong P, Paul VJ (2011) Coral reef algae Coral reefs: an ecosystem in transition. Springer, Berlin, pp 241–272

Garcia R, Lee Z, Hochberg E (2018) Hyperspectral shallow-water remote sensing with an enhanced benthic classifier. Remote Sensing 10:147

Gattuso J-P, Allemand D, Frankignoulle M (1999) Photosynthesis and calcification at cellular, organismal, and community levels in coral reefs: a review of interactions and control by carbonate chemistry. Am Zool 39:160–183

Gattuso J-P, Gentili B, Duarte CM, Kleypas J, Middelburg JJ, Antoine D (2006) Light availability in the coastal ocean: impact on the distribution of benthic photosynthetic organisms and their contribution to primary production

Golbuu Y, Victor S, Penland L, Idip D, Emaurois C, Okaji K, Yukihira H, Iwase A, Van Woesik R (2007) Palau's coral reefs show differential habitat recovery following the 1998-bleaching event. Coral Reefs 26:319–332

Gregg WW, Carder KL (1990) A simple spectral solar irradiance model for cloudless maritime atmospheres. Limnol Oceanogr 35:1657–1675

Grigg RW (1982) Darwin point: a threshold for atoll formation. Coral Reefs 1:29–34

Grigg RW, Polovina JJ, Atkinson MJ (1984) Model of a coral reef ecosystem. III. Resource limitation, community regulation, fisheries yield and resource management. Coral Reefs 3:23–27

Grigg RW, Grossman EE, Earle SA, Gittings SR, Lott D, McDonough J (2002) Drowned reefs and antecedent karst topography, Au'au Channel, SE Hawaiian Islands. Coral Reefs 21:73–82

Haas AF, Nelson CE, Kelly LW, Carlson CA, Rohwer F, Leichter JJ, Wyatt A, Smith JE (2011) Effects of coral reef benthic primary producers on dissolved organic carbon and microbial activity. PLoS One 6:e27973

Helms JR, Stubbins A, Ritchie JD, Minor EC, Kieber DJ, Mopper K (2008) Absorption spectral slopes and slope ratios as indicators of molecular weight, source, and photobleaching of chromophoric dissolved organic matter. Limnol Oceanogr 53:955–969

Hochberg EJ, Atkinson MJ, Andréfouët S (2003) Spectral reflectance of coral reef bottom-types worldwide and implications for coral reef remote sensing. Remote Sens Environ 85:159–173

Jacobson EC (2005) Light attenuation in a nearshore coral reef ecosystem. University of Hawaii at Manoa

Johannes R (1967) Ecology of organic aggregates in the vicinity of a coral reef. Limnol Oceanogr 12:189–195

Karpouzli E, Malthus T, Place C, Chui AM, Garcia MI, Mair J (2003) Underwater light characterisation for correction of remotely sensed images. Int J Remote Sens 24:2683–2702

Kinsey DW (1983) Standards of performance in coral reef primary production and carbon turnover Perspectives on Coral Reefs. Brian Clouston, Manuka, Australia, pp 209–220

Kinsey DW (1985) Metabolism, calcification and carbon production I: Systems level studies. Proceedings of the Fifth International Coral Reef Congress 4:505–526

Kirk JTO (2011) Light and photosynthesis in aquatic environments, 3rd edn. Cambridge University Press, Cambridge

Kleypas JA, McManus JW, Menez LAB (1999) Environmental limits to coral reef development: where do we draw the line? Am Zool 39:146–159

Larkum A, Kennedy I, Muller W (1988) Nitrogen fixation on a coral reef. Mar Biol 98:143–155

Lee ZP, Darecki M, Carder KL, Davis CO, Stramski D, Rhea WJ (2005) Diffuse attenuation coefficient of downwelling irradiance: an evaluation of remote sensing methods. J Geophys Res Oceans 110:C02017

Littler MM, Littler DS (1988) Structure and role of algae in tropical reef communities. Algae and human affairs/edited by Carole A Lembi, J Robert Waaland; sponsored by the Phycological Society of America, Inc

Lowe RJ, Falter JL, Monismith SG, Atkinson MJ (2009) Wave-driven circulation of a coastal reef–lagoon system. J Phys Oceanogr 39:873–893

Lyzenga DR (1981) Remote sensing of bottom reflectance and water attenuation parameters in shallow water using aircraft and Landsat data. Int J Remote Sens 2:71–82

Maritorena S (1996) Remote sensing of the water attenuation in coral reefs: a case study in French Polynesia. Int J Remote Sens 17:155–166

Maritorena S, Guillocheau N (1996) Optical properties of water and spectral light absorption by living and non-living particles and by yellow substances in coral reef waters of French Polynesia. Mar Ecol Prog Ser 131:245–255

McGillicuddy D, Johnson R, Siegel D, Michaels A, Bates N, Knap A (1999) Mesoscale variations of biogeochemical properties in the Sargasso Sea. J Geophys Res Oceans 104:13381–13394

McKinna LI, Fearns PR, Weeks SJ, Werdell PJ, Reichstetter M, Franz BA, Shea DM, Feldman GC (2015) A semianalytical ocean color inversion algorithm with explicit water column depth and substrate reflectance parameterization. Journal of Geophysical Research: Oceans 120:1741–1770

Michael KJ, Veal CJ, Nunez M (2012) Attenuation coefficients of ultraviolet and photosynthetically active wavelengths in the waters of Heron Reef, Great Barrier Reef, Australia. Mar Freshw Res 63:142–149

Mishra DR, Narumalani S, Rundquist D, Lawson M (2005) Characterizing the vertical diffuse attenuation coefficient for downwelling irradiance in coastal waters: implications for water penetration by high resolution satellite data. ISPRS J Photogramm Remote Sens 60:48–64

Mobley CD (1994) Light and water: radiative transfer in natural waters. Academic Press, San Diego

Morel A, Antoine D (1994) Heating rate within the upper ocean in relation to its bio-optical state. J Phys Oceanogr 24:1652–1665

Neumann A, MacIntyre I (1985) Reef response to sea-level rise: keep-up, catch-up, or give-up. Proceedings of the Fifth International Coral Reef Congress, Tahiti, 27 May–1 June 1985 3:105–110

Ohlmann JC, Siegel DA, Mobley CD (2000) Ocean radiant heating. Part I: optical influences. J Phys Oceanogr 30:1833–1848

Polovina JJ (1984) Model of a coral reef ecosystem. I. The ECOPATH model and its application to French Frigate Shoals. Coral Reefs 3:1–11

Qasim S, Sankaranarayanan V (1970) Production of particulate organic matter by the reef on Kavaratti Atoll (Laccadives). Limnol Oceanogr 15:574–578

Rencher AC (2002) Methods of multivariate analysis, 2nd edn. Wiley, New York

Russell BJ, Dierssen HM, Hochberg EJ (2019) Water column optical properties of Pacific coral reefs across geomorphic zones and in comparison to offshore waters. Remote Sens 11:1757

Siegel DA, Michaels AF (1996) Quantification of non-algal light attenuation in the Sargasso Sea: implications for biogeochemistry and remote sensing. Deep Sea Res Part 2 Top Stud Oceanogr 43:321–345

Simon A, Shanmugam P (2016) Estimation of the spectral diffuse attenuation coefficient of downwelling irradiance in inland and coastal waters from hyperspectral remote sensing data: validation with experimental data. Int J Appl Earth Obs Geoinf 49:117–125

Smith RC, Baker K (1981) Optical properties of the clearest natural waters. Appl Opt 20:177–184

Smith SV, Kimmerer WJ, Laws EA, Brock RE, Walsh TW (1981) Kaneohe Bay sewage diversion experiment—perspectives on ecosystem responses to nutritional perturbation. Pac Sci 35:279–402

Stoddart DR (1969) Ecology and morphology of recent coral reefs. Biol Rev Camb Philos Soc 44:433–498

Thompson DR, Hochberg EJ, Asner GP, Green RO, Knapp DE, Gao B-C, Garcia R, Gierach M, Lee Z, Maritorena S (2017) Airborne mapping of benthic reflectance spectra with Bayesian linear mixtures. Remote Sens Environ 200:18–30

Wiebe WJ, Johannes RE, Webb KL (1975) Nitrogen fixation in a coral reef community. Science 188:257–259

Yentsch CS, Yentsch CM, Cullen JJ, Lapointe B, Phinney DA, Yentsch SW (2002) Sunlight and water transparency: cornerstones in coral research. J Exp Mar Biol Ecol 268:171–183

Zepp RG, Shank GC, Stabenau E, Patterson KW, Cyterski M, Fisher W, Bartels E, Anderson SL (2008) Spatial and temporal variability of solar ultraviolet exposure of coral assemblages in the Florida Keys: importance of colored dissolved organic matter. Limnol Oceanogr 53:1909–1922
Acknowledgements
Tim Noyes, Estelle Lefèvre, Michael Wooster, Gabrielle Dodson, and Jacob Cooper provided invaluable field assistance. This research was funded by National Aeronautics and Space Administration Grants NNG04GO65G, NNX15AR99G, and NNX16AB05G to E. J. Hochberg, as well as National Science Foundation, Division of Ocean Sciences Grants 1460686 and 1757475 to Andrew Peters.
Ethics declarations
Conflict of interest
On behalf of all authors, the corresponding author states that there is no conflict of interest.
Additional information
Publisher's Note
Springer Nature remains neutral with regard to jurisdictional claims in published maps and institutional affiliations.
Topic Editor Mark Vermeij
About this article
Cite this article
Hochberg, E.J., Peltier, S.A. & Maritorena, S. Trends and variability in spectral diffuse attenuation of coral reef waters. Coral Reefs 39, 1377–1389 (2020). https://doi.org/10.1007/s00338-020-01971-1
Received:

Accepted:

Published:

Issue Date:
Keywords
Spectral diffuse attenuation

Coral reef

Light ecology

Reef geomorphology