Abstract
Coral diseases are emerging as a major threat to coral reefs worldwide, and although many of them have been described, knowledge on their epizootiology is still limited. This is the case of the Halofolliculina ciliate infections, recognized as the skeletal eroding band (SEB) and Caribbean ciliate infection (CCI), two diseases caused by ciliates belonging to the genus Halofolliculina (Class Heterotrichea). Despite their similar macroscopic appearance, the two diseases are considered different and their pathogens have been hypothesized to belong to different Halofolliculina species. In this work, we analysed the morphology and genetic diversity of Halofolliculina ciliates collected in the Caribbean Sea, Red Sea and Indo-Pacific Ocean. Our analyses showed a strong macroscopic similarity of the lesions and similar settlement patterns of the halofolliculinids from the collection localities. In particular, the unique erosion patterns typical of the SEB were observed also in the Caribbean corals. Fine-scale morphological and morphometric examinations revealed a common phenotype in all analysed ciliates, unequivocally identified as Halofolliculina corallasia. Phylogenetic analyses based on nuclear and mitochondrial (COI) molecular markers consistently found all samples as monophyletic. However, although the nuclear marker displayed an extremely low intra-specific diversity, consistent with the morphological recognition of a single species, the analyses based on COI showed a certain level of divergence between samples from different localities. Genetic distances between localities fall within the intra-specific range found in other heterotrich ciliates, but they may also suggest the presence of a H. corallasia species complex. In conclusion, the presented morpho-molecular characterization of Halofolliculina reveals strong similarities between the pathogens causing SEB and CCI and call for further detailed studies about the distinction of these two coral diseases.
We're sorry, something doesn't seem to be working properly.
Please try refreshing the page. If that doesn't work, please contact support so we can address the problem.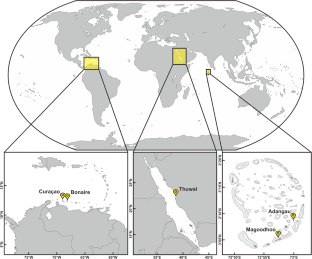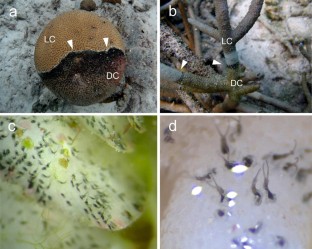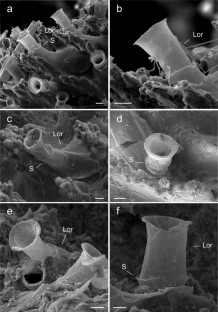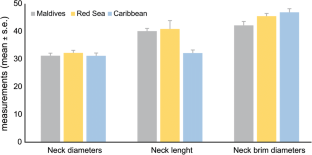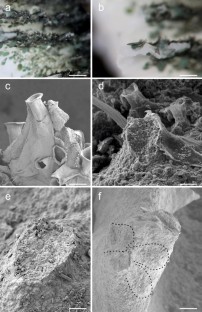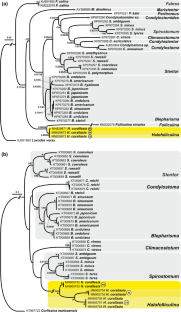 References
Aeby GS, Ushijima B, Campbell JE, Jones S, Williams GJ, Meyer JL, Häse C, Paul VJ (2019) Pathogenesis of a tissue loss disease affecting multiple species of corals along the Florida Reef Tract. Front Mar Sci 6:678

Antonius A (1999) Halofolliculina corallasia, a new coral-killing ciliate on Indo-Pacific reefs. Coral Reefs 18:300

Antonius AA, Lipscomb D (2001) First protozoan coral-killer identified in the Indo-Pacific. Atoll Res Bull 481:1–21

Beli E, Aglieri G, Strano F, Maggioni D, Telford MJ, Piraino S, Cameron CB (2018) The zoogeography of extant rhabdopleurid hemichordates (Pterobranchia: graptolithina), with a new species from the Mediterranean Sea. Invertebr Syst 32:100–110

Bourne DG, Garren M, Work TM, Rosenberg E, Smith GW, Harvell CD (2009) Microbial disease and the coral holobiont. Trends Microbiol 17:554–562

Bourne DG, Ainsworth TD, Pollock FJ, Willis BL (2015) Towards a better understanding of white syndromes and their causes on Indo-Pacific coral reefs. Coral Reefs 34:233–242

Bruno JF, Selig ER (2007) Regional decline of coral cover in the Indo-Pacific: timing, extent, and subregional comparisons. PLoS ONE 2:e711

Casamatta DA, Stani D, Gantar M, Richardson LL (2012) Characterization of Roseofilum reptotaenium (Cyano bacteria, Oscillatoriales) gen. et sp. nov. isolated from Caribbean black band disease. Phycologia 51:489–499

Castresana J (2000) Selection of conserved blocks from multiple alignments for their use in phylogenetic analysis. Mol Biol Evol 17:540–552

Cróquer A, Bastidas C, Lipscomp D, Rodríguez-Martínez RE, Jordan-Dahlgren E, Guzman HM (2006a) First report of folliculinid ciliates affecting Caribbean scleractinian corals. Coral Reefs 25:187–191

Cróquer A, Bastidas C, Lipscomb D (2006b) Folliculinid ciliates: a new threat to Caribbean corals?. Dis Aquat Org 69:75–78

Darriba D, Taboada GL, Doallo R, Posada D (2012) jModelTest 2: more models, new heuristics and parallel computing. Nature Methods 9:772

Fernandes NM, da Silva Paiva T, da Silva-Neto ID, Schlegel M, Schrago CG (2016) Expanded phylogenetic analyses of the class Heterotrichea (Ciliophora, Postciliodesmatophora) using five molecular markers and morphological data. Mol Phylogenet Evol 95:229–246

Gardener T, Cote IM, Gill JA, Grant A, Watkinson AR (2003) Long-term region-wide declines in Caribbean corals. Science 301:958–960

Gentekaki E, Lynn DH (2009) High-level genetic diversity but no population structure inferred from nuclear and mitochondrial markers of the peritrichous ciliate Carchesium polypinum in the Grand River basin (North America). Appl Environ Microbiol 75:3187–3195

Hoeksema BW, Koh EGL (2009) Depauperation of the mushroom coral fauna (Fungiidae) of Singapore (1860s–2006) in changing reef conditions. Raffles Bull Zool Suppl 22:91–101

Katoh K, Standley DM (2013) MAFFT multiple sequence alignment software version 7: improvements in performance and usability. Mol Biol Evol 30:772–780

Katz LA, McManus GB, Snoeyenbos-West LO, Griffin A, Pirog K, Costas B, Foissner W (2005) Reframing the "everything is everywhere" debate: evidence for high gene flow and diversity in ciliate morphospecies. Aquat Microb Ecol 41:55–65

Katz LA, DeBerardinis J, Hall MS, Kovner AM, Dunthorn M, Muse SV (2011) Heterogeneous rates of molecular evolution among cryptic species of the ciliate morphospecies Chilodonella uncinata. J Mol Evol 73:266–272

Kher CP, Doerder FP, Cooper J, Ikonomi P, Achilles-Day U, Küpper FC, Lynn DH (2011) Barcoding Tetrahymena: discriminating species and identifying unknowns using the cytochrome c oxidase subunit I (cox-1) barcode. Protist 162:2–13

Kumar S, Stecher G, Li M, Knyaz C, Tamura K (2018) MEGA X: molecular evolutionary genetics analysis across computing platforms. Mol Biol Evol 35:1547–1549

McManus GB, Xu D, Costas BA, Katz LA (2010) Genetic identities of Cryptic species in the Strombidium stylifer/apolatum/oculatum cluster, including a description of Strombidium rassoulzadegani n. sp. J Eukaryotic Microbiol 57:369–378

Meyer JL, Castellanos-Gell J, Aeby GS, Häse C, Ushijima B, Paul VJ (2019) Microbial community shifts associated with the ongoing stony coral tissue loss disease outbreak on the Florida Reef Tract. bioRxiv 626408

Miao W, Yu Y, Shen YH, Zhang X (2004) Intraspecific phylogeography of Carchesium polypinum (Peritrichia, Ciliophora) from China, inferred from 18SITS1-5.8S ribosomal DNA. Sci China 47:11–17

Montano S, Arrigoni R, Pica D, Maggioni D, Puce S (2015) New insights into the symbiosis between Zanclea (Cnidaria, Hydrozoa) and scleractinians. Zool Scripta 44:92–105

Page CA, Willis BL (2008) Epidemiology of skeletal eroding band on the Great Barrier Reef and the role of injury in the initiation of this widespread coral disease. Coral Reefs 27:257–272

Page CA, Cróquer A, Bastidas C, Rodríguez S, Neale SJ, Weil E, Willis BL (2015) Halofolliculina ciliate infections on corals (skeletal eroding disease). In: Woodley CM, Downs CA, Bruckner AW, Porter JW, Galloway SB (eds) Diseases of Coral. Wiley-Blackwell, Hoboken, pp 361–375

Park MH, Jung JH, Jo E, Park KM, Baek YS, Kim SJ, Min GS (2019) Utility of mitochondrial CO1 sequences for species discrimination of Spirotrichea ciliates (Protozoa, Ciliophora). Mitochondrial DNA Part A 30:148–155

Pollock FJ, Morris PJ, Willis BL, Bourne DG (2011) The urgent need for robust coral disease diagnostics. PLoS Pathogens 7(10):e1002183

Primc-Habdija B, Matoničkin R (2005) A new freshwater folliculinid (Ciliophora) from the karstic region of Croatia. Eur J Protistol 41:37–43

Rambaut A (2012) Figtree v 1.4.0. http://tree.bio.ed.ac.uk/software/figtree/. Accessed 21 June 2019

Riegl B, Antonius A (2003) Halofolliculina skeleton eroding band (SEB): a coral disease with fossilization potential? Coral Reefs 22:48

Rodríguez S, Croquer A, Guzmán HM, Bastidas C (2009) A mechanism of transmission and factors affecting coral susceptibility to Halofolliculina sp. infection. Coral Reefs 28:67–77

Ronquist F, Teslenko M, van der Mark P, Ayres DL, Darling A, Höhna S, Larget B, Liu L, Suchard MA, Huelsenbeck JP (2012) MrBayes 3.2: efficient Bayesian phylogenetic inference and model choice across a large model space. Syst Biol 61:539–542

Rosenberg E, Kelloff CA, Rohwer F (2007) Coral microbiology. Oceanography 20:146–154

Sutherland WJ, Clout M, Depledge M, Dicks LV, Dinsdale J, Entwistle AC, Fleishman E, Gibbons DW, Keim B, Lickorish FA, Monk KA, Ockendon N, Peck LS, Pretty J, Rockström J, Spalding MD, Tonneijck FH, Wintle BC (2015) A horizon scan of global conservation issues for 2015. Trends Ecol Evol 30:17–24

Sussman M, Bourne DG, Willis BL (2006) A single cyanobacterial ribotype is associated with both red and black bands on diseased corals from Palau. Dis Aquat Organ 69:111–118

Stamatakis A (2006) RAxML-VI-HPC: maximum likelihood-based phylogenetic analyses with thousands of taxa and mixed models. Bioinformatics 22:2688–2690

Stamatakis A (2014) RAxML version 8: a tool for phylogenetic analysis and post-analysis of large phylogenies. Bioinformatics 30:1312–1313

Strüder-Kypke MC, Lynn DH (2010) Comparative analysis of the mitochondrial cytochrome c oxidase subunit I (COI) gene in ciliates (Alveolata, Ciliophora) and evaluation of its suitability as a biodiversity marker. Syst Biodivers 8:131–148

Sun P, Clamp JC, Xu D (2010) Analysis of the secondary structure of ITS transcripts in peritrich ciliates (Ciliophora, Oligohymenophorea): implications for structural evolution and phylogenetic reconstruction. Mol Phylogenet Evol 56:242–251

Sweet JM, Séré GM (2015) Ciliate communities consistently associated with coral diseases. J Sea Res 113:119

Talavera G, Castresana J (2007) Improvement of phylogenies after removing divergent and ambiguously aligned blocks from protein sequence alignments. Syst Biol 56:564–577

Weil E, Hooten, AJ (2008) Underwater cards for assessing coral health on Caribbean reefs. Coral reefs targeted research and capacity building for management, 24-pp

Weil E, Rogers CS (2011) Coral reef diseases in the Atlantic-Caribbean. In: Dubinsky Z, Stambler N (eds.) Coral Reefs: An Ecosystem in Transition. Springer, Dordrecht, Netherlands, pp 465–491

Willis BL, Page CA, Dindsdale EA (2004) Coral disease in the great barrier reef. In: Rosenberg E, Loya Y (eds) Coral health and disease. Springer, Berlin, pp 69–104

Winkler R, Antonius A, Abigail Renegar D (2004) The skeleton eroding band disease on coral reefs of Aqaba, Red Sea. Mar Ecol 25:129–144

Work T, Meteyer C (2014) To understand coral disease, look at coral cells. EcoHealth 11:610–618

Yi Z, Song W (2011) Evolution of the order Urostylida (Protozoa, Ciliophora): new hypotheses based on multi-gene information and identification of localized incongruence. PLoS ONE 6:e17471

Zar JH (1999) Biostatistical analysis. Prentice-Hall, London

Zhang WJ, Yang J, Yu YH, Shu SW, Shen YF (2006) Population genetic structure of Carchesium polypinum (Ciliophora: Peritrichia) in four Chinese lakes inferred from ISSR fingerprinting: high diversity but low differentiation. J Eukaryot Microbiol 53:358–363
Acknowledgements
SM is grateful to Naturalis Biodiversity Center for providing Martin Fellowships, which supported fieldwork in Curaçao (2017) and Bonaire (2019). The fieldwork in Bonaire was also supported by a grant from the WWF-Netherlands Biodiversity Fund to BWH. The staff of CARMABI Marine Research Center at Curaçao is thanked for logistical support. We are grateful to STINAPA and DCNA at Bonaire for assistance in the submission of the research proposal and the research permit.
Additional information
Publisher's Note
Springer Nature remains neutral with regard to jurisdictional claims in published maps and institutional affiliations.
Topic Editor Carly Kenkel
Electronic supplementary material
Below is the link to the electronic supplementary material.
. Measurements of the diameter, length and width of both the neck and the ampulla of Halofolliculina corallasia' loricae (XLSX 12 kb)
. Pairwise comparisons of genetic distance values (uncorrected p-distances in %) within and between heterotrich genera and species based on ITS and COI. (XLSX 17 kb)
About this article
Cite this article
Montano, S., Maggioni, D., Liguori, G. et al. Morpho-molecular traits of Indo-Pacific and Caribbean Halofolliculina ciliate infections. Coral Reefs 39, 375–386 (2020). https://doi.org/10.1007/s00338-020-01899-6
Received:

Accepted:

Published:

Issue Date:
Keywords
Ciliate

Protozoan

Syndrome

Halofolliculina corallasia

Coral reefs

Scleractinian corals