Abstract
Understanding connectivity patterns for coral reef organisms is important for their effective management. Despite sponges being an important component of the benthic fauna on the Great Barrier Reef (GBR), there is limited information describing the scale at which populations are connected. Fourteen novel microsatellite markers were isolated for the common GBR sponge Carteriospongia foliascens, and population structure was compared between two locations separated by approximately 100 km (Davies Reef and Fantome Island). All loci were polymorphic at Davies Reef, but two were monomorphic at Fantome Island. F-statistics and clustering analyses revealed differentiation between the two sites. One pair of clones was also identified, suggesting this species can undergo asexual reproduction. Our results suggest restricted genetic connectivity, limited dispersal and therefore potentially high levels of self-recruitment for C. foliascens on the GBR.
This is a preview of subscription content, log in to check access.
Access options
Buy single article
Instant access to the full article PDF.
US$ 39.95
Price includes VAT for USA
Subscribe to journal
Immediate online access to all issues from 2019. Subscription will auto renew annually.
US$ 199
This is the net price. Taxes to be calculated in checkout.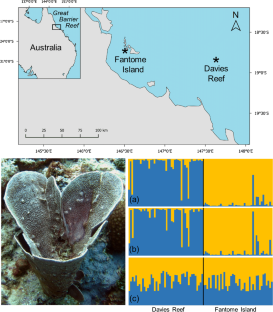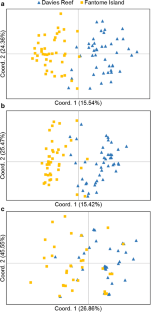 References
Abdul Wahab MA, de Nys R, Abdo D, Webster N, Whalan S (2014a) The influence of habitat on post-settlement processes, larval production and recruitment in a common coral reef sponge. J Exp Mar Biol Ecol 461:162–172

Abdul Wahab MA, de Nys R, Webster N, Whalan S (2014b) Larval behaviours and their contribution to the distribution of the intertidal coral reef sponge Carteriospongia foliascens. PloS one 9(5):e98181

Abdul Wahab MA, de Nys R, Webster N, Whalan S (2014c) Phenology of sexual reproduction in the common coral reef sponge, Carteriospongia foliascens. Coral Reefs 33:381–394

Abdul Wahab MA, Fromont J, Whalan S, Webster N, Andreakis N (2014d) Combining morphometrics with molecular taxonomy: how different are similar foliose keratose sponges from the Australian tropics? Mol Phylogenet Evol 73:23–39

Bell JJ (2008) The functional roles of marine sponges. Estuar Coast Shelf Sci 79:341–353

Bell JJ, Bennett HM, Rovellini A, Webster NS (2018) Sponges to be winners under near-future climate scenarios. BioScience 68:955–968

Bell JJ, Davy SK, Jones T, Taylor MW, Nebster NS (2013) Could some coral reefs become sponge reefs as our climate change? Glob Chang Biol 19:2613–2624

Benjamini Y, Hochberg Y (1995) Controlling the false discovery rate: a practical and powerful approach to multiple testing. J Royal Stat Soc B 57:289–300

Bentlage B, Wörheide G (2007) Low genetic structuring among Pericharax heteroraphis (Porifera: Calcarea) populations from the Great Barrier Reef (Australia), revealed by analysis of nrDNA and nuclear intron sequences. Coral Reefs 26:807–816

Benzie JAH, Sandusky C, Wilkinson CR (1994) Genetic structure of dictyoceratid sponge populations on the western Coral Sea reefs. Mar Biol 119(3):335–345

Biggerstaff A, Jompa J, Bell JJ (2017) Increasing benthic dominance of the phototrophic sponge Lamellodysidea herbacea on a sedimented reef within the Coral Triangle. Mar Biol 164:220

Bennett HM, Altenrath C, Woods L, Davy SK, Webster NS, Bell JJ (2017) Interactive effects of temperature and pCO2 on sponges: from the cradle to the grave. Global change Biology 23(5):2031–2046

Blanquer A, Uriz MJ (2010) Population genetics at three spatial scales of a rare sponge living in fragmented habitats. BMC Evol Biol 10:13

Chapuis MP, Estoup A (2007) Microsatellite null alleles and estimation of population differentiation. Mol Biol Evol 24:621–631

Charlesworth B, Charlesworth D (1999) The genetic basis of inbreeding depression. Genet Res Camb 74:329–340

Chaves-Fonnegra A, Feldheim KA, Secord J, Lopez JV (2015) Population structure and dispersal of the coral-excavating sponge Cliona delitrix. Mol Ecol 24:1447–1466

Dailianis T, Tsigenopoulos CS, Dounas C, Voultsiadou E (2011) Genetic diversity of the imperilled bath sponge Spongia officinalis Linnaeus, 1759 across the Mediterranean Sea: patterns of population differentiation and implications for taxonomy and conservation. Mol Ecol 20:3757–3772

De Goeij JM, Van Oevelen D, Vermeij MJ, Osinga R, Middelburg JJ, De Goeij AF, Admiraal W (2013) Surviving in a marine desert: the sponge loop retains resources within coral reefs. Science 342:108–110

DeBiasse MB, Richards VP, Shivji MS (2010) Genetic assessment of connectivity in the common reef sponge, Callyspongia vaginalis (Demospongiae: Haploscerida) reveals high population structure along the Florida reef tract. Coral Reefs 29:47–55

Earl DA, VonHoldt BM (2012) STRUCTURE HARVESTER: a website and program for visualizing STRUCTURE output and implementing the Evanno method. Conserv Genet Resour 4:359–361

Giles EC, Saenz-Agudelo P, Hussey NE, Ravasi T, Berumen ML (2015) Exploring seascape genetics and kinship in the reef sponge Stylissa carteri in the Red Sea. Ecol Evol 5:2487–2502

Hoegh-Guldberg O, Mumby PJ, Hooten AJ, Steneck RS, Greenfield P, Gomez E, Harvell CD, Sale PF, Edwards AJ, Caldeira K, Knowlton N, Eakin CM, Iglesias-Prieto R, Muthiga N, Bradbury RH, Dubi A, Hatziolos ME (2007) Coral reefs under rapid climate change and ocean acidification. Science 318:1737–1742

Hulce D, Li X, Snyder-Leiby T (2011) GeneMarker genotyping software: Tools to increase the statistical power of DNA fragment analysis. J Biomol Tech 22:S35–S36

Jakobsson M, Rosenberg NA (2007) CLUMPP: a cluster matching ad permutation program for dealing with label switching and multimodality in analysis of population structure. Bioinformatics 23:1801–1806

Luter HM, Widder S, Botté ES, Abdul Wahab MA, Whalan S, Moitinho-Silva L, Thomas T, Webster NS (2015) Biogeographic variation in the microbiome of the ecologically important sponge, Carteriospongia foliascens. PeerJ 3:e1435

Meglécz E, Costedoat C, Dubut V, Gilles A, Malausa T, Pech N, Martin JF (2009) QDD: a user-friendly program to select microsatellite markers and design primers from large sequencing projects. Bioinformatics 26:403–404

Peakall R, Smouse PE (2012) GenAlEx 6.5: genetic analysis in Excel. Population genetic software for teaching and research-an update. Bioinformatics 28:2537–2539

Pineda MC, Strehlow B, Sternel M, Duckworth A, Jones R, Webster NS (2017) Effects of suspended sediments on the sponge holobiont with implications for dredging management. Sci Rep 7:4925

Pritchard JK, Stephens M, Donnelly P (2000) Inference of population structure using multilocus genotype data. Genetics 155(2):945–959

Raymond M, Rousset F (1995) GENEPOP (version 1.2): population genetics software for exact tests and ecumenicism. J Hered 86:248–249

Selkoe KA, Toonen RJ (2011) Marine connectivity: a new look at pelagic larval duration and genetic metrics of dispersal. Mar Ecol Prog Ser 436:291–305

Spalding MD, Brown BE (2015) Warm-water coral reefs and climate change. Science 350:769–771

Stenberg P, Lundmark M, Saura A (2003) MLGsim: a program for detecting clones using a simulation approach. Mol Ecol Resour 3:329–331

Stoeckl N, Hicks CC, Mills M, Fabricius K, Esparon M, Kroon F, Kaur K, Costanza R (2011) The economic value of ecosystem services in the Great Barrier Reef: our state of knowledge. Ann NY Acad Sci 1219:113–133

Storey JD (2002) A direct approach to false discovery rate. J Royal Stat Soc B 64:479–498

Uriz MJ, Maldonado M, Turon X, Marti R (1998) How do reproductive output, larval behaviour, and recruitment contribute to adult spatial patterns in Mediterranean encrusting sponges? Mar Ecol Prog Ser 167:137–148

Webster NS, Luter HM, Soo RM, Botté ES, Simister RL, Abdo D, Whalan S (2013) Same, same but different: symbiotic bacterial associations in GBR sponges. Front Microbiol 444:1–11

Weir BS, Cockerham CC (1984) Estimating F-statistics for the analysis of population structure. Evolution 38:1358–1370

Whalan S, de Nys R, Smith-Keune C, Evans BS, Battershill C, Jerry DR (2008) Low genetic variability within and among populations of the brooding sponge Rhopaloeides odorabile on the central Great Barrier Reef. Aquat Biol 3:111–119

Wilkinson CR (1983) Net primary productivity in coral reef sponges. Science 219:410–412

Wilkinson CR, Cheshire AC (1989) Patterns in the distribution of sponge populations across the central Great Barrier Reef. Coral Reefs 8:127–134

Wörheide G, Hooper JNA, Degnan BM (2002) Phylogeography of western Pacific Leucetta 'chagosensis' (Porifera: Calcarea) from ribosomal DNA sequences: implications for population history and conservation of the Great Barrier Reef World Heritage Area (Australia). Mol Ecol 11:1753–1768

Wörheide G, Epp LS, Macis L (2008) Deep genetic divergences among Indo-Pacific populations of the coral reef sponge Leucetta chagosensis (Leucettidae): founder effects, vicariance, or both? BMC Evol Biol 8(1):24

Wulff J (2016) Sponge contributions to the geology and biology of reefs: past, present, and future. In: Coral reefs at the crossroads. Springer, Dordrecht, pp 103–126
Acknowledgements
This project was funded by the Australian Institute of Marine Science, Victoria University of Wellington and the Royal Society of New Zealand Marsden Fund VUW1505.
Ethics declarations
Conflict of interest
On behalf of all authors, the corresponding author states that there is no conflict of interest.
Additional information
Publisher's Note
Springer Nature remains neutral with regard to jurisdictional claims in published maps and institutional affiliations.
Topic Editor: Carly Kenkel
Electronic supplementary material
Below is the link to the electronic supplementary material.
About this article
Cite this article
Shaffer, M.R., Luter, H.M., Webster, N.S. et al. Evidence for genetic structuring and limited dispersal ability in the Great Barrier Reef sponge Carteriospongia foliascens. Coral Reefs 39, 39–46 (2020). https://doi.org/10.1007/s00338-019-01876-8
Received:

Accepted:

Published:

Issue Date:
Keywords
Porifera

Microsatellites

Population structure

Connectivity

Indo-Pacific