Abstract
Between 2014 and 2017, an unprecedented heat stress accumulated and propagated across the tropical oceans and resulted in the so-called Third Global Bleaching Event (TGBE). Information about the effects of the TGBE in marginal coral reef provinces are still scarce, but can be relevant to understand the trajectories of coral reefs as climate changes intensify. Akin to deep mesophotic reefs and reefs in thermally stressed regions, low diversity, turbid-zone reefs may exhibit high bleaching tolerance due to local adaptations and conditions (e.g., shading by turbidity). Here, we summarize previous bleaching events in the tropical Western South Atlantic Ocean and explore taxonomic, cross-shelf and habitat-related bleaching trends in the Abrolhos reefs in February, May, June and October 2016, and March 2017. Fire corals (Millepora spp.) were the most affected, but all scleractinian species and several octocorals and zoanthids also bleached. Bleaching prevalence was higher in shallow coastal and offshore reef arcs than in deeper mesophotic reefs. All coral species bleached, but there were taxonomic and habitat-related trends in bleaching prevalence. Several species bleached less in the sites and habitats where their abundance was lower. As of March 2017, coral mortality was overall low across the region (< 3% of total coral cover). Our results add to the recent evidence that deep reefs provide partial refugia for a few coral species, and that turbid-zone reefs may be less susceptible to climate stress due to shading, higher heterotrophy levels, and local adaptations.
Access options
Buy single article
Instant access to the full article PDF.
USD 39.95
Price excludes VAT (USA)
Tax calculation will be finalised during checkout.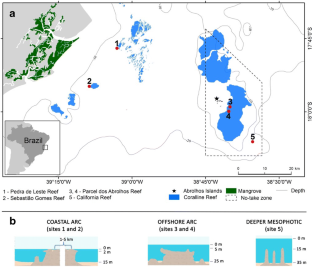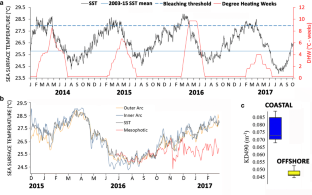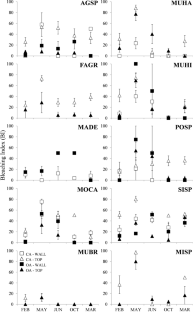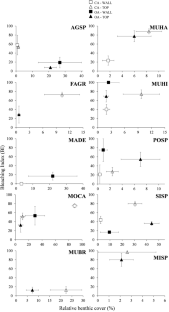 References
Amado-Filho GM, Bahia RG, Mariath R, Jesioneck MB, Moura RL, Bastos AC, Pereira-Filho GH, Francini-Filho RB (2018) Spatial and temporal dynamics of the abundance of crustose calcareous algae on the southernmost coral reefs of the western Atlantic (Abrolhos Bank, Brazil). Algae 33:85–99

Anderson MJ (2001) A new method for non-parametric multivariate analysis of variance. Austral Ecology 26:32–36

Anderson MJ, Gorley RN, Clarke KR (2008) PERMANOVA + for PRIMER: Guide to software and statistical methods. PRIMER-E Ltd, The University of Auckland. 214 pp

Anthony KRN (2006) Enhanced energy status of corals on coastal, high-turbidity reefs. Mar Ecol Prog Ser 319:111–116

Baker AC, Glynn PW, Riegl B (2008) Climate change and coral reef bleaching: an ecological assessment of long-term impacts, recovery trends and future outlook. Estuar Coast Shelf Sci 80:435–471

Bastos AC, Moura RL, Moraes FC, Vieira LS, Braga JC, Ramalho LV, Amado-Filho GM, Magdalena UR, Amado-Filho GM, Webster J (2018) Bryozoans are major modern builders of South Atlantic oddly shaped reefs. Scientific Reports 8(1):9638

Berkelmans R, De'ath G, Kininmonth S, Skirving WJ (2004) A comparison of the 1998 and 2002 coral bleaching events on the Great Barrier Reef: spatial correlation, patterns, and predictions. Coral Reefs 23:74–83

Bongaerts P, Ridgway T, Sampayo EM, Hoegh-Guldberg O (2010) Assessing the 'deep reef refugia' hypothesis: focus on Caribbean reefs. Coral Reefs 29:309–327

Brown BE, Suharsono (1990) Damage and recovery of coral reefs affected by El Niño related seawater warming in the Thousand Islands, Indonesia. Coral Reefs 8:163–170

Bruce T, Meirelles PM, Garcia G, Paranhos R, Rezende CE, Moura RL, Francini-Filho R, Coni EOC, Vasconcelos AT, Amado-Filho G, Hatay M, Schmieder R, Edwards R, Dinsdale E, Thompson FL (2012) Abrolhos Bank reef health evaluated by means of water quality, microbial diversity, benthic cover, and fish biomass data. PLoS One 7. https://doi.org/10.1371/journal.pone.0036687

Castro CB, Pires DO (1999) A bleaching event on a Brazilian coral reef. Revista Brasileira de Oceanografia 47:87–90

Castro CB, Segal B, Pires DO, Medeiros MS (2005) Distribution and diversity of coral communities in the Abrolhos reef complex, Brazil. In: Dutra GF, Allen GR, Werner T, McKenna SA (eds) A Rapid Marine Biodiversity Assessment of the Abrolhos Bank, Bahia, Brazil. Bul Biol Ass 38: 19–39

Chollett I, Mumby PJ, Cortés J (2010) Upwelling areas do not guarantee refuge for coral reefs in a warming ocean. Mar Ecol Prog Ser 416:47–56

Claar DC, Szostek L, McDevitt-Irwin JM, Schanze JJ, Baum JK (2018) Global patterns and impacts of El Niño events on coral reefs: A meta-analysis. PLoS One 13. https://doi.org/10.1371/journal.pone.0190957

Coelho VR, Fenner D, Caruso C, Bayles BR, Huang Y, Birkeland C (2017) Shading as a mitigation tool for coral bleaching in three common Indo-Pacific species. J Exp Mar Biol Ecol 497:152–163

Coni EOC, Ferreira CM, Moura RL, Meirelles PM, Kaufman L, Francini-Filho RB (2013) An evaluation of the use of branching fire-corals (Millepora spp.) as refuge by reef fish in the Abrolhos Bank, eastern Brazil. Environ Biol Fishes 96:45–55

Dias TLP, Gondim AI (2016) Bleaching in scleractinians, hydrocorals, and octocorals during thermal stress in a northeastern Brazilian reef. Mar Biodivers 46:303–307

Donner SD, Rickbeil GJM, Heron SF (2017) A new, high-resolution global mass coral bleaching database. PLoS One 12. https://doi.org/10.1371/journal.pone.0175490

Dutra LXC, Kikuchi RKP, Leão ZMAN (2000) Thirteen months monitoring coral bleaching on Bahia's north coast, Brazil. Proc 9th Int Coral Reef Symp. Indonesian Institute of Sciences, Bali, p. 373

Eakin CM, Liu G, Gomez AM, De La Cour JL, Heron SF, Skirving WJ, Geiger EF, Tirak KV, Strong AE (2016) Global coral bleaching 2014-17. The News Journal of the International Society for Reef Studies - Reef Currents 31:20–26

Ferreira BP, Maida M (2006) Monitoramento dos recifes de coral do Brasil. Ministério do Meio Ambiente, Brasília

Ferreira BP, Costa MBSF, Coxey MS, Gaspar ALB, Veleda D, Araujo M (2013) The effects of sea surface temperature anomalies on oceanic coral reef systems in the southwestern tropical Atlantic. Coral Reefs 32:441–454

Forsman ZH, Barshis DJ, Hunter CL, Toonen RJ (2009) Shape-shifting corals: Molecular markers show morphology is evolutionary plastic in Porites. BMC Evol Biol 9:45. https://doi.org/10.1186/1471-2148-9-45

Francini-Filho RB, Moura RL, Thompson FL, Reis RM, Kaufman L, Kikuchi RKP, Leão ZMAN (2008) Diseases leading to accelerated decline of reef corals in the largest South Atlantic reef complex (Abrolhos Bank, Eastern Brazil). Mar Pollut Bull 56:1008–1014

Francini-Filho RB, Coni EOC, Meirelles PM, Amado-Filho GM, Thompson FL, Pereira-Filho GH, Bastos AC, Abrantes DP, Ferreira CM, Gibran FZ, Güth AZ, Sumida PYG, Oliveira NL, Kaufman L, Minte-Vera CV, Moura RL (2013) Dynamics of coral reef benthic assemblages of the Abrolhos Bank, Eastern Brazil: inferences on natural and anthropogenic drivers. PLoS One 8. https://doi.org/10.1371/journal.pone.0054260

García-Sais JR, Williams SM, Amirrezvani A (2017) Mortality, recovery, and community shifts of scleractinian corals in Puerto Rico one decade after the 2005 regional bleaching event. PeerJ 5. https://doi.org/10.7717/peerj.3611

Gleason MG (1993) Effects of disturbance on coral communities: bleaching in Moorea, French Polynesia. Coral Reefs 12:193–201

Glynn PW (1996) Coral reef bleaching: facts, hypotheses and implications. Glob Change Biol 2:495–509

Glynn PW, de Weerdt WH (1991) Elimination of two reef-building hydrocorals following the 1982-83 El Niño warming event. Science 253:69–71

Graus RR, Macintyre IG (1989) The zonation patterns of Caribbean coral reefs as controlled by wave and light energy input, bathymetric setting and reef morphology: Computer simulation experiments. Coral Reefs 8:9–18

Guest JR, Baird AH, Maynard JA, Muttaqin E, Edwards AJ, Campbell SJ, Yewdall K, Affendi YA, Chou LM (2012) Contrasting patterns of coral bleaching susceptibility in 2010 suggest an adaptive response to thermal stress. PLoS One 7. https://doi.org/10.1371/journal.pone.0033353

Hoegh-Guldberg O (1999) Climate change, coral bleaching and the future of the world's coral reefs. Mar Freshw Res 50:839–866

Hoogenboom MO, Frank GE, Chase TJ, Jurriaans S, Álvarez-Noriega M, Peterson K, Critchell K, Berry KLE, Nicolet KJ, Ramsby B, Paley AS (2017) Environmental drivers of variation in bleaching severity of Acropora species during an extreme thermal anomaly. Front Mar Sci 4. https://doi.org/10.3389/fmars.2017.00376

Hu S, Fedorov AV (2016) Exceptionally strong easterly wind burst stalling El Niño of 2014. Proc Natl Acad Sci USA 113:2005–2010

Hu S, Fedorov AV (2017) The extreme El Niño of 2015–2016: and the end of global warming hiatus. Geophys Res Lett 44:3816–3824

Hughes AD, Grottoli AG (2013) Heterotrophic compensation: A possible mechanism for resilience of coral reefs to global warming or a sign of prolonged stress? PLoS ONE 8(11):e81172

Hughes TP, Kerry JT, Álvarez-Noriega M, Álvarez-Romero JG, Anderson KD, Baird AH, Babcock RC, Beger M, Bellwood DR, Berkelmans R, Bridge TC, Butler IR, Byrne M, Cantin NE, Comeau S, Connolly SR, Cumming GS, Dalton SJ, Diaz-Pulido G, Eakin CM, Figueira WF, Gilmour JP, Harrison HB, Heron SF, Hoey AS, Hobbs J-PA, Hoogenboom MO, Kennedy EV, Kuo C-Y, Lough JM, Lowe RJ, Liu G, McCulloch MT, Malcolm HA, McWilliam MJ, Pandolfi JM, Pears RJ, Pratchett MS, Schoepf V, Simpson T, Skirving WJ, Sommer B, Torda G, Wachenfeld DR, Willis BL, Wilson SK (2017) Global warming and recurrent mass bleaching of corals. Nature 543:373–377

Hughes TP, Anderson KD, Connoly SR, Heron SF, Kerry JT, Lough JM, Baird AH, Baum JK, Berumen ML, Bridge TC, Claar DC, Eakin CM, Gilmour JP, Graham NAJ, Harrison H, Hobbs JPA, Hoey AS, Hoogenboom M, Lowe RJ, McCulloch MT, Pandolfi JM, Pratchett M, Schoepf V, Torde G, Wilson SK (2018) Spatial and temporal patterns of mass bleaching of corals in the Anthropocene. Science 359:80–83

Hughes TP, Kerry JT, Baird AH, Connoly SR, Dietzel A, Eakin CM, Heron SF, Hoey S, Hoogenboom M, Liu, G, McWilliam MJ, Pears RJ, Pratchett M, Skirving WJ, Stella JS, Torda G (2018b) Global warming transforms coral reef assemblages. Nature. https://doi.org/10.1038/s41586-018-0041-2

Kelmo F, Attrill MJ (2013) Severe impact and subsequent recovery of a coral assemblage following the 1997-98 El Niño event: A 17-year study from Bahia, Brazil. PLoS One 8. https://doi.org/10.1371/journal.pone.0065073

Kohler KE, Gill SM (2006) Coral Point Count with Excel extensions (CPCe): A visual basic program for the determination of coral and substrate coverage using random point count methodology. Comput Geosci 32:1259–1269

Krueger T, Horwitz N, Bodin J, Giovani M-E, Escrig S, Meibon A, Fine M (2017) Common reef-building coral in the Northern Red Sea resistant to elevated temperature and acidification. R Soc Open Sci 4. https://doi.org/10.1098/rsos.170038

Laborel J (1969) Les peuplements de Madréporaires des côtes tropicales du Brésil. Annales de L'Université D'Abidjan, ser. E, Ecologie 2:1–261

Le Nohaïk M, Ross CL, Cornwall CE, Comeau S, Lowe R, McCulloch MT, Schoepf V (2017) Marine heatwave causes unprecedented regional mass bleaching of thermally resistant corals in northwestern Australia. Sci Rep 7. https://doi.org/10.1038/s41598-017-14794-y

Leão ZMAN, Kikuchi RKP, Testa V (2003) Coral and coral reefs of Brazil. In: Cortés J (ed) Latin American Coral Reefs. Elsevier Science, Amsterdan, pp 9–52

Liu G, Strong AE, Skirving W, Arzayus F (2006) Overview of NOAA Coral Reef Watch program's near-real-time satellite global coral bleaching monitoring activities. Proc 10th Int Coral Reef Symp: 1783–1793

Liu G, Heron SF, Eakin CM, Muller-Karger FE, Vega-Rodriguez M, Guild LS, De La Cour JL, Geiger EF, Skirving WJ, Burgess TFR, Strong AL, Harris A, Maturi E, Ignatov A, Sapper J, Li J, Lynds S (2014) Reef-scale thermal stress monitoring of coral ecosystems: New 5-km global products from NOAA Coral Reef Watch. Remote Sens 6:11579–11606

Loya Y, Sakai K, Yamazato K, Nakano Y, Sambali H, van Woesik R (2001) Coral bleaching: the winners and the losers. Ecol Lett 4:122–131

Marshall PA, Baird AH (2000) Bleaching of corals on the Great Barrier Reef: differential susceptibilities among taxa. Coral Reefs 19:155–163

McClanahan TR (2004) The relationship between bleaching and mortality of common corals. Mar Biol 144:1239–1245

Migotto AE (1997) Anthozoan bleaching on the southeastern coast of Brazil in the summer of 1994. Proc Int Conf Coelenterate Biol, 6. ICCB, Leeuwenhorst, pp 329–335

Miranda RJ, Cruz ICS, Leão ZMAN (2013) Coral bleaching in the Caramuanas reef (Todos os Santos Bay, Brazil) during the 2010 El Niño event. Lat Am J Aquat Res 41:351–360

Morgan KM, Perry CT, Johnson JA, Smithers SG (2017) Nearshore turbid-zone corals exhibit high bleaching tolerance on the Great Barrier Reef following the 2016 ocean warming event. Front Mar Sci 4. https://doi.org/10.3389/fmars.2017.00224

Moura RL, Amado-Filho GM, Moraes FC, Brasileiro PS, Salomon PS, Mahiques MM, Bastos AC, Almeida MG, Silva JM Jr, Araujo BF, Brito FP, Rangel TP, Oliveira BCV, Bahia RG, Paranhos RP, Dias RJS, Siegle E, Figueiredo AG Jr, Pereira RC, Leal CV, Hajdu E, Asp NE, Gregoracci GB, Neumann-Leitão S, Yager PL, Francini-Filho RB, Fróes A, Campeão M, Silva BS, Moreira APB, Oliveira L, Soares AC, Araujo L, Oliveira NL, Teixeira JB, Valle RAB, Thompson CC, Rezende CE, Thompson FL (2016) An extensive reef system at the Amazon River mouth. Sci. Adv. 2:e1501252

Moura RL, Secchin NA, Amado-Filho GM, Francini-Filho RB, Freitas MO, Minte-Vera CV, Teixeira JB, Thompson FL, Dutra GF, Sumida PYG, Guth AZ, Lopes RM, Bastos AC (2013) Spatial patterns of benthic megahabitats and conservation planning in the Abrolhos Bank. Cont Shelf Res 70:109–117

Mumby PJ, Chisholm JRM, Edwards AJ, Andrefouet S, Jaubert J (2001) Cloudy weather may have saved Society Island reef corals during the 1998 ENSO event. Mar Ecol Progr Ser 222:209–216

NOAA Coral Reef Watch (2017, updated daily) NOAA Coral Reef Watch Daily Global 5-km Satellite Virtual Station Time Series Data for Abrolhos Reefs, Brazil, January 2016 - March 2017. College Park, Maryland, USA: NOAA Coral Reef Watch. Available at https://coralreefwatch.noaa.gov/vs/data/abrolhos_reefs.txt (accessed on 31 October 2017)

Pires DO, Segal B, Caparelli AC (2011) Reproductive effort of an endemic major reef builder along an inshore-offshore gradient in south-western Atlantic. J Mar Biol Assoc U.K. 91:1613–1616

Ribeiro FV, Sá JA, Fistarol GO, Salomon PS, Pereira RC, Souza MLAM, Neves LM, Amado-Filho GM, Francini-Filho RB, Salgado LT, Bastos AC, Pereira-Filho GH, Moraes FC, Moura RL (2018) Long-term effects of competition and environmental drivers on the growth of the endangered coral Mussismilia braziliensis (Verril, 1867). PeerJ 6. https://doi.org/10.7717/peerj.5419

Rodgers KS, Bahr KD, Jokiel PL, Donà AR (2017) Patterns of bleaching and mortality following widespread warming events in 2014 and 2015 at the Hanauma Bay Nature Preserve, Hawai'i. PeerJ 5. https://doi.org/10.7717/peerj.3355

Skirving W, Enríquez S, Hedley J, Dove S, Eakin CM, Mason RAB, De La Cour JL, Liu G, Hoegh-Guldberg O, Strong AE, Mumby PJ, Iglesias-Prieto R (2018) Remote Sensing of Coral Bleaching Using Temperature and Light: Progress towards an Operational Algorithm. Remote Sens. 10(1):18. https://doi.org/10.3390/rs10010018

Smith TB, Glynn PW, Maté JL, Toth LT, Gyory J (2014) A depth refugium from catastrophic coral bleaching prevents regional extinction. Ecology 95(6):1663–1673

Smith TB, Gyory J, Brandt ME, Miller WJ, Jossart J, Nemeth RS (2016) Caribbean mesophotic coral ecosystems are unlikely climate change refugia. Glob Change Biol 22:2756–2765

van Woesik R, Houk P, Isechal AL, Idechong JW, Victor S, Golbuu Y (2012) Climate-change refugia in the sheltered bays of Palau: analogs of future reefs. Ecology and Evolution 2(10):2474–2484

Vaughan TW (1914) Reef corals of the Bahamas and of southern Florida. Year B Carnegie Inst Wash 13:222–226

Verrill A (1902) Remarkable instance of the death of fishes, etc., due to coldness of the sea, in 1901. Transactions of the Connecticut Academy of Arts and Sciences 11:503–507

Wagner DE, Kramer P, van Woesik R (2010) Species compositions, habitat, and water quality influence coral bleaching in southern Florida. Mar Ecol Prog Ser 408:65–78. https://doi.org/10.3354/meps08584

Wolter K, Timlin MS (1993) Monitoring ENSO in COADS with a seasonally adjusted principal component index. Proc. of the 17th Climate Diagnostics Workshop, Norman, OK, NOAA/NMC/CAC, NSSL, Oklahoma Clim. Survey, CIMMS and the School of Meteor., Univ. of Oklahoma, pp: 52–57
Acknowledgements
This work is a contribution from the Abrolhos Network (www.abrolhos.org) and was co-funded by Brazil's National Research Council (CNPq) through the Long Term Ecological Monitoring Program (PELD–Site ABRS), the International Ocean Discovery Program (CAPES), and ANP/Brasoil. ACB, FVR, FSM, GHPF, GMAF, LMN, MK, PSS and RLM acknowledge individual grants from CNPq, CAPES, FAPESP and FAPERJ. We thank the Abrolhos National Marine Park staff, especially Fernando Repinaldo and Berna Barbosa, for research permits, field support and information sharing. Two anonymous reviewers provided helpful input.
Ethics declarations
Conflict of interest
The authors declare no conflict of interest.
Additional information
Topic editor Morgan S. Pratchett.
Publisher's Note
Springer Nature remains neutral with regard to jurisdictional claims in published maps and institutional affiliations.
Electronic supplementary material
Below is the link to the electronic supplementary material.
Relative benthic cover (mean ± SE) in the Abrolhos reefs. Others include black coral, octocoral, sea urchin, calcareous articulated algae, Halimeda, non-biotic and unidentified organisms. (TIFF 2585 kb)
Bleached corals recorded during the Third Global Bleaching Event in the Abrolhos reefs, Brazil. a = Millepora alcicornis (from the left to the right: PB, HB and H); b = Millepora alcicornis (BM); c = Mussismilia braziliensis (left colony: HB, center and right colonies: PB); d = M. hispida, M. hartii and M. lepthophylla (PB), M. braziliensis (H), M. braziliensis (HB and BM) (colonies from the left to the right); e = Agaricia fragilis (HB); f = Favia gravida (HB); g = Madracis decactis (PB); h = Meandrina braziliensis (HB and PB); i = Mussismilia hartii (HB); j = M. hispida (PB and HB); k = Montastraea cavernosa (HB, two larger colonies), Madracis decactis (H, between M. cavernosa colonies), Mussismilia hispida (H and PB, in the left, above M. cavernosa colonies), M. hartii (above M. cavernosa, to the right of M. hispida), Agaricia sp. (HB, three colonies in the right); l = Palythoa caribaeorum (H and HB); m = Plexaurella grandiflora (HB); n = Porites astreoides (HB); o = Siderastrea stellata (HB); p = Stephanocoenia intersepta (HB, several colonies), Porites astreoides (HB, small colony, upper right), Scolymia sp. (H, solitary, upper right). PB = Partially Bleached, HB = Heavily Bleached, BM = Bleaching and Mortality (see Methods). Photos by Leo Francini, Athila Bertoncini, Fernando Moraes and Rodrigo Moura. (TIFF 7670 kb)
About this article
Cite this article
Teixeira, C.D., Leitão, R.L.L., Ribeiro, F.V. et al. Sustained mass coral bleaching (2016–2017) in Brazilian turbid-zone reefs: taxonomic, cross-shelf and habitat-related trends. Coral Reefs 38, 801–813 (2019). https://doi.org/10.1007/s00338-019-01789-6
Received:

Accepted:

Published:

Issue Date:

DOI: https://doi.org/10.1007/s00338-019-01789-6
Keywords