Abstract
Coral reefs of the Persian/Arabian Gulf were the last to succumb to the effects of the global-scale mass coral bleaching event that began in 2015. This study examines the causes and consequences of the 2017 bleaching event on eight reefs located across > 350 km of the southern basin of the Gulf. Using a combination of 5 yr (2013–2017) of reef-based temperature observations, local meteorological data and water column modeling, we show that 2017 was characterized by an extended period of mid-summer calm when winds rarely exceeded breeze conditions, reducing evaporative heat loss and inducing dramatic warming compared with non-bleaching years (2013–2016). Reef-bottom temperatures in the Gulf in 2017 were among the hottest on record, with mean daily maxima averaging 35.9 ± 0.1 °C across sites, with hourly temperatures reaching as high as 37.7 °C. Across the southern Gulf, corals spent nearly 2 months (mean 55.1 ± 3.9 d above bleaching temperatures and nearly 2 weeks above lethal temperatures (11.8 ± 2.4 d), substantially longer than in the non-bleaching years (2013–2016) and equating with 5.5 °C-weeks of thermal stress as degree heating weeks. As a result, 94.3% of corals bleached, and two-thirds of corals were lost to mortality between April and September 2017. Mortality continued after peak bleaching, and by April 2018 coral cover averaged just 7.5% across the southern basin, representing an overall loss of nearly three-quarters of coral (73%) in 1 yr. This mass mortality did not cause dramatic shifts in community composition as earlier bleaching events had removed most sensitive taxa. An exception was the already rare Acropora which were locally extirpated in summer 2017. Given the increasing frequency of mass bleaching in the Gulf and the above global rates of regional warming, the capacity for recovery and the prognosis for the future of Gulf reefs are not optimistic.
Access options
Buy single article
Instant access to the full article PDF.
USD 39.95
Price includes VAT (USA)
Tax calculation will be finalised during checkout.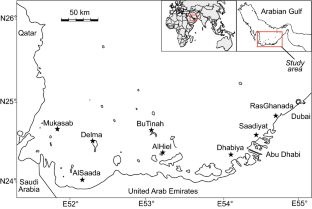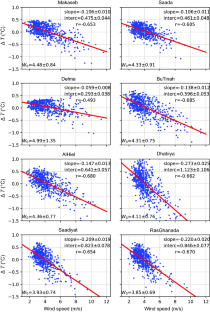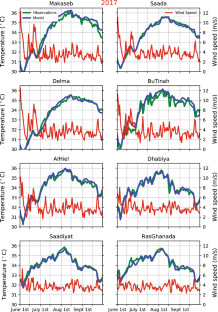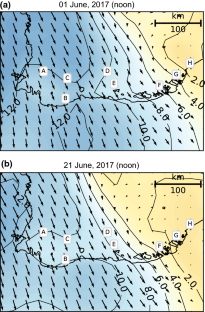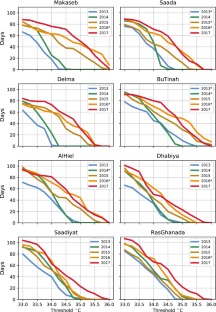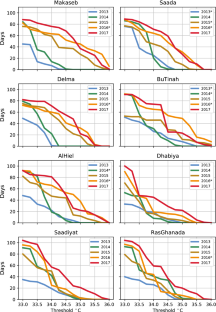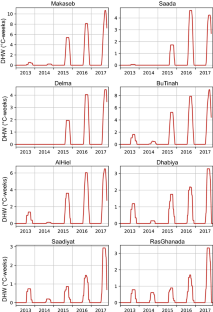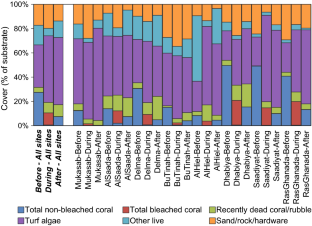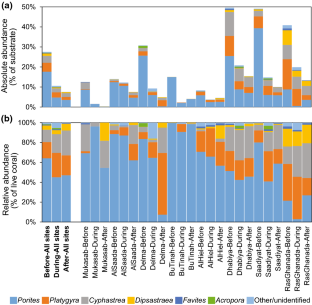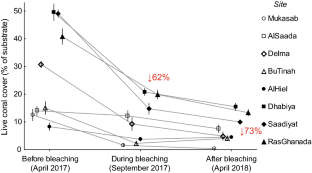 References
Adjeroud M, Michonneau F, Edmunds PJ, Chancerelle Y, de Loma TL, Penin L, Thibaut L, Vidal-Dupiol J, Salvat B, Galzin R (2009) Recurrent disturbances, recovery trajectories, and resilience of coral assemblages on a South Central Pacific reef. Coral Reefs 28:775–780

Al-Rashidi T, El-Gamily H, Amos C, Rakha K (2009) Sea surface temperature trends in Kuwait Bay, Arabian Gulf. Nat Hazards 50:73–82

Al Senafi F, Anis A (2015) Shamals and climate variability in the Northern Arabian/Persian Gulf from 1973 to 2012. Int J Climatol 35:4509–4528

Alsaffar AH, Lone KP (2000) Reproductive cycles of Diadema setosum and Echinometra mathaei (Echinoidea: echinodermata) from Kuwait (northern Arabian Gulf). Bull Mar Sci 67:845–856

Bahr KD, Rodgers KuS, Jokiel PL (2017) Impact of Three Bleaching Events on the Reef Resiliency of Kāne'ohe Bay, Hawai'i. Front Mar Sci 4

Bauman AG, Dunshea G, Feary DA, Hoey AS (2016) Prickly business: abundance of sea urchins on breakwaters and coral reefs in Dubai. Mar Pollut Bull 105:459–465

Bauman AG, Pratchett MS, Baird AH, Riegl B, Heron SF, Feary DA (2013) Variation in the size structure of corals is related to environmental extremes in the Persian Gulf. Mar Environ Res 84:43–50

Bento R, Feary DA, Hoey AS, Burt JA (2017) Settlement patterns of corals and other benthos on reefs with divergent environments and disturbances histories around the northeastern Arabian peninsula. Front Mar Sci. https://doi.org/10.3389/fmars.2017.00305

Bento R, Hoey AS, Bauman AG, Feary DA, Burt JA (2016) The implications of recurrent disturbances within the world's hottest coral reef. Mar Pollut Bull 105:466–472

Berumen ML, Hoey AS, Bass WH, Bouwmeester J, Catania D, Cochran JEM, Khalil MT, Miyake S, Mughal MR, Spaet JLY, Saenz-Agudelo P (2013) The status of coral reef ecology research in the Red Sea. Coral Reefs 32:737–748

Bruno JF, Sweatman H, Precht WF, Selig ER, Schutte VGW (2009) Assessing evidence of phase shifts from coral to macroalgal dominance on coral reefs. Ecology 90:1478–1484

Burchard H, Bolding K, Villarreal MR (1999) GOTM, a general ocean turbulence model: theory, implementation and test cases. European Commission (Technical Report EUR 18745 EN), Brussels, Belgium

Burman SG, Aronson RB, van Woesik R (2012) Biotic homogenization of coral assemblages along the Florida reef tract. Mar Ecol Prog Ser 467:89–96

Burt J (2013) The growth of coral reef science in the Gulf: a historical perspective. Mar Pollut Bull 72:289–301

Burt J, Bartholomew A, Usseglio P (2008) Recovery of corals a decade after bleaching in Dubai, United Arab Emirates. Mar Biol 154:27–36

Burt J, Al-Harthi S, Al-Cibahy A (2011) Long-term impacts of bleaching events on the world's warmest reefs. Mar Environ Res 72:225–229

Burt J, Al-Khalifa K, Khalaf E, AlShuwaik B, Abdulwahab A (2013) The continuing decline of coral reefs in Bahrain. Mar Pollut Bull 72:357–363

Burt JA, Smith EG, Warren C, Dupont J (2016) An assessment of Qatar's coral communities in a regional context. Mar Pollut Bull 105:473–479

Camp EF, Schoepf V, Mumby PJ, Hardtke LA, Rodolfo-Metalpa R, Smith DJ, Suggett DJ (2018) The future of coral reefs subject to rapid climate change: lessons from natural extreme environments. Front Mar Sci 5

Carballo JL, Bautista E, Nava H, Cruz-Barraza JA, Chávez JA (2013) Boring sponges, an increasing threat for coral reefs affected by bleaching events. Ecol Evol 3:872–886

Carpenter KE, Abrar M, Aeby G, Aronson RB, Banks S, Bruckner A, Chiriboga A, Cortes J, Delbeek JC, DeVantier L, Edgar GJ, Edwards AJ, Fenner D, Guzman HM, Hoeksema BW, Hodgson G, Johan O, Licuanan WY, Livingstone SR, Lovell ER, Moore JA, Obura DO, Ochavillo D, Polidoro BA, Precht WF, Quibilan MC, Reboton C, Richards ZT, Rogers AD, Sanciangco J, Sheppard A, Sheppard C, Smith J, Stuart S, Turak E, Veron JEN, Wallace C, Weil E, Wood E (2008) One-third of reef-building corals face elevated extinction risk from climate change and local impacts. Science 321:560–563

Carrigan AD, Puotinen M (2014) Tropical cyclone cooling combats region-wide coral bleaching. Glob Change Biol 20:1604–1613

Cavalcante GH, Feary DA, Burt JA (2016) The influence of extreme winds on coastal oceanography and its implications for coral population connectivity in the southern Arabian Gulf. Mar Pollut Bull 105:489–497

Clarke K, Gorley R (2006) PRIMER v6: User Manual. PRIMER-E Ltd, Plymouth

Coles SL, Riegl BM (2013) Thermal tolerances of reef corals in the Gulf: a review of the potential for increasing coral survival and adaptation to climate change through assisted translocation. Mar Pollut Bull 72:232–332

Connell J, Hughes T, Wallace C (1997) A 30-year study of coral abundance, recruitment, and disturbance at several scales in space and time. Ecol Monogr 67:461–488

Connell JH (1997) Disturbance and recovery of coral assemblages. Coral Reefs 16:S101–S113

Costanza R, de Groot R, Sutton P, van der Ploeg S, Anderson SJ, Kubiszewski I, Farber S, Turner RK (2014) Changes in the global value of ecosystem services. Glob Environ Change 26:152–158

Couch CS, Burns JHR, Liu G, Steward K, Gutlay TN, Kenyon J, Eakin CM, Kosaki RK (2017) Mass coral bleaching due to unprecedented marine heatwave in Papahānaumokuākea Marine National Monument (Northwestern Hawaiian Islands). PLoS ONE 12:e0185121

Dornelas M, Madin JS, Baird AH, Connolly SR (2017) Allometric growth in reef-building corals. Proc R Soc B: Biol Sci 284

Eakin CM, Lough JM, Heron SF (2009) Climate variability and change: monitoring data and evidence for increased coral bleaching stress. In: van Oppen MJH, Lough JM (eds) Coral bleaching: patterns, processes, causes and consequences. Springer, Berlin, pp 41–67

Evans G, Kinsman DJJ, Shearman DJ (1964) A reconnaissance survey of the environment of recent carbonate sedimentation along the trucial coast, Persian Gulf. In: Straaten LMJUv (ed) Developments in Sedimentology. Elsevier, New York, pp 129–135

Furby KA, Bouwmeester J, Berumen ML (2013) Susceptibility of central Red Sea corals during a major bleaching event. Coral Reefs 32:505–513

George D, John D (2000) The status of coral reefs and associated macroalgae in Abu Dhabi (UAE) after recent coral bleaching events. In: Proceedings of the international symposium on the extent and impact of coral bleaching in the Arabian Region, National Commission for Wildlife Conservation and Development, Riyadh, Saudi Arabia

Gilmour JP, Smith LD, Heyward AJ, Baird AH, Pratchett MS (2013) Recovery of an isolated coral reef system following severe disturbance. Science 340:69–71

Gintert BE, Manzello DP, Enochs IC, Kolodziej G, Carlton R, Gleason ACR, Gracias N (2018) Marked annual coral bleaching resilience of an inshore patch reef in the Florida Keys: a nugget of hope, aberrance, or last man standing? Coral Reefs 37:533–547

Grizzle RE, Ward KM, AlShihi RMS, Burt JA (2016) Current status of coral reefs in the United Arab Emirates: distribution, extent, and community structure with implications for management. Mar Pollut Bull 105:515–523

Guest JR, Baird AH, Maynard JA, Muttaqin E, Edwards AJ, Campbell SJ, Yewdall K, Affendi YA, Chou LM (2012) Contrasting patterns of coral bleaching susceptibility in 2010 suggest an adaptive response to thermal stress. PLoS One 7:e33353

Hassan M, Du P, Jia S, Iqbal W, Mahmood R, Ba W (2015) An assessment of the South Asian summer monsoon variability for present and future climatologies using a high resolution regional climate model (RegCM4.3) under the AR5 scenarios. Atmosphere 6:1833

Hernández-Delgado EA (2015) The emerging threats of climate change on tropical coastal ecosystem services, public health, local economies and livelihood sustainability of small islands: cumulative impacts and synergies. Mar Pollut Bull 101:5–28

Heron S, Johnston L, Liu G, Geiger E, Maynard J, De La Cour J, Johnson S, Okano R, Benavente D, Burgess T, Iguel J, Perez D, Skirving W, Strong A, Tirak K, Eakin C (2016a) Validation of reef-scale thermal stress satellite products for coral bleaching monitoring. Remote Sensing 8:59

Heron SF, Maynard JA, van Hooidonk R, Eakin CM (2016b) Warming trends and bleaching stress of the world's coral reefs 1985–2012. Scientific Reports 6:38402

Hersbach H, Dee D (2016) ERA5 reanalysis is in production. ECMWF Newsletter 147:7

Hoegh-Guldberg O, Mumby PJ, Hooten AJ, Steneck RS, Greenfield P, Gomez E, Harvell CD, Sale PF, Edwards AJ, Caldeira K, Knowlton N, Eakin CM, Iglesias-Prieto R, Muthiga N, Bradbury RH, Dubi A, Hatziolos ME (2007) Coral reefs under rapid climate change and ocean acidification. Science 318:1737–1742

Howells EJ, Abrego D, Meyer E, Kirk NL, Burt JA (2016a) Host adaptation and unexpected symbiont partners enable reef-building corals to tolerate extreme temperatures. Glob Change Biol 22:2702–2714

Howells EJ, Ketchum RN, Bauman AG, Mustafa Y, Watkins KD, Burt JA (2016b) Species-specific trends in the reproductive output of corals across environmental gradients and bleaching histories. Mar Pollut Bull 105:532–539

Howells EJ, Dunshea G, McParland D, Vaughan GO, Heron SF, Pratchett MS, Burt JA, Bauman AG (2018) Species-specific coral calcification responses to the extreme environment of the southern Persian Gulf. Frontiers in Marine Science 5:56

Hughes TP, Barnes ML, Bellwood DR, Cinner JE, Cumming GS, Jackson JBC, Kleypas J, van de Leemput IA, Lough JM, Morrison TH, Palumbi SR, van Nes EH, Scheffer M (2017a) Coral reefs in the anthropocene. Nature 546:82

Hughes TP, Kerry JT, Baird AH, Connolly SR, Dietzel A, Eakin CM, Heron SF, Hoey AS, Hoogenboom MO, Liu G, McWilliam MJ, Pears RJ, Pratchett MS, Skirving WJ, Stella JS, Torda G (2018a) Global warming transforms coral reef assemblages. Nature 556:492–496

Hughes TP, Anderson KD, Connolly SR, Heron SF, Kerry JT, Lough JM, Baird AH, Baum JK, Berumen ML, Bridge TC, Claar DC, Eakin CM, Gilmour JP, Graham NAJ, Harrison H, Hobbs J-PA, Hoey AS, Hoogenboom M, Lowe RJ, McCulloch MT, Pandolfi JM, Pratchett M, Schoepf V, Torda G, Wilson SK (2018b) Spatial and temporal patterns of mass bleaching of corals in the Anthropocene. Science 359:80–83

Hughes TP, Kerry JT, Álvarez-Noriega M, Álvarez-Romero JG, Anderson KD, Baird AH, Babcock RC, Beger M, Bellwood DR, Berkelmans R, Bridge TC, Butler IR, Byrne M, Cantin NE, Comeau S, Connolly SR, Cumming GS, Dalton SJ, Diaz-Pulido G, Eakin CM, Figueira WF, Gilmour JP, Harrison HB, Heron SF, Hoey AS, Hobbs J-PA, Hoogenboom MO, Kennedy EV, C-y Kuo, Lough JM, Lowe RJ, Liu G, McCulloch MT, Malcolm HA, McWilliam MJ, Pandolfi JM, Pears RJ, Pratchett MS, Schoepf V, Simpson T, Skirving WJ, Sommer B, Torda G, Wachenfeld DR, Willis BL, Wilson SK (2017b) Global warming and recurrent mass bleaching of corals. Nature 543:373

Hume B, D'Angelo C, Smith E, Stevens J, Burt J, Wiedenmann J (2015) Symbiodinium thermophilum sp. nov., a thermotolerant symbiotic alga prevalent in corals of the world's hottest sea, the Persian/Arabian Gulf. Sci Rep 5:1–8

Hume BCC, D'Angelo C, Burt JA, Wiedenmann J (2018) Fine-Scale Biogeographical Boundary Delineation and Sub-population Resolution in the Symbiodinium thermophilum Coral Symbiont Group From the Persian/Arabian Gulf and Gulf of Oman. Front Mar Sci 5:1–11

Jones AM, Berkelmans R (2011) Tradeoffs to thermal acclimation: energetics and reproduction of a reef coral with heat tolerant symbiodinium type-D. J Mar Biol 2011:12

Kayanne H (2017) Validation of degree heating weeks as a coral bleaching index in the northwestern Pacific. Coral Reefs 36:63–70

Kayanne H, Harii S, Ide Y, Akimoto F (2002) Recovery of coral populations after the 1998 bleaching on Shiraho Reef, in the southern Ryukyus, NW Pacific. Mar Ecol Prog Ser 239:93–103

Kirk N, Howells E, Abrego D, Burt J, Meyer E (2018) Genomic and transcriptomic signals of thermal tolerance in heat-tolerant corals (Platygyra daedalea) of the Arabian/Persian Gulf. Mol Ecol 27:5180–5194

Krueger T, Horwitz N, Bodin J, Giovani M-E, Escrig S, Meibom A, Fine M (2017) Common reef-building coral in the Northern Red Sea resistant to elevated temperature and acidification. R Soc Open Sci 4:1–13

Le Nohaïc M, Ross CL, Cornwall CE, Comeau S, Lowe R, McCulloch MT, Schoepf V (2017) Marine heatwave causes unprecedented regional mass bleaching of thermally resistant corals in northwestern Australia. Sci Rep 7:14999

Liu G, Strong AE, Skirving W (2003) Remote sensing of sea surface temperatures during 2002 Barrier Reef coral bleaching. Eos Trans Am Geophys Union 84:137–141

Lough JM, Anderson KD, Hughes TP (2018) Increasing thermal stress for tropical coral reefs: 1871–2017. Sci Rep 8:6079

Loya Y, Sakai K, Yamazato K, Nakano Y, Sambali H, Van Woesik R (2001) Coral bleaching: the winners and the losers. Ecol Lett 4:122–131

Madin JS, Baird AH, Dornelas M, Connolly SR (2014) Mechanical vulnerability explains size-dependent mortality of reef corals. Ecol Lett 17:1008–1015

Madin JS, Baird AH, Bridge TCL, Connolly SR, Zawada KJA, Dornelas M (2018) Cumulative effects of cyclones and bleaching on coral cover and species richness at Lizard Island. Mar Ecol Prog Ser 604:263–268

McClanahan TR (2017) Changes in coral sensitivity to thermal anomalies. Mar Ecol Prog Ser 570:71–85

McClanahan TR, Ateweberhan M, Ruiz Sebastián C, Graham NAJ, Wilson SK, Bruggemann JH, Guillaume MMM (2007) Predictability of coral bleaching from synoptic satellite and in situ temperature observations. Coral Reefs 26:695–701

McCune B, Grace J (2002) Analysis of ecological communities. MjM Software Design, Gleneden Beach

Miller J, Muller E, Rogers C, Waara R, Atkinson A, Whelan KRT, Patterson M, Witcher B (2009) Coral disease following massive bleaching in 2005 causes 60% decline in coral cover on reefs in the US Virgin Islands. Coral Reefs 28:925

Moberg F, Folke C (1999) Ecological goods and services of coral reef ecosystems. Ecol Econ 29:215–233

Monroe AA, Ziegler M, Roik A, Röthig T, Hardenstine RS, Emms MA, Jensen T, Voolstra CR, Berumen ML (2018) In situ observations of coral bleaching in the central Saudi Arabian Red Sea during the 2015/2016 global coral bleaching event. PLoS One 13:e0195814

Niu X, Wang S, Tang J, Lee D-K, Gutowski W, Dairaku K, McGregor J, Katzfey J, Gao X, Wu J, Hong S, Wang Y, Sasaki H (2015) Projection of Indian summer monsoon climate in 2041–2060 by multiregional and global climate models. J Geophys Res: Atmos 120:1776–1793

NOAA (2018a) State of the climate: global climate Report for Annual 2017. NOAA National Centers for Environmental Information

NOAA (2018b) NOAA coral reef watch daily global 5-km satellite virtual station time series data for the Western Persian Gulf for 2017–2018. NOAA Coral Reef Watch, College Park

Osman EO, Smith DJ, Ziegler M, Kürten B, Conrad C, El-Haddad KM, Voolstra CR, Suggett DJ (2018) Thermal refugia against coral bleaching throughout the northern Red Sea. Glob Change Biol 24:e474–e484

Paparella F, Xu C, Vaughan G, Burt J (In review) Coral bleaching in the Persian/Arabian Gulf is modulated by summer winds. Front Mar Sci (Submitted July 2018)

Perry CT, Morgan KM (2017a) Bleaching drives collapse in reef carbonate budgets and reef growth potential on southern Maldives reefs. Sci Rep 7:40581

Perry CT, Morgan KM (2017b) Post-bleaching coral community change on southern Maldivian reefs: is there potential for rapid recovery? Coral Reefs 36:1189–1194

Pratchett MS, McCowan D, Maynard JA, Heron SF (2013) Changes in Bleaching Susceptibility among Corals Subject to Ocean Warming and Recurrent Bleaching in Moorea, French Polynesia. PLOS One 8:e70443

Purkis S, Riegl B (2005) Spatial and temporal dynamics of Arabian Gulf coral assemblages quantified from remote-sensing and in situ monitoring data. Mar Ecol Prog Ser 287:99–113

Rao PG, Hatwar HR, Al-Sulaiti MH, Al-Mulla AH (2003) Summer shamals over the Arabian Gulf. Weather 58:471–478

Riegl B (2002) Effects of the 1996 and 1998 positive sea-surface temperature anomalies on corals, coral diseases and fish in the Arabian Gulf (Dubai, UAE). Mar Biol 140:29–40

Riegl B (2003) Climate change and coral reefs: different effects in two high-latitude areas (Arabian Gulf, South Africa). Coral Reefs 22:433–446

Riegl B, Purkis S (2012) Dynamics of Gulf coral communities: observations and models from the world's hottest coral sea. In: Riegl BM, Purkis SJ (eds) Coral reefs of the Gulf: adaptation to climatic extremes. Springer, Berlin, pp 71–93

Riegl B, Purkis S (2015) Coral population dynamics across consecutive mass mortality events. Glob Change Biol 21:3995–4005

Riegl B, Johnston M, Purkis S, Howells E, Burt J, Steiner S, Sheppard C, Bauman A (2018) Population collapse dynamics in Acropora downingi, an Arabian/Persian Gulf ecosystem-engineering coral, linked to rising temperature. Glob Change Biol 24:2447–2462

Riegl BM, Benzoni F, Samimi-Namin K, Sheppard C (2012a) The hermatypic scleractinian (hard) coral fauna of the Gulf. In: Riegl B, Purkis S (eds) Coral reefs of the Gulf: adaptation to climatic extremes. Springer, Berlin, pp 187–224

Riegl BM, Purkis SJ, Al-Cibahy AS, Abdel-Moati MA, Hoegh-Guldberg O (2011) Present limits to heat-adaptability in corals and population-level responses to climate extremes. PLoS One 6:e24802

Riegl BM, Purkis SJ, Al-Cibahy AS, Al-Harthi S, Grandcourt E, Al-Sulaiti K, Baldwin J, Abdel-Moati AM (2012b) Coral bleaching and mortality thresholds in the SE Gulf: highest in the world. In: Riegl BM, Purkis SJ (eds) Coral reefs of the Gulf: adaptation to climatic extremes. Springer, Berlin, pp 95–105

Selig ER, Casey KS, Bruno JF (2010) New insights into global patterns of ocean temperature anomalies: implications for coral reef health and management. Glob Ecol Biogeogr 19:397–411

Sheppard C, Loughland R (2002) Coral mortality and recovery in response to increasing temperature in the southern Arabian Gulf. Aquat Ecosyst Health Manag 5:395–402

Sheppard C, Price A, Roberts C (1992) Marine ecology of the Arabian region: patterns and processes in extreme tropical environments. Academic Press, Toronto

Shinn E (1976) Coral reef recovery in Florida and the Persian Gulf. Environ Geol 1:241–254

Shuail D, Wiedenmann J, D'Angelo C, Baird AH, Pratchett MS, Riegl B, Burt JA, Petrov P, Amos C (2016) Local bleaching thresholds established by remote sensing techniques vary among reefs with deviating bleaching patterns during the 2012 event in the Arabian/Persian Gulf. Mar Pollut Bull 105:654–659

Smith E, Hume B, Delaney P, Wiedenmann J, Burt J (2017a) Genetic structure of coral-Symbiodinium symbioses on the world's warmest reefs. PLoS One 12:e0180169

Smith EG, Vaughan GO, Ketchum RN, McParland D, Burt JA (2017b) Symbiont community stability through severe coral bleaching in a thermally extreme lagoon. Sci Rep 7:2428

Spalding M, Green E, Ravilious C (2001) World atlas of coral reefs. University of California Press, Berkley

Spalding MD, Grenfell AM (1997) New estimates of global and regional coral reef areas. Coral Reefs 16:225–230

Teo A, Todd PA (2018) Simulating the effects of colony density and intercolonial distance on fertilisation success in broadcast spawning scleractinian corals. Coral Reefs 37:891–900

van Hooidonk R, Huber M (2009) Quantifying the quality of coral bleaching predictions. Coral Reefs 28:579–587

Vaughan GO, Burt JA (2016) The changing dynamics of coral reef science in Arabia. Mar Pollut Bull 105:441–458

Vaughan GO, Al-Mansoori N, Burt J (2019) The Arabian Gulf. In: Sheppard C (ed) World seas: an environmental evaluation, 2nd edn. Elsevier Science, Amsterdam, pp 1–23

Yadav S, Alcoverro T, Arthur R (2018) Coral reefs respond to repeated ENSO events with increasing resistance but reduced recovery capacities in the Lakshadweep archipelago. Coral Reefs 37:1245–1257
Acknowledgements
This manuscript is dedicated to the memory of Edwin Grandcourt who was a strong proponent of data-driven management at the Environment Agency Abu Dhabi; his love for Abu Dhabi's marine environment will be fondly remembered. The authors would like to thank Grace Vaughan and Dain McParland of New York University Abu Dhabi as well as Ibrahim Bugla of the Environment Agency Abu Dhabi for their tireless support in fieldwork and temperature logger collections. Appreciation is extended to the management of the Environment Agency Abu Dhabi for provision of research permits to allow this study.
Ethics declarations
Conflict of interest
The authors declare no conflicts of interest.
Additional information
Topic Editor Morgan S. Pratchett
Electronic supplementary material
Below is the link to the electronic supplementary material.
About this article
Cite this article
Burt, J.A., Paparella, F., Al-Mansoori, N. et al. Causes and consequences of the 2017 coral bleaching event in the southern Persian/Arabian Gulf. Coral Reefs 38, 567–589 (2019). https://doi.org/10.1007/s00338-019-01767-y
Received:

Accepted:

Published:

Issue Date:
Keywords
Coral reef

Bleaching

Threshold

DHW

Wind

Persian Gulf

Arabian Gulf