Abstract
Coral reefs are characterized by high biodiversity, and evidence suggests that reef soundscapes reflect local species assemblages. To investigate how sounds produced on a given reef relate to abiotic and biotic parameters and how that relationship may change over time, an observational study was conducted between September 2014 and January 2016 at seven Hawaiian reefs that varied in coral cover, rugosity, and fish assemblages. The reefs were equipped with temperature loggers and acoustic recording devices that recorded on a 10% duty cycle. Benthic and fish visual survey data were collected four times over the course of the study. On average, reefs ranged from 0 to 80% live coral cover, although changes between surveys were noted, in particular during the major El Niño-related bleaching event of October 2015. Acoustic analyses focused on two frequency bands (50–1200 and 1.8–20.5 kHz) that corresponded to the dominant spectral features of the major sound-producing taxa on these reefs, fish, and snapping shrimp, respectively. In the low-frequency band, the presence of humpback whales (December–May) was a major contributor to sound level, whereas in the high-frequency band sound level closely tracked water temperature. On shorter timescales, the magnitude of the diel trend in sound production was greater than that of the lunar trend, but both varied in strength among reefs, which may reflect differences in the species assemblages present. Results indicated that the magnitude of the diel trend was related to fish densities at low frequencies and coral cover at high frequencies; however, the strength of these relationships varied by season. Thus, long-term acoustic recordings capture the substantial acoustic variability present in coral-reef ecosystems and provide insight into the presence and relative abundance of sound-producing organisms.
This is a preview of subscription content, log in to check access.
Access options
Buy single article
Instant access to the full article PDF.
US$ 39.95
Price includes VAT for USA
Subscribe to journal
Immediate online access to all issues from 2019. Subscription will auto renew annually.
US$ 199
This is the net price. Taxes to be calculated in checkout.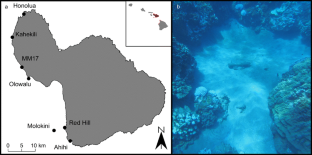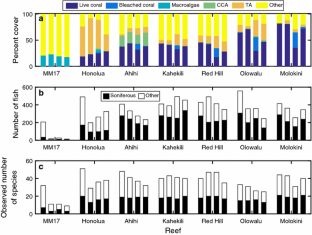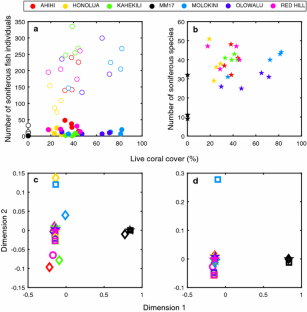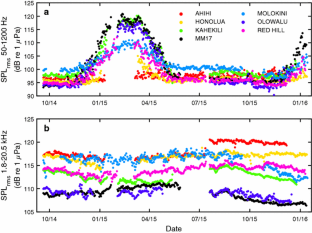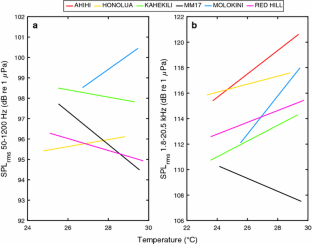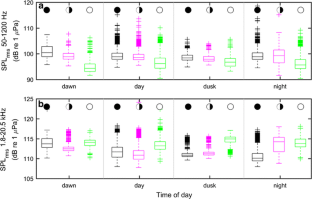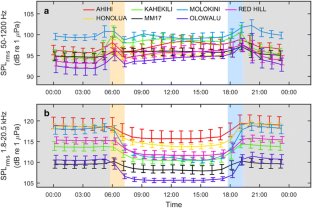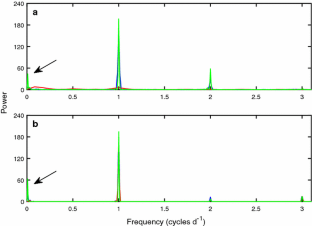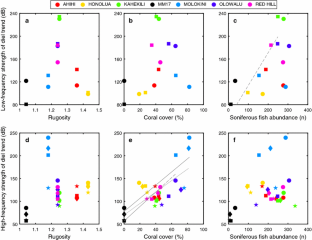 References
Au WWL, Banks K (1998) The acoustics of the snapping shrimp Synalpheus parneomeris in Kaneohe Bay. J Acoust Soc Am 103:41–47

Au WW, Mobley J, Burgess WC, Lammers MO, Nachtigall PE (2000) Seasonal and diurnal trends of chorusing humpback whales wintering in waters off western Maui. Mar Mamm Sci 16:530–544

Bertucci F, Parmentier E, Lecellier G, Hawkins AD, Lecchini D (2016) Acoustic indices provide information on the status of coral reefs: an example from Moorea Island in the South Pacific. Sci Rep 6:33326

Bohnenstiehl DR, Lillis A, Eggleston DB (2016) The curious acoustic behavior of estuarine snapping shrimp: temporal patterns of snapping shrimp sound in sub-tidal oyster reef habitat. PLoS One 11:e0143691

D'Alessandro E, Sponaugle S, Lee T (2007) Patterns and processes of larval fish supply to the coral reefs of the upper Florida Keys. Mar Ecol Prog Ser 331:85–100

Friedlander AM, Brown EK, Jokiel PL, Smith WR, Rodgers KS (2003) Effects of habitat, wave exposure, and marine protected area status on coral reef fish assemblages in the Hawaiian archipelago. Coral Reefs 22:291–305

Galzin R (1987) Structure of fish communities of French Polynesian coral reefs. II Temporal scales. Mar Ecol Prog Ser 41:137–145

Kaplan MB, Mooney TA (2015) Ambient noise and temporal patterns of boat activity in the US Virgin Islands National Park. Mar Pollut Bull 98:221–228

Kaplan MB, Mooney TA, Partan J, Solow AR (2015) Coral reef species assemblages are associated with ambient soundscapes. Mar Ecol Prog Ser 533:93–107

Komyakova V, Munday PL, Jones GP (2013) Relative importance of coral cover, habitat complexity and diversity in determining the structure of reef fish communities. PLoS One 8:e83178

Lammers MO, Brainard RE, Au WW, Mooney TA, Wong KB (2008) An ecological acoustic recorder (EAR) for long-term monitoring of biological and anthropogenic sounds on coral reefs and other marine habitats. J Acoust Soc Am 123:1720–1728

McCormick MI (1994) Comparison of field methods for measuring surface topography and their associations with a tropical reef fish assemblage. Mar Ecol Prog Ser 112:87–96

Messmer V, Jones GP, Munday PL, Holbrook SJ, Schmitt RJ, Brooks A (2011) Habitat biodiversity as a determinant of fish community structure on coral reefs. Ecology 92:2285–2298

Meyer JL, Schultz ET (1985) Migrating haemulid fishes as a source of nutrients and organic matter on coral reefs. Limnol Oceanogr 30:146–156

Nedelec SL, Radford AN, Simpson SD, Nedelec B, Lecchini D, Mills SC (2014) Anthropogenic noise playback impairs embryonic development and increases mortality in a marine invertebrate. Sci Rep 4:5891

Nedelec SL, Simpson SD, Holderied M, Radford AN, Lecellier G, Radford C, Lecchini D (2015) Soundscapes and living communities in coral reefs: temporal and spatial variation. Mar Ecol Prog Ser 524:125–135

Parks SE, Miksis-Olds JL, Denes SL (2014) Assessing marine ecosystem acoustic diversity across ocean basins. Ecol Inform 21:81–88

Parravicini V, Kulbicki M, Bellwood DR, Friedlander AM, Arias-Gonzalez JE, Chabanet P, Floeter SR, Myers R, Vigliola L, D'Agata S, Mouillot D (2013) Global patterns and predictors of tropical reef fish species richness. Ecography 36:1254–1262

Radford CA, Stanley JA, Jeffs AG (2014) Adjacent coral reef habitats produce different underwater sound signatures. Mar Ecol Prog Ser 505:19–28

Radford CA, Jeffs AG, Tindle CT, Montgomery JC (2008) Temporal patterns in ambient noise of biological origin from a shallow water temperate reef. Oecologia 156:921–929

Sale P, Doherty P, Eckert G, Douglas W, Ferrell D (1984) Large scale spatial and temporal variation in recruitment to fish populations on coral reefs. Oecologia 64:191–198

Shulman MJ (1985) Recruitment of coral reef fishes: effects of distribution of predators and shelter. Ecology 66:1056–1066

Simpson SD, Meekan M, Montgomery J, McCauley R, Jeffs A (2005) Homeward sound. Science 308:221

Simpson SD, Radford AN, Nedelec SL, Ferrari MC, Chivers DP, McCormick MI, Meekan MG (2016) Anthropogenic noise increases fish mortality by predation. Nat Commun 7:10544

Staaterman E, Paris CB, DeFerrari HA, Mann DA, Rice AN, D'Alessandro EK (2014) Celestial patterns in marine soundscapes. Mar Ecol Prog Ser 508:17–32

Staaterman E, Ogburn MB, Altieri AH, Brandl SJ, Whippo R, Seemann J, Goodison M, Duffy JE (2017) Bioacoustic measurements complement visual biodiversity surveys: preliminary evidence from four shallow marine habitats. Mar Ecol Prog Ser 575:207–215

Syms C, Jones GP (2000) Disturbance, habitat structure, and the dynamics of a coral-reef fish community. Ecology 81:2714–2729

Tricas TC, Boyle KS (2014) Acoustic behaviors in Hawaiian coral reef fish communities. Mar Ecol Prog Ser 511:1–16

Williams ID, Baum JK, Heenan A, Hanson KM, Nadon MO, Brainard RE (2015) Human, oceanographic and habitat drivers of central and western Pacific coral reef fish assemblages. PLoS One 10:e0120516
Acknowledgements
Funding for this research was provided by the PADI Foundation, the WHOI Access To The Sea initiative and Ocean Life Institute, and the National Science Foundation Grant OCE-1536782. We thank Lee James and Meagan Jones for generously providing vessel support. This research benefited from helpful analysis advice from David Mann and Andy Solow and comments from three anonymous reviewers. Alessandro Bocconcelli, Steve Faluotico, Merra Howe, Jim Partan, Laela Sayigh, Russell Sparks, and Darla White provided engineering and technical assistance in the field. This work was permitted by the Hawaii Department of Land and Natural Resources (SAP 2015-29 and Special Use Permit 95132).
Additional information
Communicated by Biology Editor Mark R. Patterson
Electronic supplementary material
Below is the link to the electronic supplementary material.
About this article
Cite this article
Kaplan, M.B., Lammers, M.O., Zang, E. et al. Acoustic and biological trends on coral reefs off Maui, Hawaii. Coral Reefs 37, 121–133 (2018). https://doi.org/10.1007/s00338-017-1638-x
Received:

Accepted:

Published:

Issue Date:
Keywords
Coral reefs

Soundscapes

Biodiversity

Soniferous