Abstract
Black band disease (BBD) affects many coral species worldwide and is considered a major contributor to the decline of reef-building coral. On the Florida Reef Tract BBD is most prevalent during summer and early fall when water temperatures exceed 29 °C. BBD is rarely reported in pillar coral (Dendrogyra cylindrus) throughout the Caribbean, and here we document for the first time the appearance of the disease in this species on Florida reefs. The highest monthly BBD prevalence in the D. cylindrus population were 4.7% in 2014 and 6.8% in 2015. In each year, BBD appeared immediately following a hyperthermal bleaching event, which raises concern as hyperthermal seawater anomalies become more frequent.
This is a preview of subscription content, log in to check access.
Access options
Buy single article
Instant access to the full article PDF.
US$ 39.95
Price includes VAT for USA
Subscribe to journal
Immediate online access to all issues from 2019. Subscription will auto renew annually.
US$ 199
This is the net price. Taxes to be calculated in checkout.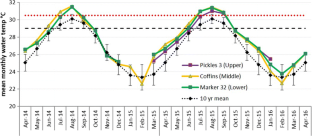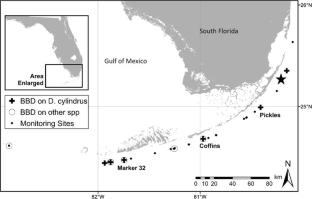 References
Aronson R, Bruckner A, Moore J, Precht B, Weil E (2008) Dendrogyra cylindrus. The IUCN red list of threatened species 2008. http://dx.doi.org/10.2305/IUCN.UK.2008.RLTS.T133124A3582471.en

Ben-Haim Y, Zicherman-Keren M, Rosenberg E (2003) Temperature-regulated bleaching and lysis of the coral Pocillopora damicornis by the novel pathogen Vibrio coralliilyticus. Appl Environ Microbiol 69:4236–4242

Boyett HV, Bourne DG, Willis BL (2007) Elevated temperature and light enhance progression and spread of black band disease on staghorn corals of the Great Barrier Reef. Mar Biol 151:1711–1720

Bruckner A, Bruckner R (1997) Outbreak of coral disease in Puerto Rico. Coral Reefs 16:919–928

Croquer A, Weil E (2009) Changes in Caribbean coral disease prevalence after the 2005 bleaching event. Dis Aquat Organ 87:33–43

Edmunds PJ (1991) Extent and effect of black band disease on a Caribbean reef. Coral Reefs 10:161–165

Fisheries NOAA (2014) Endangered and threatened wildlife and plants: final listing. Fed Regist 79:175

Harvell D, Altizer S, Cattadori IM, Harrington L, Weil E (2009) Climate change and wildlife diseases: when does the host matter the most? Ecology 90:912–920

Hoegh-Guldberg O (2012) Coral reefs, climate change, and mass extinction. In: Hannah L (ed) Saving a million species: extinction risk from climate change. Island Press, Springer, The Netherlands, pp 261–283

Kaczmarsky LT, Draud M, Williams EH (2005) Is there a relationship between proximity to sewage effluent and the prevalence of coral disease? Caribbean Journal of Science 41:124–137

Kuehl K, Jones R, Gibbs D, Richardson L (2011) The roles of temperature and light in black band disease (BBD) progression on corals of the genus Diploria in Bermuda. J Invertebr Pathol 106:366–370

Kushmaro A, Rosenberg E, Fine M, Loya Y (1997) Bleaching of the coral Oculina patagonica by Vibrio AK-1. Mar Ecol Prog Ser 147:159–165

Kuta K, Richardson L (1996) Abundance and distribution of black band disease on coral reefs in the northern Florida Keys. Coral Reefs 15:219–223

Manzello DP, Berkelmans R, Hendee JC (2007) Coral bleaching indices and thresholds for the Florida reef tract, Bahamas, and St. Croix, US Virgin Islands. Mar Pollut Bull 54:1923–1931

McLeod E, Moffitt R, Timmermann A, Salm R, Menviel L, Palmer MJ, Selig ER, Casey KS, Bruno JF (2010) Warming seas in the Coral Triangle: coral reef vulnerability and management implications. Coast Manage 38:518–539

Muller EB, Kooijman SA, Edmunds PJ, Doyle FJ, Nisbet RM (2009) Dynamic energy budgets in syntrophic symbiotic relationships between heterotrophic hosts and photoautotrophic symbionts. J Theor Biol 259:44–57

Muscatine L, Porter JW (1977) Reef corals: mutualistic symbioses adapted to nutrient-poor environments. Bioscience 27:454–460

Precht WF, Gintert BE, Robbart ML, Fura R, van Woesik R (2016) Unprecedented disease-related coral mortality in southeastern Florida. Sci Rep 6:31374

Randall C, van Woesik R (2015) Contemporary white-band disease in Caribbean corals driven by climate change. Nat Clim Chang 5:375–379

Richardson LL, Kuta KG (2003) Ecological physiology of the black band disease cyanobacterium Phormidium corallyticum. FEMS Microbiol Ecol 43:287–298

Richardson LL, Miller AW, Broderick E, Kaczmarsky L, Gantar M, Stanic D, Sekar R (2009) Sulfide, microcystin, and the etiology of black band disease. Dis Aquat Organ 87:79–90

Rogers CS, Muller E, Spitzack T, Miller J (2009) Extensive coral mortality in the US Virgin Islands in 2005/2006: a review of the evidence for synergy among thermal stress, coral bleaching and disease. Caribbean Journal of Science 45:204–214

Rützler K, Santavy DL (1983) The black band disease of Atlantic reef corals. Mar Ecol 4:301–319

Siebeck U, Marshall N, Klüter A, Hoegh-Guldberg O (2006) Monitoring coral bleaching using a colour reference card. Coral Reefs 25:453–460

Sutherland KP, Porter JW, Torres C (2004) Disease and immunity in Caribbean and Indo-Pacific zooxanthellate corals. Mar Ecol Prog Ser 266:265–272

Viehman S, Mills D, Meichel G, Richardson L (2006) Culture and identification of Desulfovibrio spp. from corals infected by black band disease on Dominican and Florida Keys reefs. Dis Aquat Organ 69:119–127

Voss JD, Richardson LL (2006) Nutrient enrichment enhances black band disease progression in corals. Coral Reefs 25:569–576

Ward J, Rypien K, Bruno J, Harvell C, Jordan-Dahlgren E, Mullen K, Rodriguez-Martinez R, Sanchez J, Smith G (2006) Coral diversity and disease in Mexico. Dis Aquat Organ 69:23–31

Weil E, Smith G, Gil-Agudelo DL (2006) Status and progress in coral reef disease research. Dis Aquat Organ 69:1–7
Acknowledgements
We thank the Keys Marine Laboratory, Long Key, FL and Florida FWC/FWRI, Marathon, FL for logistical support, and scientific divers from KML, FWRI, and FIU for assistance with fieldwork. We are grateful to the members of the Integrative Marine Genomics and Symbiosis (IMaGeS) Lab for comments and suggestion on earlier drafts of the manuscript. Comments and suggestions provided by anonymous reviewers also greatly improved the manuscript. This research was supported by NSF RAPID grant #1503483 (to MRL & LLR) and conducted under Florida Keys National Marine Sanctuary permits FKNMS-2014-004-A1 and FKNMS-2013-085-A1. This is contribution number 331 from the Tropical Biology Program of Florida International University.
Additional information
Communicated by Biology Editor Dr. Line K. Bay
About this article
Cite this article
Lewis, C.L., Neely, K.L., Richardson, L.L. et al. Temporal dynamics of black band disease affecting pillar coral (Dendrogyra cylindrus) following two consecutive hyperthermal events on the Florida Reef Tract. Coral Reefs 36, 427–431 (2017). https://doi.org/10.1007/s00338-017-1545-1
Received:

Accepted:

Published:

Issue Date:
Keywords
Black band disease

Coral bleaching

Dendrogyra cylindrus

Florida Reef Tract