Abstract
This study uses information derived from cores to describe the Holocene accretion history of coral reefs in the macrotidal (up to 11 m tidal range) Buccaneer Archipelago of the southern Kimberley coast, Western Australia. The internal architecture of all cored reefs is broadly similar, constituting well-preserved detrital coral fragments, predominantly branching Acropora, in a poorly sorted sandy mud matrix. However, once the reefs reach sea level, they diverge into two types: low intertidal reefs that maintain their detrital character and develop relatively narrow, horizontal or gently sloping reef flats at approximately mean low water spring, and high intertidal reefs that develop broad coralline algal-dominated reef flats at elevations between mean low water neap and mean high water neap. The high intertidal reefs develop where strong, ebb-dominated, tidal asymmetry retains seawater over the low tide and allows continued accretion. Both reef types are ultimately constrained by sea level but differ in elevation by 3–4 m.
Access options
Buy single article
Instant access to the full article PDF.
US$ 39.95
Tax calculation will be finalised during checkout.
Subscribe to journal
Immediate online access to all issues from 2019. Subscription will auto renew annually.
US$ 119
Tax calculation will be finalised during checkout.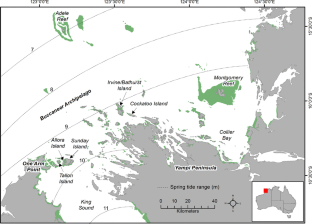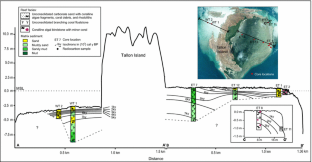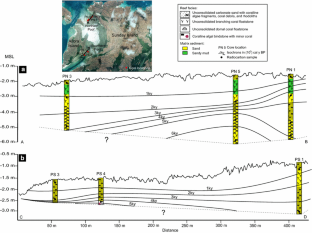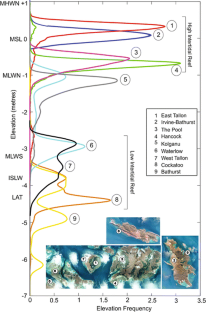 References
Brunnschweiller RO (1957) The geology of Dampier Peninsula, Western Australia. Department of National Development, Bureau of Mineral Resources, Geology and Geophysics, Canberra

Buddemeier RW, Hopley D (1988) Turn-ons and turn-offs: causes and mechanisms of the initiation and termination of coral reef growth. Proc 6th Int Coral Reef Symp 1: 253–261

Collins LB, O'Leary MJ, Stevens AM, Bufarale G, Kordi M, Solihuddin T (2015) Geomorphic patterns, internal architecture and reef growth in a macrotidal, high-turbidity setting of coral reefs from the Kimberley Bioregion. Australian Journal of Maritime and Ocean Affairs 7:12–22

Darwin CR (1842) The structure and distribution of coral reefs. Being the first part of the geology of the voyage of the 'Beagle'. Smith, Elder and Co, London

DEWHA (Department of the Environment, Water, Heritage and the Arts) (2008) A characterisation of the marine environment of the northwest marine region: Perth workshop report, a summary of an expert workshop convened in Perth, Western Australia, 5–6 September 2007. Commonwealth of Australia, Hobart

Embry AF, Klovan J (1971) A late Devonian reef tract on Northeastern Banks Island, NWT. Bulletin of Canadian Petroleum Geology 19:730–781

Fonseca AC, Villaça R, Knoppers B (2012) Reef flat community structure of Atol das Rocas, northeast Brazil and southwest Atlantic. J Mar Biol 2012. [doi:10.1155/2012/179128]

Gherardi DFM, Bosence DWJ (2001) Composition and community structure of the coralline-algal reefs from Atol das Rocas, South Atlantic, Brazil. Coral Reefs 19:205–219

Gherardi DFM, Bosence DWJ (2005) Late Holocene reef growth and relative sea-level changes in Atol das Rocas, equatorial South Atlantic. Coral Reefs 24:264–272

Griffin TJ, Grey K (1990) Kimberley Basin. In: Memoir 3, Geology and mineral resources of Western Australia. Geological Survey of Western Australia, Perth, pp 293–304

Hopley D, Smithers SG, Parnell KE (2007) The geomorphology of the Great Barrier Reef: development, diversity and change. Cambridge University Press, New York

Kennedy DM, Woodroffe CD (2002) Fringing reef growth and morphology: a review. Earth Sci Rev 57:255–277

Ladd HS, Ingerson E, Townsend RC, Russell M, Stevenson HK (1953) Drilling on Eniwetok Atoll, Marshall Islands. AAPG Bulletin 37:2257–2280

Lambeck K, Rouby H, Purcell A, Sun Y, Sambridge M (2014) Sea level and global ice volumes from the Last Glacial Maximum to the Holocene. Proc Natl Acad Sci U S A 111:15296–15303

Lough JM (1998) Coastal climate of Northwest Australia and comparisons with the Great Barrier Reef: 1960 to 1992. Coral Reefs 17:351–367

Lowe RJ, Falter JL (2015) Oceanic forcing of coral reefs. Annu Rev Mar Sci 7:43–66

Lowe RJ, Leon AS, Symonds G, Falter JL, Gruber R (2015) The intertidal hydraulics of tide-dominated reef platforms. J Geophys Res Oceans 120:4845–4868

Montaggioni LF (2005) History of Indo-Pacific coral reef systems since the last glaciation: development patterns and controlling factors. Earth Sci Rev 71:1–75

Neumann AC, Macintyre IG (1985) Reef response to sea level rise: keep-up, catch-up or give-up. Proc 5th Int Coral Reef Symp 3:105–110

Pearce AF, Griffiths RW (1991) The mesoscale structure of the Leeuwin Current: a comparison of laboratory models and satellite imagery. J Geophys Res 96:16739–16757

Perry CT, Smithers SG, Gulliver P, Browne NK (2012) Evidence of very rapid reef accretion and reef growth under high turbidity and terrigenous sedimentation. Geology 40:719–722

Purcell S (2002) Intertidal reefs under extreme tidal flux in Buccaneer Archipelago, Western Australia. Coral Reefs 21:191–192

Richards ZT, O'Leary MJ (2015) The coralline algal cascades of Tallon Island (Jalan) fringing reef. NW Australia. Coral Reefs 34:595

Solihuddin T, Collins LB, Blakeway D, O'Leary MJ (2015) Holocene coral reef growth and sea level in a macrotidal, high turbidity setting: Cockatoo Island, Kimberley Bioregion, northwest Australia. Mar Geol 359:50–60

Teichert C, Fairbridge RW (1948) Some coral reefs of the Sahul Shelf. Geogr Rev 28:222–249

Wilson BR (2013) The biogeography of the Australian North West Shelf: environmental change and life's response. Elsevier, Burlington MA

Wilson BR, Blake S (2011) Notes on the origin and biogeomorphology of Montgomery Reef, Kimberley, Western Australia. J R Soc West Aust 94:107–119

Wilson BR, Blake S, Ryan D, Hacker J (2011) Reconnaissance of species-rich coral reefs in a muddy, macro-tidal, enclosed embayment, Talbot Bay, Kimberley, Western Australia. J R Soc West Aust 94:251–265
Acknowledgments
The Kimberley Reef Geomorphology Project 1.3.1 was funded by the Western Australian State Government and partners of the Western Australian Marine Science Institution. This research was assisted by the Bardi Jawi and Mayala people through their advice and consent to access their traditional lands. The Kimberley Marine Research Station at Cygnet Bay provided vessel support and access to research facilities. Thanks to Giada Bufarale for assistance with subsurface interpretations and to Alexandra Stevens for improvement of the manuscript.
Additional information
Communicated by Geology Editor Prof. Chris Perry
About this article
Cite this article
Solihuddin, T., O'Leary, M.J., Blakeway, D. et al. Holocene reef evolution in a macrotidal setting: Buccaneer Archipelago, Kimberley Bioregion, Northwest Australia. Coral Reefs 35, 783–794 (2016). https://doi.org/10.1007/s00338-016-1424-1
Received:

Accepted:

Published:

Issue Date:
Keywords
Reef geomorphology

Holocene reef growth

Sea level

Rhodoliths

Coralline algal reefs