Abstract
Knowledge of an animal's predatory interactions provides insight into its ecological role. Until now, investigation of reef shark predation has relied on artificial stimuli to facilitate feeding events, with few sightings of natural predation events. Here we document two different foraging modes of the grey reef shark, Carcharhinus amblyrhynchos (f. Carcharhinidae), recorded without the influence of baits or burley. The first mode saw an aggregation of sharks targeting a morning mass spawning event of marbled grouper (f. Serranidae). We observed 120 separate grouper spawns over a 104-min period. Detailed analysis of 52 spawns showed an average of five groupers and 2.7 sharks involved in each spawn, with sharks usually on site within 1.29 s of spawn initiation. The success rate of investigating sharks was relatively low (8.1 %), and conspecific competition, rather than cooperative behaviour, was repeatedly observed among sharks. The second foraging mode documented was the nocturnal predation of individual fishes in the same reef pass 2 weeks later. Here, 128 separate fish pursuits were observed, with fusiliers (f. Caesionidae) comprising 88 % of targeted individuals. Multiple sharks usually investigated each fish, with over 300 interaction events recorded. Over 100 bite attempts were observed, and again the rate of predation was low, with fish taken in only 5.3 % of investigations (16 % of attempted bites). Our findings show that grey reef sharks naturally prey on species across a range of trophic levels, employing foraging techniques optimised for prey species and circumstance. Although a high-order mesopredator, the low rates of predation success observed suggest that grey reef sharks may have limited direct impact on lower-trophic-order species; however, this remains to be verified.
Access options
Buy single article
Instant access to the full article PDF.
USD 39.95
Price excludes VAT (USA)
Tax calculation will be finalised during checkout.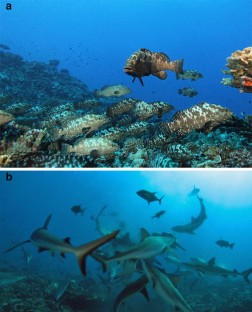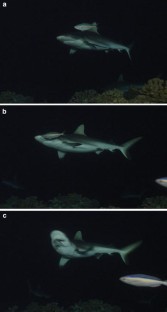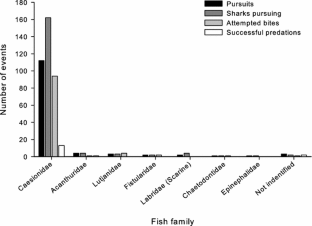 References
Barnett A, Abrantes KG, Seymour J, Fitzpatrick R (2012) Residency and spatial use by reef sharks of an isolated seamount and its implications for conservation. PLoS One 7:e36574

Brewer DT, Blaber SJM, Salini JP, Farmer MJ (1995) Feeding ecology of predatory fishes from Groote Eylandt in the Gulf of Carpentaria, Australia, with special reference to predation on penaeid prawns. Estuar Coast Shelf Sci 40:577–600

Chin A, Tobin A, Simpfendorfer C, Heupel M (2012) Reef sharks and inshore habitats: patterns of occurrence and implications for vulnerability. Mar Ecol Prog Ser 460:115–125

Chin A, Simpfendorfer C, Tobin A, Heupel M (2013) Validated age, growth and reproductive biology of Carcharhinus melanopterus, a widely distributed and exploited reef shark. Mar Freshw Res 64:965–975

Cortés E (1999) Standardized diet compositions and trophic levels of sharks. ICES J Mar Sci 56:707–717

DeMartini EE, Friedlander AM, Sandin SA, Sala E (2008) Differences in fish-assemblage structure between fished and unfished atolls in the northern Line Islands, central Pacific. Mar Ecol Prog Ser 365:199–215

Dumas F, Le Gendre R, Thomas Y, Andréfouët S (2012) Tidal flushing and wind driven circulation of Ahe atoll lagoon (Tuamotu Archipelago, French Polynesia) from in situ observations and numerical modelling. Mar Pollut Bull 65:425–440

Economakis AE, Lobel PS (1998) Aggregation behavior of the grey reef shark, Carcharhinus amblyrhynchos, at Johnston Atoll, central Pacific Ocean. Environ Biol Fishes 51:129–139

Friedlander AM, DeMartini EE (2002) Contrasts in density, size, and biomass of reef fishes between the northwestern and the main Hawaiian Islands: The effects of fishing down apex predators. Mar Ecol Prog Ser 230:253–265

Friedlander AM, Caselle JE, Ballesteros E, Brown EK, Turchik A, Sala E (2014) The real bounty: marine biodiversity in the Pitcairn Islands. PLoS One 9:e100142

Frisch AJ, Ireland M, Baker R (2014) Trophic ecology of large predatory reef fishes: Energy pathways, trophic level, and implications for fisheries in a changing climate. Mar Biol 161:61–73

Goldman KJ, Anderson SD (1999) Space utilization and swimming depth of white sharks, Carcharodon carcharias, at the South Farallon Islands, central California. Environ Biol Fishes 56:351–364

Graham NAJ, Spalding MD, Sheppard CRC (2010) Reef shark declines in remote atolls highlight the need for multi-faceted conservation action. Aquat Conserv 20:543–548

Hernaman V, Probert PK, Robbins WD (2009) Trophic ecology of coral reef gobies: interspecific, ontogenetic, and seasonal comparison of diet and feeding intensity. Mar Biol 156:317–330

Hobson ES (1963) Feeding behavior in three species of sharks. Pac Sci 17:171–194

Madin EMP, Gaines SD, Warner RR (2010) Field evidence for pervasive indirect effects of fishing on prey foraging behavior. Ecology 91:3563–3571

McElroy W, Wetherbee B, Mostello C, Lowe C, Crow G, Wass R (2006) Food habits and ontogenetic changes in the diet of the sandbar shark, Carcharhinus plumbeus, in Hawaii. Environ Biol Fishes 76:81–92

Mourier J, Planes S, Buray N (2013) Trophic interactions at the top of the coral reef food chain. Coral Reefs 32:285

Nadon MO, Baum JK, Williams ID, McPherson JM, Zgliczynski BJ, Richards BL, Schroeder RE, Brainard RE (2012) Re-creating missing population baselines for Pacific reef sharks. Conserv Biol 26:493–503

O'Shea OR, Kingsford MJ, Seymour JE (2010) Tide-related periodicity of manta rays and sharks to cleaning stations on a coral reef. Mar Freshw Res 61:65–73

Papastamatiou YP, Wetherbee BM, Lowe CG, Crow GL (2006) Distribution and diet of four species of carcharhinid shark in the Hawaiian Islands: evidence for resource partitioning and competitive exclusion. Mar Ecol Prog Ser 320:239–251

Randall JE (1977) Contribution to the biology of the whitetip reef shark (Triaenodon obesus). Pac Sci 31:143–164

Rizzari JR, Frisch AJ, Connolly SR (2014a) How robust are estimates of coral reef shark depletion? Biol Conserv 176:39–47

Rizzari JR, Bergseth BJ, Frisch AJ (2015) Impact of conservation areas on trophic interactions between apex predators and herbivores on coral reefs. Conserv Biol 29:418–429

Rizzari JR, Frisch AJ, Hoey AS, McCormick MI (2014b) Not worth the risk: Apex predators suppress herbivory on coral reefs. Oikos 123:829–836

Robbins WD (2006) Abundance, demography and population structure of the grey reef shark (Carcharhinus amblyrhynchos) and the whitetip reef shark (Triaenodon obesus) (fam. Carcharhinidae). PhD dissertation Ph.D. thesis, James Cook University, 197 pp

Robbins WD, Peddemors VM, Kennelly SJ (2011) Assessment of permanent magnets and electropositive metals to reduce the line-based capture of Galapagos sharks, Carcharhinus galapagensis. Fish Res 109:100–106

Robbins WD, Hisano M, Connolly SR, Choat JH (2006) Ongoing collapse of coral reef shark populations. Curr Biol 16:2314–2319

Robbins WD, Peddemors VM, Broadhurst MK, Gray CA (2013) Hooked on fishing? Recreational angling interactions with the Critically Endangered grey nurse shark, Carcharias taurus in eastern Australia. Endanger Species Res 21:161–170

Salini JP, Blaber SJM, Brewer DT (1992) Diets of sharks from estuaries and adjacent waters of the North-eastern Gulf of Carpentaria, Australia. Aust J Mar Freshw Res 43:87–96

Sandin SA, Sampayo EM, Vermeij MJA (2008) Coral reef fish and benthic community structure of Bonaire and Curacao, Netherlands Antilles. Caribb J Sci 44:137–144

Speed CW, Meekan MG, Field IC, McMahon CR, Abrantes K, Bradshaw CJA (2012) Trophic ecology of reef sharks determined using stable isotopes and telemetry. Coral Reefs 31:357–367

Stevenson C, Katz LS, Micheli F, Block B, Heiman KW, Perle C, Weng K, Dunbar R, Witting J (2007) High apex predator biomass on remote Pacific islands. Coral Reefs 26:47–51

Tester AL (1963) The role of olfaction in shark predation. Pac Sci 17:145–170

Thomas RJ, King TA, Forshaw HE, Marples NM, Speed MP, Cable J (2010) The response of fish to novel prey: Evidence that dietary conservatism is not restricted to birds. Behav Ecol 21:669–675

Weideli OC, Mourier J, Planes S (2015) A massive surgeonfish aggregation creates a unique opportunity for reef sharks. Coral Reefs 34:835

Wetherbee BM, Crow GL, Lowe CG (1997) Distribution, reproduction and diet of the gray reef shark Carcharhinus amblyrhynchos in Hawaii. Mar Ecol Prog Ser 151:181–189

Wheeler S, Robbins WD, McIlwain J (2013) Reef sharks clean up with a novel inshore mutualistic interaction. Coral Reefs 32:1089
Acknowledgments
The work presented here was possible due to the generous support of the Khaled bin Sultan Living Oceans Foundation (KSLOF). We thank John Ruthven, Peter Kragh, Ernie Kovacs, Rodolphe Holler and the crew of the MY Heiva for use of their footage and field support. We also thank Sony Australia for their donation of both the Action Cams and housings, and the supplementary funding from Shark Defence Australia Inc. were given to WDR. We also thank two anonymous reviewers whose comments improved this paper. All research was completed under an agreement between KSLOF and Présidence de La Polynésie Française, Ministère en Charge de la Recherche and Délégation à la Recherche.
Additional information
Communicated by Biology Editor Dr. Andrew Hoey
Electronic supplementary material
Below is the link to the electronic supplementary material.
About this article
Cite this article
Robbins, W.D., Renaud, P. Foraging mode of the grey reef shark, Carcharhinus amblyrhynchos, under two different scenarios. Coral Reefs 35, 253–260 (2016). https://doi.org/10.1007/s00338-015-1366-z
Received:

Accepted:

Published:

Issue Date:

DOI: https://doi.org/10.1007/s00338-015-1366-z
Keywords