Abstract
Sea-level rise will change environmental conditions on coral reef flats, which comprise extensive habitats in shallow tropical seas and support a wealth of ecosystem services. Rapid relative sea-level rise of 0.6 m over a relatively pristine coral reef in Solomon Islands, caused by a subduction earthquake in April 2007, generated a unique opportunity to examine in situ coral reef response to relative sea-level rise of the magnitude (but not the rate) anticipated by 2100. Extent of live coral was measured from satellite imagery in 2003, 2006, 2009 and 2012. Ecological data were obtained from microatolls and ecological surveys in May 2013. The reef was sampled at 12 locations where dense live hard coral remained absent, remained present or changed from absent to present following subsidence. Ecological data (substratum depth, live coral canopy depth, coral canopy height, substratum suitability, recruitment, diversity and Acropora presence) were measured at each location to identify factors associated with coral response to relative sea-level rise. Vertical and horizontal proliferation of coral occurred following subsidence. Lateral expansion of live coral, accomplished primarily by branching Acropora spp., resulted in lower diversity in regions which changed composition from pavement to dense live coral following subsidence. Of the ecological factors measured, biotic factors were more influential than abiotic factors; species identity was the most important factor in determining which regions of the reef responded to rapid sea-level rise. On relatively pristine reef flats under present climatic conditions, rapid relative sea-level rise generated an opportunity for hard coral to proliferate. However, the species assemblage of the existing reef was important in determining response to sea-level change, by providing previously bare substrate with a source of new coral colonies. Degraded reefs with altered species composition and slower coral growth rates may be less able to respond to climate change-induced sea-level changes.
Access options
Buy single article
Instant access to the full article PDF.
USD 39.95
Price excludes VAT (USA)
Tax calculation will be finalised during checkout.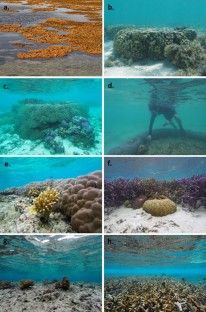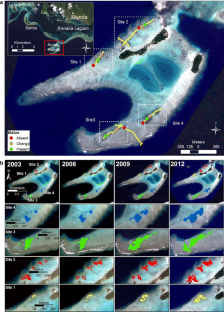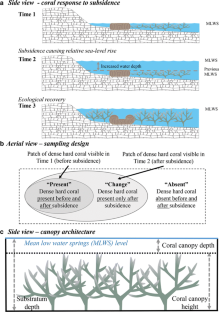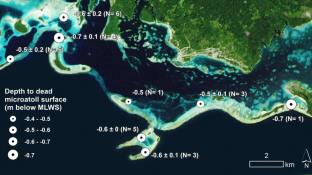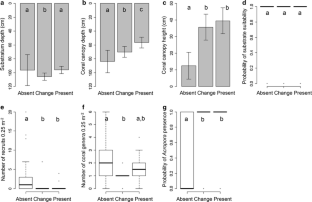 References
Australian Bureau of Meteorology and CSIRO (2011) Climate change in the Pacific: scientific assessment and new research. Volume 2: Country Reports, Chapter 13: Solomon Islands. Australian Bureau of Meteorology and CSIRO, pp 199-–213

Baldock T, Golshani A, Callaghan D, Saunders M, Mumby P (2014) Impact of sea-level rise and coral mortality on the wave dynamics and wave forces on barrier reefs. Mar Pollut Bull 83:155–164

Bates D, Maechler M, Bolker B, Walker S (2014) lme4: Linear mixed-effects models using Eigen and S4. R package version 1.1-7

Becker M, Meyssignac B, Letetrel C, Llovel W, Cazenave A, Delcroix T (2012) Sea level variations at tropical Pacific islands since 1950. Glob Planet Change 80–81:85–98

Bengtsson M, Shen Y, Oki T (2006) A SRES-based gridded global population dataset for 1990-2100. Popul Environ 28:113–131

Blanchon P, Shaw J (1995) Reef drowning during the last deglaciation: evidence for catastrophic sea-level rise and ice-sheet collapse. Geology 23:4–8

Blanchon P, Eisenhauer A, Fietzke J, Liebetrau V (2009) Rapid sea-level rise and reef back-stepping at the close of the last interglacial highstand. Nature 458:881–884

Blanchon P, Granados-Corea M, Abbey E, Braga JC, Braithwaite C, Kennedy DM, Spencer T, Webster JM, Woodroffe CD (2014) Postglacial fringing-reef to barrier-reef conversion on Tahiti links Darwin's reef types. Sci Rep 4 [doi:10.1038/srep04997]

Brown B, Dunne R, Phongsuwan N, Somerfield P (2011) Increased sea level promotes coral cover on shallow reef flats in the Andaman Sea, eastern Indian Ocean. Coral Reefs 30:867–878

Brown CJ, Saunders MI, Possingham HP, Richardson AJ (2013) Managing for interactions between local and global stressors of ecosystems. PLoS One 8:e65765

Buddemeier R, Hopley D (1988) Turn-ons and turn-offs: causes and mechanisms of the initiation and termination of coral reef growth. Proc 6th Int Coral Reef Symp. Townsville, Australia 1:253–261

Buddemeier R, Smith S (1988) Coral reef growth in an era of rapidly rising sea level: predictions and suggestions for long-term research. Coral Reefs 7:51–56

Callaghan DP, Leon JX, Saunders MI (2015) Wave modelling as a proxy for seagrass ecological modelling: Comparing fetch and process-based predictions for a bay and reef lagoon. Estuar Coast Shelf Sci 153:108–120

Chapin FS, Bret-Harte MS, Hobbie SE, Zhong H (1996) Plant functional types as predictors of transient responses of arctic vegetation to global change. J Veg Sci 7:347–358

Chen T, Newman AV, Feng L, Fritz HM (2009) Slip distribution from the 1 April 2007 Solomon Islands earthquake: A unique image of near-trench rupture. Geophys Res Lett 36:L16307. doi:10.1029/2009GL039496

Church JA, Clark PU, Cazenave A, Gregory JM, Jevrejeva S, Levermann A, Merrifield MA, Milne GA, Nerem RS, Nunn PD, Payne AJ, Pfeffer WT, Stammer D, Unnikrishnan AS (2013) Sea level change. In: Stocker TF, Qin D, Plattner G-K, Tignor M, Allen SK, Boschung J, Nauels A, Xia Y, Bex V, Midgley PM (eds) Climate change 2013: the physical science basis. Contribution of Working Group I to the Fifth Assessment Report of the Intergovernmental Panel on Climate Change. Cambridge University Press, Cambridge, UK and New York, NY

Codiga D (2011) Unified tidal analysis and prediction using the UTide Matlab functions. Technical Report 2011-01. Graduate School of Oceanography, University of Rhode Island, Narragansett, RI. 59 pp

Crutzen PJ (2002) Geology of mankind. Nature 415:23–23

Dixon J, Schroeter SC, Kastendiek J (1981) Effects of the encrusting bryozoan, Membranipora membranacea, on the loss of blades and fronds by the giant kelp, Macrocystis pyrifera (Laminariales). J Phycol 17:341–345

Dove SG, Kline DI, Pantos O, Angly FE, Tyson GW, Hoegh-Guldberg O (2013) Future reef decalcification under a business-as-usual CO2 emission scenario. Proc Natl Acad Sci U S A 110:15342–15347

Dubinsky Z, Stambler N (2011) Coral reefs: an ecosystem in transition. Springer, Dordrecht Heidelberg London New York

Dullo WC (2005) Coral growth and reef growth: a brief review. Facies 51:33–48

Fabricius KE (2005) Effects of terrestrial runoff on the ecology of corals and coral reefs: review and synthesis. Mar Pollut Bull 50:125–146

Fabricius KE, Langdon C, Uthicke S, Humphrey C, Noonan S, De'ath G, Okazaki R, Muehllehner N, Glas MS, Lough JM (2011) Losers and winners in coral reefs acclimatized to elevated carbon dioxide concentrations. Nat Clim Chang 1:165–169

Ferrario F, Beck MW, Storlazzi CD, Micheli F, Shepard CC, Airoldi L (2014) The effectiveness of coral reefs for coastal hazard risk reduction and adaptation. Nat Commun 5 [doi:10.1038/ncomms4794]

Fritz HM, Kalligeris N (2008) Ancestral heritage saves tribes during 1 April 2007 Solomon Islands tsunami. Geophys Res Lett 35:L01607

Green A, Lokani P, Atu W, Ramohia P, Thomas P, Almany J, (eds) (2006) Solomon Islands marine assessment: technical report of survey conducted May 13 to June 17, 2004. TNC Pacific Island Countries Report No. 1/06, The Nature Conservancy, Indo-Pacific Resource Centre

Hall-Spencer JM, Rodolfo-Metalpa R, Martin S, Ransome E, Fine M, Turner SM, Rowley SJ, Tedesco D, Buia M-C (2008) Volcanic carbon dioxide vents show ecosystem effects of ocean acidification. Nature 454:96–99

Hamylton SM, Leon JX, Saunders MI, Woodroffe CD (2014) Simulating reef response to sea-level rise at Lizard Island: A geospatial approach. Geomorphology (Amst) 222:151–161

Hoegh-Guldberg O, Mumby PJ, Hooten AJ, Steneck RS, Greenfield P, Gomez E, Harvell CD, Sale PF, Edwards AJ, Caldeira K, Knowlton N, Eakin CM, Iglesias-Prieto R, Muthiga N, Bradbury RH, Dubi A, Hatziolos ME (2007) Coral reefs under rapid climate change and ocean acidification. Science 318:1737–1742

Hooper DU, Chapin FS, Ewel JJ, Hector A, Inchausti P, Lavorel S, Lawton JH, Lodge DM, Loreau M, Naeem S, Schmid B, Setälä H, Symstad AJ, Vandermeer J, Wardle DA (2005) Effects of biodiversity on ecosystem functioning: a consensus of current knowledge. Ecol Monogr 75:3–35

Hothorn T, Bretz F, Westfall P (2008) Simultaneous inference in general parametric models. Biom J 50:346–363

IUCN (2014) Acropora palmata. The IUCN Red List of Threatened Species. Version 2014.3.

Ives AR (2007) Diversity and stability in ecological communities. In: May R, McLean A (eds) Theoretical ecology. Oxford University Press, Oxford, pp 98–110

Kelley R (2011) The Australian Coral Reef Society Indo-Pacific Coral Finder v2.0. BYO Guides, Townsville, Australia

Kench P, Smithers S, McLean R, Nichol S (2009) Holocene reef growth in the Maldives: Evidence of a mid-Holocene sea-level highstand in the central Indian Ocean. Geology 37:455–458

Kennedy EV, Perry CT, Halloran PR, Iglesias-Prieto R, Schönberg CHL, Wisshak M, Form AU, Carricart-Ganivet JP, Fine M, Eakin CM, Mumby PJ (2013) Avoiding coral reef functional collapse requires local and global action. Curr Biol 23:912–918

Kinsey DW, Hopley D (1991) The significance of coral reefs as global carbon sinks—response to greenhouse. Glob Planet Change 3:363–377

Kohler KE, Gill SM (2006) Coral Point Count with Excel Extensions (Cpce): A Visual Basic program for the determination of coral and substrate coverage using random point count methodology. Comput Geosci 32:1259–1269

Madin JS, Connolly SR (2006) Ecological consequences of major hydrodynamic disturbances on coral reefs. Nature 444:477–480

Mann P, Taylor FW, Lagoe MB, Quarles A, Burr G (1998) Accelerating late Quaternary uplift of the New Georgia Island Group (Solomon island arc) in response to subduction of the recently active Woodlark spreading center and Coleman seamount. Tectonophysics 295:259–306

Moberg F, Folke C (1999) Ecological goods and services of coral reef ecosystems. Ecol Econ 29:215–233

Munday PL, Warner RR, Monro K, Pandolfi JM, Marshall DJ (2013) Predicting evolutionary responses to climate change in the sea. Ecol Lett 16:1488–1500

Ogston AS, Field ME (2010) Predictions of turbidity due to enhanced sediment resuspension resulting from sea-level rise on a fringing coral reef: evidence from Molokai, Hawaii. J Coastal Research:1027–1037

Paine RT (1969) A note on trophic complexity and community stability. Am Nat 103:91–93

Pearson R (1981) Recovery and recolonization of coral reefs. Mar Ecol Prog Ser 4:105–122

Perry CT, Smithers SG (2011) Cycles of coral reef 'turn-on', rapid growth and 'turn-off' over the past 8500 years: a context for understanding modern ecological states and trajectories. Glob Chang Biol 17:76–86

Perry CT, Murphy GN, Kench PS, Smithers SG, Edinger EN, Steneck RS, Mumby PJ (2013) Caribbean-wide decline in carbonate production threatens coral reef growth. Nat Commun 4 [doi.org/10.1038/ncomms2409]

Petit J-R, Jouzel J, Raynaud D, Barkov NI, Barnola J-M, Basile I, Bender M, Chappellaz J, Davis M, Delaygue G (1999) Climate and atmospheric history of the past 420,000 years from the Vostok ice core, Antarctica. Nature 399:429–436

Roelfsema C, Phinn S (2010) Integrating field data with high spatial resolution multispectral satellite imagery for calibration and validation of coral reef benthic community maps. J Appl Remote Sens 4:043527

Roelfsema CM, Phinn SR, Jupiter S, Comley J, Albert S (2013) Mapping coral reefs at reef to reef-system scales (10-600 Km2) using OBIA driven ecological and geomorphic principles. Int J Remote Sens 34:6367–6388

Rogers A, Harborne AR, Brown CJ, Bozec Y-M, Castro C, Chollett I, Hock K, Knowland C, Marshell A, Ortiz JC, Razak T, Roff G, Samper-Villarreal J, Saunders MI, Wolff N, Mumby PJ (2014) Anticipative management for coral reef ecosystem services in the 21st century. Glob Chang Biol 21:504–514

Sale PF, Agardy T, Ainsworth CH, Feist BE, Bell JD, Christie P, Hoegh-Guldberg O, Mumby PJ, Feary DA, Saunders MI, Daw TM, Foale SJ, Levin PS, Lindeman KC, Lorenzen K, Pomeroy RS, Allison EH, Bradbury RH, Corrin J, Edwards AJ, Obura DO, Sadovy de Mitcheson YJ, Samoilys MA, Sheppard CRC (2014) Transforming management of tropical coastal seas to cope with challenges of the 21st century. Mar Pollut Bull 85:8–23

Saunders MI, Leon JX, Callaghan DP, Roelfsema CM, Hamylton S, Brown CJ, Baldock T, Golshani A, Phinn SR, Lovelock CE, Hoegh-Guldberg O, Woodroffe CD, Mumby PJ (2014) Interdependency of tropical marine ecosystems in response to climate change. Nat Clim Change 4:724–729

Scopélitis J, Andréfouët S, Phinn S, Done T, Chabanet P (2011) Coral colonisation of a shallow reef flat in response to rising sea level: quantification from 35 years of remote sensing data at Heron Island, Australia. Coral Reefs 30:951–965

Sheppard C, Dixon D, Gourlay M, Sheppard A, Payet R (2005) Coral mortality increases wave energy reaching shores protected by reef flats: Examples from the Seychelles. Estuar Coast Shelf Sci 64:223–234

Smith SV, Kinsey DW (1976) Calcium carbonate production, coral reef growth, and sea level change. Science 194:937–939

Smithers SG, Woodroffe CD (2001) Coral microatolls and 20th century sea level in the eastern Indian Ocean. Earth Planet Sci Lett 191:173–184

Storlazzi CD, Elias E, Field ME, Presto MK (2011) Numerical modeling of the impact of sea-level rise on fringing coral reef hydrodynamics and sediment transport. Coral Reefs 30:83–96

Taylor FW, Briggs RW, Frohlich C, Brown A, Hornbach M, Papabatu AK, Meltzner AJ, Billy D (2008) Rupture across arc segment and plate boundaries in the 1 April 2007 Solomons earthquake. Nat Geosci 1:253–257

van Woesik R, Golbuu Y, Roff G (2015) Keep up or drown: adjustment of western Pacific coral reefs to sea-level rise in the 21st century. R Soc Open Sci 2 [doi:10.1098/rsos.150181]

Vecsei A (2004) A new estimate of global reefal carbonate production including the forereefs. Glob Planet Change 43:1–18

Walker B, Kinzig A, Langridge J (1999) Plant attribute diversity, resilience, and ecosystem function: the nature and significance of dominant and minor species. Ecosystems 2:95–113

Webster JM, Clague DA, Riker-Coleman K, Gallup C, Braga JC, Potts D, Moore JG, Winterer EL, Paull CK (2004) Drowning of the −150 m reef off Hawaii: a casualty of global meltwater pulse 1A? Geology 32:249–252

Woodroffe C, Mcgregor H, Lambeck K, Smithers S, Fink D (2012) Mid-Pacific microatolls record sea-level stability over the past 5000 yr. Geology 40:951–954

Woodroffe CD, Webster JM (2014) Coral reefs and sea-level change. Mar Geol 352:248–267

Yu K-F, Zhao J-X, Done T, Chen T-G (2009) Microatoll record for large century-scale sea-level fluctuations in the mid-Holocene. Quat Int 71:354–360
Acknowledgments
The authors are grateful for support from Roviana Conservation Foundation, Nixon Tooler and staff of Zipolo Habu Resort, assistance with analyses from Robert Canto and David Callaghan, and discussions with the Australia Sea Level Rise Partnership. Satellite imagery was provided by Digital Globe. MIS, JXL, SRP, CDW and PJM received funding from Australian Research Council SuperScience Grant # FS100100024.
Additional information
Communicated by Geology Editor Prof. Chris Perry
Electronic supplementary material
Below is the link to the electronic supplementary material.
About this article
Cite this article
Saunders, M.I., Albert, S., Roelfsema, C.M. et al. Tectonic subsidence provides insight into possible coral reef futures under rapid sea-level rise. Coral Reefs 35, 155–167 (2016). https://doi.org/10.1007/s00338-015-1365-0
Received:

Accepted:

Published:

Issue Date:

DOI: https://doi.org/10.1007/s00338-015-1365-0
Keywords