Abstract
The bacterium Vibrio coralliilyticus has been implicated as the causative agent of coral tissue loss diseases (collectively known as white syndromes) at sites across the Indo-Pacific and represents an emerging model pathogen for understanding the mechanisms linking bacterial infection and coral disease. In this study, we used a mini-Tn7 transposon delivery system to chromosomally label a strain of V. coralliilyticus isolated from a white syndrome disease lesion with a green fluorescent protein gene (GFP). We then tested the utility of this modified strain as a research tool for studies of coral host–pathogen interactions. A suite of biochemical assays and experimental infection trials in a range of model organisms confirmed that insertion of the GFP gene did not interfere with the labeled strain's virulence. Using epifluorescence video microscopy, the GFP-labeled strain could be reliably distinguished from non-labeled bacteria present in the coral holobiont, and the pathogen's interactions with the coral host could be visualized in real time. This study demonstrates that chromosomal GFP labeling is a useful technique for visualization and tracking of coral pathogens and provides a novel tool to investigate the role of V. coralliilyticus in coral disease pathogenesis.
This is a preview of subscription content,
to check access.
Access this article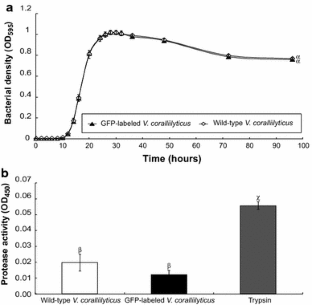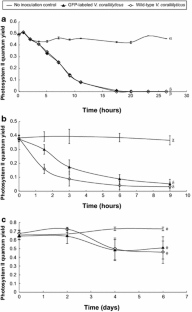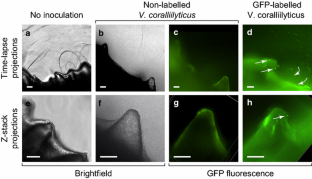 References
Abrego D, Ulstrup KE, Willis BL, van Oppen MJ (2008) Species–specific interactions between algal endosymbionts and coral hosts define their bleaching response to heat and light stress. Proc R Soc B Biol Sci 275:2273–2282

Bao Y, Lies DP, Fu H, Roberts GP (1991) An improved Tn7-based system for the single-copy insertion of cloned genes into chromosomes of gram-negative bacteria. Gene 109:167–168

Ben-Haim Y, Rosenberg E (2002) A novel Vibrio sp. pathogen of the coral Pocillopora damicornis. Mar Biol 141:47–55

Ben-Haim Y, Thompson FL, Thompson CC, Cnockaert MC, Hoste B, Swings J, Rosenberg E (2003) Vibrio coralliilyticus sp. nov., a temperature-dependent pathogen of the coral Pocillopora damicornis. Int J Syst Evol Microbiol 53:309–315

Bourne DG, Garren M, Work TM, Rosenberg E, Smith GW, Harvell CD (2009) Microbial disease and the coral holobiont. Trends Microbiol 17:554–562

Brewster JD (2003) A simple micro-growth assay for enumerating bacteria. J Microbiol Methods 53:77–86

Chalfie M, Tu Y, Euskirchen G, Ward WW, Prasher DC (1994) Green fluorescent protein as a marker for gene expression. Science 263:802–805

Cohen Y, Pollock FJ, Rosenberg E, Bourne DG (2013) Phage therapy treatment of the coral pathogen Vibrio coralliilyticus. Microbiologyopen 2:64–74

Dunn AK, Millikan DS, Adin DM, Bose JL, Stabb EV (2006) New rfp-and pES213-derived tools for analyzing symbiotic Vibrio fischeri reveal patterns of infection and lux expression in situ. Appl Environ Microbiol 72:802–810

Errampalli D, Leung K, Cassidy MB, Kostrzynska M, Blears M, Lee H, Trevors JT (1999) Applications of the green fluorescent protein as a molecular marker in environmental microorganisms. J Microbiol Methods 35:187–199

Garren M, Son K, Raina J-B, Rusconi R, Menolascina F, Shapiro OH, Tout J, Bourne DG, Seymour JR, Stocker R (2014) A bacterial pathogen uses dimethylsulfoniopropionate as a cue to target heat-stressed corals. ISME J 8:999–1007

Guillard R, Ryther J (1962) Studies of marine planktonic diatoms. I. Cyclotella nana Hustedt, and Detonula confervacea. Can J Microbiol 8:229–239

Kimes NE, Grim CJ, Johnson WR, Hasan NA, Tall BD, Kothary MH, Kiss H, Munk AC, Tapia R, Green L et al (2011) Temperature regulation of virulence factors in the pathogen Vibrio coralliilyticus. ISME J 6:835–846

Lambertsen L, Sternberg C, Molin S (2004) Mini-Tn7 transposons for site-specific tagging of bacteria with fluorescent proteins. Environ Microbiol 6:726–732

Lichtenstein C, Brenner S (1981) Site-specific properties of Tn7 transposition into the E. coli chromosome. Mol Gen Genet 183:380–387

Ling SH, Wang XH, Lim TM, Leung KY (2001) Green fluorescent protein-tagged Edwardsiella tarda reveals portal of entry in fish. FEMS Microbiol Lett 194:239–243

Littman RA, Bourne DG, Willis BL (2010) Responses of coral-associated bacterial communities to heat stress differ with Symbiodinium type on the same coral host. Mol Ecol 19:1978–1990

Meron D, Efrony R, Johnson WR, Schaefer AL, Morris PJ, Rosenberg E, Greenberg EP, Banin E (2009) Role of flagella in virulence of the coral pathogen Vibrio coralliilyticus. Appl Env Microbiol 75:5704–5707

Pollock FJ, Morris PJ, Willis BL, Bourne DG (2011) The urgent need for robust coral disease diagnostics. PLoS Pathog 7:e1002183

Pollock FJ, Wilson B, Johnson WR, Morris PJ, Willis BL, Bourne DG (2010) Phylogeny of the cosmopolitan coral pathogen Vibrio coralliilyticus. Env Microbiol Rep 2:172–178

Prasher DC, Eckenrode VK, Ward WW, Prendergast FG, Cormier MJ (1992) Primary structure of the Aequorea victoria green-fluorescent protein. Gene 111:229–233

Sawabe T, Fukui Y, Stabb EV (2006) Simple conjugation and outgrowth procedures for tagging vibrios with GFP, and factors affecting the stable expression of the gfp tag. Lett Appl Microbiol 43:514–522

Shapiro OH, Fernandez VI, Garren MS, Guasto JS, Debaillon-Vesque FP, Kramarski-Winter E, Vardi A, Stocker R (2014) Vortical ciliary flows actively enhance mass transport in reef corals. Proc Natl Acad Sci 111:13391–13396

StatSoft Inc. (2013) STATISTICA (data analysis software system), version 12. Tulsa, USA www.statsoft.com

Sussman M, Willis BL, Victor S, Bourne DG (2008) Coral pathogens identified for White Syndrome (WS) epizootics in the Indo-Pacific. PLoS One 3:e2393

Sussman M, Mieog JC, Doyle J, Victor S, Willis BL, Bourne DG (2009) Vibrio zinc-metalloprotease causes photoinactivation of coral endosymbionts and coral tissue lesions. PLoS One 4:e4511

Thompson FL, Gevers D, Thompson CC, Dawyndt P, Naser S, Hoste B, Munn CB, Swings J (2005) Phylogeny and molecular identification of vibrios on the basis of multilocus sequence analysis. Appl Env Microbiol 71:5107–5115

Ushijima B, Videau P, Burger AH, Shore-Maggio A, Runyon CM, Sudek M, Aeby GS, Callahan SM (2014) Vibrio coralliilyticus Strain OCN008 is an etiological agent of acute Montipora White Syndrome. Appl Environ Microbiol 80:2102–2109

Valdivia RH, Hromockyj AE, Monack D, Ramakrishnan L, Falkow S (1996) Applications for green fluorescent protein (GFP) in the study of host pathogen interactions. Gene 173:47–52

Vidal-Dupiol J, Ladrière O, Meistertzheim A-L, Fouré L, Adjeroud M, Mitta G (2011) Physiological responses of the scleractinian coral Pocillopora damicornis to bacterial stress from Vibrio coralliilyticus. J Exp Biol 214:1533–1545

Vizcaino MI, Johnson WR, Kimes NE, Williams K, Torralba M, Nelson KE, Smith GW, Weil E, Moeller PD, Morris PJ (2010) Antimicrobial resistance of the coral pathogen Vibrio coralliilyticus and Caribbean sister phylotypes isolated from a diseased octocoral. Microb Ecol 59:646–657

Weis VM, Davy SK, Hoegh-Guldberg O, Rodriguez-Lanetty M, Pringle JR (2008) Cell biology in model systems as the key to understanding corals. Trends Ecol Evol 23:369–376

Windle HJ, Kelleher D (1997) Identification and characterization of a metalloprotease activity from Helicobacter pylori. Infect Immun 65:3132–3137

Work T, Meteyer C (2014) To understand coral disease, look at coral cells. EcoHealth. doi:10.1007/s10393-014-0931-1:1-9
Acknowledgments
The authors acknowledge Lone Hoj, Evan Goulden, and Rebecca Schilling for their advice and assistance. This work was partially supported by a Human Frontiers in Science Program Award (No. RGY0089RS) to RS.
Additional information
Communicated by Biology Editor Dr. Ruth Gates
Electronic supplementary material
Below is the link to the electronic supplementary material.
Video S1. Direct visualization of host–pathogen interactions showing time-lapse projections of a Pocillopora damicornis coral with inoculated, non-labeled Vibrio coralliilyticus cells. Imaging occurred under bright field GFP fluorescence. Scale bar denotes 25 μm. Link: http://youtu.be/UcVgdYZNKJM (MP4 11045 kb)
Video S2. Direct visualization of host/pathogen interactions showing time-lapse projections of a Pocillopora damicornis coral with inoculated, non-labeled Vibrio coralliilyticus cells. Imaging occurred under GFP fluorescence. Scale bar denotes 25 μm. Link: http://youtu.be/oprFuXg_KXk (MP4 10323 kb)
Video S3. Direct visualization of host/pathogen interactions showing time-lapse projections of a Pocillopora damicornis coral with inoculated GFP-labeled V. coralliilyticus cells. Imaging occurred under GFP fluorescence. Scale bar denotes 25 μm. Link: http://youtu.be/GhtOHIohalY (MP4 1874 kb)
Video S4. Direct visualization of host/pathogen interactions showing z-stack projections of a Pocillopora damicornis coral with inoculated, non-labeled Vibrio coralliilyticus cells. Imaging occurred under bright field fluorescence. Scale bar denotes 25 μm. Link: http://youtu.be/kVJ4_vd4B8w (MP4 84 kb)
Video S5. Direct visualization of host/pathogen interactions showing z-stack projections of a Pocillopora damicornis coral with inoculated, non-labeled V. coralliilyticus cells. Imaging occurred under GFP fluorescence. Scale bar denotes 25 μm. Link: http://youtu.be/j2VgvDN8Aq4 (MP4 144 kb)
Video S6. Direct visualization of host/pathogen interactions showing z-stack projections of a Pocillopora damicornis coral with inoculated GFP-labeled V. coralliilyticus cells. Imaging occurred under GFP fluorescence. Scale bar denotes 25 μm. Link: http://youtu.be/49Cha3rbFQY (MP4 42 kb)
About this article
Cite this article
Pollock, F.J., Krediet, C.J., Garren, M. et al. Visualization of coral host–pathogen interactions using a stable GFP-labeled Vibrio coralliilyticus strain. Coral Reefs 34, 655–662 (2015). https://doi.org/10.1007/s00338-015-1273-3
Received:

Accepted:

Published:

Issue Date:

DOI: https://doi.org/10.1007/s00338-015-1273-3
Keywords