Abstract
Sediment has been shown to be a major stressor to coral reefs globally. Although many researchers have tested the impact of sedimentation on coral reef ecosystems in both the laboratory and the field and some have measured the impact of suspended sediment on the photosynthetic response of corals, there has yet to be a detailed investigation on how properties of the sediment itself can affect light availability for photosynthesis. We show that finer-grained and darker-colored sediment at higher suspended-sediment concentrations attenuates photosynthetically active radiation (PAR) significantly more than coarser, lighter-colored sediment at lower concentrations and provide PAR attenuation coefficients for various grain sizes, colors, and suspended-sediment concentrations that are needed for biophysical modeling. Because finer-grained sediment particles settle more slowly and are more susceptible to resuspension, they remain in the water column longer, thus causing greater net impact by reducing light essential for photosynthesis over a greater duration. This indicates that coral reef monitoring studies investigating sediment impacts should concentrate on measuring fine-grained lateritic and volcanic soils, as opposed to coarser-grained siliceous and carbonate sediment. Similarly, coastal restoration efforts and engineering solutions addressing long-term coral reef ecosystem health should focus on preferentially retaining those fine-grained soils rather than coarse silt and sand particles.
Access options
Buy single article
Instant access to the full article PDF.
USD 39.95
Price excludes VAT (USA)
Tax calculation will be finalised during checkout.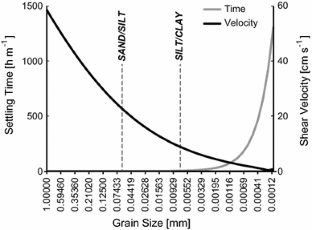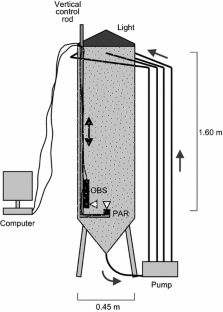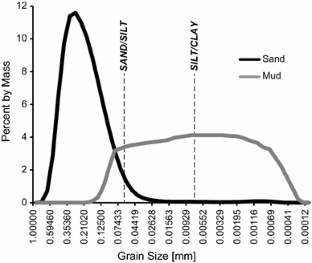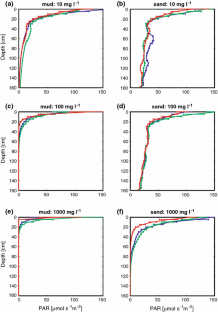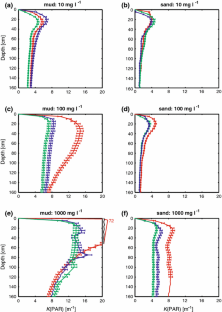 References
Acevedo RJ, Morelock J, Olivieri RA (1989) Modification of coral reef zonation by terrigenous sediment stress. Palaios 4:92–100

Anthony KRN, Fabricius KE (2000) Shifting roles of heterotrophy and autotrophy in coral energetics under varying turbidity. J Exp Mar Bio Ecol 252:221–253

Anthony KRN, Larcombe P (2002). Coral reefs in turbid waters: sediment- induced stresses in corals and likely mechanisms of adaptation. Proc 9th Int Coral Reef Symp 1:239–244

Anthony KRN, Hoegh-Guldberg O (2003) Kinetics of photoacclimation in corals. Oecologia 134:23–31

Anthony KRN, Ridd PV, Orpin AR, Larcombe P, Lough J (2004) Temporal variation of light availability in coastal benthic habitats: effects of clouds, turbidity, and tides. Limnol Oceanogr 49:2201–2211

Bohn HL, McNeal BL, O'Conner GA (2001) Soil Chemistry, 3rd edn. Wiley and Sons, New York

Bowers DG, Binding CE (2006) The optical properties of mineral suspended particles: A review and synthesis. Estuar Coast Shelf Sci 67:219–230

Bowers DG, Braithwaite KM, Nimmo-Smith WAM, Graham GW (2009) Light scattering by particles suspended in the sea: The role of particle size and density. Cont Shelf Res 29:1748–1755

Cooper TF, Uthicke S, Humphrey C, Fabricius KE (2007) Gradients in water column nutrients, sediment parameters, irradiance and coral reef development in the Whitsunday Region, central Great Barrier Reef. Estuar Coast Shelf Sci 74:458–470

DeMartini E, Jokiel P, Beets J, Stender Y, Storlazzi C, Minton D, Conklin E (2013) Terrigenous sediment impact on coral recruitment and growth affects the use of coral habitat by recruit parrotfishes (F. Scaridae). J Coast Conserv 17:417–429

Erftmeijer PLA, Riegl B, Hoeksema BW, Todd PA (2012) Environmental impacts of dredging and other sediment disturbances on coral: A review. Mar Pollut Bull 64:1737–1765

Fabricius KE (2005) Effects of terrestrial runoff on the ecology of corals and coral reefs: review and synthesis. Mar Pollut Bull 50:125–146

Field ME, Ogston AS, Storlazzi CD (2011) Rising sea level may cause decline of fringing coral reefs. EOS (Washington DC) 92:273–274

Field ME, Chezar H, Storlazzi CD (2012) SedPods: A low-cost coral proxy for measuring net sedimentation. Coral Reefs 32:155–159

Fortes M (2000) The effects of siltation on tropical coastal ecosystems. In: Wolanski E (ed) Oceanographic processes of coral reefs. CRC Press, Boca Raton, pp 93–112

Jokiel PL, Brown EK, Friedlander A, Rodgers KS, Williams WR (2004) Hawaii coral reef assessment and monitoring program: spatial patterns and temporal dynamics in reef coral communities. Pac Sci 58:159–174

Jokiel PL, Rodgers KS, Storlazzi CD, Field ME, Lager CV, Lager D (2014) Response of reef corals on a fringing reef flat to elevated suspended-sediment concentrations: Moloka'i, Hawai'i. PeerJ 2:e699

Lund-Hansen LC, Andersen TJ, Nielsen MH, Pejrup M (2010a) Suspended matter, Chl-a, CDOM, grain sizes, and optical properties in the Arctic fjord-type estuary, Kangerlussuaq, West Greenland during summer. Estuaries Coast 33:1442–1451

Lund-Hansen LC, Hai DH, Lam NN, Nielsen MH (2010b) Optical properties of a tropical estuary during wet and dry conditions in the Nha Phu estuary, Khanh Hoa Province, south-east Vietnam. Hydrobiologia 644:207–216

Madsen OS (1999) Coastal sediment transport processes. American Society of Civil Engineers Short Course, Coastal Sediments'99 Conference, New York

Mallela T, Perry CT (2007) Calcium carbonate budgets for two coral reefs affected by different terrestrial runoff regimes, Rio Bueno, Jamaica. Coral Reefs 26:129–145

McCree KJ (1981) Photosynthetically active radiation. Encyclopedia of plant physiology, vol 12A. Springer-Verlag, Berlin, pp 41–55

McCulloch M, Fallon S, Wyndham T, Hendy E, Lough J, Barnes D (2003) Coral record of increased sediment flux to the inner Great Barrier Reef since European settlement. Nature 421:727–730

Ogston AS, Storlazzi CD, Field ME, Presto MK (2004) Currents and suspended sediment transport on a shallow reef flat: South-central Molokai. Hawaii. Coral Reefs 23:559–569

Perry CT, Smithers SG, Gulliver P, Browne N (2012) Evidence of very rapid reef accretion and reef growth under high turbidity and terrigenous sedimentation. Geology 40:719–722

Philipp E, Fabricius K (2003) Photophysiological stress in scleractinian corals in response to short-term sedimentation. J Exp Mar Bio Ecol 287:57–78

Piniak GA (2007) Effects of two sediment types on the fluorescence yield of two Hawaiian scleractinian corals. Mar Environ Res 64:456–468

Piniak GA, Storlazzi CD (2008) Diurnal variability in turbidity and coral fluorescence on a fringing reef flat: Southern Molokai. Hawaii. Estuar Coast Shelf Sci 77:56–64

Shepard FP (1963) Submarine geology, 2nd edn. Harper and Row, New York

Storlazzi CD, Field ME, Bothner MH (2011) The use (and misuse) of sediment traps in coral reef environments: Theory, observations, and suggested protocols. Coral Reefs 30:23–38

Storlazzi CD, Field ME, Bothner MH, Presto MK, Draut AE (2009) Controls on sediment dynamics in a coral reef embayment: Hanalei Bay, Kauai. Mar Geol 264:140–151

Sullivan AB, Rounds SA, Uhrich MA, Bragg HM (2006) Modeling suspended sediment and water temperature in Detroit Lake, Oregon. Proceedings of the 8th Federal Interagency Sedimentation Conference, Subcommittee on Hydrology of the Interagency Advisory Committee on Water Information, Reno, pp 1–7

Weber M, Lott C, Fabricius KE (2006) Sedimentation stress in a scleractinian coral exposed to terrestrial and marine sediments with contrasting physical, organic and geochemical properties. J Exp Mar Bio Ecol 336:18–32

William DT, Drummond GR, Ford DE, Robey DL (1980) Determination of light extinction coefficients in lakes and reservoirs. In: Stefan HG (ed) Surface Water Impoundments. American Society of Civil Engineers, New York, pp 1329–1335

Zhang Y, Liu X, Wang M, Qin B (2012) A simple optical model to estimate diffuse attenuation coefficient of photosynthetically active radiation in an extremely turbid lake from surface reflectance. Opt Express 20:20482–20493
Acknowledgments
This research was carried out as part of the US Geological Survey's Pacific Coral Reefs Project in an effort in the USA and its trust territories to better understand the effects of geologic and oceanographic processes on coral reef systems and was supported by the USGS Coastal and Marine Geology Program. This work was inspired by numerous conversations with Paul Jokiel (UH-HIMB) and Greg Piniak (NOAA). We would also like to thank Amy East (USGS), Chris Perry (UE), and two anonymous reviewers who contributed numerous excellent suggestions and a timely review of our work. Use of trademark names does not suggest USGS endorsement of products.
Additional information
Communicated by Geology Editor Prof. Chris Perry
About this article
Cite this article
Storlazzi, C.D., Norris, B.K. & Rosenberger, K.J. The influence of grain size, grain color, and suspended-sediment concentration on light attenuation: Why fine-grained terrestrial sediment is bad for coral reef ecosystems. Coral Reefs 34, 967–975 (2015). https://doi.org/10.1007/s00338-015-1268-0
Received:

Accepted:

Published:

Issue Date:

DOI: https://doi.org/10.1007/s00338-015-1268-0
Keywords