Abstract
Coral diseases have contributed significantly to the decline in coral cover in the Caribbean. As many as twenty diseases have been described for Caribbean corals, but few have known etiologies. Here we report on disease signs that were accompanied by high densities of motile, holotrich ciliates, on two species of Caribbean corals, Orbicella faveolata and Siderastrea siderea, which were field collected and maintained in aquaria. A visually estimated increase in ciliate density in the tissue of the coral colonies reflected a putative progression of three 'different' disease signs: white-plague-like, brown-band-like, and brown-jelly-like signs. The latter two diseases have previously only been described for corals in the Indo-Pacific, and in aquaria, respectively. Although it remains unclear whether these ciliates are primary pathogens or secondary opportunists, increasing evidence suggests that motile ciliates may play a role in Caribbean-coral diseases.
This is a preview of subscription content,
to check access.
Access this article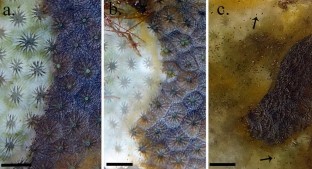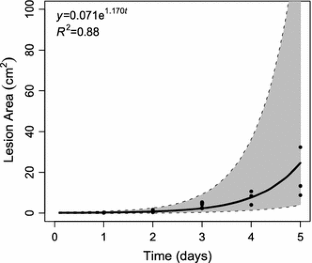 References
Antonius AA (1999) Halofolliculina corallasia, a new coral-killing ciliate on Indo-Pacific reefs. Coral Reefs 18:300–300

Antonius AA, Riegl B (1997) A possible link between coral diseases and a corallivorous snail (Drupella cornus) outbreak in the Red Sea. Atoll Res Bull 447:1–9

Antonius AA, Lipscomb D (2001) First protozoan coral-killer identified in the Indo-Pacific. Atoll Res Bull 481:1–21

Aronson RB, Precht WF (2001) White-band disease and the changing face of Caribbean coral reefs. Hydrobiologia 460:25–38

Bourne DG, Boyett HV, Henderson ME, Muirhead A, Willis BL (2008) Identification of a ciliate (Oligohymenophorea: Scuticociliatia) associated with brown band disease on corals of the Great Barrier Reef. Appl Environ Microbiol 74:883–888

Budd AF, Fukami H, Smith ND, Knowlton N (2012) Taxonomic classification of the reef coral family Mussidae (Cnidaria: Anthozoa: Scleractinia). Zool J Linn Soc 166:465–529

Cróquer A, Bastidas C, Lipscomb D (2006a) Folliculinid ciliates: a new threat to Caribbean corals? Dis Aquat Org 69:75–78

Cróquer A, Bastidas C, Lipscomp D, Rodríguez-Martínez RE, Jordan-Dahlgren E, Guzman HM (2006b) First report of folliculinid ciliates affecting Caribbean scleractinian corals. Coral Reefs 25:187–191

Dustan P (1977) Vitality of reef coral populations off Key Largo, Florida: recruitment and mortality. Environ Geol 2:51–58

Gao F, Strüder-Kypke M, Yi Z, Miao M, Al-Farraj SA, Song W (2012) Phylogenetic analysis and taxonomic distinction of six genera of pathogenic scuticociliates (Protozoa, Ciliophora) inferred from small-subunit rRNA gene sequences. Int J Syst Evol Microbiol 62:246–256

Harvell CD, Kim K, Burkholder JM, Colwell RR, Epstein PR, Grimes DJ, Hofmann EE, Lipp EK, Osterhaus ADME, Overstreet AM, Porter JW, Smith GW, Vasta GR (1999) Emerging marine diseases-climate links and anthropogenic factors. Science 285:1505–1510

Jonsson PR (1994) Tidal rhythm of cyst formation in the rock pool ciliate Strombidium oculatum Gruber (Ciliophora, Oligotrichida): A description of the functional biology and an analysis of the tidal synchronization of encystment. J Exp Mar Biol Ecol 175:77–103

Katz SM, Pollock FJ, Bourne DG, Willis BL (2014) Crown-of-thorns starfish predation and physical injuries promote brown band disease on corals. Coral Reefs 33:705–716

Lawrence SA, Davy JE, Aeby GS, Wilson WH, Davy SK (2014) Quantification of virus-like particles suggests viral infection in corals affected by Porites tissue loss. Coral Reefs 33:687–691

Lobban CS, Raymundo LM, Montagnes DJ (2011) Porpostoma guamense n. sp., a Philasterine Scuticociliate associated with brown-band disease of corals. J Eukaryotic Microbiol 58:103–113

Miao M, Wang Y, Li L, Al-Rasheid KA, Song W (2009) Molecular phylogeny of the scuticociliate, Philaster (Protozoa, Ciliophora), with a description of a new species, P. apodigitiformis sp. nov. Syst and Biodiver 7:381–388

Nicolet KM, Hoogenboom MO, Gardiner NM, Pratchett MS, Willis BL (2013) The corallivorous invertebrate Drupella aids in transmission of brown band disease on the Great Barrier Reef. Coral Reefs 32:585–595

Nugues MM (2002) Impact of a coral disease outbreak on coral communities in St. Lucia: What and how much has been lost? Mar Ecol Prog Ser 229:61–71

Nugues MM, Bak RP (2009) Brown-band syndrome on feeding scars of the crown-of-thorn starfish Acanthaster planci. Coral Reefs 28:507–510

Onton K, Page CA, Wilson SK, Neale S, Armstrong S (2011) Distribution and drivers of coral disease at Ningaloo reef, Indian Ocean. Mar Ecol Prog Ser 433:75–84

Page CA, Willis BL (2008) Epidemiology of skeletal eroding band on the Great Barrier Reef and the role of injury in the initiation of this widespread coral disease. Coral Reefs 27:257–272

Qiu D, Huang L, Huang H, Yang J, Lin S (2010) Two functionally distinct ciliates dwelling in Acropora corals in the South China Sea near Sanya, Hainan Province, China. Appl Environ Microbiol 76:5639–5643

R Core Team (2013) R: A language and environment for statistical computing. R Foundation for Statistical Computing, Vienna, Austria. URL http://www.R-project.org

Richardson LL, Goldberg WM, Carlton RG, Halas JC (1998) Coral disease outbreak in the Florida Keys: Plague Type II. Rev Biol Trop 46:187–198

Rodríguez S, Cróquer A, Guzman HM, Bastidas C (2009) A mechanism of transmission and factors affecting coral susceptibility to Halofolliculina sp. infection. Coral reefs 28:67–77

Santavy DL, Peters EC, Quirolo C, Porter JW, Bianchi CN (1999) Yellow-blotch disease outbreak on reefs of the San Blas Islands, Panama. Coral Reefs 18:97–97

Soffer N, Brandt ME, Correa AM, Smith TB, Thurber RV (2014) Potential role of viruses in white plague coral disease. The ISME journal 8:271–283

Sweet M, Bythell J (2012) Ciliate and bacterial communities associated with White Syndrome and Brown Band Disease in reef-building corals. Environ Microbiol 14:2184–2199

Sweet M, Jones R, Bythell J (2012) Coral diseases in aquaria and in nature. J Mar Biol Assoc UK 92:791–801

Sweet M, Croquer A, Bythell JC (2014) Experimental antibiotic treatment identifies potential pathogens of white band disease in the endangered Caribbean coral Acropora cervicornis. Proc R Soc Lond B Biol Sci 281:20140094

Sweet M, Craggs J, Robson J, Bythell J (2013) Assessment of the microbial communities associated with white syndrome and brown jelly syndrome in aquarium corals. J Zoo Aquar Res 1:20–27

Veron JEN (2000) Corals of the World, 3 vol. Australian Institute of Marine Science, Townsville, Australia, p 489

Weil E, Cróquer A, Urreiztieta I, Irizarry E (2009) Temporal variability and impact of coral diseases and bleaching in La Parguera, Puerto Rico from 2003–2007. Caribb J Sci 45:221–246

Williams DE, Miller MW (2005) Coral disease outbreak: pattern, prevalence and transmission in Acropora cervicornis. Mar Ecol Prog Ser 301:119–128

Work TM, Aeby GS (2011) Pathology of tissue loss (white syndrome) in Acropora sp. corals from the Central Pacific. J Invertebr Pathol 107:127–131
Acknowledgments
We thank W Song and X Pan for assistance with ciliate identification, SJ van Woesik and JE Speaks for editorial comments, and two anonymous reviewers and a topic editor for comments on the manuscript. Our thanks extend to the staff at Mote Marine laboratory in Summerland Key, especially M Knowles, E Bartels, C Walter, and D Vaughn for assistance. We acknowledge NSF OCE-1219804, awarded to R van Woesik, for funding. AG Jordan-Garza acknowledges "Consejo Nacional de Ciencia y Tecnología" (CONACyT, Mexico) for a full scholarship. Coral collections took place under permit FKNMS-2013-086.
Additional information
Communicated by Biology Editor Dr. Hugh Sweatman
About this article
Cite this article
Randall, C.J., Jordán-Garza, A.G. & van Woesik, R. Ciliates associated with signs of disease on two Caribbean corals. Coral Reefs 34, 243–247 (2015). https://doi.org/10.1007/s00338-014-1212-8
Received:

Accepted:

Published:

Issue Date:

DOI: https://doi.org/10.1007/s00338-014-1212-8
Keywords