Abstract
Little is known about growth rates of deep-water reef-forming corals or the rates at which these reefs accumulate. Such information is critical for determining the resilience of the reefs to anthropogenic impacts such as trawling and climate change. We radiocarbon date live-caught and sub-fossil samples of the bioherm-forming coral Solenosmilia variabilis collected from precisely known depths and locations by means of a remotely operated vehicle on seamounts south of Tasmania, Australia. The growth rate of colonies live-caught between 958 and 1,454 m, which spans most of the depth range of the species locally, ranged from 0.84 to 1.25 mm linear extension yr−1 and tended to be higher in the deeper-caught material. Analysis of skeletal microstructure suggests annual deposition of growth increments near the growing tips, but not closer to the base, as the skeleton is extended and thickened. Dating of sub-fossil material indicates S. variabilis has been present on Tasmanian seamounts for at least the last 47,000 yrs and a reef accumulation rate of 0.27 mm yr−1.
Access options
Buy single article
Instant access to the full article PDF.
US$ 39.95
Tax calculation will be finalised during checkout.
Subscribe to journal
Immediate online access to all issues from 2019. Subscription will auto renew annually.
US$ 119
Tax calculation will be finalised during checkout.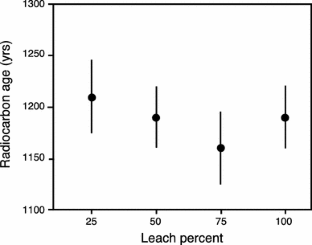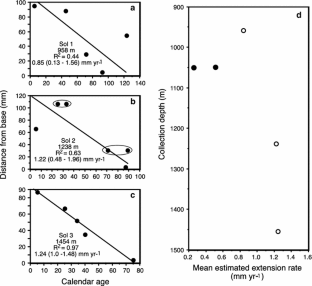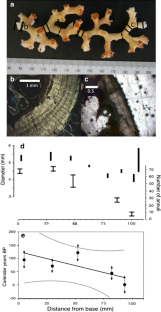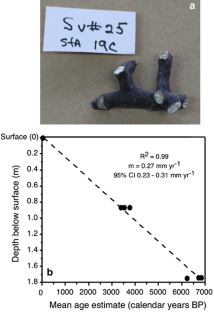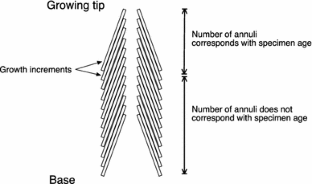 References
Adkins JF, Henderson GM, Wang S-L, O′Shea S, Mokadem F (2004) Growth rates of the deep-sea scleractinia Desmophyllum cristagalli and Enallopsammia rostrata. Earth Planet Sci Lett 227:481–490

Adkins JF, Griffin S, Kashgarian M, Cheng H, Druffel ERM, Boyle EA, Edwards RL, Shen C-C (2000) Radiocarbon dating of deep-sea corals. Radiocarbon 44:567–580

Althaus F, Williams A, Schlacher TA, Kloser RJ, Green MA, Barker BA, Bax N, Brodie P, Schlacher-Hoenliger MA (2009) Impacts of bottom trawling on deep-coral ecosystems of seamounts are long-lasting. Mar Ecol Prog Ser 397:279–294

Andrews AH, Cordes EE, Mahoney M, Munk K, Coale KH, Cailliet GM, Heifetz J (2002) Age, growth and radiometric age validation of a deep-sea, habitat-forming gorgonian (Primnoa resedaeformis) from the Gulf of Alaska. Hydrobiologia 471:101–110

Brooke S, Young CM (2009) In situ measurement of survival and growth of Lophelia pertusa in the northern Gulf of Mexico. Mar Ecol Prog Ser 397:153–161

Cairns SD (2007) Deep-water corals: an overview with special reference to diversity and distribution of deep-water scleractinian corals. Bull Mar Sci 81:311–322

Clementson LS, Parslow JS, Griffiths FB, Lyne VD, Mackey DJ, Harris GP, McKenzie DC, Bonham PI, Rathbone CA, Rintoul S (1998) Controls on phytoplankton production in the Australasian sector of the subtropical convergence. Deep-Sea Res I 45:1627–1661

Davies AJ, Guinotte JM (2011) Global habitat suitability for framework-forming cold-water corals. PLoS ONE 6:e18483

Fallon SJ, Fifield LK, Chappell JM (2010) The next chapter in radiocarbon dating at the Australian National University: status report on the single stage AMS. Nuclear Instr Methods Physicis Res B 286:898–901

Freiwald A, Roberts JM (eds) (2005) Cold-water corals and ecosystems. Springer-Verlag, Berlin

Guinotte JM, Orr J, Cairns S, Freiwald A, Morgan L, George R (2006) Will human-induced changes in seawater chemistry alter the distribution of deep-sea scleractinian corals. Front Ecol Environ 4:141–146

Jantzen C, Laudien J, Sokol S, Forsterra G, Haussermann V, Kupprat F, Richter C (2013) In situ short-term growth rates of a cold-water coral. Mar Freshw Res 64:631–641

Koslow JA, Gowlett-Holmes K, Lowry JK, O'Hara T, Poore GCB, Williams A (2001) Seamount benthic macrofauna off southern Tasmania: community structure and impacts of trawling. Mar Ecol Prog Ser 213:111–125

Lassey KR, Manning MR, Sparks RJ, Wallace G (1990) Radiocarbon in the sub-tropical convergence east of Tasmania—an interim report. DSIR Physical Sciences Report #11, DSIR Physical Sciences, Nuclear Sciences Group

Mortensen PB, Rapp HT (1998) Oxygen- and carbon isotope ratios related to growth line patterns in skeletons of Lophelia pertusa (L) (Anthozoa: Scleractinia): Implications for determination of linear extension rates. Sarsia 83:433–446

Nagelkerken I, Buchan K, Smith GW, Bonair K, Bush P, Garzón-Ferreira J, Botero L, Gayle P, Harvell CD, Heberer C, Kim K, Petrovic C, Pors L, Yoshioka P (1997) Widespread disease in Caribbean sea fans: II. Patterns of infection and tissue loss. Mar Ecol Prog Ser 160:255–263

Orejas C, Gori A, Gili JM (2008) Growth rates of live Lophelia pertusa and Madrepora oculata from the Mediterranean Sea maintained in aquaria. Coral Reefs 27:255

Orejas C, Ferrier-Pages C, Reynaud S, Gori A, Beraud E, Tsounis G, Allemand D, Gili JM (2011) Long-term growth rates of four Mediterranean cold-water coral species maintained in aquaria. Mar Ecol Prog Ser 429:57–65

Pitcher TJ, Morato T, Hart PJB, Clark MR, Haggan N, Santos RS (2007) Seamounts: ecology, fisheries & conservation. Blackwell, Oxford, UK

Risk MJ, Heikoop JM, Snow MG, Beukens R (2002) Lifespans and growth patterns of two deep-sea corals: Primnoa resedaeformis and Desmophyllum cristagalli. Hydrobiologia 471:125–131

Roark EB, Guilderson TP, Flood-Page S, Dunbar RB, Ingram BL, Fallon SJ, McCulloch M (2005) Radiocarbon-based ages and growth rates of bamboo corals from the Gulf of Alaska. Geophys Res Lett 32:L04606. doi:10.1029/2004GL021919

Roberts JM, Wheeler AJ, Freiwald A, Cairns SD (2009) Cold-water corals. Cambridge University Press, Cambridge, UK

Sherwood OA, Edinger EN (2009) Ages and growth rates of some deep-sea gorgonian and antipatharian corals of Newfoundland and Labrador. Can J Fish Aquat Sci 66:142–152

Sherwood OA, Scott DB, Risk MJ, Guilderson TP (2005) Radiocarbon evidence for annual growth rings in the deep-sea octocoral Primnoa resedaeformis. Mar Ecol Prog Ser 301:129–134

Smith JE, Schwarcz HP, Risk MJ (2002) Patterns of isotopic disequilibria in azooxanthellate coral skeletons. Hydrobiologia 471:111–115

Sokal RR, Rohlf FJ (1981) Biometry, 2nd edn. Freeman, San Francisco

Stuvier M, Pollach HA (1977) Discussion: reporting of 14C data. Radiocarbon 19:355–363

Thiagarajan N, Gerlach D, Roberts M, Burke A, McNichol A, Jenkins B, Subhas A, Thresher RE, Adkins J (2013) Movement of deep-sea coral populations on climatic time scales. Paleoceanography 28:227–236

Thresher RE, Adkins J, Thiagarajan N (2011a) Modal analysis of the deep-water solitary scleractinian Desmophyllum dianthus, on SW Pacific seamounts: inferred recruitment periodicity, growth and mortality rates. Coral Reefs 30:1063–1070

Thresher RE, Wilson NC, MacRae CM, Neil H (2010) Temperature effects on the calcite skeletal composition of deep-water gorgonians (Isididae). Geochim Cosmochim Acta 74:4655–4670

Thresher RE, Tilbrook B, Fallon S, Wilson NC, Adkins J (2011b) Effects of chronic low carbonate saturation levels on the distribution, growth and skeletal chemistry of deep-sea corals and other seamount megabenthos. Mar Ecol Prog Ser 442:87–99

Thresher RE, Rintoul SR, Koslow JA, Weidman C, Adkins J, Proctor C (2004) Oceanic evidence of climate change in southern Australia over the last three centuries. Geophys Res Lett 31:L07212

Thresher RE, Adkins J, Fallon SJ, Gowlett-Holmes K, Althaus F, Williams A (2011c) Extraordinarily high biomass benthic community on Southern Ocean seamounts. Sci Rpts (Nature) 1:119. doi:10.1038/srep00119

Thresher RE, Williams A, Adkins A, Althaus F, Gowlett-Holmes K, Alderslade P, Dowdney J, Fallon S, Trull T, Cho W, Gagnon A, Staples D, McEnnulty F (in press). Depth effects on the abundance, diversity and composition and biomass of megabenthos on seamounts off Southern Tasmania. PLOS One

Tracey DM, Neil H, Marriott P, Andrews AH, Calliet GM, Sanchez JA (2007) Age and growth of two genera of deep-sea bamboo corals (family Isididae) in New Zealand waters. Bull Mar Sci 81:393–408

Yokoyama Y, Esat TM, Lambeck K, Fifield LK (2000) Last ice age millennial scale climate changes recorded in Huon Peninsula corals. Radiocarbon 42:383–401
Acknowledgments
We thank E. Anagnostou, A. Beck, W. Cho, A. Gagnon, K. Gowlett-Holmes, S. John, A. Kennedy, H. Kippo, N. Meckler, D. Mills, N. Thiagarajan, D. Staples, and A. Subhas, and in particular, the crews of the ROV Jason and its support vessel RV Thomas T. Thompson for their professional assistance in the field. We also thank Rachel Wood for help with coral dating. Components of this work were supported by the National Science Foundation, the Australian Department of Environment, Water, Heritage, and the Arts, the Australian Commonwealth Environmental Research Fund, and Australian National Climate Adaptations Research Program.
Additional information
Communicated by Geology Editor Prof. Bernhard Riegl
About this article
Cite this article
Fallon, S.J., Thresher, R.E. & Adkins, J. Age and growth of the cold-water scleractinian Solenosmilia variabilis and its reef on SW Pacific seamounts. Coral Reefs 33, 31–38 (2014). https://doi.org/10.1007/s00338-013-1097-y
Received:

Accepted:

Published:

Issue Date:
Keywords
Accumulation rate

Annuli

Demography

Deep sea

Growth rate

Scleractinia