Abstract
Coral reefs are increasingly affected by high-temperature stress events and associated bleaching. Monitoring and predicting these events have largely utilized sea surface temperature data, due to the convenience of using large-scale remotely sensed satellite measurements. However, coral bleaching has been observed to vary in severity throughout the water column, and variations in coral thermal stress across depths have not yet been well investigated. In this study, in situ water temperature data from 1999 to 2011 from three depths were used to calculate thermal stress on a coral reef in Bahia Almirante, Bocas del Toro, Panama, which was compared to satellite surface temperature data and thermal stress calculations for the same area and time period from the National Oceanic and Atmospheric Administration Coral Reef Watch Satellite Bleaching Alert system. The results show similar total cumulative annual thermal stress for both the surface and depth-stratified data, but with a striking difference in the distribution of that stress among the depth strata during different high-temperature events, with the greatest thermal stress unusually recorded at the deepest measured depth during the most severe bleaching event in 2005. Temperature records indicate that a strong density-driven temperature inversion may have formed in this location in that year, contributing to the persistence and intensity of bleaching disturbance at depth. These results indicate that depth may not provide a stress refuge from high water temperature events in some situations, and in this case, the water properties at depth appear to have contributed to greater coral bleaching at depth compared to near-surface locations. This case study demonstrates the importance of incorporating depth-stratified temperature monitoring and small-scale oceanographic and hydrologic data for understanding and predicting local reef responses to elevated water temperature events.
Access options
Buy single article
Instant access to the full article PDF.
USD 39.95
Price includes VAT (USA)
Tax calculation will be finalised during checkout.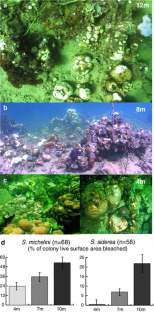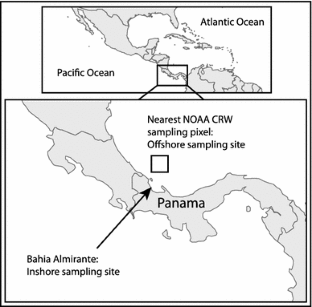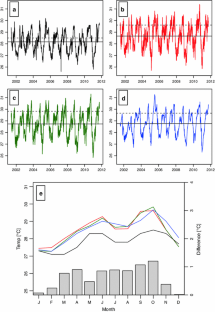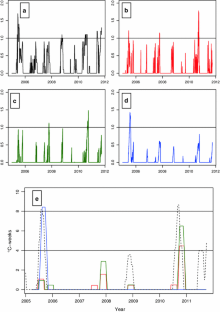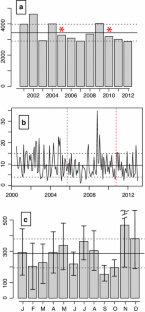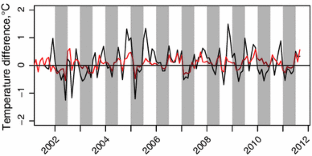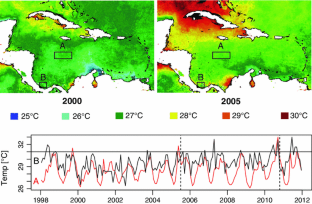 References
Alvarez-Filip L, Dulvy NK, Gill JA, Cote IM, Watkinson AR (2009) Flattening of Caribbean coral reefs: region-wide declines in architectural complexity. Proc R Soc Lond B 276:3019–3025

Barshis DJ, Ladner JT, Oliver TA, Seneca FO, Traylor-Knowles N, Palumbi SR (2013) Genomic basis for coral resilience to climate change. Proc Natl Acad Sci USA 110:1387–1392

Brown BE (1997) Adaptations of reef corals to physical environmental stress. Adv Mar Biol 31:221–299

Carilli J, Donner SD, Hartmann AC (2012) Historical temperature variability affects coral response to heat stress. PLoS One 7:e34418

Casey KS, Brandon TB, Cornillon P, Evans RD (2010) The past, present and future of the AVHRR pathfinder SST Program. In: Barale V, Gower JFR, Alberotanza L (eds) Oceanography from space: revisited. Springer, Berlin

Eakin CM, Morgan JA, Heron SF, Smith TB, Liu G, Alvarez-Filip L, Baca B, Bartels E, Bastidas C, Bouchon C, Brandt M, Bruckner AW, Bunkley-Williams L, Cameron A, Causey BD, Chiappone M, Christensen TRL, Crabbe MJC, Day O, de la Guardia E, Diaz-Pulido G, DiResta D, Gil-Agudelo DL, Gilliam DS, Ginsburg RN, Gore S, Guzman HM, Hendee JC, Hernandez-Delgado EA, Husain E, Jeffrey CFG, Jones RJ, Jordan-Dahlgren E, Kaufman LS, Kline DI, Kramer PA, Lang JC, Lirman D, Mallela J, Manfrino C, Marchal J-P, Marks K, Mihaly J, Miller WJ, Mueller EM, Muller EM, Orozco Toro CA, Oxenford HA, Ponce-Taylor D, Quinn N, Ritchie KB, Rodriguez S, Ramirez AR, Romano S, Samhouri JF, Sanchez JA, Schmahl GP, Shank BV, Skirving WJ, Steiner SCC, Villamizar E, Walsh SM, Walter C, Weil E, Williams EH, Roberson KW, Yusuf Y (2010) Caribbean corals in crisis: record thermal stress, bleaching, mortality in 2005. PLoS One 5:e13969

Gleeson MW, Strong AE (1995) Applying MCSST to coral reef bleaching. Adv Space Res 16:151–154

Glynn PW (1996) Coral reef bleaching: facts, hypotheses and implications. Global Change Biol 2:495–509

Glynn PW, D'Croz L (1990) Experimental evidence for high temperature stress as the cause of El Niño-coincident coral mortality. Coral Reefs 8:181–191

Guzman HM, Guevara CA (2001) Coral reefs of Bocas del Toro, Panama: IV. Distribution, structure and conservation state of continental reefs of Peninsula Valiente. Rev Biol Trop 49:53–66

Guzman HM, Barnes PAG, Lovelock CE, Feller IC (2005) A site description of the CARICOMP mangrove, seagrass and coral reef sites in Bocas del Toro, Panama. Caribb J Sci 41:430–440

Hoegh-Guldberg O, Mumby PJ, Hooten AJ, Steneck RS, Greenfield P, Gomez E, Harvell CD, Sale PF, Edwards AJ, Caldeira K, Knowlton N, Eakin CM, Iglesias-Prieto R, Muthiga N, Bradbury RH, Dubi A, Hatziolos ME (2007) Coral reefs under rapid climate change and ocean acidification. Science 318:1737–1742

Hughes TP, Tanner JE (2000) Recruitment failure, life histories, and long-term decline of Caribbean corals. Ecology 81:2250–2263

Hughes TP, Baird AH, Bellwood DR, Card M, Connolly SR, Folke C, Grosberg R, Hoegh-Guldberg O, Jackson JBC, Kleypas J, Lough JM, Marshall P, Nystrom M, Palumbi SR, Pandolfi JM, Rosen B, Roughgarden J (2003) Climate change, human impacts, and the resilience of coral reefs. Science 301:929–933

Kaufmann KW, Thompson RC (2005) Water temperature variation and the meteorological and hydrographic environment of Bocas del Toro, Panama. Caribb J Sci 41:392–413

Knowlton N (2001) The future of coral reefs. Proc Natl Acad Sci USA 98:5419–5425

Leichter JJ, Helmuth B, Fischer AM (2006) Variation beneath the surface: quantifying complex thermal environments on coral reefs in the Caribbean, Bahamas and Florida. J Mar Res 64:563–588

Liu G, Strong AE, Skirving W, Arzayus LF (2004) Overview of NOAA Coral Reef Watch Program's near-real time global satellite coral bleaching monitoring activities. In: Proceedings of the 10th international coral reef symposium, pp 1783–1793

Liu G, Strong AE, Skirving W, Arzayus LF (2005) Overview of NOAA Coral Reef Watch Program's near-real time satellite global coral bleaching monitoring activities. Proc 10th Int Coral Reef Symp 1:1783–1793

Liu G, Matrosova LE, Penland C, Gledhill DK, Eakin CM, Webb RS, Christensen TRL, Heron SF, Morgan JA, Skirving WJ, Strong AE (2008) NOAA Coral Reef Watch coral bleaching outlook system. In: Proceedings of the 11th international coral reef symposium, pp 956–960

Maina J, McClanahan TR, Venus V, Ateweberhan M, Madin J (2011) Global gradients of coral exposure to environmental stresses and implications for local management. PLoS One 6:e23064

Marshall P, Schuttenberg H (2006) Adapting coral reef management in the face of climate change. Coast Estuar Sci 61:223–241

Maynard J, Johnson J, Marshall P, Eakin C, Goby G, Schuttenberg H, Spillman C (2009) A strategic framework for responding to coral bleaching events in a changing climate. Environ Manage 44:1–11

McClanahan TR, Ateweberhan M, Muhando CA, Maina J, Mohammed MS (2007) Effects of climate and seawater temperature variation on coral bleaching and mortality. Ecol Monogr 77:503–525

McWilliams JP, Cote IM, Gill JA, Sutherland WJ, Watkinson AR (2005) Accelerating impacts of temperature-induced coral bleaching in the Caribbean. Ecology 86:2055–2060

Mumby PJ, Elliott IA, Eakin CM, Skirving W, Paris CB, Edwards HJ, Enriquez S, Iglesias-Prieto R, Cherubin LM, Stevens JR (2011) Reserve design for uncertain responses of coral reefs to climate change. Ecol Lett 14:132–140

Oliver TA, Palumbi SR (2011) Do fluctuating temperature environments elevate coral thermal tolerance? Coral Reefs 30:429–440

Pandolfi JM, Jackson JB, Baron N, Bradbury RH, Guzman HM, Hughes TP, Kappel CV, Micheli F, Ogden JC, Possingham HP, Sala E (2005) Are U.S. coral reefs on the slippery slope to slime? Science 307:1725–1726

Penland C, Matrosova L (1998) Prediction of tropical Atlantic sea surface temperatures using linear inverse modeling. J Clim 11:483–496

Rich PM, Clark DB, Clark DA, Oberbauer SF (1993) Long-term study of solar radiation regimes in a tropical wet forest using quantum sensors and hemispherical photography. Agric For Meteorol 65:107–127
Acknowledgments
This study was funded by the National Science Foundation, Cyber Enabled Discovery and Innovation Award # 0941760. Collection of SST data from GHRSST and the US National Oceanographic Data Center supported by the NOAA Climate Data Record (CDR) Program. In situ data provided by the Smithsonian Tropical Research Institute Physical Monitoring Program.
Additional information
Communicated by Geology Editor Prof. Bernhard Riegl
About this article
Cite this article
Neal, B.P., Condit, C., Liu, G. et al. When depth is no refuge: cumulative thermal stress increases with depth in Bocas del Toro, Panama. Coral Reefs 33, 193–205 (2014). https://doi.org/10.1007/s00338-013-1081-6
Received:

Accepted:

Published:

Issue Date:
Keywords
Temperature stress

Bleaching

Depth stratification

Caribbean