Abstract
Dissolved organic nitrogen (DON) potentially plays a major role in sustaining the high productivity and biological diversity of coral reefs. However, data are scarce regarding sources and sinks of DON. This study, for the first time, determined the 15N isotopic composition of total dissolved nitrogen (δ15NTDN), reflecting the isotopic signature of DON, in the water column over a coral reef. The uniformity in δ15NTDN during high tide (3.2 ± 0.3 ‰) indicated that the DON was mainly derived from offshore waters. In contrast, higher spatial heterogeneity of δ15NTDN (3.1 ± 0.9 ‰) and DON concentrations during low tide indicated the existence of local DON sources patchily distributed over the reef. Low δ15NTDN values located mid-reef were indicative of DON release from organisms that obtained their N via N2 fixation, whereas high δ15NTDN appeared to reflect localized release of DON by organisms exposed to dissolved inorganic nitrogen with elevated 15N, such as from terrestrial and offshore inputs. Collectively, the results highlight the importance of spatial patterns in DON release from reef communities in the N cycling of coral reefs.
Access options
Buy single article
Instant access to the full article PDF.
US$ 39.95
Tax calculation will be finalised during checkout.
Subscribe to journal
Immediate online access to all issues from 2019. Subscription will auto renew annually.
US$ 119
Tax calculation will be finalised during checkout.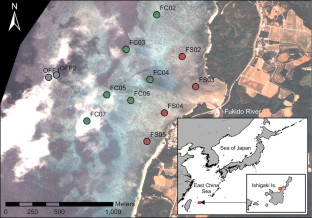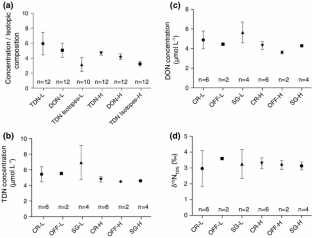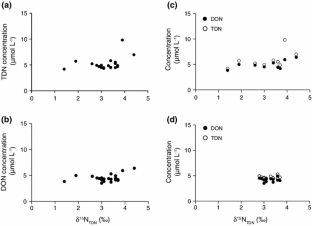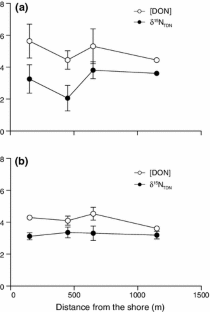 References
Atkinson M (2011) Biogeochemistry of nutrients. In: Dubinsky Z, Stambler N (eds) Coral reefs: An ecosystem in transition. Springer, pp 199-206

Atkinson M, Falter J (2003) Coral reefs. In: Black K, Shimmield G (eds) Biogeochemistry of marine systems. Sheffield Academic Press, pp 40-64

Bourbonnais A, Lehmann MF, Waniek JJ, Schulz-Bull DE (2009) Nitrate isotope anomalies reflect N2 fixation in the Azores Front region (subtropical N-E Atlantic). J Geophys Res 114:C03003. doi:10.1029/2007JC004617

Bronk DA, See JH, Bradley P, Killberg L (2007) DON as a source of bioavailable nitrogen for phytoplankton. Biogeosciences 4:283–296

Casciotti KL, Sigman DM, Hastings MG, Böhlke JK, Hilkert A (2002) Measurement of the oxygen isotopic composition of nitrate in seawater and freshwater using the denitrifier method. Anal Chem 74:4905–4912

Charpy-Roubaud CJ, Charpy L, Cremoux JL (1990) Nutrient budget of the lagoonal waters in an open central south-Pacific atoll (Tikehau, Tuamotu, French-Polyniesia). Mar Biol 107:67–73

Fogel ML, Cifuentes LA (1993) Isotope fractionation during primary production. In: Engel MH, Macko SA (eds) Organic geochemistry. Plenum Press, New York, pp 73–98

Granger J, Sigman DM, Needoba JA, Harrison PJ (2004) Coupled nitrogen and oxygen isotope fractionation of nitrate during assimilation by cultures of marine phytoplankton. Limnol Oceanogr 49:1763–1773

Grasshoff K, Kremling K, Ehrhardt M (1999) Methods of seawater analysis. Weinheim, Toronto

Haas AF, Wild C (2010) Composition analysis of organic matter released by cosmopolitan coral reef-associated green algae. Aquat Biol 10:131–138

Hongo C, Kayanne H (2009) Holocene coral reef development under windward and leeward locations at Ishigaki Island, Ryukyu Islands, Japan. Sediment Geol 214:62–73

Johannes RE, McCloske Lr, Marsh JA, Marshall N, Maragos J, Alberts J, Betzer S, Clutter RI, Crabtree D, Helfrich P, Telek G, Wells JM, Webb KL, Wiebe W, Roth A, Sottile W, Smith S, Pomeroy LR, Pilson MEQ, Meyer J, Delia C, Dupaul WD, Kinzie RA (1972) Metabolism of some coral reef communities - team study of nutrient and energy flux at Eniwetok. Bioscience 22:541–543

Johannes RE, Wiebe WJ, Crossland CJ (1983) Three patterns of nutrient flux in a coral reef community. Mar Ecol Prog Ser 12:131–136

Kayanne H, Hirota M, Yamamuro M, Koike I (2005) Nitrogen fixation of filamentous cyanobacteria in a coral reef measured using three different methods. Coral Reefs 24:197–200

Kendall C, Elliott EM, Wankel SD (2007) Tracing anthropogenic inputs of nitrogen to ecosystems, Chapter 12. In: Michener RH, Lajtha K (eds) Stable isotopes in ecology and environmental science, 2nd edition. Blackwell Publishing, pp 375- 449

Knapp AN, Sigman DM, Lipschultz F (2005) N isotopic composition of dissolved organic nitrogen and nitrate at the Bermuda Atlantic Time-series study site. Global Biogeochem Cycles 19:1-15 [10.1029/2010gb003878]

Knapp AN, Sigman DM, Lipschultz F, Kustka AB, Capone DG (2011) Interbasin isotopic correspondence between upper-ocean bulk DON and subsurface nitrate and its implications for marine nitrogen cycling. Global Biogeochem Cycles 25 (4), GB4004, doi:10.1029/2010GB003878

Knapp AN, Sigman DM, Kustka AB, Sanudo-Wilhelmy SA, Capone DG (2012) The distinct nitrogen isotopic compositions of low and high molecular weight marine DON. Mar Chem 136:24–33

Lehmann MF, Reichert P, Bernasconi SM, Barbieri A, McKenzie JA (2003) Modelling nitrogen and oxygen isotope fractionation during denitrification in a lacustrine redox-transition zone. Geochim Cosmochim Acta 67:2529–2542

Leichter JJ, Paytan A, Wankel S, Hanson K, Miller S, Altabet MA (2007) Nitrogen and oxygen isotopic signatures of subsurface nitrate seaward of the Florida Keys reef tract. Limnol Oceanogr 52:1258–1267

Muscatine L, Porter JW (1977) Reef corals - mutualistic symbioses adapted to nutrient-poor environments. Bioscience 27:454–460

Odum HT, Odum EP (1955) Trophic structure and productivity of a windward coral reef community on Eniwetok atoll. Ecol Monogr 25:291–320

Reynaud S, Martinez P, Houlbreque F, Billy I, Allemand D, Ferrier-Pages C (2009) Effect of light and feeding on the nitrogen isotopic composition of a zooxanthellate coral: role of nitrogen recycling. Mar Ecol-Prog Ser 392:103–110

Sammarco PW, Risk MJ, Schwarcz HP, Heikoop JM (1999) Cross-continental shelf trends in coral delta N-15 on the Great Barrier Reef: further consideration of the reef nutrient paradox. Mar Ecol-Prog Ser 180:131–138

Schlarbaum T, Daehnke K, Emeis K (2010) Turnover of combined dissolved organic nitrogen and ammonium in the Elbe estuary/NW Europe: Results of nitrogen isotope investigations. Mar Chem 119:91–107

Sigman DM, Casciotti KL, Andreani M, Barford C, Galanter M, Böhlke JK (2001) A bacterial method for the nitrogen isotopic analysis of nitrate in seawater and freshwater. Anal Chem 73:4145–4153

Solorzano L, Sharp JH (1980) Determination of total dissolved nitrogen in natural-waters. Limnol Oceanogr 25:751–754

Suzuki Y, Casareto BE (2011) The role of dissolved organic nitrogen (DON) in coral biology and reef ecology. In: Dubinsky Z, Stambler N (eds) Coral reefs: An ecosystem in transition. Springer, pp 207-214

Tanaka Y, Miyajima T, Umezawa Y, Hayashibara T, Ogawa H, Koike I (2009) Net release of dissolved organic matter by the scleractinian coral Acropora pulchra. J Exp Mar Biol Ecol 377:101–106

Thibodeau B, Hélie JF, Lehmann MF (2013) Variations of the nitrate isotopic composition in the St. Lawrence River caused by seasonal changes in atmospheric nitrogen inputs. Biogeochemistry, 10.1007/s10533-013-9834-4

Umezawa Y, Miyajima T, Yamamuro M, Kayanne H, Koike I (2002) Fine-scale mapping of land-derived nitrogen in coral reefs by delta N-15 in macroalgae. Limnol Oceanogr 47:1405–1416

Wankel SD, Kendall C, Francis CA, Paytan A (2006) Nitrogen sources and cycling in the San Francisco Bay estuary: A nitrate dual isotopic composition approach. Limnol Oceanogr 51:1654–1664

Webb KL, Dupaul WD, Wiebe W, Sottile W, Johannes RE (1975) Enewetak (Eniwetok) atoll - aspects of nitrogen cycle on a coral-reef. Limnol Oceanogr 20:198–210

Wiedenmann J, D'Angelo C, Smith EG, Hunt AN, Legiret FE, Postle AD, Achterberg EP (2012) Nutrient enrichment can increase the susceptibility of reef corals to bleaching. Nat Clim Change doi:10.1038/nclimate1661

Wild C, Huettel M, Klueter A, Kremb SG, Rasheed MYM, Jorgensen BB (2004) Coral mucus functions as an energy carrier and particle trap in the reef ecosystem. Nature 428:66–70

Wyatt ASJ, Falter JL, Lowe RJ, Humphries S, Waite AM (2012) Oceanographic forcing of nutrient uptake and release over a fringing coral reef. Limnol Oceanogr 57:401–419

Ziegler S, Benner R (1999) Dissolved organic carbon cycling in a subtropical seagrass-dominated lagoon. Mar Ecol-Prog Ser 180:149–160
Acknowledgments
This work was funded by the Japan Society for the Promotion of Sciences through Grants-In-Aid for Scientific Research awarded to T.N and B.T and through Fellowship to Foreign Researcher awarded to B.T. We are grateful to two anonymous reviewers for their comments.
Additional information
Communicated by Geology Editor Prof. Bernhard Riegl
Electronic supplementary material
Below is the link to the electronic supplementary material.
About this article
Cite this article
Thibodeau, B., Miyajima, T., Tayasu, I. et al. Heterogeneous dissolved organic nitrogen supply over a coral reef: first evidence from nitrogen stable isotope ratios. Coral Reefs 32, 1103–1110 (2013). https://doi.org/10.1007/s00338-013-1070-9
Received:

Accepted:

Published:

Issue Date:
Keywords
Geochemistry

Stable isotopes

Nitrogen cycle

Dissolved organic nitrogen

Dinitrogen fixation

Coral reefs