Abstract
This study examines the impacts of an acute flooding event on the marginal, high-latitude, terrigenoclastic influenced coral reefs of Hervey Bay in southeast Queensland, Australia. In January 2011, the Mary River near Hervey Bay experienced its eleventh highest flood on record. The Mary River catchment has been highly modified since European colonisation, and, as a result of heavy rain and flooding, Hervey Bay was exposed to reduced salinity and elevated levels of turbidity and nutrients for approximately 14 weeks. Through the use of photograph transects and point intercept analysis, per cent cover of coral reef benthic communities was measured prior to and just after the flooding event. Sites were located between 250 m and 5 km from the mainland and from 18 to 85 km away from the mouth of the Mary River. Overall, there was a ~40 % reduction in coral cover post-flood, including significant mortality up to 89 % at four of six reefs. Mortality did not vary with distance along the coast from the Mary River, but mortality was found to be highest closer to the mainland, where turbidity and nutrients levels were also the highest. Despite the decades of input of highly turbid and nutrient laden waters from the Mary River, recovery has occurred in the past, and, given the persistence of similar conditions, would be expected to take place again. Climate change predicts increased frequency of severe storms and flooding, and this, combined with elevated sedimentation and nutrients from the highly modified catchment, may reduce these recovery periods, resulting in the deterioration of Hervey Bay reef communities.
Access options
Buy single article
Instant access to the full article PDF.
USD 39.95
Price excludes VAT (USA)
Tax calculation will be finalised during checkout.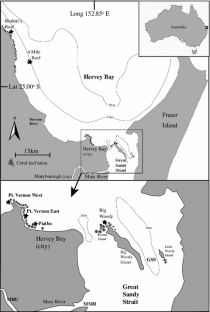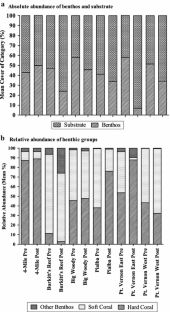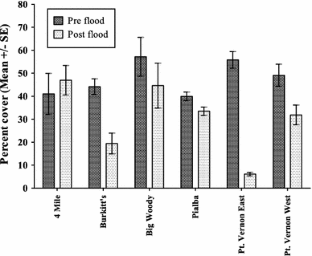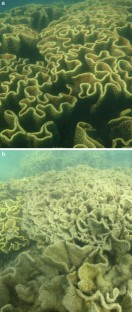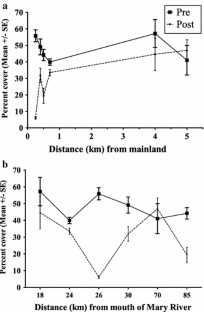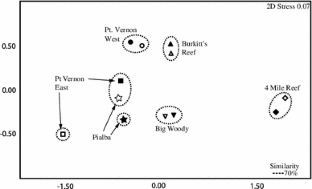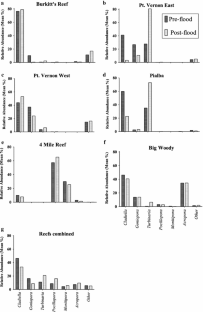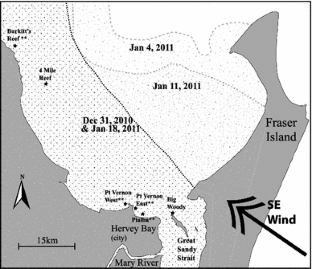 References
Alquezar R, Scannell J, Boyd W (2011) Coastal fringing reefs of the Burnett Mary Region. A report to the Burnett Mary Regional Group. Centre for Environmental Management, Central Queensland University, Gladstone, Queensland

Anderson M, Gorley R, Clarke KR (2008) PERMANOVA + for Primer: Guide to Software and Statistical Methods. Primer-E, Plymouth, UK

Anthony KRN, Hoegh-Guldberg O (2003) Kinetics of photoacclimation in corals. Oecologia 134:23–31

ANZECC (2000) Australian Water Quality Guidelines for Fresh and Marine Waters. Australian and New Zealand Environment and Conservation Council, Kingston

Bastidas C, Bone D, García EM (1999) Sedimentation rates and metal content of sediments in a Venezuelan coral reef. Mar Pollut Bull 38:16–24

Berkelmans R, Jones AM, Schaffelke B (2012) Salinity thresholds of Acropora spp. on the Great Barrier Reef. Coral Reefs 31:1103–1110

BOM (2011) Flood summary for the Mary River at Maryborough December 2010 - January 2011. Bureau of Meteorology, Australia

BOM (2012) Bureau of Meteorology Australia - Weather and Climate Data. Bureau of Meteorology, Australia

BPA (1989) Hervey Bay beaches: a detailed study of coastline behaviour along the mainland beaches of Hervey Bay, South-east Queensland, Australia. Beach Protection Authority, Brisbane, p 323

Browne NK, Smithers SG, Perry CT (2012) Coral reefs of the turbid inner-shelf of the Great Barrier Reef, Australia: An environmental and geomorphic perspective on their occurrence, composition and growth. Earth-Sci Rev 115:1–20

Buchman MF (2008) NOAA Screening Quick Reference Tables, NOAA OR&R Report 08-1. National Oceanic Atmospheric Administration. Office of Response and Restoration Division, Seattle, WA, p 34

Burke L, Reytar K, Spalding MD, Perry A (2011) Reefs at risk revisited Reefs at risk. World Resources Institute, Washington DC

Campbell S, McKenzie LYJ (2004) Flood related loss and recovery of intertidal seagrass meadows in southern Queensland, Australia. Estuar Coast Shelf Sci 60:477–490

Clarke KR (1993) Non-parametric multivariate analyses of changes in community structure. Aust J Ecol 18:117–143

Connell JH (1997) Disturbance and recovery of coral assemblages. Coral Reefs 16:S101–S113

CSIRO, BOM (2012) State of the Climate 2012, p12

De'ath G, Fabricius KE, Sweatman H, Puotinen M (2012) The 27–year decline of coral cover on the Great Barrier Reef and its causes. Proc Natl Acad Sci USA 109:17995–17999

DERM (2009) ClimateQ:toward a greener Queensland Appendix 3: Climate Change Wide Bay Burnett Region. Department of Environment and Resource Management, Brisbane

DERM (2010) Environmental Protection Policy 2009:Mary River environmental values and water quality objectives. Department of the Environment and Resource Management, p 32

DeVantier L (2010) Reef-building corals of Hervey Bay, South-East Queensland. Baseline Survey Report to the Wildlife Preservation Society of Queensland, Fraser Coast Branch, June 2010

Devlin M, Schaffelke B (2009) Spatial extent of riverine flood plumes and exposure of marine ecosystems in the Tully coastal region, Great Barrier Reef. Mar Freshw Res 60:1109–1122

e-atlas.org (2011) QLD Flood Plumes 2011. http://e-atlas.org.au/rrmmp/qld-flood-plumes-2011e-ATLAS

Fabricius KE (2005) Effects of terrestrial runoff on the ecology of corals and coral reefs: Review and synthesis. Mar Pollut Bull 50:125–146

FRC (1993) A study of the marine and intertidal habitats of the Great Sandy Region. In: ResearchConsultants F (ed) Fisheries ResearchConsultants, Brisbane, p144

Furnas MJ (2011) River plumes and coral reefs. In: Hopley D (ed) Encyclopedia of modern coral reefs. Springer, Netherlands, pp 934–938

Game E, McDonald-Madden E, Puotinen M, Possingham H (2008). Should we protect the strong or the weak? Risk, resilience, and the selection of Marine Protected Areas. Conserv Biol 22:1619–1629

GBRMPA (2007) Biophysical assessment of the reefs of Keppel Bay: a baseline study April 2007. Great Barrier Reef Marine Park Authority, Climate Change Group, Townsville

Giles BD (2012) The Australian summer 2010/2011. Weather 67:9–12

Graham N, Nash K, Kool J (2011) Coral reef recovery dynamics in a changing world. Coral Reefs 30:283–294

Gräwe U, Wolff JO, Ribbe J (2010) Impact of climate variability on an east Australian bay. Estuar Coast Shelf Sci 86:247–257

Harriott VH, Banks SB (2002) Latitudinal variation in coral communities in eastern Australia: a qualitative biophysical model of factors regulating coral reefs. Coral Reefs 21:83–94

Hughes TP, Graham NAJ, Jackson JBC, Mumby PJ, Steneck RS (2010) Rising to the challenge of sustaining coral reef resilience. Trends Ecol Evol 25:633–642

Hunter CL, Evans CW (1995) Coral reefs in Kaneohe Bay, Hawaii: Two centuries of western influence and two decades of data. Bull Mar Sci 57:501–515

IPCC (2007) Climate change 2007: Synthesis report. IPCC, Cambridge, UK and New York, USA

Johnson DP (1996) State of the rivers, Mary River and its tributaries: An ecological and physical assessment of the condition of streams in the Mary River catchment state of the rivers. Department of Natural Resources, Indooroopilly

Kohler KE, Gill SM (2006) Coral Point Count with Excel extensions (CPCe): A Visual Basic program for the determination of coral and substrate coverage using random point count methodology. Comput Geosci 32:1259–1269

Kroon FJ, Kuhnert PM, Henderson BL, Wilkinson SN, Kinsey-Henderson A, Abbott B, Brodie JE, Turner RDR (2011) River loads of suspended solids, nitrogen, phosphorus and herbicides delivered to the Great Barrier Reef lagoon. Mar Pollut Bull 65:167–181

Larcombe P, Costen A, Woolfe KJ (2001) The hydrodynamic and sedimentary setting of nearshore coral reefs, Central Great Barrier Reef shelf, Australia: Paluma Shoals, a case study. Sedimentology 48:811–835

Leujak W, Ormond RFG (2007) Comparative accuracy and efficiency of six coral community survey methods. J Exp Mar Biol Ecol 351:168–187

McCulloch M, Fallon S, Wyndham T, Hendy E, Lough J, Barnes D (2003) Coral record of increased sediment flux to the inner Great Barrier Reef since European settlement. Nature 421:727–730

McKenzie L, Roder CA, Roelofs A, Campbell SYJ (2003) Effects of floodwaters on the seagrasses of Hervey Bay and the Great Sandy Strait: Implications for dugong, turtle and fisheries management. Gulf Mex Sci 21:139–140

McMahon K, Bengston Nash S, Eaglesham G, Müller JF, Duke NC, Winderlich S (2005) Herbicide contamination and the potential impact to seagrass meadows in Hervey Bay, Queensland, Australia. Mar Pollut Bull 51:325–334

MRCCC (2011) Mary River Catchment Coordination Committee: Annual Report 2011. Mary River Catchment Coordination Committee, Gympie

Pandolfi JM, Bradbury RH, Sala E, Hughes TP, Bjorndal KA, Cooke RG, McArdle D, McClenachan L, Newman MJH, Paredes G, Warner RR, Jackson JBC (2003) Global trajectories of the long-term decline of coral reef ecosystems. Science 301:955–958

Pandolfi JM, Tudhope AW, Burr G, Chappell J, Edinger E, Frey M, Steneck R, Sharma C, Yeates A, Jennions M, Lescinsky H, Newton A (2006) Mass mortality following disturbance in Holocene coral reefs from Papua New Guinea. Geology 34:949–952

Perry C (2011) Turbid-zone and terrigenous sediment-influenced reefs. In: Hopley D (ed) Encyclopedia of modern coral reefs. Springer, Netherlands, pp 1110–1120

Prange JA, Duke N (2004) Burnett Mary Regional Assessment: Marine and estuarine water quality and wetland habitats of the Burnett Mary region. Marine Botany Group, Centre for Marine Studies, The University of Queensland, Brisbane

Preen A, Lee Long WJ, Coles RY (1995) Flood and cyclone related loss, and partial recovery, of more than 1000 km2 of seagrass in Hervey Bay, Queensland, Australia. Aquat Bot 52:3–17

QPWS (2009) Great Sandy Marine Park: Boaties quick guide. Department of Environment and Resource Management: Queensland Parks and Wildlife Service

Reichelt-Brushett AJ, Michalek-Wagner K (2005) Effects of copper on the fertilization success of the soft coral Lobophytum compactum. Aquat Toxicol 74:280–284

Schaffelke B, Carleton J, Skuza M, Zagorskis I, Furnas MJ (2011) Water quality in the inshore Great Barrier Reef lagoon: Implications for long-term monitoring and management. Mar Pollut Bull 65:249–260

Schleyer MH, Celliers L (2003) Coral dominance at the reef-sediment interface in marginal coral communities at Sodwana Bay, South Africa. Mar Freshw Res 54:967–972

Sofonia JJ, Anthony KRN (2008) High-sediment tolerance in the reef coral Turbinaria mesenterina from the inner Great Barrier Reef lagoon (Australia). Estuar Coast Shelf Sci 78:748–752

Stafford-Smith M, Ormond R (1992) Sediment-rejection mechanisms of 42 species of Australian scleractinian corals. Mar Freshw Res 43:683–705

Van Woesik R, De Vantier L, Glazebrook J (1995) Effects of Cyclone 'Joy' on nearshore coral communities of the Great Barrier Reef. Mar Ecol Prog Ser 128:261–270

Wakeford M, Done TJ, Johnson CR (2008) Decadal trends in a coral community and evidence of changed disturbance regime. Coral Reefs 27:1–13

Walsh SM (2011) Ecosystem-scale effects of nutrients and fishing on coral reefs. J Mar Biol Article ID 187248, 13 pages doi:10.1155/2011/187248

Weber M, de Beer D, Lott C, Polerecky L, Kohls K, Abed RMM, Ferdelman TG, Fabricius KE (2012) Mechanisms of damage to corals exposed to sedimentation. Proc Natl Acad Sci USA 109:E1558–E1567

Zann M (2012) The use of remote sensing and field validation for mapping coral communities of Hervey Bay and the Great Sandy Strait and implications for coastal planning policy. M Phil Ph.D. thesis, University of Queensland, St Lucia, p 216
Acknowledgments
We acknowledge support and funding from the Australian Research Council Centre of Excellence for Coral Reef Studies, The University of Queensland and the National Environmental Research Program Tropical Ecosystems Hub Project 1.3. Thank you to Queensland Government Department of Science, Information Technology, Innovation and the Arts, Brisbane, for provision and support with water quality data. We gratefully acknowledge generous field support from the staff of the Queensland Parks and Wildlife, Great Sandy Region, Hervey Bay, Queensland. Sincere thanks to members of the Marine Palaeoecology Laboratory and fellow researchers at The University of Queensland for assistance with statistical analyses and manuscript preparation. Thank you also to the anonymous reviewers for their valuable feedback.
Additional information
Communicated by Geology Editor Prof. Bernhard Riegl
About this article
Cite this article
Butler, I.R., Sommer, B., Zann, M. et al. The impacts of flooding on the high-latitude, terrigenoclastic influenced coral reefs of Hervey Bay, Queensland, Australia. Coral Reefs 32, 1149–1163 (2013). https://doi.org/10.1007/s00338-013-1064-7
Received:

Accepted:

Published:

Issue Date:

DOI: https://doi.org/10.1007/s00338-013-1064-7
Keywords
Marginal

Turbid

High-latitude

Flood

Australia

Coral