Abstract
The corallivorous crown-of-thorns starfish (COTS), Acanthaster planci, is recognised as a major cause of coral reef degradation throughout much of the Pacific Ocean. However, the effects of COTS on the high diversity reefs in Indonesia have been largely overlooked. In 2007, high densities of COTS were observed in two regions of Indonesia: Aceh and Halmahera. Densities of COTS ranged from 0 to 52 starfish 2,000 m2 across 24 sites in Aceh and from 0 to 18 starfish 2,000 m2 at 10 sites in Halmahera. Mortality rates of Acropora spp. were very high at affected sites: over 50 % of colonies had been killed at seven of the 16 affected sites. A review of historical sources going back to 1969 suggests that COTS have damaged many reefs throughout Indonesia, including much activity within the Indonesian section of the Coral Triangle. Furthermore, the data suggest that COTS activity has increased rapidly since 2000. Very little of this activity has been reported in the primary literature, and there is a general lack of awareness in Indonesia of COTS as a potential cause of reef degradation. This lack of awareness, combined with limited monitoring efforts, means that damage caused by COTS is often attributed to other causes, such as destructive fishing, bleaching or tsunami. COTS are clearly a major source of coral mortality in Indonesia of which scientists and government need to be more cognizant.
Access options
Buy single article
Instant access to the full article PDF.
USD 39.95
Price excludes VAT (USA)
Tax calculation will be finalised during checkout.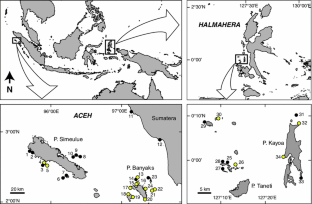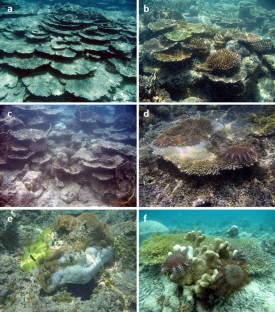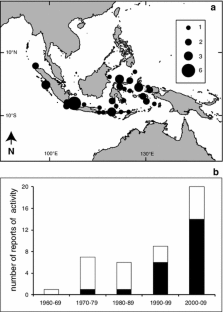 References
Abram NJ, Gagan MK, McCulloch MT, Chappell J, Hantoro WS (2004) The sudden death of a coral reef - response. Science 303:1293–1294

Allen GR (2008) Conservation hotspots of biodiversity and endemism for Indo-Pacific coral reef fishes. Aquat Conserv: Mar Freshw Ecosyst 18:541–556

Allen GR, McKenna SA (2001) A Marine Rapid Assessment of the Togean and Banggai Islands, Sulawesi, Indonesia. Conservation International, Washington, DC

Aziz A (1995) Beberapa catatan tentang kehadiran bintang laut jenis Acanthaster planci di perairan Indonesia. Oseana XX: 23–31

Baird AH, Campbell SJ, Anggoro AW, Ardiwijaya RL, Fadli N, Herdiana Y, Kartawijaya T, Mahyiddin D, Mukminin A, Pardede ST, Pratchett MS, Rudi E, Siregar AM (2005) Acehnese reefs in the wake of the Asian tsunami. Curr Biol 15:1926–1930

Bak RP, Povel GDE (1988) Ecological structure in a range of Indonesian fore-reef slope coral communities. Proc 6th Int Coral Reef Symp 3:191–196

Bellwood DR, Hughes TP, Folke C, Nystrom M (2004) Confronting the coral reef crisis. Nature 429:827–833

Bruno JF, Selig ER (2007) Regional decline of coral cover in the Indo-Pacific: Timing, extent, and subregional comparisons. PLoS ONE 2:e711

Campbell SJ, Pratchett MS, Anggoro AW, Ardiwijaya RL, Fadli N, Herdiana Y, Kartawijaya T, Mahyiddin D, Mukminin A, Pardede ST, Rudi E, Siregar AM, Baird AH (2007) Disturbance to coral reefs in Aceh, Northern Sumatra: impacts of the Sumatra-Andaman tsunami and pre-tsunami degradation. Atoll Res Bull 544:55–78

Chesher RH (1969) Destruction of Pacific corals by the sea star Acanthaster planci. Science 165:280–283

Clifton J (2009) Science, funding and participation: key issues for marine protected area networks and the Coral Triangle Initiative. Environ Conserv 36:91–96

De'ath G, Fabricius KE, Sweatman H, Puotinen M (2012) The 27 year decline of coral cover on the Great Barrier Reef and its causes. Proc Natl Acad Sci USA 109:17995–17999

DeVantier L, Suharsono, Budiyanto A, Tuti J, Imanto P, Ledesma R (1998) Status of coral communities of Pulau Seribu, 1985–1995. Proceedings of the Coral Reef Evaluation Workshop, Kepulauan Seribu, pp 1–26

Dulvy NK, Freckleton RP, Polunin NVC (2004) Coral reef cascades and the indirect effects of predator removal by exploitation. Ecol Lett 7:410–416

Edinger EN, Jompa J, Limmon GV, Widjatmoko W, Risk MJ (1998) Reef degradation and coral biodiversity in Indonesia: Effects of land-based pollution, destructive fishing practices and changes over time. Mar Pollut Bull 36:617–630

Fabricius KE, Okaji K, De'ath G (2010) Three lines of evidence to link outbreaks of the crown-of-thorns seastar Acanthaster planci to the release of larval food limitation. Coral Reefs 29:593–605

Fisher R, Radford BT, Knowlton N, Brainard RE, Michaelis FB, Caley MJ (2011) Global mismatch between research effort and conservation needs of tropical coral reefs. Conserv Lett 4:64–72

Fraser N, Crawford B, Kusen J (2000) Best practices guide for crown-of-thorns clean-ups. Coastal Resources Center, University of Rhode Island, Narragansett, Rhode Island, p 38

Gardner TA, Côté IM, Gill JA, Grant A, Watkinson AR (2003) Long-term region-wide declines in Caribbean corals. Science 301:958–960

Hagan AB, Foster R, Perera N, Gunawan CA, Silaban I, Yaha Y, Manuputty Y, Hazam I (2007) Tsunami impacts in Aceh Province and North Sumatra, Indonesia. Atoll Res Bull 544:37–54

Hoeksema BW, Cleary DFR (2004) The sudden death of a coral reef. Science 303:1293–1293

Houk P, Raubani J (2011) Acanthaster planci outbreaks in Vanuatu coincide with ocean productivity, furthering trends throughout the Pacific Ocean. J Oceanogr 66:435–438

Hughes TP, Baird AH, Bellwood DR, Card M, Connolly SR, Folke C, Grosberg R, Hoegh-Guldberg O, Jackson JBC, Kleypas J, Lough JM, Marshall P, Nystrom M, Palumbi SR, Pandolfi JM, Rosen B, Roughgarden J (2003) Climate change, human impacts, and the resilience of coral reefs. Science 301:929–933

Hutchings PA (1986) Biological destruction of coral reefs. Coral Reefs 4:239–252

Jones GP, McCormick MI, Srinivasan M, Eagle JV (2004) Coral decline threatens fish biodiversity in marine reserves. Proc Natl Acad Sci USA 101:8251–8253

Keesing JK, Lucas JS (1992) Field measurement of feeding and movement rates of the crown-of-thorns starfish Acanthaster planci (L.). J Exp Mar Biol Ecol 156:89–104

Lane DJW (1996) A crown-of-thorns outbreak in the eastern Indonesian Archipelago, February 1996. Coral Reefs 15:209–210

Lane DJW (2012) Acanthaster planci impact on coral communities at permanent transect sites on Bruneian reefs, with a regional overview and a critique on outbreak causes. J Mar Biol Assoc UK 92:803–809

Moran PJ (1986) The Acanthaster phenomenon. Oceanogr Mar Biol Annu Rev 24:379–480

Moran PJ, De'ath G (1992) Estimates of the abundance of the Crown-of-Thorns Starfish Acanthaster planci in outbreaking and non-outbreaking populations on reefs within the Great Barrier Reef. Mar Biol 113:509–515

Mous PJ, Muljadi A, Purwanto, Pet JS (2005) Status of coral reefs in and around Komodo National Park. Results of a bi-annual survey over the period 1996 - 2002. The Nature Conservancy, Bali, Indonesia, p57

Munday PL (2004) Habitat loss, resource specialization, and extinction on coral reefs. Global Change Biol 10:1642–1647

Nugues M, Bak R (2009) Brown-band syndrome on feeding scars of the crown-of-thorn starfish Acanthaster planci. Coral Reefs 28:507–510

Osborne K, Dolman AM, Burgess SC, Johns KA (2011) Disturbance and the dynamics of coral cover on the Great Barrier Reef (1995–2009). PLoS ONE 6:e17516

Pratchett MS, Schenk TJ, Baine M, Syms C, Baird AH (2009) Selective coral mortality attributable to an outbreak of Acanthaster planci L. in Bootless Bay, Central Province. Papua New Guinea. Mar Environ Res 67:230–236

Pratchett M, Trapon M, Berumen M, Chong-Seng K (2011) Recent disturbances augment community shifts in coral assemblages in Moorea, French Polynesia. Coral Reefs 30:183–193

Rivera-Posada JA, Pratchett MS, Cano-Gomez A, Arango-Gomez JD, Owens L (2011) Injection of Acanthaster planci with thiosulfate-citrate-bile-sucrose agar (TCBS). I. Disease induction. Dis Aquat Org 97:85–94

Sweatman H (2008) No-take reserves protect coral reefs from predatory starfish. Curr Biol 18:R598–R599

Sweatman H, Delean S, Syms C (2011) Assessing loss of coral cover on Australia's Great Barrier Reef over two decades, with implications for longer-term trends. Coral Reefs 30:521–531

Todd PA, Ong X, Chou LM (2010) Impacts of pollution on marine life in Southeast Asia. Biodivers Conserv 19:1063–1082

Tokeshi M, Daud JRP (2011) Assessing feeding electivity in Acanthaster planci: a null model analysis. Coral Reefs 30:227–235

Tomascik T, vanWoesik R, Mah AJ (1996) Rapid coral colonization of a recent lava flow following a volcanic eruption, Banda Islands, Indonesia. Coral Reefs 15:169–175

UNESCO (2002) Report on a rapid ecological assessment of the Banda Islands. Maluku, Eastern Indonesia, Jakarta, p 153

van Woesik R (2004) Comment on "Coral reef death during the 1997 Indian Ocean Dipole linked to Indonesian wildfires". Science 303:1297a

Veron JEN, DeVantier L, Turak E, Green DH, Kinnmonth S, Stafford-Smith M, Peterson N (2009) Delineating the Coral Triangle. Galaxea 11:91–100

Wilson SK, Graham NAJ, Pratchett MS, Jones GP, Polunin NVC (2006) Multiple disturbances and the global degradation of coral reefs: are reef fishes at risk or resilient? Global Change Biol 12:2220–2234

Wilson SK, Dolman AM, Cheal AJ, Emslie MJ, Pratchett MS, Sweatman HPA (2009) Maintenance of fish diversity on disturbed coral reefs. Coral Reefs 28:3–14
Acknowledgments
We thank Mark Erdmann and Andreas Kunzmann for information on much of the COTS activity recorded in this study. This study was supported by the Australian Research Council and the Wildlife Conservation Society, Indonesia Marine Program.
Additional information
Communicated by Biology Editor Dr. Mark Vermeij
About this article
Cite this article
Baird, A.H., Pratchett, M.S., Hoey, A.S. et al. Acanthaster planci is a major cause of coral mortality in Indonesia. Coral Reefs 32, 803–812 (2013). https://doi.org/10.1007/s00338-013-1025-1
Received:

Accepted:

Published:

Issue Date:

DOI: https://doi.org/10.1007/s00338-013-1025-1
Keywords
Coral reef

Mortality

Coral Triangle

Crown-of-thorns starfish

Disturbance

Predation

Aceh

Halmahera