Abstract
Limited data exist that detail trends in benthic community composition of high-latitude coral communities. As anthropogenic stressors are projected to increase in number and intensity, long-term monitoring datasets are essential to understanding community stability and ecosystem resilience. In 1993, a long-term monitoring program was initiated at Stetson Bank, in the Gulf of Mexico. Over the course of this monitoring, a major shift in community structure occurred, in which the coral-sponge community was replaced by an algal-dominated community. During the initial years of this study, the coral community at Stetson Bank was relatively stable. Beginning in the late 1990s, sponge cover began a steady decline from over 30 % to less than 25 %. Then, in 2005, the benthic community underwent a further significant change when living coral cover declined from 30 % to less than 8 % and sponges declined to less than 20 % benthic cover. This abrupt shift corresponded with a Caribbean-wide bleaching event in 2005 that caused major mortality of Stetson Bank corals. Previous bleaching events at Stetson Bank did not result in wide-scale coral mortality. Several environmental parameters may have contributed to the rapid decline in this benthic community. We suggest that the combined effects of coastal runoff and elevated temperatures contributed to the observed shift. We present an analysis of 15 years of monitoring data spanning from 1993 to 2008; this dataset provides both a biological baseline and a multiyear trend analysis of the community structure for a high-latitude coral-sponge community in the face of changing climatic conditions.
This is a preview of subscription content, log in to check access.
Access options
Buy single article
Instant access to the full article PDF.
US$ 39.95
Price includes VAT for USA
Subscribe to journal
Immediate online access to all issues from 2019. Subscription will auto renew annually.
US$ 199
This is the net price. Taxes to be calculated in checkout.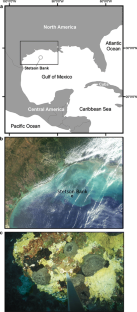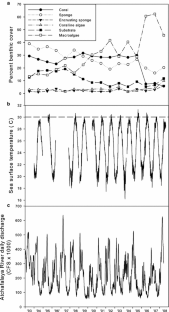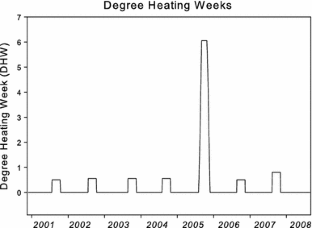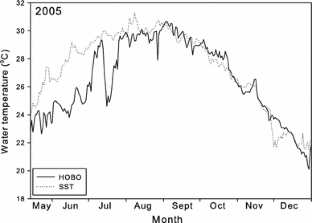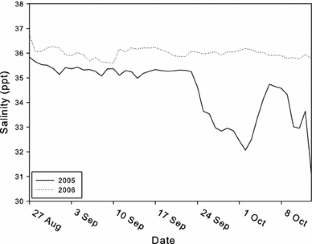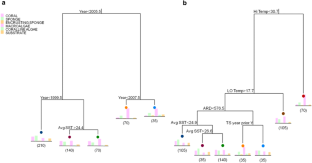 References
Aronson RB, Precht WF, Toscano MA, Koltes KH (2002) The 1998 bleaching event and its aftermath on a coral reef in Belize. Mar Biol 141:435–447

Asch RG, Turgeon DD (2003) Detection of gaps in the spatial coverage of coral reef monitoring projects in the US Caribbean and Gulf of Mexico. Rev Biol Trop 51:127–140

Babcock RC, Willis BL, Simpson CJ (1994) Mass spawning of corals on a high latitude coral reef. Coral Reefs 13:161–169

Baker R, Sheaves M (2005) Redefining the piscivore assemblage of shallow estuarine nursery habitats. Mar Ecol Prog Ser 291:197–213

Bernhardt SP (2000) Photographic monitoring of benthic biota at Stetson Bank, Gulf of Mexico. MS Thesis, Texas A&M University, College Station, TX, p 73

Breiman L, Friedman JH, Olshen RA, Stone CG (1984) Classification and regression trees. Wadsworth International Group, Belmont

Bruno JF, Sweatman H, Precht WF, Selig ER, Schutte VGW (2009) Assessing evidence of phase shifts from coral to macroalgal dominance on coral reefs. Ecology 90:1478–1484

Carsey JB (1950) Geology of Gulf coastal area and continental shelf. Am Assoc Pet Geol Bull 34:361–385

Celliers L, Schleyer MH (2002) Coral bleaching on high-latitude marginal reefs at Sodwana Bay, South Africa. Mar Pollut Bull 44:1380–1387

Cook CB, Logan A, Ward J, Luckhurst B, Berg CJ Jr (1990) Elevated temperatures and bleaching on a high latitude coral reef: the 1988 Bermuda event. Coral Reefs 9:45–49

De'ath G, Fabricius KE (2000) Classification and regression trees: a powerful yet simple technique for ecological data analysis. Ecology 81:3178–3192

Deslarzes KJP, Lugo-Fernandez A (2007) Influence of terrigenous runoff on offshore coral reefs: an example from the Flower Garden Banks, Gulf of Mexico. In: Aronson R (ed), Geological approaches to coral reef ecology: Placing the current crises in historical context. Springer Verlag, pp126–160

Dodge RE, Lang JC (1983) Environmental correlates of hermatypic coral (Montastrea annularis) growth on the East Flower Garden Bank, Northwest Gulf of Mexico. Limnol Oceanogr 28:228–240

Dokken QR, MacDonald IR, Tunnell JW Jr, Wade T, Beaver CR, Childs SA, Withers K, Bates TW (2001) Long-term monitoring of the East and West Flower Garden Banks, 1998–1999. OCS Study MMS 2001-101. US Dept of the Interior, Minerals Management Service, Gulf of Mexico OCS Region, New Orleans, Louisiana, p 120

Doyle TW (2009) Hurricane frequency and landfall distribution for coastal wetlands of the Gulf coast, USA. Wetlands 29:35–43

Eakin CM, Morgan JA, Heron SF, Smith TB, Liu G, Alvarez-Filip L, Baca B, Bartels E, Bastidas C, Bouchon C, Brandt M, Bruckner AW, Bunkley-Williams L, Cameron A, Causey BD, Chiappone M, Christensen TRL, Crabbe MJC, Day O de la Guardia E, Díaz-Pulido G, DiResta D, Gil-Agudelo DL, Gilliam DS, Ginsburg RN, Gore S, Guzmán HM, Hendee JC, Hernández-Delgado EA, Husain E, Jeffrey CFG, Jones RJ, Jordán-Dahlgren E, Kaufman LS, Kline DI, Kramer PA, Lang JC, Lirman D, Mallela J, Manfrino C, Maréchal J, Marks K, Mihaly J, Miller WJ, Mueller EM, Muller EM, Toro CAO, Oxenford HA, Ponce-Taylor D, Quinn N, Ritchie KB, Rodríguez S, Ramírez AR, Romano S, Samhouri JF, Sánchez JA, Schmahl GP, Shank BV, Skirving WJ, Steiner SCC, Villamizar E, Walsh SM, Walter C, Weil E, Williams EH, Roberson KW, Yusuf Y (2010) Caribbean corals in crisis: record thermal stress, bleaching and mortality in 2005. PLoS ONE 5:e13969

Fabricius KE (2005) Effects of terrestrial runoff on the ecology of corals and coral reefs: review and synthesis. Mar Pollut Bull 50:125–146

Fromont J, Garson M (1999) Sponge bleaching on the West and East coasts of Australia. Coral Reefs 18:340

Gardner TA, Cote IM, Gill JA, Grant A, Watkinson AR (2005) Hurricanes and Caribbean coral reefs: Impacts, recovery patterns, and role in long term decline. Ecology 86:174–184

Gochfeld DJ, Schloder C, Thacker RW (2007) Sponge community structure and disease prevalence on coral reefs in Bocas del Toro, Panama. In: Custódio MR, Lôbo-Hajdu G, Hajdu E, Muricy G (eds) Porifera research: Biodiversity, innovation and sustainability. Museu Nacional, Rio de Janeiro, pp 335–343

Goreau TF (1964) Mass expulsion of zooxanthellae from Jamaican reef communities after Hurricane Flora. Science 145:383–386

Hagman DK, Gittings SR (1992) Coral bleaching on high latitude reefs at the Flower Garden Banks, NW Gulf of Mexico. Proc 7th Int Coral Reef Symp 1:38–43

Hickerson EL, Schmahl GP, Robbart M, Precht WF, Caldow C (2008) The state of the coral reef ecosystems of the Flower Garden Banks, Stetson Bank and other banks in the northwestern Gulf of Mexico. In: The State of Coral Reef Ecosystems of the United States and Pacific Freely Associated States: 2008. NOAA Technical Memorandum NOS NCCOS, Silver Spring, pp 189–217

Hoegh-Guldberg O (1999) Climate change, coral bleaching and the future of the world's coral reefs. Mar Freshw Res 50:839–866

Hoegh-Guldberg O, Bruno JF (2010) The impact of climate change on the world's marine ecosystems. Science 328:1523

Hughes TP, Connell JH (1999) Multiple stressors on coral reefs: a long-term perspective. Limnol Oceanogr 44:932–940

Johannes RE, Wiebe WJ, Crossland CJ, Rimmer DW, Smith SV (1983) Latitudinal limits of coral reef growth. Mar Ecol Prog Ser 11:105–111

Kleypas JA, McManus JW, Lambert ABM (1999) Environmental limits to coral reef development: where do we draw the line? Am Zool 39:146–159

Kohler KE, Gill SM (2006) Coral Point Count with Excel extensions (CPCe): A Visual Basic program for the determination of coral and substrate coverage using random point count methodology. Comp Geosci 32:1259–1269

Kraus RT, Friess C, Hill RL, Rooker JR (2007) Characteristics of the snapper-grouper-grunt complex, benthic habitat description, and patterns of reef fish recruitment at Sonnier Bank in the northwestern Gulf of Mexico. Proc Gulf Caribb Fish Inst 59:183–189

Lugo-Fernandez A, Gravois M (2010) Understanding impacts of tropical storms and hurricanes on submerged bank reefs and coral communities in the northwestern Gulf of Mexico. Cont Shelf Res 30:1226–1240

Lugo-Fernandez A, Deslarzes KJP, Price JM, Boland GS, Morin MV (2001) Inferring probable dispersal of Flower Garden Banks coral larvae (Gulf of Mexico) using observed and simulated drifter trajectories. Cont Shelf Res 21:47–67

Manzello DP, Berkelmans R, Hendee JC (2007a) Coral bleaching indices and thresholds for the Florida Reef Tract, Bahamas, and St. Croix, US Virgin Islands. Mar Pollut Bull 54:1923–1931

Manzello DP, Brandt M, Smith TB, Lirman D, Hendee JC, Nemeth RS (2007b) Hurricanes benefit bleached corals. Proc Natl Acad Sci USA 104:12035–12039

McManus JW, Polsenberg JF (2004) Coral-algal phase shifts on coral reefs: ecological and environmental aspects. Prog Oceanogr 60:263–279

Merrill RT (1984) A comparison of large and small tropical cyclones. Mon Weather Rev 112:1408–1418

Moyer RP, Riegl B, Banks K, Dodge RE (2003) Spatial patterns and ecology of benthic communities on a high-latitude South Florida (Broward County, USA) reef system. Coral Reefs 22:447–464

Muricy G (1989) Sponges as pollution-biomonitors at Arraial do Cabo, Southeastern Brazil. Rev Bras Biol 49:347–354

Neumann AC (1958) The configuration and sediments of Stetson Bank, northwestern Gulf of Mexico. Project 24, Section VII, Res. Rept, Dept. of Oceanography, Texas A&M University, College Station, TX

Norström AV, Nyström M, Lokrantz J, Folke C (2009) Alternative states on coral reefs: beyond coral-macroalgal phase shifts. Mar Ecol Prog Ser 376:295–306

Pattengill CV (1998) The structure and persistence of reef fish assemblages of the Flower Garden Banks National Marine Sanctuary. PhD thesis, Texas A&M University—College Station, p 176

Precht W, Aronson R, Deslarzes K, Robbart M, Zimmer B, Duncan L (2008) Post-hurricane assessment at the East Flower Garden Bank long-term monitoring site at East Bank: November 2005. US Dept Interior, Min Manag Serv, OCS Study MMS 2008-019, p 39

Rabalais NN, Turner RE, Justic D, Dortch Q, Wiseman WJ, Sen Gupta BK (1996) Nutrient changes in the Mississippi River and system responses on the adjacent continental shelf. Mar Pollut Bull 26:184–189

Reid PC, Fischer AC, Lewis-Brown E, Meredith MP, Sparrow M, Andersson AJ, Antia A, Bates NR, Bathmann U, Beaugrand G, Brix H, Dye S, Edwards M, Furevik T, Gangstø R, Hatun H, Hopcroft RR, Kendall M, Kasten S, Keeling R, Le Quere C, Mackenzie FT, Malin G, Mauritzen C, Olafsson J, Paull C, Rignot E, Shimada K, Vogt M, Wallace C, Wang Z, Washington R (2009) Ch 1. Impacts of the oceans on climate change. Adv Mar Biol 56:1–150

Riegl B (2003) Climate change and coral reefs: different effects in two high-latitude areas (Arabian Gulf, South Africa). Coral Reefs 22:433–446

Rezak R, Bright TJ, McGrail DW (1985) Reefs and banks of the Northwestern Gulf of Mexico: Their geological, biological, and physical dynamics. John Wiley and Sons, New York, p 259

Rezak R, Gittings SR, Bright TJ (1990) Biotic assemblages and ecological controls on reefs and banks of the Northwest Gulf of Mexico. Am Zool 30:23–35

Robbart ML, Deslarzes KJP, Precht WF, Aronson RB, Zimmer B, Duncan L, Deis DR, Sinclair J, Hickerson EL, Schmahl GP, Boland GS (2008) Post-hurricane assessment (Hurricane Rita, September 2005) and recovery at the East Flower Garden Bank, Northwestern Gulf of Mexico. Proc 11th Intl Coral Reef Symp: 795–799

Rutzler K, Duran S, Piantoni C (2007) Adaptation of reef and mangrove sponges to stress: evidence for ecological speciation exemplified by Chondrilla caribensis new species (Demospongiae, Chondrosida). Mar Ecol 28(Suppl. 1):95–111

Schleyer MH, Kruger A, Celliers L (2008) Long-term community changes on a high-latitude coral reef in the Greater St Lucia Wetland Park, South Africa. Mar Pollut Bull 56:493–502

Schmahl GP, Hickerson EL, Precht WF (2008) Biology and ecology of coral reefs and coral communities in the Flower Garden Banks region, northwestern Gulf of Mexico. In: Reigl BM, Dodge RE (eds) Coral reefs of the world Vol 1. Coral reefs of the USA. Springer-Verlag, pp 221–262

Sherrod PH (2003) DTREG decision tree regression program. (http://www.dtreg.com)

Stetson HC (1953) The sediments of the western Gulf of Mexico, Part 1—The continental terrace of the western Gulf of Mexico: Its surface sediments, origin, and development. Papers Phys Oceanogr Meteorol, MIT/WHOI 12:1–45
Acknowledgments
We thank the volunteer divers who help make the annual long-term monitoring missions successful and the Gulf Reef Environmental Action Team (GREAT), which initiated the monitoring program at Stetson Bank, including G. Boland, S. Gittings, D. Zingula, and K. Deslarzes. We also thank S. Bernhardt, K. Buch, G. Bunch, F. & J. Burek, K. Byers, Q. Dokken, K. Drinnen, G. Merritt, E. Platzer, T. Sebastian, D. Weaver, M. Weber, the captains and crew of the M/V Fling, and the monitoring teams from Texas A&M Corpus Christi and PBS&J. We are grateful to M. Eakin and G. Liu at NOAA's Coral Reef Watch Program for providing DHW data. R. Baker provided statistical assistance and valuable comments. We also thank P. Sammarco and 2 anonymous referees for their insightful reviews.
Additional information
Communicated by Environment Editor Prof. Rob van Woesik
Electronic supplementary material
Below is the link to the electronic supplementary material.
Supplementary material 1 (AVI 16200 kb)
About this article
Cite this article
DeBose, J.L., Nuttall, M.F., Hickerson, E.L. et al. A high-latitude coral community with an uncertain future: Stetson Bank, northwestern Gulf of Mexico. Coral Reefs 32, 255–267 (2013). https://doi.org/10.1007/s00338-012-0971-3
Received:

Accepted:

Published:

Issue Date:
Keywords
High-latitude reef

Millepora

Coral bleaching

Phase shift

Stetson Bank

Gulf of Mexico