Abstract
Hughes et al. (Coral Reefs, 2011, in press) challenge our interpretations of the changes in coral cover observed on the Great Barrier Reef (GBR) between 1986 and 2004 (Sweatman et al. in Coral Reefs 30:521–531, 2011). They question whether we can accurately assign all causes of coral loss; we contend that this makes no difference to the observed changes. They defend the validity of historical data on coral cover from before the start of systematic large-scale monitoring and conclude that coral cover has been declining since at least 1960, but we find no trend in the early data. We remain convinced that combining data collected at different spatial scales (quadrats and transects in the past mixed with more recent whole-reef averages from manta tows) are likely to overestimate decline, because whole-reef averages will very rarely reach the high cover values that can occur at the quadrat scale. Hughes et al. (Coral Reefs, 2011, in press) state that we dismiss runoff as a cause of ecosystem degradation; we defend our interpretations and dispute some of their examples. In summary, we stand by our conclusion that coral cover on the GBR declined in the period 1986–2004 but through localised and unsynchronised changes that included recovery.
Access options
Buy single article
Instant access to the full article PDF.
US$ 39.95
Tax calculation will be finalised during checkout.
Subscribe to journal
Immediate online access to all issues from 2019. Subscription will auto renew annually.
US$ 119
Tax calculation will be finalised during checkout.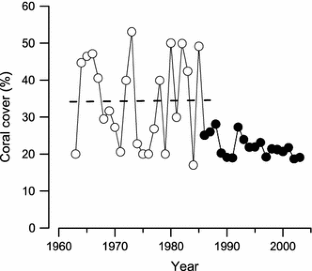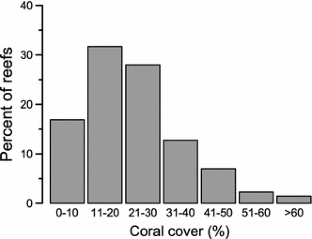 References
Bellwood DR, Hughes TP, Folke C, Nyström M (2004) Confronting the coral reef crisis. Nature 429:827–833

Bruno JF, Selig ER (2007) Regional decline of coral cover in the Indo-Pacific: timing, extent, and subregional comparisons. PLoS ONE 2:e711

Devlin M, Brodie J (2005) Terrestrial discharge into the Great Barrier Reef lagoon: nutrient behaviour in coastal waters. Mar Pollut Bull 51:9–22

Frank TD, Jell JS (2006) Recent developments on a nearshore, terrigenous-influenced reef: Low Isles Reef, Australia. J Coast Res 22:474–486

Ganter R (1987) Oral history of human use and experience of crown of thorns starfish on the Great Barrier Reef. Report to the Great Barrier Reef Marine Park Authority, Townsville

Hughes TP, Bellwood DR, Baird AH, Brodie J, Bruno JF, Pandolfi JM (2011) Shifting base-lines, declining coral cover, and the erosion of reef resilience. Comment on Sweatman et al. (2011) Coral Reefs: in press

King B, McAllister F, Wolanski E, Done T, Spagnol S (2001) River plume dynamics in the central Great Barrier Reef. In: Wolanski E (ed) Oceanographic processes of coral reefs: physical and biological links in the Great Barrier Reef. CRC Press, Boca Raton, pp 145–160

Larcombe P, Woolfe KJ (1999) Increased sediment supply to the Great Barrier Reef will not increase sediment accumulation at most coral reefs. Coral Reefs 18:163–169

McCulloch M, Fallon S, Wyndham T, Hendy E, Lough J, Barnes D (2003) Coral record of increased sediment flux to the inner Great Barrier Reef since European settlement. Nature 421:727–730

Miller I (2002) Historical patterns and current trends in the broadscale distribution of crown-of-thorns starfish in the northern and central sections of the Great Barrier Reef. Proc 10th Int Coral Reef Symp 2:1273–1279

Sweatman H, Delean S, Syms C (2011) Assessing loss of coral cover on Australia's Great Barrier Reef over two decades, with implications for longer term-trends. Coral Reefs 30:521–531

Wachenfeld D (1997) Long-term trends in the status of coral reef-flat benthos: the use of historical photographs. Proceedings of the State of the Great Barrier Reef World Heritage Area Workshop. Great Barrier Reef Marine Park Authority, Townsville, pp 134–148

Wolanski E, Spagnol S (2000) Pollution by mud of Great Barrier Reef coastal waters. J Coast Res 16: 1151–1156
Acknowledgments
We thank L. Castell, A. Cheal, P. Doherty, M. Emslie, K. Johns, M. Jonker and I. Miller for comments on drafts of this manuscript.
Additional information
Communicated by Environment Editor Prof. Rob van Woesik
S. Delean was unable to contribute to this response in the required time frame.
About this article
Cite this article
Sweatman, H., Syms, C. Assessing loss of coral cover on the Great Barrier Reef: A response to Hughes et al. (2011). Coral Reefs 30, 661 (2011). https://doi.org/10.1007/s00338-011-0794-7
Received:

Accepted:

Published:
Keywords
Coral cover

Meta-analyses

Great Barrier Reef

Degradation