Abstract
Observations made on Heron Island reef flat during the 1970s–1990s highlighted the importance of rapid change in hydrodynamics and accommodation space for coral development. Between the 1940s and the 1990s, the minimum reef-flat top water level varied by some tens of centimetres, successively down then up, in rapid response to local engineering works. Coral growth followed sea-level variations and was quantified here for several coral communities using horizontal two-dimensional above water remotely sensed observations. This required seven high spatial resolution aerial photographs and Quickbird satellite images spanning 35 years: 1972, 1979, 1990, 1992, 2002, 2006 and 2007. The coral growth dynamics followed four regimes corresponding to artificially induced changes in sea levels: 1972–1979 (lowest growth rate): no detectable coral development, due to high tidal currents and minimum mean low-tide water level; 1979–1991 (higher growth rate): horizontal coral development promoted by calmer hydrodynamic conditions; 1991–2001(lower growth rate): vertical coral development, induced by increased local sea level by ~12 cm due to construction of new bund walls; 2001–2007 (highest growth rate): horizontal coral development after that vertical growth had become limited by sea level. This unique time-series displays a succession of ecological stage comprising a 'catch-up' dynamic in response to a rapid local sea-level rise in spite of the occurrences of the most severe bleaching events on record (1998, 2002) and the decreasing calcification rates reported in massive corals in the northern part of the Great Barrier Reef.
Access options
Buy single article
Instant access to the full article PDF.
USD 39.95
Price excludes VAT (USA)
Tax calculation will be finalised during checkout.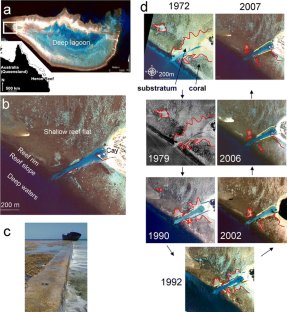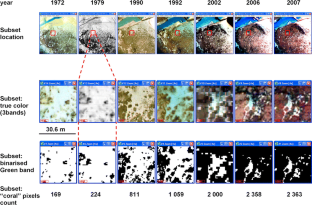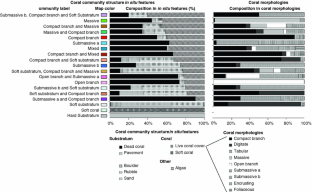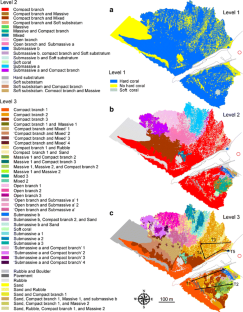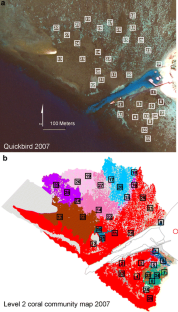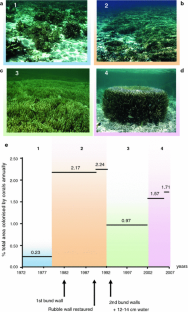 References
Ahmad W, Neil DT (1994) An evaluation of Landsat-Thematic-Mapper (Tm) digital data for discriminating coral-reef zonation - Heron-Reef (GBR). Int J Remote Sens 15:2583–2597

Ainsworth T, Hoegh-Guldberg O, Heron S, Skirving W, Leggat W (2008) Early cellular changes are indicators of pre-bleaching thermal stress in the coral host. J Exp Mar Biol Ecol 364:63–71

Andréfouët S (2008) Coral reef habitat mapping using remote sensing: a user vs producer perspective. Implications for research, management and capacity building. J Spatial Sci 53:113–129

Andréfouët S, Payri C (2001) Scaling-up carbon and carbonate metabolism of coral reefs using in situ data and remote sensing. Coral Reefs 19:259–269

Andrefouet S, Kramer P, Torres-Pulliza D, Joyce KE, Hochberg EJ, Garza-Perez R, Mumby PJ, Riegl B, Yamano H, White WH, Zubia M, Brock JC, Phinn SR, Naseer A, Hatcher BG, Muller-Karger FE (2003) Multi-site evaluation of IKONOS data for classification of tropical coral reef environments. Remote Sens Environ 88:128–143

Andréfouët S, Berkelmans R, Odriozola L, Done T, Oliver J, Muller-Karger FE (2002) Choosing the appropriate spatial resolution for monitoring coral bleaching events using remote sensing. Coral Reefs 21:147–154

Berkelmans R (2002) Time-integrated thermal bleaching thresholds of reefs and their variation on the Great Barrier Reef. Mar Ecol Prog Ser 229:73–82

Berkelmans R, Van Oppen MJH (2006) The role of zooxanthellae in the thermal tolerance of corals: a 'nugget of hope' for coral reefs in an era of climate change. Proc Roy Soc B 273:2305–2312

Berkelmans R, Oliver J, Byrin G, Olds J (1998) Heron Island: the history of the bund wall and an impact assessment of its 1993 redevelopment on nearby coral communities. Australian Coral Reef Society 75th Anniversary Conference:1–19

Blanchon P, Eisenhauer A, Fietzke J, Liebetrau V (2009) Rapid sea-level rise and reef back-stepping at the close of the last interglacial highstand. Nature 458:881–884

Buddemeier R, Hopley D (1988) Turn-ons and turn-offs: Causes and mechanisms of the initiation and termination of coral reef growth. 6th Int Coral Reef Symp:253–261

Buddemeier RW, Smith SV (1988) Coral reef growth in an era of rapidly rising sea level: predictions and suggestions for long-term research. Coral Reefs 7:51–56

Chappell J (1980) Coral morphology, diversity and reef growth. Nature 286:249–252

Connell JH (1978) Diversity in tropical rain forests and coral reefs. Science 199:1302–1310

Connell JH, Hughes TP, Wallace CC, Tanner JE, Harms KE, Kerr AM (2004) A long-term study of competition and diversity of corals. Ecol Monogr 74:179–210

Dalleau M, Andréfouët S, Wabnitz C, Payri C, Wantiez L, Pichon M, Friedman K, Vigliola L, Benzoni F (2010) Use of habitats as surrogates of biodiversity for efficient coral reef conservation planning in Pacific ocean islands. Conserv Biol 24:541–552

De'ath G, Lough JM, Fabricius KE (2009) Declining coral calcification on the Great Barrier Reef. Science 323:116–119

Done T (1983) Coral zonation: its nature and significance. In: Barnes D (ed) Perspectives on coral reefs. Australian Institute of Marine Science Townsville, pp 107–147

Done TJ (2011a) Corals reefs - definition. In: Hopley DJ (ed) Encyclopedia of modern coral reefs. Springer, Dordrecht, pp 262–267

Done TJ (2011b) Corals–Environmental controls on growth. In: Hopley DJ (ed) Encyclopedia of modern coral reefs. Springer, Dordrecht, pp 281–293

Done T, Turak E, Wakeford M, DeVantier L, McDonald A, Fisk D (2007) Decadal changes in turbid-water coral communities at Pandora Reef: loss of resilience or too soon to tell? Coral Reefs 26:789–805

Dullo W-C (2005) Coral growth and reef growth: a brief review. Facies 51:33–48

Endean R (1976) Destruction and recovery of coral reef communities. In: Jones O, Endean R (eds) Biology and geology of coral reefs. Academic Press, New York, pp 215–253

English S, Wilkinson C, Baker A (1997) Survey manual for tropical marine resources. Australian Institute of Marine Science, Townsville

Flood P (1984) Changes in the shoreline position of six coral cays, Capricornia section, Great Barrier Reef Marine Park: a record to 1984. University of New England, Department of Geography and Geophysics, p 67

Flood P (1993) The geomorphology of a coral reef. In: Mather P, Bennet I (eds) A coral reef handbook. Surrey Beatty and Sons, NSW, pp 7–15

Gilbert A, Andréfouët S, Yan L, Remoissenet G (2006) The giant clam Tridacna maxima communities of three French Polynesia islands: comparison of their population sizes and structures at early stages of their exploitation. ICES J Mar Sci 63:1573–1589

Gourlay M (1982) Interaction between natural processes and engineering works on the leeward side of a coral cay: a case study of Heron Island on the Great Barrier Reef. Proceedings of the International Conference on Coastal and Port Engineering in Developing Countries 2:1468–1482

Gourlay M, Flood PG (1981) Impact of coastal engineering works upon a coral cay: Heron Island. Conference on Environmental Engineering, pp 159–163

Gourlay M, Jell J (1992) Heron Island spoil dump. Short term monitoring and environmental effect. Civil Engineering Report CH38/92, the University of Queenland, Brisbane, p 62

Hacker J, Gourlay M (1997) Harbour bund wall construction at Heron Island: coral response. The Great Barrier Reef science, use and management, Townsville 2:55–60

Harriot V (1997) Heron Island reef flat: 15 years of change. Proceeding of the International Conference on the Great Barrier Reef science, use and management, Townsville 2:145–149

Hearn C (2001) Introduction to the special issue of Coral Reefs on "Coral Reef Hydrodynamics". Coral Reefs 20:327–329

Hedley J, Roelfsema C, Phinn SR (2009) Efficient radiative transfer model inversion for remote sensing applications. Remote Sens Environ 113:2527–2532

Hoegh-Guldberg O (1999) Climate change, coral bleaching and the future of the world's coral reefs. Mar Freshw Res 50:839–866

Hoegh-Guldberg O, Fine M (2004) Low temperatures cause coral bleaching. Coral Reefs 23:444

Hoegh-Guldberg O, Fine M, Skirving W, Ron J, Dove S, Strong A (2005) Coral bleaching following wintry weather. Limnol Oceanogr 50:265–271

Hopley D (2011) Climate change: impact of sea level rise on reef flat zonation and productivity. In: Hopley DJ (ed) Encyclopedia of modern coral reefs. Springer, Dordrecht, pp 210–214

Hopley D, Kinsey D (1988) The effect of rapid short-term sea-level rise on the Great Barrier Reef. In: Pearman G (ed) Planning for climate change. CSIRO Australia, Melbourne, pp 189–201

IPCC (2007) Summary for Policymakers. In: Solomon S, Qin D, Manning M, Chen Z, MArquis M, Averyt KB, Tignor M, Miller HL (eds) Climate change 2007: The physical science basis contribution of working group I to the Fourth Assessment Report of the Intergovernmental Panel on Climate Change. Cambridge University Press, Cambridge, United Kingdom and New York, NY, USA, p 18

Jackson JBC (1991) Adaptation and diversity of reef corals. Bioscience 41:475–482

Jensen JR (2005) Thematic map accuracy assessment. In: Clarke C (ed) Introductory digital image processing a remote sensing perspective. Pearson Prentice Hall, Upper Sadle River, pp 495–513

Joyce KE (2005) A method for mapping live coral cover using remote sensing. Biophysical Remote Sensing Group, School of Geography, Planning and Architecture, The University of Queensland, p 140

Joyce KE, Phinn SR, Roelfsema CM, Neil DT, Dennison WC (2004) Combining Landsat ETM plus and Reef Check classifications for mapping coral reefs: A critical assessment from the southern Great Barrier Reef, Australia. Coral Reefs 23:21–25

Jupp DLB, Heggen SJ, Mayo KK, Kendal SW, Bolton JR, Harrison BA (1985a) The BRIAN handbook: An introduction to Landsat and the BRIAN (Barrier Reef Image Analysis) systems for users. Australia Commonwealth Scientific and Industrial Research Organisation Division of Water and Land Resources Natural Resources Series, Melbourne

Jupp DLB, Mayo KK, Kuchler DA, Heggen SJ, Kendall SW, Radke BM, Ayling T (1985b) Landsat based interpretation of the Cairns section of the Great Barrier Reef Marine Park (Australia). Commonwealth Scientific and Industrial Research Organisation Division of Water and Land Resources Natural Resources Series, Melbourne

Kaandorp JA, Sloot PMA (2001) Morphological models of radiate accretive growth and the influence of hydrodynamics. J Theor Biol 209:257–274

Kench P, Smithers S, McLean R, Nichol S (2009) Holocene reef growth in the Maldives: Evidence of a mid-Holocene sea-level highstand in the central Indian Ocean. Geology 37:455–458

Knutson TR, McBride JL, Chan J, Emanuel K, Holland G, Landsea C, Held I, Kossin JP, Srivastava AK, Sugi M (2010) Tropical cyclones and climate change. Nature Geosci 3:157–163

Leiper I, Siebeck U, Marshall N, Phinn S (2009) Coral health monitoring: linking coral colour and remote sensing techniques. Can J Remote Sens 35:276–296

Lewis J (2002) Evidence from aerial photography of structural loss of coral reefs at Barbados, West Indies. Coral Reefs V21:49–56

Mellin C, Andréfouët S, Ponton D (2007) Spatial predictability of juvenile fish species richness and abundance in a coral reef environment. Coral Reefs 26:895–907

Mishra D, Narumalani S, Rundquist D, Lawson M (2006) Benthic habitat mapping in tropical marine environments using QuickBird multispectral data. Photog Engin Remote Sens 72:1037–1048

Montaggioni L (2005) History of Indo-Pacific coral reef systems since the last glaciations: development patterns and controlling factors. Earth Sci Rev 71:1–75

Montaggioni L, Faure G (1980) Les récifs coralliens des Mascareignes (Océan Indien) Collection des travaux du centre universitaire. Universite de la Réunion, p 150

Morton J (1974) The coral reefs of the British Salomon Islands: a comparative study of their composition and ecology. Proc 2nd Int Coral Reef Symp 2:31–53

Palandro D, Andréfouët S, Dustan P, Muller Karger FE (2003) Change detection in coral reef communities using Ikonos satellite sensor imagery and historic aerial photographs. Int J Remote Sens 24:873–878

Piller WE, Riegl B (2003) Vertical versus horizontal growth strategies of coral frameworks (Tulamben, Bali, Indonesia). Int J Earth Sci 92:511–519

Roelfsema C, Phinn S, Dennison W (2002) Spatial distribution of benthic microcalgae on coral reeds determined by remote sensing. Coral Reefs 21:264–274

Rosen B (1975) The distribution of reef corals. Rept Underwater Assoc (N.S) 1:1–16

Salih A (2002) Bleaching at Heron Island, GBR, Australia. In: Strong A (ed) NOAA's Coral Reef Watch Project, NOAA/NESDIS 1-1

Scopélitis, JDE (2010) Coral communities' responses to disturbances: mapping and modelling for monitoring, PhD thesis, University of Queensland, Brisbane, Australia, p226

Scopélitis J, Andréfouët S, Phinn S, Chabanet P, Naim O, Tourrand C, Done T (2009) Changes of coral communities over 35 years: Integrating in situ and remote-sensing data on Saint-Leu Reef (la Réunion, Indian Ocean). Estuar Coast Shelf Sci 84:342–352

Scopélitis J, Andréfouët S, Phinn S, Arroyo-Mendez L, Dalleau M, Cros A, Chabanet P (2010) The next step in shallow coral reef monitoring: Combining remote sensing and in situ approaches. Mar Pollut Bull 60:1956–1968

Scopélitits J, Andréfouët S, Largouët C (2007) Modelling habitat evolution in coral reefs at decadal scale: a timed automata and remote sensing approach. Ecol Model 205:59–80

Smithers S (2011) Microatolls. In: Hopley DJ (ed) Encyclopedia of modern coral reefs. Springer, Dordrecht, pp 691–696

Smithers SG, Woodroffe CD (2001) Coral microatolls and 20th century sea level in the eastern Indian Ocean. Earth Planet Sci Lett 191:173–184

Spencer T (2011) Accomodation space. In: Hopley DJ (ed) Encyclopedia of modern coral reefs. Springer, Dordrecht, pp 2–3

Tanner JE, Hughes TP (1994) Species coexistence, keystone species, and succession: a sensitivity analysis. Ecology 75:2204–2219

Tanner JE, Hughes TP, Connell JH (1996) The role of history in community dynamics: a modelling approach. Ecology 77:108–117

Veron J, Hoegh-Guldberg O, Lenton T, Lough J, Obuta D, Pearce-Kelly P, Sheppard C, Spalding M, Stafford-Smith M, Rogers A (2009) The coral reef crisis: the critical importance of <350 ppm CO2. Mar Pollut Bull 58:1428–1436

Wakeford M, Done T, Johnson CR (2008) Decadal trends in a coral community and evidence if changed disturbance regime. Coral Reefs 27:1–13

Yamano H, Tamura M (2004) Detection limits of coral reef bleaching by satellite remote sensing: simulation and data analysis. Remote Sens Environ 90:86–103

Yu K-F, Zhao J-X, Done T, Chen T-G (2009) Microatoll record for large century-scale sea-level fluctuations in the mid-Holocene. Quat Res 71:354–360
Acknowledgments
This work was supported by ZONECO programme in New-Caledonia and the France-Australia Science and Technology programme (FAST). A NASA Interdisciplinary grant to SA provided additional support. JS was sponsored by a University of Queensland International Research Award and by French Embassy travel grants. Thanks to Dr. John Jell from the University of Queensland for giving access to his archive of aerial views and photographs of Heron island. We are grateful to the anonymous reviewers for providing constructive comments.
Additional information
Communicated by Environment Editor Prof. Rob van Woesik
About this article
Cite this article
Scopélitis, J., Andréfouët, S., Phinn, S. et al. Coral colonisation of a shallow reef flat in response to rising sea level: quantification from 35 years of remote sensing data at Heron Island, Australia. Coral Reefs 30, 951–965 (2011). https://doi.org/10.1007/s00338-011-0774-y
Received:

Accepted:

Published:

Issue Date:

DOI: https://doi.org/10.1007/s00338-011-0774-y
Keywords