Range expansion of the invasive corals Tubastraea coccinea and Tubastraea tagusensis in the Southwest Atlantic
Keywords
Sponge 
Temperature Increase 
High Abundance 
Atlantic Ocean 
Range Expansion 
These keywords were added by machine and not by the authors. This process is experimental and the keywords may be updated as the learning algorithm improves.
Corals of the genus
Tubastraea
(Scleractinia: Dendrophylliidae) invaded the Southwest Atlantic in the 1980s, but remained restricted in distribution to Ilha Grande and Arraial do Cabo, two regions within the state of Rio de Janeiro, Brazil (Ferreira
2003
; De Paula and Creed
2004
). Here, we report a 130-km southwestward range expansion of
Tubastraea coccinea
and
T. tagusensis
to Búzios (23°47.437′S; 45°08.653′W) and Vitória Islands (23°44.879′S; 45°00.918′W), state of São Paulo, Brazil (Fig. 
1
). The Búzios Island sites were first discovered in July 2008, where the colonies were observed in high abundances at 0.5–15 m depth. Subsequently, dives in 2009 and 2010 revealed additional sites at the same Island, as well as Vitória Island, representing the southernmost records and the first known range expansion of both
Tubastraea
species in the southwest Atlantic Ocean. The rocky shore communities at the newly reported sites are dominated by the zoanthid
Palythoa caribaeorum
, algal turfs and sponges, as well as by the scleractinians
Madracis decactis
and
Mussismilia hispida
, the latter being endemic to the SW Atlantic. Since the invasive
Tubastraea
spp. cover nearly 100% of the benthos in some locations (Fig. 
1
), they have likely displaced native benthic species (Creed
2006
). Given predictions of temperature increase for this century, these invasive corals may expand their ranges further southward in the SW Atlantic. Long-term monitoring of marginal reef sites as reported herein are needed in order to investigate the development of opportunistic tropical corals.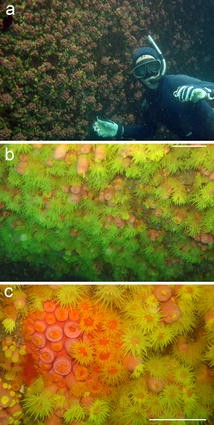 References
Creed JC (2006) Two invasive alien azooxanthellate corals,

Tubastraea coccinea

and

Tubastraea tagusensis

, dominate the native zooxanthellate

Mussismilia hispida

in Brazil. Coral Reefs 25:350

CrossRef

Google Scholar

De Paula AF, Creed JC (2004) Two species of the coral

Tubastraea

(Cnidaria, Scleractinia) in Brazil: A case of accidental introduction. Bull Mar Sci 74:175–183

Google Scholar