Abstract
Climate change is now considered the greatest long-term threat to coral reefs, with some future change inevitable despite mitigation efforts. Managers must therefore focus on supporting the natural resilience of reefs, requiring that resilient reefs and reef regions be identified. We develop a framework for assessing resilience and trial it by applying the framework to target management responses to climate change on the southern Great Barrier Reef. The framework generates a resilience score for a site based on the evaluation of 19 differentially weighted indicators known or thought to confer resilience to coral reefs. Scores are summed, and sites within a region are ranked in terms of (1) their resilience relative to the other sites being assessed, and (2) the extent to which managers can influence their resilience. The framework was applied to 31 sites in Keppel Bay of the southern Great Barrier Reef, which has a long history of disturbance and recovery. Resilience and 'management influence potential' were both found to vary widely in Keppel Bay, informing site selection for the staged implementation of resilience-based management strategies. The assessment framework represents a step towards making the concept of resilience operational to reef managers and conservationists. Also, it is customisable, easy to teach and implement and effective in building support among local communities and stakeholders for management responses to climate change.
This is a preview of subscription content,
to check access.
Access this article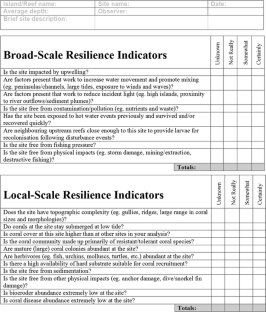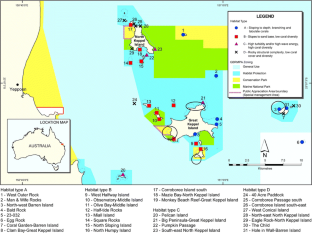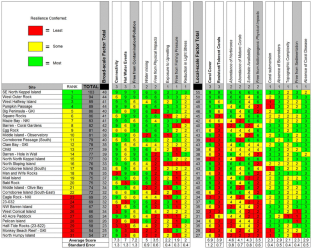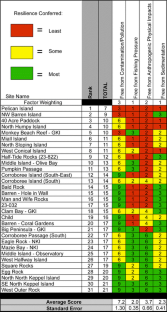 References
Adger WN, Hughes TP, Folke C, Carpenter SR, Rockstrom J (2005) Social-ecological resilience to coastal disasters. Science 309:1036–1039

Anthony KRN (2006) Enhanced energy status of corals on coastal, high-turbidity reefs. Mar Ecol Prog Ser 319:111

Anthony KRN, Kerswell AP (2007) Coral mortality following extreme low tides and high solar radiation. Mar Biol 151:1623–1631

Bellwood DR, Hughes TP, Folke C, Nystrom M (2004) Confronting the coral reef crisis. Nature 429:827–833

Berkes F, Hughes TP, Steneck RS, Wilson JA, Bellwood DR, Crona B, Folke C, Gunderson LH, Leslie HM, Norberg J, Nystrom M, Olsson P, Osterblom H, Scheffer M, Worm B (2006) Globalization, roving bandings and marine resources. Science 311:1557–1558

Carpenter S, Walker B, Anderies JM, Abel N (2001) From metaphor to measurement: resilience of what to what? Ecosystems 4:765–781

Day JC (2002) Zoning: lessons from the Great Barrier Reef. Ocean Coast Manage 45:139–156

Done TJ (1992) Phase shifts in coral reef communities and their ecological significance. Hydrobiologia 247:121–132

Donner SD, Skirving WJ, Little CM, Oppenheimer M, Hoegh-Guldberg O (2005) Global assessment of coral bleaching and required rates of adaptation under climate change. Global Change Biol 11:2251–2265

Fabricius KE, Mieog JC, Colin PL, Idip D, van Oppen MJH (2004) Identity and diversity of coral endosymbionts (zooxanthellae) from three Palauan reefs with contrasting bleaching, temperature and shading histories. Mol Ecol 13:2445–2458

Folke C (2006) Resilience: the emergence of a perspective for social ecological systems analyses. Global Environ Change 16:253–267

Folke C, Carpenter S, Walker B, Scheffer M, Elmqvist T, Gunderson L, Holling CS (2004) Regime shifts, resilience, and biodiversity in ecosystem management. Annu Rev Ecol Syst 35:557–581

GBRMPA (2008) Bio-physical assessment of the reefs of Keppel Bay: a baseline study September 2008. Great Barrier Reef Marine Park Authority, Townsville

Glynn PW (1997) Bioerosion and coral reef growth: a dynamic balance. In: Birkeland C (ed) Life, death of coral reefs. Chapman and Hall, New York, pp 68–95

Grimsditch GD, Salm RV (2006) Coral reef resilience and resistence to bleaching. IUCN, Gland

Harvell CD, Kim K, Burkholder JM, Colwell RR, Epstein PR, Grimes DJ, Hofmann EE, Lipp EK, Osterhaus ADME, Overstreet RM, Porter JW, Smith GW, Vasta GR (1999) Emerging marine diseases: climate links and anthropogenic factors. Science 285:1505–1510

Hoegh-Guldberg O, Mumby PJ, Hooten AJ, Steneck RS, Greenfield P, Gomez E, Harvell CD, Sale PF, Edwards AJ, Caldeira K, Knowlton N, Eakin CM, Iglesias-Prieto R, Muthiga N, Bradbury RH, Dubi A, Hatziolos ME (2007) Coral reefs under rapid climate change and ocean acidification. Science 318:1737–1742

Hughes TP, Baird AH, Bellwood DR, Card M, Connolly SR, Folke C, Grosberg R, Hoegh-Guldberg O, Jackson JBC, Kleypas J, Lough JM, Marshall P, Nystrom M, Palumbi SR, Pandolfi JM, Rosen B, Roughgarden J (2003) Climate change, human impacts, and the resilience of coral reefs. Science 301:929–933

Hughes TP, Rodrigues M, Bellwood D, Ceccarelli D, Hoegh-Guldberg O, McCook L, Molschaniwskyj N, Pratchett M, Steneck R, Willis BL (2007) Phase shifts, herbivory, and the resilience of coral reefs to climate change. Curr Biol 17:360–365

IPCC (2007) Climate change 2007: the physical science basis. In: Solomon S (ed) Contribution of working group I to the fourth assessment report of the intergovernmental panel on climate change. Cambridge University Press, Cambridge

Johnson JE, Marshall PA (eds) (2007) Climate change and the Great Barrier Reef: a vulnerability assessment. Great Barrier Reef Marine Park Authority and Australian Greenhouse Office, Townsville

Ledlie MH, Graham NAJ, Bythell JC, Wilson SK, Jennings S, Polunin NVC, Hardcastle J (2007) Phase shifts and the role of herbivory in the resilience of coral reefs. Coral Reefs 26:641–653

Marshall PA, Baird AH (2000) Bleaching of corals on the Great Barrier Reef: differential susceptibilities among taxa. Coral Reefs 19:155–163

Marshall PA, Johnson JE (2007) The Great Barrier Reef and climate change: vulnerability and management implications. In: Marshall PA, Johnson JE (eds) Climate change and the Great Barrier Reef: a vulnerability assessment. Great Barrier Reef Marine Park Authority and Australian Greenhouse Office, Townsville

Marshall NA, Marshall PA (2007) Conceptualizing and operationalizing social resilience within commercial fisheries in northern Australia. Ecology and Society 12: [online] URL: http://www.ecologyandsociety.org/vol12/iss1/art1/

Marshall PA, Schuttenberg H (2006) A reef manager's guide to coral bleaching. Great Barrier Reef Marine Park Authority, Townsville

McClanahan T (2004) The relationship between bleaching and mortality of common corals. Mar Biol 144:1239–1245

McClanahan T, Polunin N, Done T (2002) Ecological states and the resilience of coral reefs. Conserv Ecol 6:Artn 18

McManus JW, Reyes RB, Nanola CL (1997) Effects of some destructive fishing methods on coral cover and potential rates of recovery. Environ Manag 21:69–78

Mumby PJ (2006) The impact of exploiting grazers (Scaridae) on the dynamics of Caribbean coral reefs. Ecol Appl 16:747–769

Mumby PJ, Hastings A (2008) The impact of ecosystem connectivity on coral reef resilience. J Appl Ecol 45:854–862

Mumby PJ, Hastings A, Edwards HJ (2007a) Thresholds and the resilience of Caribbean coral reefs. Nature 450:98–101

Mumby PJ, Harborne AR, Williams J, Kappel CV, Brumbaugh DR, Micheli F, Holmes KE, Dahlgren CP, Paris CB, Blackwell PG (2007b) Trophic cascade facilitates coral recruitment in a marine reserve. Proc Natl Acad Sci USA 104:8362–8367

Nystrom M, Graham NAJ, Lokrantz J, Norstrom AV (2008) Capturing the cornerstones of coral reef resilience: linking theory to practice. Coral Reefs 27:795–809

Obura DO (2005) Resilience and climate change: lessons from coral reefs and bleaching in the Western Indian Ocean. Estuar Coast Shelf Sci 63:353–372

Pimm SL (1984) The complexity and stability of ecosystems. Nature 307:321–327

Rinkevich B (1995) Restoration strategies for coral reefs damaged by recreational activities: the use of sexual and asexual recruits. Restor Ecol 3:241–251

Roberts CM (1997) Connectivity and management of Caribbean coral reefs. Science 278:1454–1457

Rogers CS (1990) Responses of coral reefs and reef organisms to sedimentation. Mar Ecol Prog Ser 62:185–202

Russ GR AJ, Cheal AM, Dolman MJ, Emslie EvansRD, Miller I, Sweatman H, Williamson DH (2008) Rapid increase in fish numbers follows creation of world's largest marine reserve network. Curr Biol 18:514–515

Soong K (1993) Colony size as a species character in massive reef corals. Coral Reefs 12:77–83

State of Queensland and Commonwealth of Australia (2003) Reef water quality protection plan; for catchments adjacent to the Great Barrier Reef world heritage area Queensland Department of Premier and Cabinet, Brisbane, Australia

Walker B (1995) Conserving biological diversity through ecosystem resilience. Conserv Biol 9:747–752

Walker B, Carpenter, S, Anderies JM, Abel N, Cumming GS, Janssen M, Lebel L, Norberg J, Peterson GD, Pritchard R (2002) Resilience management in social-ecological systems: a working hypothesis for a participatory approach. Conserv Ecol 6:14 [online] URL: http://www.consecol.org/vol6/iss1/art14/

Walters C (1986) Adaptive management of renewable resources. Macmillan, New York

West JM, Salm RV (2003) Resistance and resilience to coral bleaching: implications for coral reef conservation and management. Conserv Biol 17:956–967

Williams ID, Polunin NVC (2001) Large-scale associations between macroalgal cover and grazer biomass on mid-depth reefs in the Caribbean. Coral Reefs 19:358–366

Wooldridge S, Done T, Berkelmans R, Jones R, Marshall PA (2005) Precursors for resilience in coral communities in a warming climate: a belief network approach. Mar Ecol Prog Ser 295:157–169
Acknowledgments
This work was made possible through funding from the Great Barrier Reef Marine Park Authority and the Australian Department of Climate Change, and from the AEDA CERF Hub and the University of Melbourne to J. Maynard. The manuscript and the ideas herein benefited greatly from discussions with R. Salm, D. Obura, S. Wear, A. Green and M. Marnane. C. Maple, J. Olds and D. Orgill were instrumental to the testing of this framework in Keppel Bay. Figures were created in collaboration with R. Banks, D. Tracey and C. Collier.
Additional information
Communicated by Ecology Editor Prof. Peter Mumby
About this article
Cite this article
Maynard, J.A., Marshall, P.A., Johnson, J.E. et al. Building resilience into practical conservation: identifying local management responses to global climate change in the southern Great Barrier Reef. Coral Reefs 29, 381–391 (2010). https://doi.org/10.1007/s00338-010-0603-8
Received:

Accepted:

Published:

Issue Date:

DOI: https://doi.org/10.1007/s00338-010-0603-8
Keywords