Abstract
Most research on cleaning symbioses on coral reefs has focused on fish clients being cleaned by smaller fishes. While many shrimps and other crustaceans are reported as cleaners, whether they remove parasites from fish hosts and can effectively regulate populations of ectoparasites is unclear. The effects of Pederson shrimp (Periclimenes pedersoni), spotted shrimp (P. yucatanicus), and banded coral shrimp (Stenopus hispidus), on the parasitic monogenean Neobenedenia melleni on a host reef fish, blue tang (Acanthurus coeruleus), were investigated. The abundance and size of N. melleni from fish with and without access to shrimps in a semi-natural macrocosm was quantified. P. pedersoni had a strong effect on both the abundance and size of parasites. In contrast, P. yucatanicus and S. hispidus had no effect on the abundance of parasites but had a small yet statistically significant effect on average size. These data suggest that P. pedersoni can play a significant role in the biological regulation of at least some ectoparasites on Caribbean reef fishes, but further suggest that some other shrimps regarded as "cleaners" may have little or no effectiveness at removing parasites and underscore the need for further verification before this term is applied.
Access options
Buy single article
Instant access to the full article PDF.
USD 39.95
Price excludes VAT (USA)
Tax calculation will be finalised during checkout.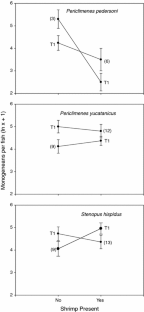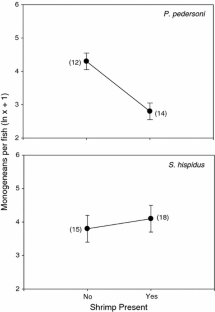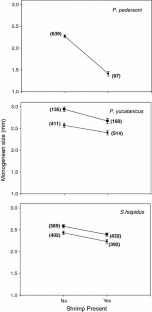 References
Arnal C, Côté IM (2000) Diet of broadstripe cleaning gobies on a Barbadian reef. J Fish Biol 57:1075–1082

Arnal C, Côté IM, Morand S (2001) Why clean and be cleaned? The importance of client ectoparasites and mucus in a marine cleaning symbiosis. Behav Ecol Sociobiol 51:1–7

Becker JHA, Grutter AS (2004) Cleaner shrimp do clean. Coral Reefs 23:515–520

Becker JHA, Grutter AS (2005) Client-fish ectoparasite loads and cleaner-shrimp hunger levels affect the cleaning behaviour of the cleaner-shrimp Urocaridella sp. c. Anim Behav 70:991–996

Bunkley-Williams L, Williams EH (1998) Ability of Pederson cleaner shrimp to remove juveniles of the parasitic cymothoid isopod, Anilocra haemuli, from the host. Crustaceana 71:862–869

Chapuis L, Bshary R (2009) Strategic adjustment of service quality to client identity in the cleaner shrimp, Periclimenes longicarpus. Anim Behav 78:455–459

Cheney KL, Côté IM (2005) Mutualism or parasitism? The variable outcome of cleaning symbioses. Biol Lett 1:162–165

Chockley BR, St. Mary CM (2003) Effects of body size on growth, survivorship, and reproduction in the banded coral shrimp, Stenopus hispidus. Journal of Crustacean Biology 23:836–848

Côté IM (2000) Evolution and ecology of cleaning symbioses in the sea. Oceanog Mar Biol Annu Rev 38:311–355

Côté IM, Cheney KL (2007) A protective function for aggressive mimicry? Proc R Soc Lond B 274:2445–2448

Cowell LE, Watanabe WO, Head WD, Grover JJ, Shenker JM (1993) Use of tropical cleaner fish to control the ectoparasite Neobenedenia melleni (Monogenea: Capsalidae) on seawater-cultured Florida red tilapia. Aquaculture 113:189–200

DeLoach N, Humann P (1999) Reef fish behavior, Florida, Caribbean, Bahamas. New World, Jacksonville

Dickman CR (1992) Commensal and mutualistic interactions among terrestrial vertebrates. Trends Ecol Evol 7:194–197

Foster SA (1985) Wound Healing: A Possible Role of Cleaning Stations. Copeia 4:875–880

Grutter AS (1999) Cleaner fish really do clean. Nature 398:672–673

Grutter AS, Bshary R (2003) Cleaner wrasse prefer client mucus: support for partner control mechanisms in cleaning interactions. Proc R Soc Lond B 270:242–244

Grutter AS, Deveney MR, Whittington ID, Lester RJG (2002) The effect of the cleaner fish Labroides dimidiatus on the capsalid monogenean Benedenia lolo parasite of the labrid fish Hemigymnus melapterus. J Fish Biol 61:1098–1108

Gwaltney CL, Brooks WR (1994) Host specificity of the anemone shrimp Periclimenes pedersoni and P. yucatanicus in the Florida Keys. Symbiosis 16:83–93

Jithendran KP, Vijayan KK, Alavandi SV, Kailasam M (2005) Benedenia epinepheli (Yamaguti 1937), a monogenean parasite in captive broodstock of grouper, Epinephelus tauvina (Forskal). Asian Fish Sci 18:121–126

Kulbicki M, Arnal C (1999) Cleaning of fish ectoparasites by a Palaemonidae shrimp on soft bottoms in New Caledonia. Cybium 23:101–104

Jonasson MW (1987) Fish cleaning behavior of shrimp. J Zool Lond 213:117–131

Limbaugh C, Pederson H, Fenner AC Jr (1961) Shrimps that clean fishes. Bull Mar Sci 11:237–257

Losey GS (1974) Cleaning symbiosis in Puerto Rico with comparisons to the tropical Pacific. Copeia 1974:960–970

Losey GS (1987) Cleaning symbiosis. Symbiosis 4:229–256

Losey GS, Grutter AS, Rosenquist G, Mahon JL, Zamzow JP (1999) Cleaning symbiosis: a review. In: Oliveira Almada VC, Goncalves EJ RF (eds) Behaviour and conservation of litoral fishes. Instituto Superior de Psicologia Aplicada, Lisbon, pp 379–395

Mihalik MB, Brooks WR (1995) Protection of the symbiotic shrimps Periclimenes pedersoni, P. yucatanicus and Thor spec. from fish predators by their host sea anemones. Proceedings of the 6th International Conference on Coelenterate Biology 1:337–343

Mahnken C (1972) Observations on cleaner shrimps in the genus Periclimenes. Scientific Bulletin Natural History Museum Los Angeles County 14:71–83

Montero FE, Crespo S, Padrós F, De la Gandara F, GarcÌa A, Raga JA (2004) Effects of the gill parasite Zeuxapta seriolae (Monogenea: Heteraxinidae) on the amberjack Seriola dumerili Risso (Teleostei: Carangidae). Aquaculture 232:153–163

Morand S (2005) The extended manipulation: role of parasitism in cleaning symbiosis. Behav Proc 68:267–269

Östlund-Nilsson S, Becker JH, Nilsson GE (2005) Shrimps remove ectoparasites from fishes in temperate waters. Biol Lett 1:454–456

Poulin R, Vickery WL (1995) Cleaning symbiosis as an evolutionary game: to cheat or not to cheat? J Theor Biol 175:63–70

Poulin R, Grutter AS (1996) Cleaning symbioses: proximate and adaptive explanations. Bioscience 46:512–517

Sikkel PC, Cheney KL, Côté IM (2004) In situ evidence for ectoparasites as a proximate cause of cleaning interactions in reef fish. Anim Behav 68:241–247

Sikkel PC, Nemeth D, McCammon A, Williams EH (2009) Habitat and species differences in prevalence and intensity of Neobenedenia melleni (Monogenea:Capsalidae) on sympatric Caribbean surgeonfishes (Acanthuridae). J Parasitol 95:63–68

Silbiger MJ, Childress MJ (2008) Interspecific variation in anemone shrimp distribution and host selection in the Florida Keys (USA): Implications for marine conservation. Bull Mar Sci 83:329–345

Spotte S (1998) "Cleaner" shrimps? Helgol Wiss Meeresunters 52:59–64

Stanton G (1977) Habitat partitioning among associated decapods with Labrunie danae at Grand Bahama. Proc 3rd Int Coral Reef Symp 1:169–175

Thoney DA, Hargis WJ (1991) Monogenea (Platyhelminthes) as hazards for fish in confinement. Annu Rev Fish Dis 1:133–153

VanTassell JL, Brito A, Bortone SA (1994) Cleaning behavior among marine fishes and invertebrates in the Canary Islands. Cybium 18:117–127

Whittington ID (1998) Diversity "down under": monogeneans in the Antipodes (Australia) with a prediction of monogenean biodiversity worldwide. International Journal of Parasitology 28:1481–1493

Wickler W (1966) Mimicry in Tropical Fishes. Phil Trans Royal Soc Lond 251:473–474

Wicksten M (1995) Associations of fishes and their cleaners on coral reefs of Bonaire, Netherlands Antilles. Copeia 1995:477–481

Williams EH, Williams LB (1982) First report of Periclimenes yuctanicus (Ives) (Decapoda Paelomonidae) in association with a corallimorpharian anemone. Crustaceana 42:318–319

Williams EH, Williams LB (2000) Experimental refutation of the ease of associate change by the spotted cleaner shrimp Periclimenes yucatanicus (Decapoda Paelomonidae), new false coral associates of the Pederson cleaner shrimp, P. pedersoni, and general abundance associations for both shrimps. Crustaceana 73:503–511
Acknowledgments
We thank the staff at the Virgin Islands Environmental Resource Station (VIERS), the Center for Marine and Environmental Studies (CMES), R. Hall of the University of the Virgin Islands, and Coral World Ocean Park for logistic support and use of their facilities. We also thank B. Tuttle, L. Tuttle, B. Weldon, E. Brown, W. Sears, and C. Risley from Centre College, J. Stuart, K. Scatliffe, K. Balkaran; D. Jobsis, T. Bradshaw, and N. Fleming from the University of the Virgin Islands, and volunteers from the 2007, 2008, and 2009 Virgin Islands Earthwatch teams for assisting with the collection and processing of parasite samples. E.H. Williams kindly confirmed the identity of the parasites. This work was generously funded by the Virgin Islands NSF EPSCoR program (EPS-0346483, M. Whitaker, PI), Earthwatch Institute, the Durfee Foundation, and Microsoft Corporation. This is publication number 56 from the University of the Virgin Islands Center for Marine and Environmental Studies and is dedicated to the memory of M. Whitaker.
Additional information
Communicated by Biology Editor Prof. Philip Munday
About this article
Cite this article
McCammon, A., Sikkel, P.C. & Nemeth, D. Effects of three Caribbean cleaner shrimps on ectoparasitic monogeneans in a semi-natural environment. Coral Reefs 29, 419–426 (2010). https://doi.org/10.1007/s00338-009-0583-8
Received:

Accepted:

Published:

Issue Date:

DOI: https://doi.org/10.1007/s00338-009-0583-8
Keywords
Acanthuridae

Cleaning symbiosis

Ectoparasites

Coral reefs

Anemone