Abstract
Coral reefs are increasingly threatened by various disturbances, and a critical challenge is to determine their ability for resistance and resilience. Coral assemblages in Moorea, French Polynesia, have been impacted by multiple disturbances (one cyclone and four bleaching events between 1991 and 2006). The 1991 disturbances caused large declines in coral cover (~51% to ~22%), and subsequent colonization by turf algae (~16% to ~49%), but this phase-shift from coral to algal dominance has not persisted. Instead, the composition of the coral community changed following the disturbances, notably favoring an increased cover of Porites, reduced cover of Montipora and Pocillopora, and a full return of Acropora; in this form, the reef returned to pre-disturbance coral cover within a decade. Thus, this coral assemblage is characterized by resilience in terms of coral cover, but plasticity in terms of community composition.
Access options
Buy single article
Instant access to the full article PDF.
USD 39.95
Price includes VAT (USA)
Tax calculation will be finalised during checkout.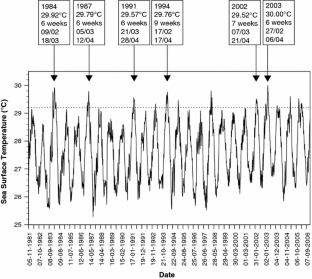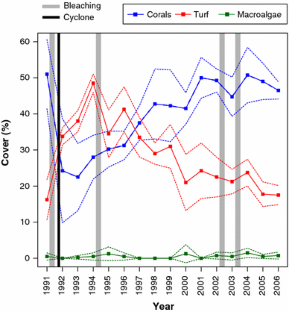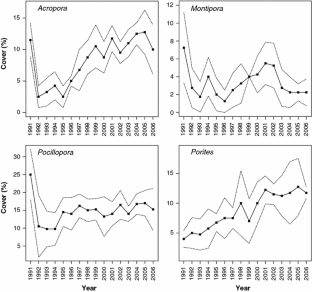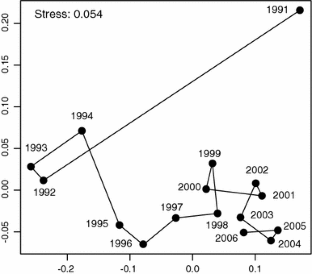 References
Adjeroud M, Augustin D, Galzin R, Salvat B (2002) Natural disturbances and interannual variability of coral reef communities on the outer slope of Tiahura (Moorea, French Polynesia): 1991 to 1997. Mar Ecol Prog Ser 237:121–131

Bellwood DR, Hughes TP, Folke C, Nyström M (2004) Confronting the coral reef crisis. Nature 429:827–833

Bellwood DR, Hoey AS, Ackerman JL, Depczynski M (2006) Coral bleaching, reef fish community phase shifts and the resilience of coral reefs. Global Change Biol 12:1587–1594

Berumen ML, Pratchett MS (2006) Recovery without resilience: Persistent disturbance and long-term shifts in the structure of fish and coral communities at Tiahura Reef, Moorea. Coral Reefs 25:647–653

Bouchon C (1985) Quantitative study of scleractinian coral communities of Tiahura reef (Moorea Island, French Polynesia). Proc 5th Int Coral Reef Congress 6:279–284

Coles SL, Brown EK (2007) Twenty-five years of change in coral coverage on a hurricane impacted reef in Hawai'i: The importance of recruitment. Coral Reefs 26:705–717

Connell JH (1997) Disturbance and recovery of coral assemblages. Coral Reefs 16:S101–S113

Connell JH, Hughes TP, Wallace CC (1997) A 30-year study of coral abundance, recruitment, and disturbance at several scales in space and time. Ecol Monogr 67:461–488

Done TJ, Turak E, Wakeford M, DeVantier L, McDonald A, Fisk D (2007) Decadal changes in turbid-water coral communities at Pandora Reef: Loss of resilience or too soon to tell? Coral Reefs 26:789–805

Emslie MJ, Cheal AJ, Sweatman H, Delean S (2008) Recovery from disturbance of coral and reef fish communities on the Great Barrier Reef, Australia. Mar Ecol Prog Ser 371:177–190

Green DH, Edmunds PJ, Carpenter RC (2008) Increasing relative abundance of Porites astreoides on Caribbean reefs mediated by an overall decline in coral cover. Mar Ecol Prog Ser 359:1–10

Halford A, Cheal AJ, Ryan D, Williams DMcB (2004) Resilience to large-scale disturbance in coral and fish assemblages on the Great Barrier Reef. Ecology 85:1892–1905

Hoegh-Guldberg O, Salvat B (1995) Periodic mass-bleaching and elevated sea temperatures: bleaching of outer reef slope communities in Moorea, French Polynesia. Mar Ecol Prog Ser 121:181–190

Hoegh-Guldberg O, Mumby PJ, Hooten AJ, Steneck RS, Greenfield P, Gomez E, Harvell CD, Sale PF, Edwards AJ, Caldeira K, Knowlton N, Eakin CM, Iglesias-Prieto R, Muthiga N, Bradbury RH, Dubi A, Hatziolos ME (2007) Coral reefs under rapid climate change and ocean acidification. Science 318:1737–1742

Hughes TP (1994) Catastrophes, phase shifts, and large-scale degradation of a Caribbean Coral Reef. Science 265:1547–1551

Hughes TP, Baird AH, Bellwood DR, Card M, Connolly SR, Folke C, Grosberg R, Hoegh-Guldberg O, Jackson JBC, Kleypas J, Lough JM, Marshall P, Nyström M, Palumbi SR, Pandolfi JM, Rosen B, Roughgarden J (2003) Climate change, human impacts, and the resilience of coral reefs. Science 301:929–933

Hughes TP, Rodrigues MJ, Bellwood DR, Ceccarelli D, Hoegh-Guldberg O, McCook L, Moltschaniwskyj N, Pratchett MS, Steneck RS, Willis B (2007) Phase shifts, herbivory, and the resilience of coral reefs to climate change. Curr Biol 17:360–365

Idjadi JA, Lee SC, Bruno JF, Precht WF, Allen-Requa L, Edmunds PJ (2006) Rapid phase-shift reversal on a Jamaican coral reef. Coral Reefs 25:209–211

Loya Y, Sakai K, Yamazato K, Nakano Y, Sambali H, van Woesik R (2001) Coral bleaching: the winners and the losers. Ecol Lett 4:122–131

McManus JW, Polsenberg JF (2006) Coral-algal phase shifts on coral reefs: Ecological and environmental aspects. Prog Oceanogr 60:263–279

Mumby PJ, Hastings A, Edwards HJ (2007) Thresholds and the resilience of Caribbean coral reefs. Nature 450:98–101

Pandolfi JM, Bradbury RH, Sala E, Hughes TH, Bjorndal KA, Cooke RG, McArdle D, McClenachan L, Newman MJH, Paredes G, Warner RR, Jackson JBC (2003) Global trajectories of the long-term decline of coral reef ecosystems. Science 301:955–958

Penin L, Adjeroud M, Schrimm M, Lenihan H (2007) High spatial variability in coral bleaching around Moorea, French Polynesia: Patterns across locations and water depths. CR Biol 330:171–181

Salvat B (1992) Blanchissement et mortalité des scléractiniaires sur les récifs de Moorea (archipel de la Société) en 1991. CR Acad Sci Paris 314:105–111

Schrimm M, Buscail R, Adjeroud M (2004) Spatial variability of the biogeochemical composition of surface sediments in an insular coral reef ecosystem: Moorea, French Polynesia. Estuar Coast Shelf Sci 60:515–528

Sheppard CRC, Harris A, Sheppard ALS (2008) Archipelago-wide coral recovery patterns since 1998 in the Chagos Archipelago, central Indian Ocean. Mar Ecol Prog Ser 362:109–117

Smith LD, Gilmour JP, Heyward AJ (2008) Resilience of coral communities on an isolated system of reefs following catastrophic mass-bleaching. Coral Reefs 27:197–205

Wakeford M, Done TJ, Johnson CR (2008) Decadal trends in a coral community and evidence of changed disturbance regime. Coral Reefs 27:1–13

West JM, Salm RV (2003) Resistance and resilience to coral bleaching: implications for coral reef conservation and management. Conserv Biol 17:956–967
Acknowledgments
This research was supported by grants from the Total Foundation, CRISP, BioAqua, and the US National Science Foundation grant BIO-OCE 04-17412 (to PJE).
About this article
Cite this article
Adjeroud, M., Michonneau, F., Edmunds, P.J. et al. Recurrent disturbances, recovery trajectories, and resilience of coral assemblages on a South Central Pacific reef. Coral Reefs 28, 775–780 (2009). https://doi.org/10.1007/s00338-009-0515-7
Received:

Revised:

Accepted:

Published:

Issue Date:
Keywords
Coral

Bleaching

Cyclone

Phase-shift

Resilience

Moorea