Abstract
In order to test the effect of temperature variation on the growth of a common coral-reef fish, Acanthochromis polyacanthus, juveniles, sub-adults and adults were reared on either high or low food rations at temperatures corresponding to the long-term (14 year) minimum, average and maximum summer sea-surface temperatures (26, 28 and 31°C respectively) at Orpheus Island, Great Barrier Reef, Australia. Both temperature and food supply affected the growth of juvenile and adult A. polyacanthus. Individuals grew more on high food rations, but growth declined with increasing temperature. Importantly, at 31°C, the growth of juveniles and adults on the high food ration was nearly identical to growth on the low food ration. This indicates that the capacity for growth is severely limited at higher ocean temperatures that are predicted to become the average for Orpheus Island within the next 100 years as a result of rapid climate change.
Access options
Buy single article
Instant access to the full article PDF.
USD 39.95
Price excludes VAT (USA)
Tax calculation will be finalised during checkout.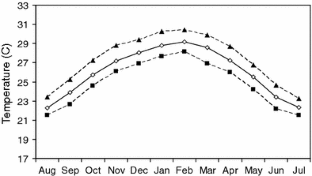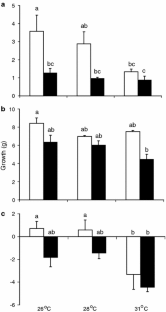 References
Almany GR, Webster MS (2006) The predation gauntlet: early post-settlement mortality in reef fishes. Coral Reefs 25:19–22

Bay LK, Crozier RH, Caley MJ (2006) The relationship between population genetic structure and pelagic larval duration in coral reef fishes on the Great Barrier Reef. Mar Biol 149:1247–1256

Buckley LJ, Caldarone EM, Lough RG (2004) Optimum temperature and food-limited growth of larval Atlantic cod (Gadus morhua) and haddock (Melanogrammus aeglefinus) on Georges Bank. Fish Oceanogr 13:134–140

Doherty PJ, Planes S, Mather P (1994) Acanthochromis polyacanthus, a fish lacking dispersal, has genetically differentiated populations at local and regional scales on the Great Barrier Reef. Mar Biol 121:11–21

Donelson JM, McCormick MI, Munday PL (2008) Parental condition affects the early life-history of a coral reef fish. J Exp Mar Biol Ecol. doi:10.1016/j.jembe.2008.04.007

Guinotte JM, Buddemeier RW, Kleypass JA (2003) Future coral reef habitat marginality: temporal and spatial effects of climate change in the Pacific basin. Coral Reefs 22:551–558

IPCC (2007) Summary for policymakers. In: Climate change 2007: the physical science basis. Contribution of Working Group I to the Fourth Assessment Report of the Intergovernmental Panel on Climate Change. Cambridge University Press, Cambridge, pp 1–18

Jobling M (1997) Temperature and growth: modulation of growth rate via temperature change. In: Wood CM, McDonald DG (eds) Global warming: implications for freshwater and marine fish. Cambridge University Press, Cambridge, pp 225–253

Jones GP, McCormick MI (2001) Numerical and energetic processes in the ecology of coral reef fishes. In: Sale PF (ed) Coral reef fishes: dynamics and diversity in a complex ecosystem. Academic Press, San Diego, pp 221–238

Lough J (2007) Climate and climate change on the Great Barrier Reef. In: Johnson JE, Marshall PA (eds) Climate change and the Great Barrier Reef. Great Barrier Reef Marine Park Authority, Townsville, pp 15–50

Martell DJ, Kieffer JD, Trippel EA (2005) Effects of temperature during early life history on embryonic and larval development and growth in haddock. J Fish Biol 66:1558–1575

Munday PL, Jones GP, Pratchett MS, Williams AJ (2008) Climate change and the future for coral reef fishes. Fish Fish 9. doi:10.111/j.1467-2979.2008.00281.x

Sogard SM (1997) Size-selective mortality in the juvenile stage of teleost fishes: a review. Bull Mar Sci 60:1129–1157

Thresher RE (1983) Habitat effects on reproductive success in the coral reef fish, Acanthochromis polyacanthus (Pomacentridae). Ecology 64:1184–1199

Thresher RE (1985) Distribution, abundance, and reproductive success in the coral reef fish Acanthochromis polyacanthus. Ecology 66:1139–1150

Skelly DK, Joseph LN, Possingham HP, Freidenburg LK, Farrugia TJ, Kinnison MT, Hendry AP (2007) Evolutionary responses to climate change. Conserv Biol 21:1353–1355

Visser ME (2008) Keeping up with a warming world; assessing the rate of adaptation to climate change. Proc R Soc Lond B 275:649–659

Wood CM, McDonald DG (1997) Global warming: implications for freshwater and marine fish. Cambridge University Press, Cambridge
Acknowledgments
We thank Reef HQ for supplying fish, JCU/AIMS weather facility for the sea-temperature records, MARFU staff for assistance with the experiments and three anonymous reviewers for helpful comments on the ms.
Additional information
Communicated by Biology Editor Dr Mark McCormick
About this article
Cite this article
Munday, P.L., Kingsford, M.J., O'Callaghan, M. et al. Elevated temperature restricts growth potential of the coral reef fish Acanthochromis polyacanthus . Coral Reefs 27, 927–931 (2008). https://doi.org/10.1007/s00338-008-0393-4
Received:

Revised:

Accepted:

Published:

Issue Date:

DOI: https://doi.org/10.1007/s00338-008-0393-4
Keywords
Climate change

Temperature

Growth

Food supply