Abstract
The rapid decline of Acropora cervicornis and Acropora palmata has often been linked with coral reef deterioration in the Caribbean; yet, it remains controversial whether these species are currently recovering or still declining. In this study, the status of ten populations of A. palmata in Los Roques National Park (LRNP), Venezuela is presented. Six of these populations showed signs of recovery. Ten 80 m2 belt-transects were surveyed at each of the ten reef sites. Within belt-transects, each colony was measured (maximum diameter and height) and its status (healthy, diseased or injured) was recorded. Populations in recovery were defined by a dominance of small to medium-sized colonies in densities >1 colony per 10 m2, together with 75% undamaged colonies, a low prevalence of diseases (<10%), and a low density of predators (0.25 snails per colony). Based on allozyme analysis of seven polymorphic loci in four populations (N = 30), a moderate to high-genetic connectivity among these populations (F ST = 0.048) was found with a predominance of sexual over asexual reproduction (N* : N = 1; N go : N = 0.93–1). Both ecological and molecular data support a good prognosis for the recovery of this species in Los Roques.
Access options
Buy single article
Instant access to the full article PDF.
USD 39.95
Price includes VAT (USA)
Tax calculation will be finalised during checkout.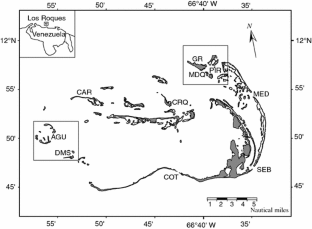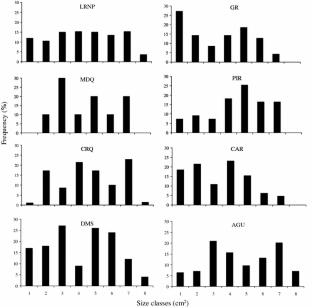 References
Acropora Biological Review Team (2005) Atlantic Acropora status review document. Report to National Marine Fisheries Service, Southeast Regional Office, St. Petersburg

Adjeroud M, Penin L, Carroll A (2007) Spatio-temporal heterogeneity in coral recruitment around Moorea, French Polynesia: implications for population maintenance. J Exp Mar Biol Ecol 341:204–218

Anonymous (2006) Endangered and threatened species: final listing determinations for elkhorn coral and staghorn coral. Fed Regist 71:26852–26872

Aronson RB, Precht WF (1997) Stasis, biological disturbance and community structure of a Holocene coral reef. Paleobiology 23:326–346

Aronson RB, Precht WF (2001) White-band disease and the changing face of Caribbean coral reefs. Hydrobiologia 460:25–38

Altizer S, Harvell D, Friedle E (2003) Rapid evolutionary dynamics and disease threats to biodiversity. Trends Ecol Evol 11:589–596

Ayre DJ, Hughes TP (2004) Climate change, genotypic diversity and gene flow in reef-building corals. Ecol Lett 7:273–278

Bastidas C, Benzie JAH, Fabricius KE (2002) Genetic differentiation among populations of the brooding soft coral Clavularia koellikeri on the Great Barrier Reef. Coral Reefs 21:233–241

Baums IB, Miller MW, Szmant AM (2003) Ecology of a corallivorous gastropod, Coralliophila abbreviata, on two scleractinian host. I: population structure of snails and corals. Mar Biol 142:1083–1091

Baums IB, Miller MW, Hellberg ME (2005a) Regionally isolated populations of an imperiled Caribbean coral, Acropora palmata. Mol Ecol 14:1377–1390

Baums IB, Hughes CR, Hellberg ME (2005b) Mendelian microsatellite loci for the Caribbean hard coral Acropora palmata. Mar Ecol Prog Ser 288:115–127

Baums IB, Miller MW, Hellberg ME (2006) Geographic variation in clonal structure in a reef building Caribbean coral, Acropora palmata. Ecol Monogr 76:503–519

Benzie JAH, Haskell A, Lehman H (1995) Variation in the genetic composition of coral Pocillopora damicornis and Acropora palifera populations from different reef habitats. Mar Biol 121:731–739

Bruckner AW (2002) Proceedings of the Caribbean Acropora workshop: potential application of US Endangered Species Act as a conservation strategy. NOAA Technical Memorandum NMFS-OPR-24, Silver Spring

Bruckner RJ, Bruckner AW, Williams EH Jr (1997) Life history strategies of Coralliophila abbreviata Lamarck (Gastropoda: Coralliophilidae) on the southwest coast of Puerto Rico, Proc 8th Int Coral Reef Symp 1:627–632

Bythell J, Pantos O, Richardson L (2004) White plague, white band, and other "white" diseases. In: Rosenberg E, Loya Y (eds) Coral health and disease. Springer, Berlin, pp 351–366

Cowen RK, Kamazima M, Lwiza M, Sponaugle S, Paris CB, Olson DB (2000) Connectivity of marine populations: open or closed? Science 287:857–859

Cróquer A, Bastidas C, Lipscomp D, Rodríguez-Martínez RE, Jordan-Dahlgren E, Guzman HM (2006) First report of folliculinid ciliates affecting Caribbean scleractinian corals. Coral Reefs 25:187–191

Falush D, Stephens M, Pritchard JK (2003) Inference of population structure using multilocus genotype data: linked loci and correlated allele frequencies. Genetics 164:1567–1587

Fong P, Lirman D (1995) Hurricanes cause population expansion of the branching coral Acropora palmata (Scleractinia): wound healing and growth patterns of sexual recruits. Mar Ecol 16:317–335

Gladfelter WB (1982) White-band disease in Acropora palmata: implications for the structure and growth of shallow reefs. Bull Mar Sci 32:639–643

Grajal A (1981) Comparación entre comunidades de crustáceos decápodos asociados a tres especies de corales del género Acropora en el Archipiélago Los Roques. M.Sc. thesis, Universidad Simón Bolívar, p 98

Grober-Dunsmore R, Bonito V, Frazer TK (2006) Potential inhibitors to recovery of Acropora palmata populations in St. John, US Virgin Islands. Mar Ecol Prog Ser 321:123–132

Harrison PL, Wallace CC (1990) Reproduction, dispersal and recruitment of scleractinian corals. In: Dubinsky Z (ed) Coral reefs. Ecosystems of the world 25. Elsevier, Amsterdam, pp 133–207

Hellberg ME, Burton RS, Neigel JE, Palumbi S (2002) Genetic assessment of connectivity among populations. Bull Mar Sci 70:273–290

Highsmith RC (1982) Reproduction by fragmentation in corals. Mar Ecol Prog Ser 7:207–226

Highsmith RC, Riggs AC, D'Antonio CM (1980) Survival of hurricane-generated coral fragments and a disturbance model of reef calcification/growth rates. Oecologia 46:322–329

Hughes TP, Baird AH, Dinsdale EA, Harriot VJ, Moltschaniwskyj NA, Pratchett MS, Tanner JE, Willis BL (2002) Detecting regional variation using meta-analysis and large-scale sampling: latitudinal patterns in recruitment. Ecology 83:436–451

Jackson JBC, Kirby MX, Berger WH, Bjorndal KA, Botsford LW, Bourque BJ, Bradbury RH, Cooke R, Erlandson J, Estes JA, Hughes TP, Kidwell S, Lange CB, Lenihan HS, Pandolfi JM, Peterson CH, Steneck RS, Tegner MJ, Warner RR (2001) Historical overfishing and the recent collapse of coastal ecosystems. Science 293:629–637

Johnson MS, Threlfall TJ (1987) Fissiparity and population genetics of Coscinasterias calamaria. Mar Biol 93:517–525

Jordán-Dahlgren E (1992) Recolonization patterns of Acropora palmata in a marginal environment. Bull Mar Sci 51:104–117

Knowlton N, Lang JC, Keller BD (1990) Case study of natural population collapse: post-hurricane predation on Jamaican staghorn corals. Smithson Contrib Mar Sci 31:1–25

Márquez LM, van Oppen MJH, Willis BL, Miller DJ (2002) Sympatric populations of the highly cross-fertile coral species Acropora hyacinthus and Acropora cytherea are genetically distict. Proc R Soc Lond 269:1289–1294

Mayor PA, Rogers CS, Hillis-Star ZM (2006) Distribution and abundance of elkhorn coral, Acropora palmata, and prevalence of white-band disease at Buck Island Reef National Monument, St. Croix, US Virgin Islands. Coral Reefs 25:239–242

Méndez J (2002) Origen y formación del Archipiélago. In: Zamarro E (ed) Guía del parque nacional Archipiélago Los Roques. Embajada Española, Agencia de Cooperación Española, MARN. Ecograph, Caracas, pp 85–95

Miller MP (1997) Tools for population genetic analyses (TFPGA) 1.3: a windows program for the analyses of allozyme and molecular population genetic data. http://www.bioweb.usu.edu/mpmbio/

Miller MW (2001) Corallivorous snail removal: evaluation of impact on Acropora palmata. Coral Reefs 19:293–295

Miller MW, Baums IB, Williams DE, Szmant AM (2002) Status of candidate coral, Acropora palmata, and its snail predator in the upper Florida keys national marine sanctuary: 1998–2001. NOAA Technical Memorandum NMFS-SEFSC-479

Patterson KL, Ritchie KB (2004) White pox disease of the Caribbean elkhorn coral, Acropora palmata. In: Rosenberg E, Loya Y (eds) Coral health and disease. Springer, Berlin, pp 289–297

Patterson KL, Porter JW, Ritchie KB, Polson SW, Mueller E, Peters EC, Santavy DL, Smith GW (2002) The etiology of white pox, a lethal disease of the Caribbean elkhorn coral, Acropora palmata. Proc Natl Acad Sci USA 99:8725–8730

Porter JW, Dustan P, Jaap WC, Patterson KL, Kosminyn V, Meier OW, Patterson ME, Parson M (2001) Patterns of spread of coral disease in the Florida Keys. Hydrobiologia 460:1–24

Pritchard JK, Stephens M, Donnelly P (2000) Inference of population structure using multilocus genotype data. Genetics portions from molecular data. Mol Biol Evol 15:1298–1311

Pritchard JK, Wen X, Falush D (2007) Documentation for structure software: Version 2.2. http://www.pritch.bsd.uchicago.edu/software

Quinn NJ, Kojis BL (2005) Patterns of sexual recruitment of acroporid coral populations on the West Fore Reef at Discovery Bay, Jamaica. Rev Biol Trop 53:83–90

Reed DH, Frankham R (2003) Correlation between fitness and genetic diversity. Conserv Biol 17:230–237

Reusch TBH, Ehlers A, Hammerli A, Worm B (2005) Ecosystem recovery after climatic extremes enhanced by genotypic diversity. Proc Natl Acad Sci USA 102:2826–2831

Richardson BJ, Baverstock PR, Adams M (1986) Allozyme electrophoresis. Academic, Sydney

Roberts CM (1997) Connectivity and management of Caribbean coral reefs. Science 278:1454–1457

Rogers C, Sutherland KP, Porter JW (2005) Has white pox disease been affecting Acropora palmata for over 30 years? Coral Reefs 24:194–194

Selkoe KA, Gaines SD, Caselle JE, Warner RR (2006) Current shifts and kin aggregation explain genetic patchiness in fish recruits. Ecology 87:3082–3094

Severance EG, Karl SA (2006) Contrasting population genetic structures of sympatric, mass-spawning Caribbean corals. Mar Biol 150:57–68

Smith-Keune C, van Oppen M (2006) Genetic structure of a reef-building coral from thermally distinct environments on the Great Barrier Reef. Coral Reefs 493–502

Soong K, Lang JC (1992) Reproductive integration in reef corals. Biol Bull 183:418–431

Szmant AM, Miller MW (2006) Settlement preferences and post-settlement mortality of laboratory cultured and settled larvae of the Caribbean hermatypic corals Montastraea faveolata and Acropora palmata in the Florida Keys, USA. Proc 10th Int Coral Reef Symp 1:43–49

Uthicke S, Benzie JAH, Ballment E (1998) Genetic structure of fissiparous populations of Holothuria (Halodeima) atra on the Great Barrier Reef. Mar Biol 132:141–151

Valiere N (2002) GIMLET: a computer program for analyzing genetic individual identification data. Mol Ecol Not 2:377–379

van Oppen MJH, Gates RD (2006) Conservation genetics and the resilience of reef-building corals. Mol Ecol 15:3863–3883

Vermeij MJA (2006) Early life-history dynamics of Caribbean coral species on artificial substratum: the importance of competition, growth and variation in life-history strategies. Coral Reefs 25:59–71

Waits LP, Luikart G, Taberlet P (2001) Estimating the probability of identity among genotypes in natural populations: cautions and guidelines. Mol Ecol 10:249–256

Weir BS, Cockerham CC (1984) Estimating F-statistics for the analysis of population structure. Evolution 38:1358–1370

Whitaker K (2004) Non-random mating and population genetic subdivision of two broadcasting corals at Ningaloo Reef, Western Australia. Mar Biol 144:593–603

Williams DE, Miller MW (2005) Coral disease outbreak: pattern, prevalence, and transmission in Acropora cervicornis. Mar Ecol Prog Ser 301:119–128

Zubillaga AL, Bastidas C, Cróquer A (2005) High densities of the coral Acropora palmata in Cayo de Agua, Archipelago Los Roques National Park, Venezuela. Coral Reefs 24:86
Acknowledgments
We thank Iniciativa de Especies Amenazadas (IEA): PROVITA, Wildlife Trust, Conservación Internacional-Venezuela, Fundación Polar, and United Kingdom Embassy; Instituto Venezolano de Investigaciones Científicas (IVIC)-Centro Internacional de Ecología Tropical-UNESCO; and, Decanato de Postgrado and Decanato de Investigaciones Universidad Simón Bolívar for providing funds for this research. We specially thank J. P. Rodriguez for his valuable comments and disposition to critically read this manuscript. To K. Flynn, D. Lutes, M. Nugues, S. Rodríguez, D. Debrot and two reviewers who also provided comments to improve this manuscript.
Additional information
Communicated by Biology Editor M. van Oppen.
About this article
Cite this article
Zubillaga, A.L., Márquez, L.M., Cróquer, A. et al. Ecological and genetic data indicate recovery of the endangered coral Acropora palmata in Los Roques, Southern Caribbean. Coral Reefs 27, 63–72 (2008). https://doi.org/10.1007/s00338-007-0291-1
Received:

Accepted:

Published:

Issue Date:
Keywords
Acropora palmata

Population density

Size classes

Diseases

Sexual reproduction

Gene flow