Abstract
Hybridization is recognized as an important source of genetic variation. In some reef fishes, including the Acanthuridae, hybridization has been detected due to intermediate colouration. This study used a molecular genetic approach to investigate hybridization in two Acanthurid species: Acanthurus leucosternon and Acanthurus nigricans, which have Indian and Pacific Ocean distributions respectively and are sympatric in the eastern Indian Ocean. In this area a putatitve hybrid, Acanthurus cf. leucosternon has been recognized based on intermediate colouration and restriction to the sympatric region of otherwise allopatric putative parental species. This study aimed to test this hypothesis using genetic tools. The three species were sampled from Cocos (Keeling) and Christmas Islands, the biogeographic boundary where many Indian and Pacific Ocean biota meet. Representatives from allopatric populations of both parental species and outgroups were also sampled. Mitochondrial COI and intron 1 of the nuclear ribosomal protein S7 were sequenced from 13 and 30 specimens respectively. Although sample sizes in this study are relatively small and more genetic data, including an extended phylogeographic sampling, is required to further evaluate these findings, the COI results support hybrid origins of Acanthurus cf. leucosternon, but S7 data are inconclusive due to the possibility of incomplete lineage sorting. The fourfold more abundant Acanthurus nigricans is most often the maternal parent. Inter-fertile hybrids apparently backcross with rare Acanthurus leucosternon males, transferring Acanthurus nigricans mitochondria to this species. These results suggest that Acanthurus leucosternon may eventually be lost from these islands, due to their relative rarity and introgressive hybridization.
Access options
Buy single article
Instant access to the full article PDF.
US$ 39.95
Tax calculation will be finalised during checkout.
Subscribe to journal
Immediate online access to all issues from 2019. Subscription will auto renew annually.
US$ 119
Tax calculation will be finalised during checkout.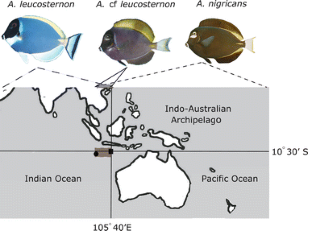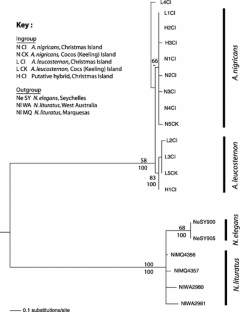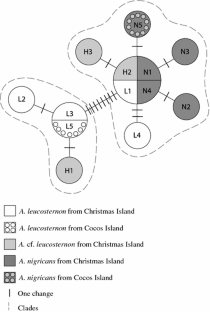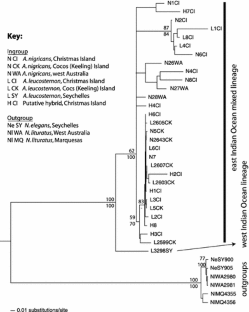 References
Arnold ML (1997) Natural hybridization and evolution. Oxford University Press, New York

Arnold ML, Hodges SA (1995) Are natural hybrids fit or unfit relative to their parents? Trends Ecol Evol 10:67–71

Barton NH (2001) The role of hybridization in evolution. Mol Ecol 10:551–568

Barton NH, Hewitt GM (1985) Analysis of hybrid zones. Annu Rev Ecol Syst 16:113–148

Bernardi G, Holbrook SJ, Schmitt RJ (2001) Gene flow at three spatial scales in a coral reef fish, the three-spot dascyllus, Dascyllus trimaculatus. Mar Biol 138:457–465

Bernardi G, Holbrook SJ, Schmitt RJ, Crane NL, DeMartini E (2002) Species boundaries, populations and colour morphs in the coral reef three-spot damselfish (Dascyllus trimaculatus) species complex. Proc R Soc B Biol Sci 269:599–605

Bernardi G, Bucciarelli G, Costagliola D, Robertson DR, Heiser JB (2004) Evolution of coral reef fish Thalassoma spp. (Labridae). 1. Molecular phylogeny and biogeography. Mar Biol 144:369–375

Brown LD (1995) Genetic evidence for hybridization between Haliotis rubra and H. laevigata. Mar Biol 123:89–93

Chow S, Hazama K (1998) Universal PCR primers for S7 ribosomal protein gene introns in fish. Mol Ecol 7:1255–1256

Excoffier L, Laval G, Schneider S (2005) Arlequin ver. 3.0: an integrated software package for population genetics data analysis. Evol Bioinformatics Online 1:47–50

Folmer O, Black M, Hoen W, Lutz R, Vrijenhoek R (1994) DNA primers for amplification of mitochondrial cytochrome c oxidase subunit I from diverse metazoan invertebrates. Mol Mar Biol Biotechnol 3:294–299

Frisch A, van Herwerden L (2006) Field and experimental studies of hybridization between coral trouts, Plectropomus leopardus and Plectropomus maculatus (Serranidae), on the Great Barrier Reef, Australia. J Fish Biol 68:1013–1025

Garcia-Machado E, Chevalier Monteagudo P, Solignac M (2004) Lack of mtDNA differentiation among hamlets (Hypoplectrus, Serranidae). Mar Biol 144:147–152

Gardner JPA (1996) The Mytilus edulis species complex in southwest England: effects of hybridization and introgression upon interlocus associations and morphometric variation. Mar Biol 125:385–399

Grant PR, Grant BR, Petren K (2005) Hybridization in the recent past. Am Nat 166:56–67

Hall TA (1999) Bioedit: a user-friendly biological sequence alignment editor and analysis program for Windows 95/98/NT. Nucleic Acids Symp Ser 41:95–98

Harrison RG (1993) Hybrid zones and the evolutionary process. Oxford University Press, Oxford

Hutchinson WF, Carvalho GR, Rogers SI (2001) Marked genetic structuring in localised spawning populations of cod (Gadus morhua) within the North Sea and adjoining waters as revealed by microsatellites. Mar Ecol Prog Ser 223:251–260

Jansson H, Holmgren I, Wedin K, Andersson T (1991) High frequency of natural hybrids between Atlantic salmon, Salmo salar L., and brown trout, S. truta L., in a Swedish river. J Fish Biol 39:343–348

Klanten S, van Herwerden L, Choat JH, Blair D (2004) Patterns of lineage diversification in the genus Naso (Acanthuridae). Mol Phylogenet Evol 32:221–235

Knowlton N (2000) Molecular genetic analyses of species boundaries in the sea. Hydrobiologia 420:73–90

Kuiter RH, Debelius H (2001) Surgeonfishes, rabbitfishes and their relatives. A comprehensive guide to Acanthuroidei (marine fish families). TMC Publishing, Chorleywood

Kumar S, Tamura K, Nei M (2004) MEGA3: integrated software for molecular evolutionary genetics analyses and sequence alignment. Briefings in Bioinformatics 5:150–163

Lacson JM (1994) Fixed allele frequency differences among Palauan and Okinawan populations of the damselfishes Chrysiptera cyanea and Pomacentrus coelestis. Mar Biol 118:359–365

Lacson JM Clark S (1995) Genetic divergence of Maldivian and Micronesian demes of the damselfishes Stegastes nigricans, Crysiptera biocellata, C. glauca and C. leucopoma (Pomacentridae). Mar Biol 121:585–590

Lacson JM, Nelson SG (1993) Genetic distances among fishes of the genus Siganus (Siganidae) from the western Pacific Ocean. Mar Biol 116:187–192

Lessios HA, Kessing BD, Robertson DR, Paulay G (1999) Phylogeography of the pantropical sea urchin Eucidaris in relation to land barriers and ocean currents. Evolution 53:806–817

Lieske E, Meyers R (1999) Coral reef fishes. Princeton University Press, Princeton

Mallet J (2005) Hybridization as an invasion of the genome. Trends Ecol Evol 20:229–237

McCartney MA, Acevedo J, Heredia C, Rico C, Quenoville B, Bermingham E, McMillan O (2003) Genetic mosaic in a marine species flock. Mol Ecol 12:2963–2973

McMillan WO, Weight LA, Palumbi SR (1999) Color pattern evolution, assortative mating, and genetic differentiation in brightly colored butterflyfishes (Chaetodontidae). Evolution 53:247–260

Messmer V, van Herwerden L, Munday P, Jones GP (2005) Phylogeography of colour polymorphism in the coral reef fish Pseudochromis fuscus, from Papua New Guinea and the Great Barrier Reef. Coral Reefs 24:392–402

Nei M (1987) Molecular evolutionary genetics. Columbia University Press, New York

Planes S, Doherty P (1997) Genetic and color interactions at a contact zone of Acanthochromis polyacanthus—a marine fish lacking pelagic larvae. Evolution 51:1232–1243

Posada D, Crandall KA (1998) Modeltest: testing the model of DNA substitution. Bioinformatics 14:817–818

Ramon ML, Lobel S, Sorenson MD (2003) Lack of mitochondrial genetic structure in hamlets (Hypoplectrus spp.); recent speciation or ongoing hybridization. Mol Ecol 12:2975–2980

Read C, Bellwood D, van Herwerden L (2006) Ancient origins of Indo-Pacific coral reef fish biodiversity: a case study of the leopard wrasses (Labridae: Macropharyngodon). Mol Phylogenet Evol 38:808–819

Rhymer JM, Simberloff D (1996) Extinction by hybridization and introgression. Annu Rev Ecol Syst 27:83–109

Ruzzante DE, Taggart CT, Lang S, Cook D (2000) Mixed-stock analysis of Atlantic cod near the Gulf of St Lawrence based on microsatellite DNA. Ecol Appl 10:1090–1109

Sambrook J, Russell DW (2001) Molecular cloning: a laboratory manual. Cold Spring Harbor Laboratory Press, Cold Spring Harbor

Swofford DL (1999) PAUP*: phylogenetic analysis using parsimony. Sinauer Associates, Champaign

Taylor EB, Boughman JW, Groenenboom M, Sniatynski M, Schluter D, Gow JL (2006) Speciation in reverse: morphological and genetic evidence of the collapse of a three-spined stickleback (Gasterosteus aculeatus) species pair. Mol Ecol 15:343–356

Taylor MS, Hellberg ME (2003) Genetic evidence for local retention of pelagic larvae in a Carribbean reef fish. Science 299:107–109

van Herwerden L, Doherty P (2006) Contrasting genetic structures across two hybrid zones of a tropical reef fish, I (Bleeker 1855). J Evol Biol 19:239–252

van Herwerden L, Choat JH, Dudgeon CL, Carlos G, Newman SJ, Frisch A, van Oppen M (2006) Contrasting patterns of genetic structure in two species of the coral trout Plectropomus (Serranidae) from east and west Australia: introgressive hybridization or ancestral polymorphisms. Mol Phylogenet Evol 41:420–435

van Oppen MJH, Gates RD (2006) Conservation genetics and the resilience of reef-building corals. Mol Ecol 15:3863–3883

Wilkins NP, Courtney HP, Gosling E, Linnane A, Jordan C, Curatolo A (1994) Morphometric and meristic characters in salmon, Salmo salar L., trout, Salmo truta L., and their hybrids. Aquaculture and Fisheries Management 25:505–518

Williams` ST, Benzie JAH (1998) Evidence of a biogeographic break between populations of a high dispersal starfish: congruent regions within the Indo-West Pacific defined by color morphs, mtDNA, and allozyme data. Evolution 52:87–99

Yaakub SM, Bellwood DR, van Herwerden L, Walsh FM (2006) Hybridization in coral reef fishes: introgression and bi-directional gene exchange in Thalassoma (family Labridae). Mol Phylogenet Evol 40:84–100

Yaakub SM, Bellwood DR, van Herwerden L (2007) A rare hybridization event in two common Caribbean wrasses (genus Halichoeres; family Labridae). Coral Reefs. doi: 10.1007/s00338-007-0240-z
Acknowledgements
Our thanks to: Justin Gilligan, Jay Hender and Dr Robertson, who provided field assistance and helped in collecting the specimens. Thanks also to Parks Australia Christmas Island, John Clunies-Ross and Geof Christie for providing valuable logistical support. We also thank Selma Klanten for guidance in the laboratory and COI sequences for the outgroups. Thanks are further due to Claire Farnsworth and Kate Winters for assistance with labwork. This work was funded by James Cook University funds awarded to JH Choat, GP Jones, P Munday and D Jerry.
Additional information
Communicated by Biology Editor M. van Oppen.
About this article
Cite this article
Marie, A.D., van Herwerden, L., Choat, J.H. et al. Hybridization of reef fishes at the Indo-Pacific biogeographic barrier: a case study. Coral Reefs 26, 841–850 (2007). https://doi.org/10.1007/s00338-007-0273-3
Received:

Accepted:

Published:

Issue Date:
Keywords
Acanthuridae

Hybridization

Introgression

COI and S7 intron 1

Biogeography

Mating behaviour