Abstract
This paper focuses on the invasion by Turbinaria ornata (a brown algae) in the Tuamotu archipelago, French Polynesia [(5–35°S)/(200–230°E)]. Prior to 1980, this alga existed only in the Society and Austral archipelagoes. Between 1985 and 1990, it began to appear in the southern and northern parts of the Tuamotu archipelago. Genetic analyses have been shown not to be appropriate in determining the origin of this algae population. This study investigated the possible ocean drift of floating aggregates of algae. Ocean currents were calculated from satellite data from 1993 to 2001. Their spatial variations as well as their seasonal and interannual variations are described along with calculated drift trajectories. While it was found that mean currents cannot directly transport algae from the Society and Austral archipelagoes to the Tuamotu, the large interannual changes during the El Niño-Southern Oscillation phenomenon produce current reversals that are strong enough to create a transport pathway in a short enough time to allow their survival.
Access options
Buy single article
Instant access to the full article PDF.
USD 39.95
Price excludes VAT (USA)
Tax calculation will be finalised during checkout.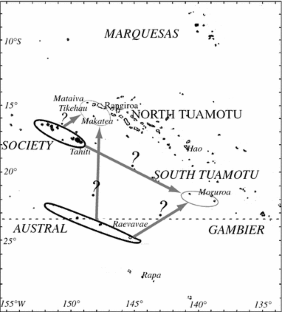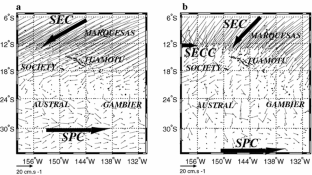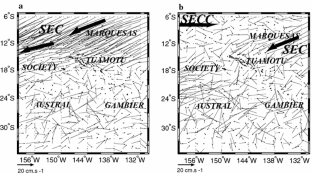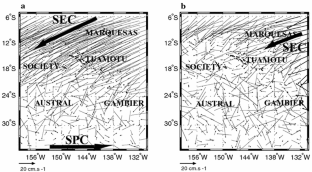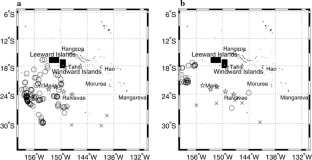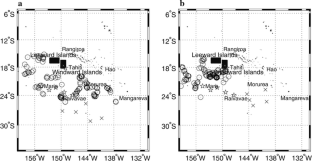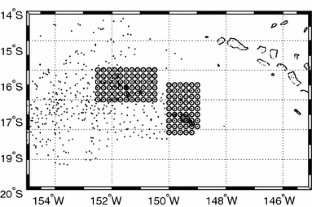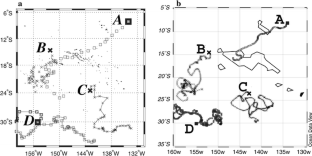 References
Andréfouët S, Mumby PJ, McField M, Hu C, Muller-Karger FE (2002) Revisiting coral reef connectivity. Coral Reefs 21:43–48

Bonjean F, Lagerloef GSE (2002) Diagnostic model and analysis of the surface currents in the tropical Pacific Ocean. J Phys Oceanogr 32:2938–2954

Boulanger JP, Rancher J, Kartavsteff A (1993) Etude des trajectoires des bouées dérivantes lancées depuis les atolls de Moruroa et de Fangataufa. Rapport Service Mixte de Sécurité Radiologique n 149:20

Chen D, Liu WT, Zebiak SE, Cane MA, Kushnir Y, Witter D (1999) Sensitivity of the tropical Pacific Ocean simulation to the temporal and spatial resolution of wind forcing. J Geophys Res 109: doi:10.1029/2003JC002243

Cowen RK, Kamazima MML, Sponaugle S, Paris CB, Olson DB (2000) Connectivity of marine populations: open or closed? Science 287:857–859

Delcroix T, McPhaden MJ, Dessier A, Gouriou Y (2005) Time and space scales for sea surface salinity in the tropical oceans. Deep-Sea Res I 52:797–813

Delesalle B (1985) Environnement survey of Mataïva atoll, Tuamotu archipelago, French Polynesia. Atoll Res Bull 286

Doumenge F (1999) L'oscillation australe El Niño (ENSO): anomalies de l'hydroclimat et conséquences. Biologia Marina Mediterranea, Atti del XXIX Congresso della Societa italiana di Biologia marina 6 (1)

Ducet N, Le Traon PY (2001) A comparison of surface eddy kinetic energy and Reynolds stresse in the Gulf Stream and the Kuroshio Current systems from merged TOPEX/Poseidon and ERS-1/2 altimetric data. J Geophys Res 106:16603–16622

Fu LL, Christensen EJ, Yamarone Jr CA, Lefebvre M, Ménard Y, Dorrer M, Escudier P (1994) Topex/Poseidon mission overview. J Geophys Res 99:24369–24381

Hazell DR, England MH (2003) Prediction of the fate of radioactive material in the South Pacific Ocean using a global high-resolution ocean model. J Environ Radioact 65:329–355

Kessler WS, Taft BAA (1987) Dynamics heights and zonal geostrophic transports in the central tropical Pacific during 1979–84. J Phys Oceanogr 17:97–122

Kubota M (1994) A mechanism for the accumulation of floating marine debris north of Hawaii. J Phys Oceanogr 24:1059–1064

Kubota M, Takayama K, Namimoto D (2005) Pleading for the use of biodegradable polymers in favor of marine environments and to avoid an asbestos-like problem for the future. Appl Microbiol Biotechnol 67:469–476

Lagerloef GSE, Mitchum GT, Lukas RB, Niiler PP (1999) Tropical Pacific near-surface currents estimated from altimeter, wind, and drifter data. J Geophys Res 104:23313–23326

Laurent V, Maamaatuaiahutapu K, Maiau J, Varney P (2004) Atlas climatologique de la Polynésie Française. Météo-France, Polynésie Française

Lewis DM, Belcher SE (2004) Time-dependent, coupled, Ekman boundary layer solutions incorporating Stockes Drift. Dyn Atmos Oceans 37:313–351

Madsen OS (1977) A realistic model of the wind induced Ekman boundary layer. J Phys Oceanogr 7:248–255

McCarthy MC, Talley LD, Roemmich D (2000) Seasonal to interannual variability from expendable bathythermograph and TOPEX/Poseidon altimeter data in the South Pacific subtropical gyre. J Geophys Res 105 (C8):19535–19550

Montaggioni LF, Richard G, Gabrie C, Monteforte M, Naim O, Payri C, Salvat B (1985) Les récifs coralliens de l'île de Makatea, archipel des Tuamotu, Pacifique Central: géomorphologie et répartition des peuplements. Ann Inst Oceanogr Paris 61(1):1–26

Payri CE, Naim O (1982) Variations entre 1971 et 1980 de la biomasse et de la composition des populations de macroalgues sur le récif corallien de Tiahura (ile de Moorea, Polynésie Française. Cryptogam Algol 3(3):229–240

Payri CE (1987) Zonation and seasonal variation of the commonest algae on Tiahura Reef (Moorea Island, French Polynesia). Bot Mar 18:141–149

Payri CE, N'Yeurt AR, Orempüller J (2001) Algae of French Polynesia. Au Vent des îles Tahiti

Perrie W, Tang CL, Hu Y, DeTracy BM (2003) The impact of waves on surface currents. J Phys Oceanogr 33:2126–2140

Picaut J, Busalacchi AJ (2001) Tropical ocean variability. In: Fu LL, Cazenave A (eds) Satellite altimetry and earth sciences. Academic, London pp 217–236

Pond S, Pickard GL (1983) Introductory dynamical oceanography, 2nd edn. Pergamon, Exeter

Rancher J, Rougerie F (1995) L'environnement océanique de l'archipel des Tuamotu (Polynésie française). Oceanol Acta 18:43–59

Rougerie F, Rancher J (1994) The Polynesian south ocean: features and circulation. Mar Pollut Bull 29:14–25

Stammer D, Wunsch C (1994) Preliminary assessment of the accuraccy and precision of Topex/Poseidon altimeter data with respect to the large-scale circulation. J Geophys Res 99:24584–24604

Stiger V, Payri CE (1999a) Spatial and seasonal variations in the biological characteristics if two invasive brown algae, Turbinaria ornata (Turner) J. Agardh and Sargassum mangarevense (Grunow) Setchell (Sargassaceae, Fucales) spreading on the reefs of Tahiti (French Polynesia). Bot Mar 42:295–306

Stiger V, Payri CE (1999b) Spatial and temporal patterns of settlement of the brown macroalgae Turbinaria ornata and Sargassum mangarevense in a coral reef on Tahiti. Mar Ecol Prog Ser 191:91–100

Stiger V, Payri CE (2005) Natural settlement dynamics of a young population of Turbinaria ornata and phenological comparisons with older populations. Aquat Bot 81:225–243

Stramma L, Peterson RG, Tomczak M (1995) The South Pacific Current. J Phys Oceanogr 25:77–91

Wakata Y, Sugimori Y (1990) Lagrangian motions and global density distributions of floating matter in the ocean simulated using shipdrift data. J Phys Oceanogr 20:125–138

Weber JE (2003) Wave-induced mass transport in the oceanic surface layer. J Phys Oceanogr 33:2527–2533

Wyrtki K, Kilonsky B (1984) Mean water and current structure during the Hawaii-to-Tahiti Shuttle experiment. J Phys Oceanogr 14:242–254

Zubia M (2003) La valorisation industrielle des algues brunes invasives (Fucales) de Polynésie française: étude prospective pour lutter contre leur prolifération et contribuer à la gestion durable de l'environnement récifal. Ph.D. thesis, Univ de Polynésie française, Tahiti, p359
Acknowledgments
Comments by Hilary Todd and Serge Andréfouët were greatly appreciated. E.M is supported by a grant from the Research Ministry of French Polynesia.
Additional information
Communicated by Ecology Editor P.J. Mumby.
About this article
Cite this article
Martinez, E., Maamaatuaiahutapu, K., Payri, C. et al. Turbinaria ornata invasion in the Tuamotu Archipelago, French Polynesia: ocean drift connectivity. Coral Reefs 26, 79–86 (2007). https://doi.org/10.1007/s00338-006-0160-3
Received:

Revised:

Accepted:

Published:

Issue Date:

DOI: https://doi.org/10.1007/s00338-006-0160-3
Keywords