Access options
Buy single article
Instant access to the full article PDF.
USD 39.95
Price excludes VAT (USA)
Tax calculation will be finalised during checkout.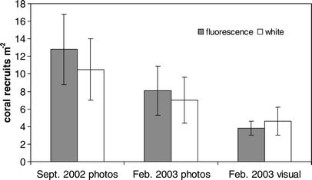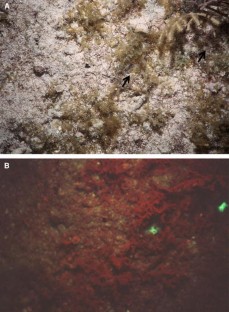 References
Baggett LS, Bright TJ (1985) Coral recruitment at the East Flower Garden Reef. Proc 5th Int Coral Reef Congr 4:379–384

Budd AF, Johnson KG, Stemann T (2004) Neogene marine biota of tropical America: zooxanthellate corals. http://porites.geology.uiowa.edu/database/corals/coralmnu.htm. Last accessed: 5 November 2004

Chiappone M, Sullivan KS (1996) Distribution, abundance and species composition of juvenile scleractinian corals in the Florida reef tract. Bull Mar Sci 58:555–569

Edmunds PJ, Aronson RB, Swanson DW, Levitan DR, Precht WF (1998) Photographic versus visual census techniques for the quantification of juvenile corals. Bull Mar Sci 62:937–946

Gittings S (2003) Pre-construction survey of the M/V Wellwood grounding site. Marine Sanctuaries Conservation Series MSD-03-01. US Department of Commerce, National Oceanic and Atmospheric Administration, Marine Sanctuaries Division, Silver Spring, MD, 16 pp

Harriott VJ, Fisk DA (1987) A comparison of settlement plate types for experiments on the recruitment of scleractinian corals. Mar Ecol Prog Ser 37:201–208

Hudson JH, Diaz R (1988) Damage survey and restoration of M/V Wellwood grounding site, Molasses Reef, Key Largo National Marine Sanctuary, Florida. Proc 6th Int Coral Reef Symp 2:231–236

Jaap WC, Wheaton JL, Donnelly KB (1994) A three-year evaluation of community dynamics of coral reefs at Fort Jefferson National Monument (Dry Tortugas National Park) Dry Tortugas, Florida, USA. Florida Marine Research Institute final report to National Park Service

Logan A, Halcrow K, Tomascik T (1990) UV excitation-fluorescence in polyp tissue of certain scleractinian corals from Barbados and Bermuda. Bull Mar Sci 46:807–813

Manica A, Carter RW (2000) Morphological and fluorescence analysis of the Montastrea annularis species complex in Florida. Mar Biol 137:899–906

Mazel CH (1995) Spectral measurements of fluorescence emission in Caribbean cnidarians. Mar Ecol Prog Ser 120:185–191

Mazel CH, Lesser MP, Gorbunov MY, Barry TM, Farrell JH, Wyman KD, Falkowski PG (2003) Green-fluorescent proteins in Caribbean corals. Limnol Oceanogr 48:402–411

Miller MW, Weil E, Szmant AM (2000) Coral recruitment and juvenile mortality as structuring factors for reef benthic communities in Biscayne National Park, USA. Coral Reefs 19:115–123

Mumby PJ (1999) Bleaching and hurricane disturbances to populations of coral recruits in Belize. Mar Ecol Prog Ser 190:27–35

Mundy CN (2000) An appraisal of methods used in coral recruitment studies. Coral Reefs 19:124–131

Myers MR, Hardy JT, Mazel CH, Dustan P (1999) Optical spectra and pigmentation of Caribbean reef corals and macroalgae. Coral Reefs 18:179–186

Rogers CS, Fitz HC III, Gilnack M, Hardin J (1984) Scleractinian coral recruitment patterns at Salt River Submarine Canyon, St. Croix, US Virgin Islands. Coral Reefs 3:69–76

Salih A, Larkum A, Cox G, Kuhl M, Hoegh-Guldberg O (2000) Fluorescent pigments in corals are photoprotective. Nature 408:850–853

Schlichter D, Meier U, Fricke HW (1999) Improvement of photosynthesis in zooxanthellate corals by autofluorescent chromatophores. Oecologia 99:124–131

Smith SR (1997) Patterns of coral settlement, recruitment, and juvenile mortality with depth at Conch Reef, Florida. Proc 8th Int Coral Reef Symp 2:1197–1202

Sokal RR, Rohlf FJ (1995) Biometry. W.H. Freeman Company, New York

Vermeij MJA, Delvoye L, Nieuwland G, Bak RPM (2002) Patterns in fluorescence over a Caribbean reef slope: the coral genus Madracis. Photosynthetica 40:423–429

Whitfield PE, Fonseca MS, Kenworthy WJ (2001) Coral damage assessment and restoration tools for small vessel groundings (Extension of seagrass Mini-312 program to coral reefs). Project Report to NOAA Damage Assessment Center, Silver Spring, Maryland. http://shrimp.ccfhrb.noaa.gov/~mfonseca/coral_modeling_report_4.pdf. Last accessed: 5 November 2004.

Zawada DG, Jaffe JS (2003) Changes in the fluorescence of the Caribbean coral Montastrea faveolata during heat-induced bleaching. Limnol Oceanogr 48:412–425
Acknowledgements
This work was supported by a NOAA Coral Conservation Program grant to Mark Fonseca. The authors thank Charles Mazel of Physical Sciences, Inc. and NightSea, Inc. for manuscript comments and advice on fluorescence techniques, Ruth Kelty, Patrick Biber, and two anonymous reviewers for comments that improved the manuscript, and Don Field, Christopher Slade and Amy Uhrin for field assistance. Joanne Delaney of the Florida Keys National Marine Sanctuary and Shay Viehman of Biscayne National Park arranged for field permits. The National Undersea Research Center provided logistic support. This paper is dedicated to the memory of Peter Gladding, who with his Alexis M provided invaluable field support.
Additional information
Communicated by Biological Editor K. S. Sealey
About this article
Cite this article
Piniak, G.A., Fogarty, N.D., Addison, C.M. et al. Fluorescence census techniques for coral recruits. Coral Reefs 24, 496–500 (2005). https://doi.org/10.1007/s00338-005-0495-1
Received:

Accepted:

Published:

Issue Date:

DOI: https://doi.org/10.1007/s00338-005-0495-1
Keywords
Fluorescence

Coral

Recruitment