Abstract
Reproductive characters of the Caribbean reef-building coral Acropora cervicornis were investigated based on histological samples collected from April 2001 through October 2002. Oogenesis commenced in early to mid-October through November and spermatogenesis was initiated from January to March. The onset of gametogenesis was staggered, exhibiting up to approximately a 1-month delay within colonies. In the hermaphroditic polyps, the observed male-to-female gonad ratio was nearly 1:1 and ripe oocytes represented over 70% of the total gonadal volume. Fecundity estimates based on Stage IV ova ranged between 10.4 and 21.8 mm3 per square centimeter per year, comparable to A. cervicornis in Puerto Rico and other broadcasting Indo-Pacific Acropora. Fecundity estimates based on Stage III vitellogenic oocytes indicated statistically significant differences among study sites. Spawning in field conditions was observed in 2001, 2003, and 2004 from 2300 to 2330 h. Gamete release generally occurred synchronously between nights two and seven after the full moon of July or August. However in 2003, multiple, small-scale gamete release episodes occurred over more than one lunar cycle. This coincided with the full moon occurring early in the month of July. While prolific gamete production is reported in this study, low levels of recruitment have been reported for this species. Thus, the highly fragmenting A. cervicornis may rely heavily on asexual reproduction for population maintenance and expansion, and recovery after disturbance may be greatly protracted.
Access options
Buy single article
Instant access to the full article PDF.
US$ 39.95
Tax calculation will be finalised during checkout.
Subscribe to journal
Immediate online access to all issues from 2019. Subscription will auto renew annually.
US$ 119
Tax calculation will be finalised during checkout.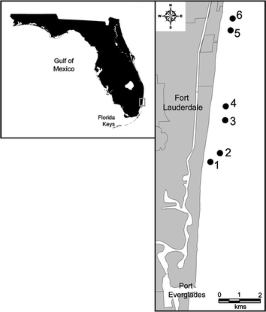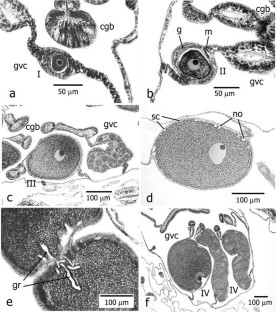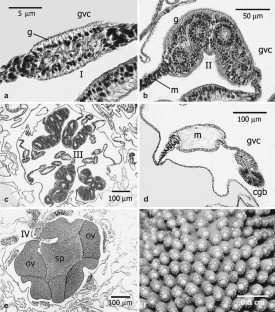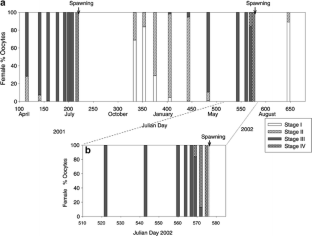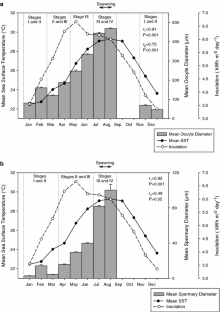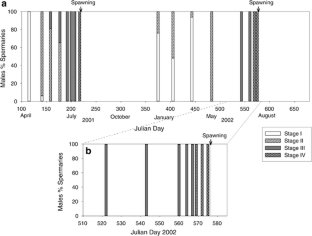 References
Aronson RB, Precht WF (2001) White-band disease and the changing face of Caribbean coral reefs. Hydrobiologia 460:25–38

Aronson RB, Precht WF, Macintyre IG (1998) Extrinsic control of species replacement on a Holocene reef in Belize: the role of coral disease. Coral Reefs 17:223–230

Bak RPM, Engel MS (1979) Distribution, abundance and survival of juvenile corals (Scleractinia) and the importance of life history strategies in the parent coral community. Mar Biol 54:341–352

Bell PRF, Tomascik T (1994) The demise of the fringing reefs of Barbados and of regions in the Great barrier Reef lagoon—impacts of eutrophication. In: Ginsburg RN (ed) Proceedings of the colloquium on coral reefs: health, hazards and history, 1993. Rosenstiel School of marine and Atmospheric Science, University of Miami, Florida, USA, pp 319–325

Bruckner AW (2002) Proceedings of the Caribbean Acropora workshop: potential application of the US endangered Species Act as a conservation strategy. NOAA Technical Memorandum. NMFS-OPR-24, Silver Spring, MD, 199 pp

Bythell J, Sheppard CRC (1993) Mass mortality of Caribbean shallow corals. Mar Poll Bull 26:296–297

Carson FL (1996) Histotechnology: a self instructional text. 2nd ed. ASCP Press, Chicago, p 303

Dayton PK (1972) Toward an understanding of community resilience on the potential effects of enrichment to the benthos of Mc Murdo Dound, Antarctica. In: Parker BC (ed) Proc Collq Covser Prob, Allen Press, Laurence, Kansas, pp 81–95

Dustan P (1977) Variability of reef coral populations off Key Largo, Florida: recruitment and mortality. Environ Geol 2:51–58

Fairbanks RG (1989) A 17,000-year glacio-eustatic sea level record: influence of glacial melting rtes on the Younger Dryas event and deep-ocean circulation. Nature 342:637–642

Fong P, Lirman D (1995) Hurricane cause population expansion of the branching coral Acropora palmata (scleractinian): wound healing and growth patterns of asexual recruits. Mar Ecol Prog Ser 16:317–335

Gladfelter WB (1982) White-band disease in Acropora palmata: implications for structure and growth of shallow reefs. Bull Mar Sci 32:639–643

Glynn PW, Gassman NJ, Eakin MC, Cortes J, Smith DB, Guzman HM (1991) Reef coral reproduction in the eastern Pacific: Coast Rica, Panama, and Galapagos Islands (Ecuador). I Pocillporidae Mar Biol 10:355–368

Glynn PW, Colley SB, Eakin CM, Smith DB, Cortés J, Gassman NJ, Guzmán HM, Del Rosario JB, Feingold JS (1994) Reef coral reproduction in the eastern Pacific: Costa Rica, Panamá, and Galápagos Islands (Ecuador). II Poritidae Mar Biol 118:191–208

Glynn PW, Colley SB, Gassman NJ, Black K, Cortés J, Maté JL (1996) Reef coral reproduction in the eastern Pacific: Costa Rica, Panamá, and Galápagos Islands (Ecuador). III. Agariciidae (Pavona gigantea and Gardineroseris planulata). Mar Biol 125:579–601

Glynn PW, SB Colley, Ting JH, Maté JL, Guzmán HM (2000) Reef coral reproduction in the eastern Pacific: Costa Rica, Panamá and Galápagos Islands (Ecuador). 4. Agariciidae, recruitment and recovery of Pavona varians and Pavona sp.a. Mar Biol 136:785–805

Harrison PL (1985) Sexual characteristics of scleractinian corals: systematics and evolutionary implications. Proc fifth Int Coral Reef Symp 4:337–342

Harrison PL, Wallace CC (1990) Reproduction, dispersal and recruitment of scleractinian corals. In: Dubinsky Z (ed) Ecosystems of the world 25. Coral reefs. Elsevier, Amsterdam, pp 133–207

Hayes JA. 1990. Distribution, movement and impact of the corallivorous gastropod Coralliophila abbreviata (Lamark) on a Panamanian patch reef. J Exp Mar Biol Ecol 142:25–42

Highsmith R (1982) Reproduction by fragmentation in corals. Mar Ecol Prog Ser 7:207–226

Hubbard DK, Gladfelter EH, Bythell JC (1994) Comparison of biological and geological perspectives of coral-reef community structure at Buck Island, U.S. Virgin Islands. In: Ginsburg RN (ed) Proceedings of the colloquium on coral reefs: health, hazards and history, 1993. Rosenstiel School of Marine and Atmospheric Science, University of Miami, Florida, USA, pp 201–207

Hughes TP (1994) Catastrophes, phase shifts, and large-scale degradation of Caribbean coral reefs. Science 265:1547–1551

Jaap WC, Sargent FJ (1994) The status of the remnant population of Acropora palmate (Lamark 1816) at Dry Tortugas National Park, with a discussion of possible causes of changes since 1881. In: Ginsburg RN (ed) Proceedings of the colloquium on coral reefs: health, hazards and history, 1993. Rosenstiel School of Marine and Atmospheric Science, University of Miami, Florida, USA, pp101–105

Jackson JBC (1994) Community unity. Science 264:1412–1414

Jokiel PL, Ito RY, Liu PM (1985) Night irradiance and synchronization of lunar release of planula larvae in the reef coral Pocillopora damicornis. Mar Biol 88:167–174

Knowlton N (1992) Thresholds and multiple stable states in coral reef community dynamics. Am Zool 32:674–682

Knowlton N, Lang JC, Keller BD (1990) Case study of a natural population collapse: post-hurricane predation of Jamaican Staghorn corals. Smithsonian Institution Press, Washington DC; Smithson Contrib Mar Sci 31:1–25

Lee TN (1975) Florida Current spin-off eddies. Deep-Sea Res 22:753–765

Lee TN, Mayer DA (1977) Low-frequency current variability and spin-off eddies along the shelf of Southeast Florida. J Mar Res 35:139–200

Lighty RG, Macintyre IG, Stuckenrath R (1982) Acropora palmata reef framework: a reliable indication of sea level in the western Atlantic for the past 10,000 years. Coral Reefs 1:125–130

Lirman D (2000) Fragmentation in Acropora palmata (Lamark): growth, survivorship, and reproduction of colonies and fragments. J Exp Mar Ecol Biol 251:41–57

Luna LG (1968) Manual of histologic staining methods of the Armed Forces Institute of Pathology. 3rd ed. McGraw Hill, New York, p 258

Macintyre IG, Bruke RB, Stuckenrath R (1977) Thickest recorded Holocene reef section, Isla Pérez core hole, Alacran reef, Mexico. Geology 5:749–754

Mendes JM, Woodely JD (2002) Timing of reproduction in Montastraea annularis: relationship to environmental variables. Mar Ecol Prog Ser 227:241–251

Miller MW, Bourque AS, Bohnsack JA (2002) An analysis of the loss of acroporid corals at Looe Key, Florida, USA: 1983–2000. Coral Reefs 21:179–182

Peters EC, Oprandy JJ, Yevich PP (1983) Possible causal agent of 'white band disease' in Caribbean acroporid corals. J Invertebr Pathol 41:394–396

Penland L, Kloulechad J, Idip D, van Woesik R (2004) Coral spawning in the western Pacific is related to solar insolation: evidence of multiple spawning events in Palau. Coral Reefs 23:133–140

Policansky D (1982) Sex change in plants and animals. Ann Rev Ecol Syst 13:471–495

Richmond RH, Hunter CL (1990) Reproduction and recruitment of corals: comparisons among the Caribbean, the tropical Pacific, and the Red Sea. Mar Ecol Prog Ser 60:185–203

Rinkevich B, Loya Y (1987) Variability in the pattern of sexual reproduction of the coral Stylophora pistillata at Eilat, Read Sea: a long-term study. Biol Bull 173:335–344

Rosesmyth MC (1984) Growth and survival of sexually produced Acropora recruits: a post hurricane study at Discovery Bay, Jamaica. Advances in reef science, University of Miami, Florida, pp 105–105

Rylaarsdam KW (1983) Life histories and abundance patterns of colonial corals on Jamaican reefs. Mar Ecol Prog Ser 13:249–260

Soong K, Lang JC (1992) Reproductive integration in reef corals. Biol Bull 183:418–431

Szmant AM (1986) Reproductive ecology of Caribbean reef corals. Coral Reefs 5:43–54

Szmant AM (1991) Sexual reproduction by the Caribbean reef corals Montastrea annularis and M. cavernosa. Mar Ecol Prog Ser 74:13–25

Szmant-Froelich A, Yevich P, Pilson MEQ (1980) Gametogenesis and early development of the temperate coral Astranagia danae (Anthozoa: Scleractinia). Biol Bull 158:257–265

Szmant-Froelich A, Reutter M, Riggs L (1985) Sexual reproduction of Favia fragum (Esper): lunar patterns of gametogenesis, embryogenesis and planulation in Puerto Rico. Bull Mar Sci 37:880–892

Steiner SCC (1995) Spawning in scleractinian corals from Puerto Rico (West Indies). Bull Mar Sci 56:899–902

Tunnicliffe V (1981) Breakage and propagation of the stony Acropora cervicornis. Proc Natl Acad Sci 78:2427–2431

Vargas-Ángel B, Thomas JD (2002) Sexual reproduction of Acropora cervicornis in nearshore waters off Broward County, Florida, USA. Coral Reefs 21:25–26

Vargas-Ángel B, Thomas JD, Hoke SM (2003) High-latitude Acropora cervicornis thickets off Fort Lauderdale, Florida. Coral Reefs 22:465–472

Wallace CC (1985) Reproduction, recruitment and fragmentation in nine sympatric species of the coral genus Acropora. Mar Biol 88:217–233
Acknowledgments
We thank B. Ettinger, M. Berkle, and H. Halter for assistance in collecting corals. We also gratefully acknowledge P. Glynn and E. Peters for laboratory space, equipment, and histological supplies. We thank C. Messing and A. Rogers for the use of photo-microscopy equipment. Collection permits were made possible through W. Jaap, K. Ethridge and L. Gregg at the Florida Wildlife Conservation Commission (collection permits 0IS-606, 02IMP-606, and 02R-669). Comments by H. Lasker, and one anonymous reviewer greatly improved the quality of this manuscript. Logistical support was provided by L. Robinson. We also thank A. Renegar, R, Moyer, R Wolcott, E. Hodel, J. Feingold, S. Thornton, N. Garbarino, M. Cho, J. Craft, G. Foster, M. Cuvelier, and A. Hemphill for assistance with night dives. Partial personnel funding (S. Colley) was provided by EPA grant No. GR828020-01 to NCORE. This research was funded by the National Oceanic and Atmospheric Administration Coastal Ocean Program under award #NA06OA0390 to Nova Southeastern University for the National Coral Reef Institute.
Additional information
Communicated by Biological Editor H.R. Lasker
About this article
Cite this article
Vargas-Ángel, B., Colley, S.B., Hoke, S.M. et al. The reproductive seasonality and gametogenic cycle of Acropora cervicornis off Broward County, Florida, USA. Coral Reefs 25, 110–122 (2006). https://doi.org/10.1007/s00338-005-0070-9
Received:

Accepted:

Published:

Issue Date:
Keywords
Acropora cervicornis

Gametogenesis

Sexual reproduction

Florida