Abstract
Tropical marine ornamentals comprise an increasingly important fishery worldwide. Although the potential for overexploitation of marine ornamentals is great, few studies have addressed the population-level impacts of ornamental exploitation and few ornamental fisheries are managed. Analysis of catch records obtained from collectors over a four-month period in the vicinity of Cebu, Philippines, showed that anemonefish and anemones comprised close to 60% of the total catch. Underwater visual census surveys revealed that both anemone and anemonefish densities were significantly lower in exploited areas than in protected areas. The low density of anemones on exploited reefs accounted for over 80% of the reduced density of anemonefish at those sites. There were similar numbers of anemonefish per unit area of anemone in protected and exploited sites; however, biomass of anemonefish per unit area of anemone was lower in exploited areas. Reduction of anemone removals is recommended to support the sustainable harvest of anemonefish from this region.
Access options
Buy single article
Instant access to the full article PDF.
US$ 39.95
Tax calculation will be finalised during checkout.
Subscribe to journal
Immediate online access to all issues from 2019. Subscription will auto renew annually.
US$ 119
Tax calculation will be finalised during checkout.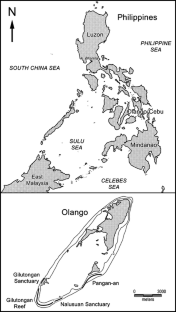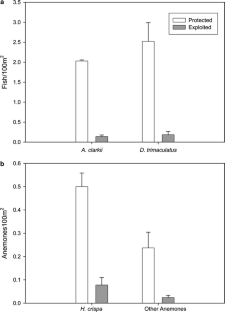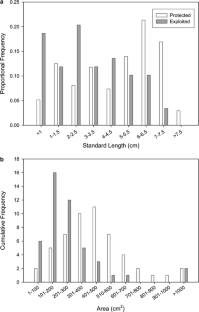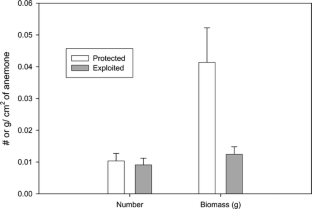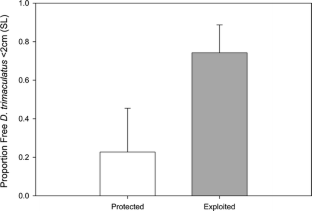 References
Adam MS (1997) The aquarium fishery of the Maldives. In: Nickerson DJ, Maniku MH (eds) Workshop on integrated reef resources management in the Maldives. Bay of Bengal Publishing, Madras, pp 93–115

Adams CM, Larkin SL, Degner RL, Lee DJ, Milon JW (2001) International trade in live, ornamental "Fish" in the U.S. and Florida. Sea Grant Technical Paper Number 113, Florida Sea Grant, University of Florida, Gainesville

Albaladejo VD, Corpuz VT (1981) A market study of the aquarium fish industry of the Philippines: an assessment of the growth and the mechanics of the trade. Proc 4th Int Coral Reef Symp 1:75–81

Andrews C (1990) The ornamental fish trade and fish conservation. J Fish Biol 37:53–59

Bell LJ, Moyer JT, Numachi K (1982) Morphological and genetic variation in Japanese populations of the anemonefish Amphiprion clarkii. Mar Biol 72:99–108

Bell J, Doherty P, Hair C (1999) The capture and culture of postlarval coral reef fish: potential for new artisanal fisheries. SPC Live Reef Fish Bull 6:31–34

Bolker BM, St. Mary C, Osenberg CW, Schmitt RJ, Holbrook SJ (2002) Management at a different scale: marine ornamentals and local processes. Bull Mar Sci 70:733–748

Butler IS (1991) An investigation of the effects of collecting anemonefish for the aquarium trade. Honors Thesis. James Cook University of North Queensland

Chapman FA, Fitz-Coy SA, Thunberg EM, Adams CM (1997) United States of America trade in ornamental fish. J World Aquacult Soc 28:1–10

Cordova Municipality (2001) Gilutongan Island marine sanctuary management plan (2001–2003). Cordova Municipality with assistance from the Coastal Resource Management Project of the Department of Environmental and Natural Resources, Cordova, Cebu, Philippines

Daw TM, Rogers GCC, Mapson P, Kynoch JE (2001) Structure and management issues of the emerging ornamental fish trade in Eritrea. Aquarium Sci Conserv 3:53–64

Dufour V (2002) Reef fish post-larvae collection and rearing programme for the aquarium market. SPC Live Reef Fish Inf Bull 10:31–32

Edwards AJ, Shepherd AD (1992) Environmental implications of aquarium-fish collection in the Maldives, with proposals for regulation. Environ Conserv 19:61–72

Elliott JK, Mariscal RN (2001) Coexistence of nine anemonefish species: differential host and habitat utilization, size and recruitment. Mar Biol 138:23–36

Fautin DG (1986) Why do anemonefishes inhabit only some host actinians? Environ Biol Fishes 15:171–180

Fautin DG (1991) The anemonefish symbiosis: what is known and what is not. Symbiosis 10:23–46

Fautin DG (1992) Anemonefish recruitment: the roles of order and chance. Symbiosis 14:143–160

Fautin DG, Allen GR (1992) Field Guide to anemonefishes and their host sea anemones. Field guide to anemonefishes and their host sea anemones. Western Australia Museum, Australia

Forum Secretariat (1999) Marine ornamentals trade quality and sustainability for the Pacific Region. South Pacific Forum Secretariat Trade and Investment Division. Suva, Fiji

Froese R, Pauly D (2003) FishBase. World Wide Web electronic publication. http://www.fishbase.org, version 21 April 2003

Hattori A (1991) Socially controlled growth and size-dependent sex change in the anemonefish Amphiprion frenatus in Okinawa, Japan. Jpn J Ichthyol 38:165–177

Hattori A (1994) Inter-group movement and mate acquisition tactics of the protandrous anemonefish, Amphiprion clarkii, on a coral reef, Okinawa. Jpn J Ichthyol 42:159–165

Hattori A (2000) Social and mating systems of the protandrous anemonefish Amphiprion perideraion under the influence of a larger congener. Aust Ecol 25:187–192

Hilborn R, Walters CJ, Ludwig D (1995) Sustainable exploitation of renewable resources. Ann Rev Ecol Syst 26:45–67

Hirose Y (1995) Patterns of pair formation in protandrous anemonefishes, Amphiprion clarkii, A. frenatus, and A. perideraion, on coral reefs of Okinawa, Japan. Environ Biol Fishes 43:153–161

Holbrook SJ, Forrester GE, Schmitt RJ (2000) Spatial patterns in abundance of a damselfish reflect availability of suitable habitat. Oecologia 122:109–120

Ignatius B, Rathore G, Jagadis I, Kandasami D, Victor ACC (2001) Spawning and larval rearing technique for tropical colwn fish Amphiprion sebae under captive conditions. J Aquacult Trop 16:241–249

Jennings S, Polunin NVC (1995) Comparative size and composition of yield from six Fijian reef fisheries. J Fish Biol 46:28–46

Kaiser H, Britz P, Endemann F, Haschick R, Jones CLW, Koranteng B, Kruger DP, Lockyear JF, Oellermann LK, Oliver AP, Rouhani Q, Hecth T (1997) Development of technology for ornamental fish aquaculture in South Africa. S Afr J Sci 93:351–354

Larkin SL, Degner RL (2001) The U.S. wholesale market for marine ornamentals. Aquarium Sci Conserv 3:13–24

Lubbock HR, Polunin NVC (1975) Conservation and the tropical marine aquarium trade. Environ Conserv 2:229–232

Ochi H (1986) Growth of the anemonefish Amphiprion clarkii in temperate waters, with special reference to the influence of settling time on the growth of 0-year olds. Mar Biol 92:223–229

Ochi H (1989) Acquisition of breeding space by nonbreeders in the anemonefish Amphiprion clarkii in temperate waters of Southern Japan. Ethology 83:279–294

Oliver J, Noordelogs M (2003) ReefBase: a global information system on coral reefs. World Wide Web electronic publication. http://www.reefbase.org

QFMA (1999) Discussion Paper 10. Queensland marine fish and coral collecting fisheries. Prepared for the Queensland Fisheries Management Authority and Harvest MAC by the Aquarium Fish and Coral Fisheries Working Group. Queensland

Randall JE (1987) Collecting reef fishes for aquaria. In: Salvat B (ed) Antenne Museum E.P.H.E., French Polynesia, pp29–39

Richardson DL (1999) Correlates of environmental variables with patterns in the distribution and abundance of two anemonefishes (Pomacentridae: Amphiprion) on an eastern Australian sub-tropical reef system. Environ Biol Fishes 55:255–263

Richardson DL, Harrison PL, Harriott VJ (1997) Timing of spawning and fecundity of a tropical and subtropical anemonefish (Pomacentridae: Amphiprion) on a high latitude reef on the east coast of Australia. Mar Ecol Prog Ser 156:175–181

Ross RM (1978) Reproductive behavior of the anemonefish Amphiprion melanopus on Guam. Copeia 1:103–107

Ross RM (1990) The evolution of sex-change mechanisms in fishes. Environ Biol Fishes 29:81–93

Sadovy Y (1992) A preliminary assessment of the marine aquarium export trade in Puerto Rico. Proc 7th Int Coral Reef Symp 2:1014–1022

Schimtt RJ, Holbrook SJ (2000) Habitat-limited recruitment of coral reef damselfish. Ecology 81:3479–3494

Schmitt RJ, Holbrook SJ (1996) Local-scale patterns of larval settlement in a planktivorous damselfish- do they predict recruitment. Mar Freshwat Res 47:449–463

Schmitt RJ, Holbrook SJ (1999) Mortality of juvenile damselfish: implications for assessing processes that determine abundance. Ecology 80:35–50

Shuman CS (2003) The marine aquarium trade in the Philippines: balancing ecological impacts with livelihood opportunities. Doctoral dissertation, University of California, Los Angeles

Sotto FB, Gatus JLI, Ross MA, Portigo MaFL, Freire FM (2001) Coastal Environmental Profile of Olango Island, Cebu Philippines. Coastal Resource Management Project, Cebu, Philippines

SPSS (1998) SYSTAT 9. SPSS Inc.

Srinivasan M, Jones GP, Caley MJ (1999) Experimental evaluation of the roles of habitat selection and interspecific competition in determining patterns of host use by two anemonefishes. Mar Ecol Prog Ser 186:283–292

Tissot BN, Hallacher LE (1999) Impacts of aquarium collectors on coral reef fishes in Kona, Hawaii. Final Report to the Division of Aquatic Resources, State of Hawaii

Tissot BN, Walsh WJ, Hallacher LE (2002) The effectiveness of marine protected areas and the impacts of aquarium fish collecting in Hawaii, Technical Report Year 2001. Hawaii Coral Reef Initiative, National Oceanic and Atmospheric Administration, Honolulu, HI, Silver Springs, MD

Wabnitz C, Taylor M, Green E, Razak T (2003) From oceans to aquarium. UNEP-WCMC, Cambridge

Whitehead MJ, Gilmore E, Eager P, McMinnity P, Craik W, Macleod P (1986) Aquarium fishes and their collection in the Great Barrier Reef region. Aquarium fishes and their collection in the great Barrier Reef region. Great Barrier Reef Marine Park Authority Technical Memorandum

Wijesekara RGS, Yakupitiyage A (2001) Ornamental fish industry in Sri Lanka: present status and future trends. Aquarium Sci Conserv 3:241–252

Wood E (1985) Exploitation of coral reef fishes for the aquarium trade. Report to the Marine Conservation Society. Marine Conservation Society, UK

Wood E (2001) Global advances in conservation and management of marine ornamental resources. Aquarium Sci Conserv 3:65–77

Yanagisawa Y, Ochi H (1986) Step-fathering in the anemonefish Amphiprion clarkii: a removal study. Anim Behav 34:1769–1780
Acknowledgements
We thank the numerous fisherfolk in the Philippines for their limitless hospitality and cooperation. We thank D. Ochavillo, R. Ruz and the staff of MAC Philippines for their support and assistance as well as N. Ross, K. McGee, L. Maun and Quiksilver Inc. for logistical assistance. We recognize N. Alonzo and the staff of the Bureau of Fisheries and Aquatic Resources (Cebu) as well as S. Green and A. White for their support of this project. Funding for this study was provided by a grant from the John D. and Catherine T. MacArthur Foundation to GH and a dissertation year fellowship from UCLA to CSS.
About this article
Cite this article
Shuman, C.S., Hodgson, G. & Ambrose, R.F. Population impacts of collecting sea anemones and anemonefish for the marine aquarium trade in the Philippines. Coral Reefs 24, 564–573 (2005). https://doi.org/10.1007/s00338-005-0027-z
Received:

Accepted:

Published:

Issue Date:
Keywords
Aquarium trade

Anemones

Anemonefish

Fisheries management

Marine ornamentals

Philippines