Abstract
Geographic information system-based analysis was used to derive comprehensive, consistent estimates of the potential area of broadly defined, shallow-water, tropical and subtropical coral ecosystems within the territorial sea and exclusive economic zone of the United States. A coral ecosystem is composed of habitats including unconsolidated sediment, mangrove, hermatypic coral, colonized hardbottom, and submerged vegetation, and major structural zones like reef crest, lagoon, and fore reef. This broad definition reflects the importance of both reef and non-reef habitats and structural zones in the function of these ecosystems. Nautical charts, published by the National Oceanic and Atmospheric Administration's Office of the Coast Survey, provide a consistent source of 10-fathom (∼18 m) and 100-fathom (∼183 m) depth curve information. The 10-fathom or 100-fathom depth curves are used as surrogates for the potential distribution and extent of shallow-water coral ecosystems in tropical and subtropical U.S. waters. An estimated 36,813 sq·km area has been identified where coral ecosystems can potentially be found in waters less than 10 fathoms (18 m) deep. In addition, an estimated 143,059 sq·km area has been identified where coral ecosystems potentially can be found in U.S. waters at depths down to 100 fathoms (183 m). Results also indicate that previous studies underestimated the extent of potential coral ecosystems for some locations in U.S. tropical and subtropical waters by as much as 100% and that the regional distribution of coral ecosystems has been incorrectly reported.
Access options
Buy single article
Instant access to the full article PDF.
USD 39.95
Price includes VAT (USA)
Tax calculation will be finalised during checkout.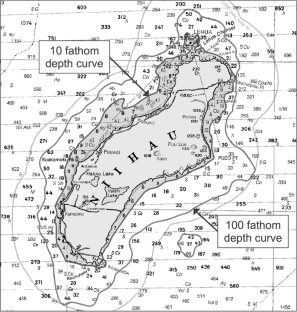 References
Barnes R, Hughes R (1999) An introduction to marine ecology. In: Malden MA (ed) 3rd edn. Blackwell Science Inc, pp 117–141

Bellwood DR, Hughes TP, Nyström M (2004) Confronting the coral reef crisis. Nature 429:827–833

Causey B, Delaney J, Diaz E, Dodge D, Garcia J, Higgins J, Keller B, Kelty R, Jaap W, Matos M, Schmahl G, Rogers C, Miller M, Turgeon D (2002) Status of coral reefs in the US Caribbean and Gulf of Mexico: Florida, Texas, Puerto Rico, US Virgin Islands, Navassa. In: Wilkinson C (ed) Status of coral reefs of the world 2002. Australian Institute of Marine Science, pp 251–276

Coyne MS, Battista TA, Anderson M, Waddell J, Smith W, Jokiel P, Kendall MS, Monaco ME (2003) Benthic habitats of the main Hawaiian Islands. NOAA Technical Memorandum NOS NCCOS CCMA (on–line) Silver Spring, MD. URL: http://biogeo.nos.noaa.gov/projects/mapping/pacific/

Christensen JD, Jeffery CFG, Caldow C, Monaco ME, Kendall MS, Appeldoorn RS (2003) Cross-shelf habitat utilization patterns of reef fishes in southwestern Puerto Rico. Gulf Carib Res 14(2):9–27

Davidson MG (2002) Protecting coral reefs: the principal national and international legal instruments. Harv Environ Law Rev 26:499–546

Dulvy NK, Freckleton RP, Polunin NVC (2004) Coral reef cascades and the indirect effects of predator removal by exploitation. Ecol Lett 7:410–416

FMRI (Florida Fish and Wildlife Conservation Commission, Florida Marine Research Institute and National Oceanic and Atmospheric Administration) (2000) Benthic habitats of the Florida Keys. FMRI Tech Rep TR-4:53

FMRI (on-line) Marine Resource Geographic Information System Internet Map Server. St. Petersburg, Florida. URL: http://ocean.floridamarine.org/mrgis/viewer.htm

Friedlander AM, DeMartini EE (2002) Contrast in density, size, and biomass of reef fishes between the northwestern and main Hawaiian islands: the effects of fishing down apex predators. Mar Ecol Prog Ser 230:253–264

Gardner TA, Cote IM, Gill JA, Grant A, Watkinson AR (2003) Long-term region-wide declines in Caribbean corals. Science 301:958–960

Glynn PW (1996) Coral reef bleaching: facts, hypotheses and implications. Global Change Biol 2:495–509

Grigg RW (1997) Paleoceanography of the Hawaiian-Emperor Archipelago–Revisited. Coral Reefs 16:145–153

Grigg RW, Epp D (1989) Critical depth for the survival of coral islands: effects on the Hawaiian Archipelago. Science 243:638–641

Hoegh-Guldberg O (1999) Climate change, coral bleaching and the future of the world's coral reefs. Mar Freshwater Res 50:839–866

Hunter CL (1995) Review of status of coral reefs around American flag Pacific islands and assessment of need, value, and feasibility of establishing a coral reef fishery management plan for the western Pacific region. Final Report prepared for the Western Pacific Regional Fishery Management Council, p 39

Huston MA (1985) Patterns in species diversity on coral reefs. Ann Rev Ecol Syst 6:149–177

Jaap WC (1984) The ecology of the south Florida coral reefs: a community profile. U.S. Fish Wildlife Ser. FWS/OBS-82/08, p 138

Kendall MS, Christensen JD, Hillis-Starr Z (2003) Multi-scale data used to analyze the spatial distribution of French grunts, Haemulon flavolineatum, relative to hard and soft bottom in a benthic landscape. Environ Biol Fish 66:19–26

Kendall MS, Monaco ME, Buja KR, Christensen JD, Kruer CR, Finkbeiner M, Warner RA (2001) Methods used to map the benthic habitats of Puerto Rico and the U.S. Virgin Islands. Technical Memorandum NOS NCCOS CCMA 152. Silver Spring, MD

Lalli CM, Parsons TR (1995) Biological Oceanography: an introduction. Butterworth–Heinemann Ltd, Oxford, UK, pp 220–233

Leichter JJ, Stewart HL, Miller SL (2003) Episodic nutrient transport to Florida coral reefs. Limnol Oceanogr 48:1394–1407

Lesser MP (2004) Experimental biology of coral reef ecosystems. J Exp Mar Biol Ecol 300:217–252

Lindeman KC (1986) Development of larvae of the French grunt, Haemulon flavolineatum, and comparative development of twelve western Atlantic species of Haemulon. Bull Mar Sci 39:673–716

Lobel PS (2003) Marine life of Johnston Atoll, Central Pacific Ocean. Natural World Press Inc, USA, pp 128

Maragos JE, Jokiel PL (1986) Reef corals of Johnston Atoll: One of the world's most isolated reefs. Coral Reefs 4:141–150

Miller SL, Crosby MP (1998) The extent and condition of US coral reefs. In: NOAA's State of the Coast Report. Silver Spring, MD, pp 1–34

Monaco ME, Christensen JD, Rohmann SO (2001) Mapping and monitoring of US coral ecosystems. The coupling of ecology, remote sensing, and GIS technology. Earth Syst Monit 12:1–7,16

Mumby PJ, Edwards AJ, Arlas-González JE, Lindeman KC, Blackwell PG, Gall A, Gorczynska MI, Harborne AR, Pescod CL, Renken H, Wabnitz CCC, Llewellyn G (2004) Mangroves enhance the biomass of coral reef fish communities in the Caribbean. Nature 427:533–536

NOAA (National Oceanic and Atmospheric Administration) (On-line) NOAA's Medium Resolution Digital Vector Shoreline data product. Silver Spring, MD. URL: ftp://spo.nos.noaa.gov/datasets/CADS/GIS_Files/ShapeFiles/medium_shoreline

NOAA (1998) Benthic Habitats of the Florida Keys digital data product. Silver Spring, MD. URL: ftp://spo.nos.noaa.gov/datasets/benthic_habitats

NOAA (2003) Atlas of the shallow-water benthic habitats of the Northwestern Hawaiian Islands-draft, p 160

NOAA/NOS (2003) Supplemental atlas derived from NOAA/NOS benthic habitats of the main Hawaiian islands-interim product. National Oceanic and Atmospheric Administration, Silver Spring, MD, p 103

NOAA (2004) Atlas of the shallow-water benthic habitats of American Samoa, Guam, and the Commonwealth of the Northern Mariana Islands. NOAA National Centers for Coastal Ocean Science, Biogeography Team. NOAA Technical Memorandum NOS NCCOS 8, p 126

Ogden JC, Ehrlich PR (1977) The behavior of heterotypic resting schools of juvenile grunts (Pomadasyidae). Mar Biol 42:273–280

Pandolfi JM (2002) Coral community dynamics at multiple scales. Coral Reefs 21:13–23

Parrish JD (1989) Fish communities of interacting shallow-water habitats in tropical oceanic regions. Mar Ecol Prog Ser 58:143–160

Scavia D, Field JC, Boesch DF, Buddemeier RW, Burkett V, Cayan DR, Fogarty M, Harwell MA, Howarth RW, Mason C, Reed DJ, Royer TC, Sallenger AH, Titus JG (2002) Climate change impacts on US coastal and marine ecosystems. Estuaries 25:149–164

Spalding MD, Grenfell AM (1997) New estimates of global and regional coral reef areas. Coral Reefs 16:225–230

Spalding MD, Ravilious C, Green EP (2001) World atlas of coral reefs. Prepared at the UNEP World Conservation Monitoring Centre. University of California, Berkeley

Stumpf RP, Holderied K, Sinclair M (2003) Determination of water depth with high-resolution satellite imagery over variable bottom types. Limnol Oceanogr 48(1, part 2):547–556

Szmant AM (2002) Nutrient enrichment on coral reefs: is it a major cause of coral reef decline?. Estuaries 25:743–766

Veron JEN (1986) Corals of Australia and the Inso-Pacific. Angus and Robertson, London

West JM, Salm RV (2003) Resistance and resilience to coral bleaching: implications for coral reef conservation and management. Conservation Biol 17:956–967

Wilkinson C (ed) (2002) Status of coral reefs of the world: 2002. Aust Inst of Mar Sci

Wolanski E, Richmond R, McCook L, Sweatman H (2003) Mud, marine snow and coral reefs. Am Sci 91:44–51
Acknowledgments
The authors would like to thank Paula Allen, Marlin Atkinson, Jim Bohnsack, Billy Causey, Athline Clark, Richard Dodge, Andrew David, Steve Dollar, Alan Friedlander, Virginia Garrison, Michael Hamnett, Kristine Holderied, Cindy Hunter, Walter Jaap, Paul Jokiel, Brian Keller, Matt Kendall, Henry Norris, Will Smith, Jenny Waddell, Jennifer Wheaton, and three anonymous reviewers for their review of earlier versions of this paper. This work was funded, in part, by NOAA's Coral Reef Conservation Fund.
Disclaimer: The use of trade names in this article does not constitute an endorsement of these products by the National Oceanic and Atmospheric Administration.
Additional information
Communicated by Biological Editor K. Sullivan Sealey
Appendix 1
Appendix 1
About this article
Cite this article
Rohmann, S.O., Hayes, J.J., Newhall, R.C. et al. The area of potential shallow-water tropical and subtropical coral ecosystems in the United States. Coral Reefs 24, 370–383 (2005). https://doi.org/10.1007/s00338-005-0014-4
Received:

Accepted:

Published:

Issue Date:
Keywords
Depth curves

Nautical chart

Coral reef distribution

Coral reef management

Coral ecosystem management